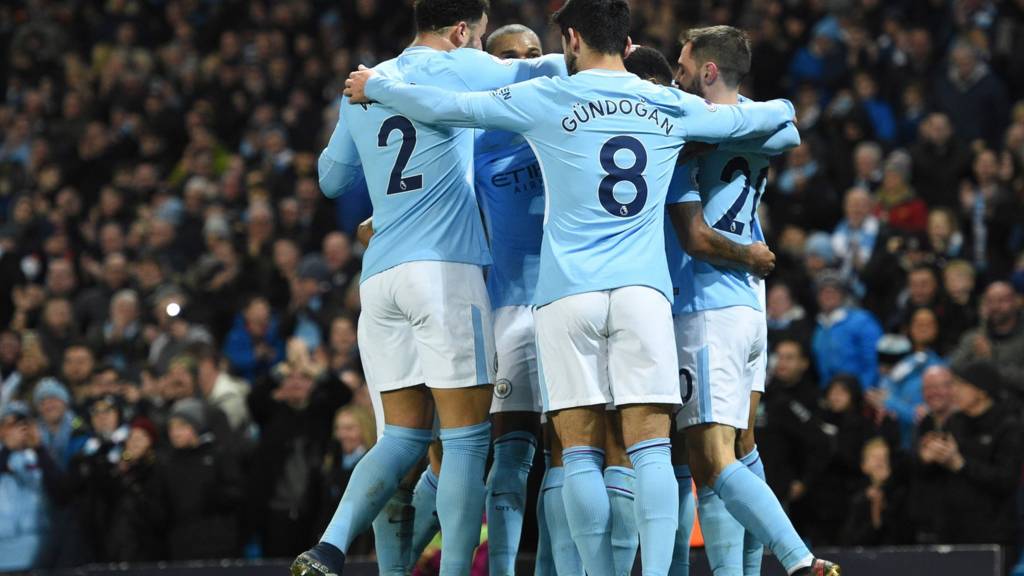 Man City win 17 in a row, victories for Stoke, Newcastle & Brighton
That's all from over here.

You can follow all the action from Burnley v Tottenham over here.

Merry Christmas!

On his sick bed...

Everton 0-0 Chelsea

"A game full of errors"

West Ham 2-3 Newcastle

West Ham manager David Moyes speaking to Match of the Day: "It was a game full of errors, we had them the whole game.

"We could not pull it together at all. We were huffing and puffing but could not pull together anything of note though the whole game.

"We did not pass well enough out from the back when we had the chance to and, when you are in the position we are in, you cannot afford to miss penalties. We have done that twice since I have been here.

"And then we have conceded a farcical third goal. It was glaringly obvious we missed Manuel Lanzini

"Whatever the result is at this time of year, the turnaround is such that you have to roll on to the next game."

'Great effort, attitude and character'

Southampton 1-1 Huddersfield

Huddersfield boss David Wagner, speaking to BBC Sport: "I never had a doubt about the character of the players. They tried everything, we came into the game well and had three or four good opportunities in the first 15 minutes. We conceded a set piece and I was angry at half time and I let my players know I was angry. We had to put the ball into the net. If we were able to keep a clean sheet in the second half then the chances would come and that is what happened.

"It was a great football match, a lot of opportunities for both sides. I am very happy with the effort, the attitude and the character the players showed as well their quality."

On his keeper Jonas Lossl getting caught by Charlie Austin's boot: "It looks very ugly from my point of view. I was a striker and I know Jonas was on the ball so early what you have to do is not touch him. It looked nasty and ugly, it is something that usually and should not happen, I am unsure what will happen now.

"I will never say someone likes to hurt an opponent on purpose but to be honest it looks like this is the case. It should never happen."

'I'm here to find the solutions'

Brighton 1-0 Watford

Watford manager Marco Silva on Match of the Day: "It was a tough game for both teams. The pitch didn't help. It wasn't a good game to see.

"We didn't start well but after 20 mins we balanced it out. But there wasn't a lot of chances to score.

"Richarlison had chance to score the first. With one mistaken pass they scored. We tried to react but we reacted with heart not quality.

"We are stronger with everybody available. We have three banned, and five injured.

"There's been a lot of change in our starting XI so it's not easy. I'm here to find the solutions. Even with injuries and bans we need to react and show different things. It's a moment for the other players to show their quality.

"Now we need to react as a team and I hope we can have players available as soon as possible.

"I hope we can do it for the fans on Boxing day after their support here today.

"Christmas is an important day for everyone with their families. It's not the happiest because work has big impact but it's a moment with the family. But we will work tomorrow and on the 25th."

Pellegrino on Austin's kick

Southampton 1-1 Huddersfield

Southampton manager Mauricio Pellegrino tells BBC Sport: "The game was a little bit flat because both teams were trying to press and the ball was more in the air and there were challenges going in. It was a tight game and there were opportunities for both teams, but it was a pity we were close to a second goal and to concede a goal was really painful.

"We knew Huddersfield were good in the crossing situation, they have big players and the cross was flat between the defenders. We had to go forward, keep going and keep pushing and every point in the Premier League is difficult.

"Charlie Austin has a hamstring injury and we will analyse in the next few days. It is not good for the player and we lose our top scorer and an important player.

On Austin kicking goalkeeper Jonas Lossl: "I didn't not see the action but Charlie does not have the intention to do this.

"It has been up and down so far, we need to be more consistent. We create a lot of chances but we cannot convert to more goals and more points. We still have time to change this.

"We will see Virgil van Dijk in training tomorrow and decide if he can be involved."

Post update

Swansea 1-1 Crystal Palace

Swansea Interim manager Leon Britton:

"I'm very proud of that performance, if any team was to get a winner it was us and the players have given me everything they had.

"I told Jordan to get us a goal, we needed fresh legs to give us a spark and Jordan got the goal and he was really lively. Obviously he'll be disappointed not to start but you can see Jordan has the right attitude.

"The fans are great wit me, when I've been a player and today as a manager and I'm always appreciative of that. Nothing has changed and I'm delighted we have the point today but I'm not interested in the job full time.

"It's day by day and as soon as something changes they'll let me know. As it stands, I'll be in tomorrow for training in preparation for Liverpool."

'They have players to hurt you'

Manchester City 4-0 Bournemouth

Bournemouth boss Eddie Howe speaking to Match of the Day: "It was a tough game against a very good team. It was always going to be difficult to cope with them.

"The first goal was our own doing and changes the game. We made a couple of bad decisions, put ourselves under pressure and they have the players to hurt you.

"Every game is important, but the next three take on huge importance for us. We have so many injuries and it's not ideal at this time of year."

"We needed this"

West Ham 2-3 Newcastle

Newcastle manager Rafael Benitez speaking to BBC Match of the Day: "We needed a performance and a victory like this. We were pushing really hard against Everton and hit the post twice. I am really pleased for the lads and the fans. it is fantastic.

"We had to suffer all the way to the end. We have been playing quite well some games, losing out to a single mistake, so it was tense at the end.

"It was important to win to show that we could doing the things we are doing. We now it will be difficult to the end but we know that we can win and achieve things doing things as we are."

'It was a huge task today'

Manchester City 4-0 Bournemouth

Bournemouth boss Eddie Howe: "I thought we did OK. A huge task for us today, not just the team we were facing but the injuries we have got.

"The second goal is the killer, We still tried to chase it and opened ourselves up."

'We will get out of it'

Stoke 3-1 West Brom

West Brom manager Alan Pardew: "It was difficult because I thought we did well in the first half. The second goal really hurt us. We changed things around a little bit.

"The response was excellent and certainly deserved something out of the game. This team is finding it hard to find that second goal at the moment.

"We were a little bit unlucky. The goalkeeper played well for them and we came away with a defeat.

"I really feel for the players. They gave it everything and deserved more than they got. We'll be fighting right until the end but I think we will get out of it."

'We have to learn, to improve'

Manchester City 4-0 Bournemouth

Pep Guardiola speaking to Match of the Day: "It is important to win and the second goal was so important for our calm and to play in the last 20, 25 minutes.

"We have to learn, to improve and attack this kind of defence and I think that is going to happen - our target is what we to do to find solution.

More from Pep on Sergio Aguero: "The numbers explain for themselves. It is so difficult for the strikers when there is no space. He made a fantastic performance, not just the two goals but the assist for the second one.

"I try to do my best for the team, for the club. When they are upset I understand."

Can City continue their winning run? "Newcastle won at West Ham, the atmosphere is so special and we are going to try of course to win - want to maintain that situation and after we start the second leg of the season."

Post update

Swansea 1-1 Crystal Palace

Crystal Palace manager Roy Hodgson:

I think we looked quite dangerous on the counter and our defence was solid throughout – we really restricted their chances to a minimum so it wasn't a surprise when we went in front but they scored a very good goal. It's another point in our fight out of the relegation zone so we're not too unhappy.

I do think it was a penalty and when they see the video like I have they'll agree it was a penalty, basically as far as I'm concerned the referee has given it and you get on with it.

It has been going well with Benteke the past few games and he gives us a focal figure in our attack, it's a different style to when Wilfried and Andros play together but all things considered a point away from home is another step in our building exercise.

'More a boxing match than a football game'

West Ham 2-3 Newcastle

Newcastle defender Jamaal Lascelles: "We always knew it would a physical game against West Ham and we need to show that kind of character, personality and attitude every week.

"We tried to stay high when Andy Carroll came on but he is one of the best at what he does and you naturally fall deep. We have been playing well recently and we are due a win and today we got them.

"It was more a boxing match than a football game to be honest but as a centre-half, that it what you have to do."

'It felt like a big win'

Brighton 1-0 Watford

Brighton manager Chris Hughton on Sky Sports: "It was big and it felt like it. I thought it was a good performance and we deserved the win.

"The only thing we need to do is to not apply more pressure on ourselves. It was worthy of more than 1-0 but until that goal goes in you're under pressure.

"When you've got a side who are offensive as Watford, to restrict them to chances it shows you've put in a good defensive performance.

"We want to take these games on a little bit. They're capable of scoring one or two goals so you don't want to be holding on and I don't think we were were. It was a good all-round performance.

"It's one we needed and we've got Chelsea on Boxing Day and many won't fancy us. It's important to pick up something today so it allows you to go in with more confidence."

'Within the club we are strong'

Stoke 3-1 West Brom

Stoke manager Mark Hughes: "I thought we were excellent in terms of our attacking play and we made it difficult for West Brom to get forward in the first half.

"We got a little bit nervous in our play in the second-half which is understandable given our recent form.

"We lost a little bit of confidence in terms of getting the ball down and playing so we had to stand up that challenge and thankfully we did that.

"It was nice to finish it off at the end. It's a big result for us.

"I have had fantastic support from the owners and all they have been doing is reassuring me and the players. I thank them for that. I feel like we have rewarded them a little today. That support is vital.

"Within the club we are strong and that is how we always will be. The supporters got us over the line and today they were fantastic."

'We'll keep on fighting'

Swansea 1-1 Crystal Palace

Swansea striker Jordan Ayew: "The most important thing was not to lose, we wanted to win but a point is okay and we will keep on fighting. I was told to make something happen and luckily today I was successful.

"You always want to give your best, today it has happened for me but it's been a difficult week - our manager got sacked and we really liked him and I wish all the best to Paul Clement. The board have to see what's best for us, our job is to just win games."

'We have played worse and got a point'

Stoke 3-1 West Brom

West Brom's Chris Brunt: "We had good periods all throughout the game.That's the way things are going for us at the minute.

"When you're in this run, it's difficult to get out of it.We lack a little bit of confidence at the minute.

"The fans pay good money to come and watch us and we're in terrible form. They are entitled to give their opinion.

"Hopefully we can turn something around quickly. We have played a lot worse this season and probably come away with a point."

'Aguero is a legend'

Manchester City 4-0 Bournemouth

Manchester City boss Pep Guardiola: "It was so tough because they play five at the back and 10 players behind.

"The space was almost impossible to find and we were lucky to score the first goal. The last 20 minutes they push up and after then we played a real good game. We were ready mentally. Again.

"In football always you can improve, individually or collectively, so it is not a target to be perfect - it does not exist in the world. Just now is a good Merry Christmas."

Asked how his side can improve, Guardiola added: "Attack more fluently, more chances, it is not easy when the opponents stay back."

On Sergio Aguero, Guardiola said: "There is no doubt about that. He is a special player, a legend and I am so happy when he plays good and he is scoring goals. I know the players who normally don'y play are upset, but all the team deserve to play."

'We deserved it'

Stoke 3-1 West Brom

Stoke goalscorer Eric Maxim Choupo-Moting: "The second-half was not what we wanted but that is football. It is a massive win. We put a lot of effort into the game. We deserved it and it was important to show the supporters we can play better football."