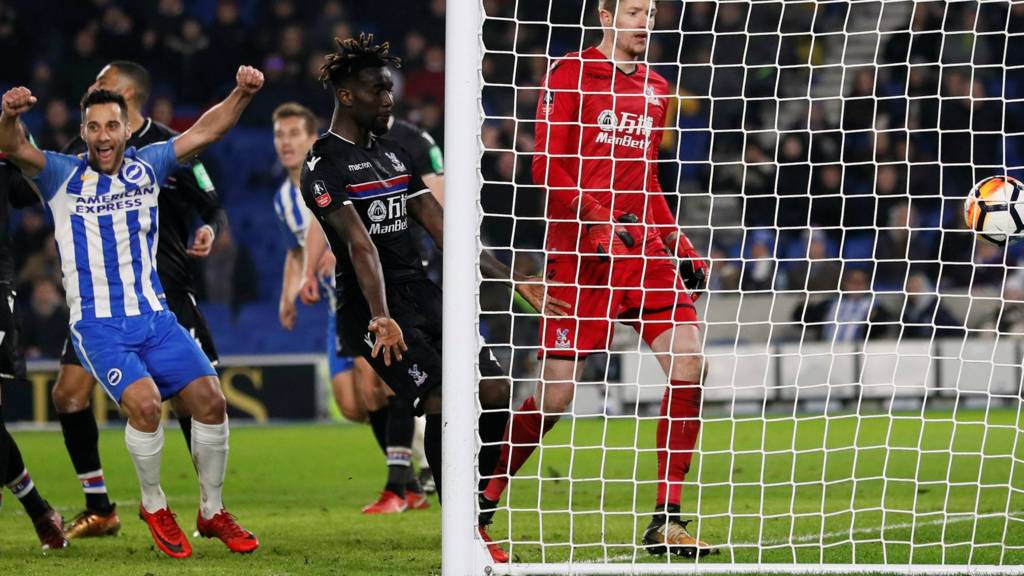 FA Cup: Hodgson praises VAR system after Murray scores Brighton winner
Summary
Murray scores winner off knee, with initial suspicion of handball
Sako had levelled for Palace after Stephens' opener
First competitive club match in England with VAR (Video Assistant Referee) technology in use
Get Involved

#bbcfootball or text 81111 (UK only)

Dave Payn: One or two not understanding the concept of VARs use. VAR monitor saw the replay and decided ref's original call was clearly correct. If there was doubt, then ref would have been asked to view and adjudicate, so problem solved without need for further delay.

Jeff: I think people don't quite understand what VAR is. The referee has no decision to use it. The VAR ref decides if is should be.

Alex Haworth: What was actually wrong with the way VAR was used tonight?

Highlights: Brighton 2-1 Crystal Palace

Miss the game?

Don't worry, you can catch up in less than four minutes below.

Get Involved

#bbcfootball or text 81111 (UK only)

Conor McMeekin: People criticise referees making mistakes, people mock VAR, what's their solutions to the horrific decisions made on a regular basis?

M A Bennett: Actually think the ref was very lenient in tonight's game. Can't help wondering whether he was conscious of extra scrutiny under VAR system?

Ted Ditchburn: Key thing about VAR will be communicating with the crowd in stadium and watching TV, both rugby and cricket have had to embrace this. Decisions still unclear after replays will just remain impossible to determine, but the process itself needs to be transparent.

'League still priority'

Brighton 2-1 Crystal Palace

Brighton boss Chris Hughton: "It is as much about the league, for as much as we like a cup run and wherever it will take us but staying in the league is the priority for us."

This just in from our own VAR expert...

'No doubt from me'

Brighton 2-1 Crystal Palace

Brighton match winner Glenn Murray: "It wasn't my arm, I think the VAR would have pulled me back if it was. I think I got my hip or my knee on it. As soon as I did it, I knew it was not my arm, no doubt from me."

Brighton goal scorer Dale Stephens: "It was a big game for us and we put in a good performance and I think we deserved to go through to the fourth round. We have been unlucky not to pick up points as our performances have been good, but I hope we can kick on from here."

Get Involved

#bbcfootball or text 81111 (UK only)

SMS Message: The VAR is just going to mean more players surrounding the referee, asking for him to use it - solve one problem, create another... from Paul

'We didn't need VAR'

Brighton 2-1 Crystal Palace

Brighton boss Chris Hughton: "I could not see it clearly. I had to wait until we came in, but it has been very clear that we didn't need VAR. In the first half we were very good, but they came out strong in the second half, but it took a wonder goal off his weaker foot to get them back to level terms."

On the injury to Izzy Brown: "He was very unlucky, it is what stopped me enjoying tonight. We will access him tomorrow to see the extent of it."

'Congratulations to the VAR system'

Brighton 2-1 Crystal Palace

Crystal Palace boss Roy Hodgson: "In a team that is enormously hit by injuries we've lost two others, and that's the worst thing for me tonight.

"Andros Townsend and Jeff Schlupp are unlikely to play for a period of time and that's the last thing we wanted. We already had seven players out - it's making enormous demands on our squad.

"We deserved a draw but they put Murray on and he scores the late winner. I can only believe that they have looked at it - you can see it a few times and it's a close one, it looked like handball but when you see it again there's a good chance that it wasn't. Congratulations to the VAR system.

"One can only hope that the VAR system assisted in the matter. Hopefully it has made the right decision. It was always going to happen, there would be a decision which would come up. It worked well. They decided that the goal should stand and I can't disagree with that."

It went in off my knee - Murray

Brighton 2-1 Crystal Palace

Brighton match winner Glenn Murray speaking on BBC Radio 5 live: "Yes it did (go in off my knee), I know it looked like it flicked off my arm on the replays but it came off my knee."

(Was he expecting the goal to get refereed to VAR): "No. I knew it didn't touch my arm.The replays, it's a little bit questionable but I knew it didn't (hit his arm).

"Obviously I had a great time at Palace but for me it was a cup tie, I'm happy to get on the score sheet.

"As a professional you should want to win any game you play in, for me it's all about the fans, the least we can do is make the effort to perform. We created some good opportunities, we'll take a win and be up at Boro in the next round."

'Not a panacea'

Brighton 2-1 Crystal Palace

To try and clarify, there was no official VAR review. If there was, fans would have seen the referee 'draw' a rectangle with his arms to replicate a TV screen.

The VAR could have advised the referee to look at the video for what is called an 'on-field review'. This is where the referee will move to the side of the pitch to review the footage on a monitor.

But despite that, Andre Marriner may have been told in his ear that his original decision to allow the goal was correct.

Get Involved

#bbcfootball or text 81111 (UK only)

Tommo Faulkner: What a joke, the whole reason for the video referee is so that you check every angle, and if you don't then there no point in using it. What a joke, well done FA.

Matty: It had to be Glenn Murray, the man that helped Palace into the Premier League, but to be fair, Palace never looked like threatening due to the fact they don't have a striker on the pitch. Sako's done well, but he's not a natural front man.

What do you think? No handball that I can see. And the angle behind the goal suggests that Murray did the right thing in getting a slight touch after all as the initial header may have drifted wide...

WATCH: Murray scores a late winner for Brighton

Brighton 2-1 Crystal Palace

Post update

Brighton 2-1 Crystal Palace

Brighton striker Glenn Murray: "It's a game we wanted to win. I know as soon as it went in it touched my hip, not my arm."

Get Involved

#bbcfootball or text 81111 (UK only)

Glv: Palace miss out on away trip to Middlesbrough. Thank you Glenn Murray. Still scoring goals for Palace....

Antony Humphreys: VAR what a waste. Ref didn't look at it and it didn't even end up a draw to get a replay.

Shem: The jokes about the VAR in the Brighton vs Palace match is more interesting than the match.

There is confusion over whether referee Andre Marriner went to the VAR or not for that winning goal. That may be a teething problem with the system.

Post update

Brighton 2-1 Crystal Palace

Steve Claridge

Ex-Premier League striker on BBC Radio 5 live

That is about right on chances, possession and how the sides approached the game. No doubt Brighton were the better side. It's just about right for me. No hard luck stories, Brighton deserved it.

on Brighton's winner...

The referee definitely put his hand to his ear and then spoke to somebody. I would have said he would want to know if it was offside or touched anyone's hand. The answer to both would be no.