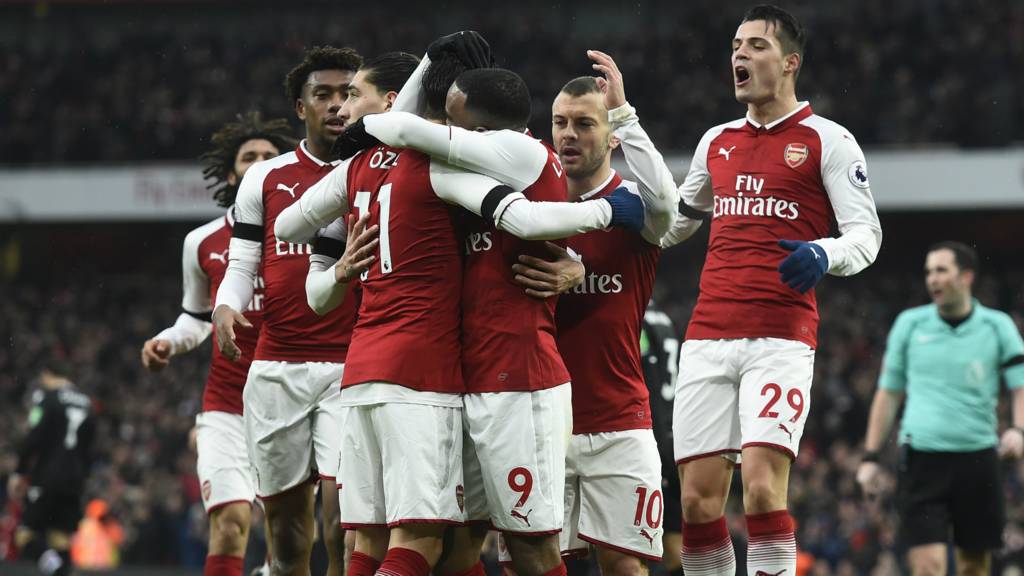 Man Utd & Arsenal win, Stoke move out of bottom three
With that we are closing this page down.

'If we're going to get out of this it's with two up front'

Everton 1-1 West Brom

Image caption: Salomon Rondon was in tears after James McCarthy's injury

West Brom manager Alan Pardew speaking to BBC Sport: "There was disappointment in the dressing room and I was pleased with that, not coming off celebrating a draw here because we should've won. We made it very difficult for Everton, we limited them to very few chances but we're starting to create more chances - the momentum is still with us and we go to the next game.

"All through this team there was a lack of opening up and we're starting to see that change now, we played well today with some good link-up play and it showed in our chances. If we're going to get out of this, it's going to be with two strikers on the pitch and I thought we showed that improvement today.

On Salomon Rondon's performance: "He was the outstanding player on the pitch today and big Cyrille Regis would've been proud of him out there today. It was a fitting tribute and a great performance from Salomon.

"I saw his reaction [to McCarthy's injury] straight away, he must've heard something, sometimes it does really affect you and it did it take us a while to get him round and focused again. It took him a little while, but he got there in the end and almost won it for us. Our thoughts go with James and we wish a speedy recovery to him."

'I prefer to win 4-0'

Burnley 0-1 Manchester United

More from Manchester United manager Jose Mourinho: "It was very hard, we played against a brave team, a team that plays with their strength and a team that knows how to get points - that's why season after season they are in a comfortable position. We were not brilliant, but we were very good.

"I prefer to win 4-0 and to sit on the bench and enjoy the game but it is good to see the way the team fought for it. I think the referee team was really good."

On goalscorer Anthony Martial: "We know the talent, it is just about consistency not just in the goals he scored but the way he plays. There is no doubt there is a big improvement in Anthony from last season."

On Alexis Sanchez potentially joining the club: "For good, or for bad something will happen soon."

Asked if he is confident he will join Manchester United, Mourinho replies: "Yes, I am."

'Frustration is an understatement'

Everton 1-1 West Brom

Everton manager Sam Allardyce speaking to BBC Sport: "It's difficult to watch that today, I think every fan in the ground is probably wondering what they were watching compared to a couple weeks ago. I see a lack of confidence due to recent results and not moving forward from where we started from, it's my job to keep pushing the players but there were a lot of nerves out there today which caused lots of misplaced passes and I'm just pleased in the end we got a point out of it by our substitute making an impact. Some of our decisions today were not the right ones and it's our job to sort out those decisions in the minds of the players.

"I think frustration is an understatement. I'm holding it in, the players know they didn't perform today, there was a lack of performance and we must pick ourselves up and work hard to be more ready mentally. We need to overcome that and see the ability we saw when I first came here – we're the only ones who can make it better and we must work hard to do that."

On Theo Walcott's debut: "A great volley which he might've scored from and his header back to set up Niasse. Our players must understand where Theo likes to have the ball but our players didn't pass well today, he's a great player with plenty of talent but we have to play in the right way."

'The performance level was really good'

Burnley 0-1 Manchester United

Burnley manager Sean Dyche said: "The performance was very pleasing and there were very good signs there. The defining moment is an absolutely fantastic finish from a player they brought in for a lot of money. They just found a moment and that is our next stage of our development but we are not too far away.

"Despite it being a tricky run I'm delighted with the way we are going. Eighth in the Premier League is no mean feat and we are happy with that but we have to keep playing like that to get back to winning ways.

"It is not easy taking on clubs of this size but I thought the performance level was really good. Everyone outside the top six has had a difficult run and you have to look beyond that and look at the performance and I thought it was very good.

"It is very difficult to get a decision and I thought there was a half a shout for a penalty. We haven't had a penalty so I'm not surprised."

Asked about a move for Everton's Aaron Lennon, Dyche added: "Aaron Lennon is a possibility, there are a few players we have been linked with so we will see."

'We controlled the game'

Leicester 2-0 Watford

Leicester boss Claude Puel speaking to Match of the Day: The result was a fantastic reward for the squad because today was a tough game. Watford are a strong team, they battle well and they play good football. In the first half, we needed a bit more quality to find the space behind them. In the second half, we did this much better without scoring a second goal and that made it difficult for us.

"What was pleasing was that we didn't give away many chances today – I think we controlled the game and it's a good feeling for us to win.

"For the moment, it's important for us to keep playing well on this run. If it's possible to improve the squad, of course we will look to do that, but the players have a fantastic spirit and there is a good balance about them."

On the future of goalscorer Riyad Mahrez: "Mahrez is enjoying playing with his teammates and he shows this every time he plays."

'A nasty injury'

Everton 1-1 West Brom

Everton manager Sam Allaryce on James McCarthy: "I think it's a compounded fracture which is a nasty injury, so we'll need to get James back to fitness. It's a loss to us from now until the end of the season, it happens in the game of football but not often that severe.

"It was our own fault and our own stupid play in that area, James recovered brilliantly to stop a goal but suffered because of it."

KICK-OFF

Man City 0-0 Newcastle

'We can turn it around'

Leicester 2-0 Watford

Watford boss Marco Silva: "Today was a tough game for both teams. We didn't deserve to be losing at half time. They started the second half better but after our changes we created some problems for them. We had two clear chances to make it 1-1 which would have been a fair result but then obviously the second goal in the last minutes ended it.

"It wasn't a great game to watch. Our boys worked really hard – we knew it was a difficult place to come but the simple difference today was that they scored their chances and we didn't."

On the difficult run: "We want to win and get more points. The attitude and the commitment that I've seen these last two games is what we need. The Premier League is so difficult – we just need to turn the hard work into points and the confidence will come.

"I have confidence in all of our players."

'Not a game for the technical'

Stoke 2-0 Huddersfield

Huddersfield boss David Wagner to MOTD: "It was difficult. For me it was because Stoke and their supporters were really on it. They were really aggressive and limited us and I felt they deserved it. They limited our offensive game.

"It shouldn't be a surprise that Stoke is a top quality side even if they are not in the best position in the table. We fought and tried everything but were limited offensively football wise.

"We have to be stronger in ball possession too. We changed our idea of playing football and wanted to go more direct which worked for a big part of the game but not long enough. It wasn't a game for technical players today. It was a fighting game with a lot of tackles.

"I have to accept where we are in the table. It's only us who can change it. We have fought since the first day of the season and even though we have now six games with only three points we know we have to collect more points to survive."

'Some of the best football of my time at West Ham'

West Ham 1-1 Bournemouth

West Ham boss David Moyes, speaking to Match of the Day: "Mixed emotions. With 14 minutes to go I may have taken it but prior to that we had some good play and missed big chances. Thrilled to equalise so quickly. In the Premier League it is usually very difficult to get back. Teams in the bottom half, there is not much between them and this was a tight game, as it was a few weeks ago.

"As long as we keep picking up points we will move in the right direction. At periods in the first half we played some of the best football of my time here but we lacked a clinical edge. Progress is a good thing.

"It was a reaction (Javier Hernandez's goal) but that is what he does. Strikers make a great living out of being a fox in the box. He needs though opportunities and we need to get the ball in the box. We needed him today. All the boys play a part and he helped us today.

"I keep using the word progress and I think we are nudging along. The key is not to be on the bottom three at the end of the table but I still have my eye on the top 10.

"Manu (Lanzini) has a hamstring injury and that is the one we are worried about. Aaron (Cresswell) had a bit of cramp and will be OK.

"We could do with a body or two coming in. We are working on getting the right players. Hopefully we will get something later in the window."

No Aubameyang to Arsenal then...?

'Nothing is happening with Aubameyang'

Arsenal 4-1 Crystal Palace

Arsenal manager Arsene Wenger: "January has been difficult for us, destabilising. We have had big players concerned with moving away which causes uncertainty.

"Aubameyang no, nothing is happening. He can be left out of the Dortmund team for different reasons, certainly not for transfer reasons at the moment.

"Sanchez will only happen if Mkhitaryan comes here, that will be decided in the next 48 hours. It is a possibility."

Post update

Stoke 2-0 Huddersfield

New Stoke manager Paul Lambert to MOTD: "We've had three days of training and you're trying to get as much information into them as you can without overloading them.

"You wonder why you come back into it sometimes but that's the way I am. The players were the main factor. Them and the supporters.

"I thought the link-up play and cut back was excellent for the first goal and it was great inter-play with a brilliant finish for the second.

"There's a lot of quality. We shouldn't be in the position we're in. Mark Hughes did a fantastic job here for four years, Tony before him.

"The lads know for whatever reason they've been underperforming but big compliments to them today they were fantastic.

"I was enjoying my life last weekend and then you come back into this. But I wouldn't change it for the world."

Can we not play you every week?

Arsenal 4-1 Crystal Palace

Crystal Palace boss Roy Hodgson: "We aren't pushing for the top six, we are pushing to stay up and the heart we showed in the second half gave me hope.

"We won't play teams like Arsenal in that form every week."

So close

Burnley 0-1 Man Utd

Simon Stone

BBC Sport at Turf Moor

Jose Mourinho just gave a long answer to his post match press conference about the chances of signing Alexis Sanchez.

He said: "Expect soon or never. So close, so close, so close, if it doesn't happen it is not going to happen. I know my people doing absolutely everything they can. I think they will be successful."

'A very nasty injury'

Everton 1-1 West Brom

Confirmation that James McCarthy has suffered a bad leg break today.

"It's a tibular and fibular fracture compounded. A very nasty injury," said Everton boss Sam Allardyce.

'You can't stop media campaigns'

Arsenal 4-1 Crystal Palace

Crystal Palace boss Roy Hodgson: "Three goals in 13 minutes put us on the back foot, it was a poor first half. Second half we at least played like the team we try to be. We took a heavy beating but at least it didn't get any worse. It could have become an avalanche of goals.

"It was easy street for Arsenal but we made it hard for them in the second half. We lost our marking twice on Nacho Monreal and he punished us, I don't think it's a malaise in the club or the way we play but Arsenal found a weakness today.

"They were every bit as good as they can be today. They scored a really good 'Arsenal goal' as well.

"I'm afraid the talk about Wilfried Zaha makes life difficult for referees. I'm not sure that they judge it on what they see anymore, a campaign against Wilf is having an impact. There were quite a few incidents today which would have been a foul at the other end. You can't stop media campaigns or experts and Wilf has to get on with that.

"He is a player who stays on his feet more than most."

'Timing of West Ham goal frustrating'

West Ham 1-1 Bournemouth

Bournemouth manager Eddie Howe, speaking to Match of the Day: "We weren't great in the first 20 minutes but we grew as it went on and deservedly scored. We are frustrated at the timing of their goal. Two headers we haven't won and it falls to the lad who taps in.

"We didn't have chance to build on the goal or use it to our advantage. We hadd a number of counter-attacks where the last pass let us down. We were the stronger team at the end.

"There is a good feeling about the group. This is a tough place to come.

"This league is difficult. Every point is precious. It could have been three today. There is still work to do."

'We played our real game'

Arsenal 4-1 Crystal Palace

Arsenal manager Arsene Wenger: "We played our real game in the first half, real pace and real combination. In the second half the challenge was to keep the same drive and we didn't manage to do that.

"The speed of our game at the start was good. We are the only team to beat Palace in their last 12 games.

"Not scoring had played on Lacazette's mind, it was starting to get heavy for him so that is a relief. We know the challenge in front of us is very difficult exciting as well.

"For 45 minutes our fans have seen some great football."