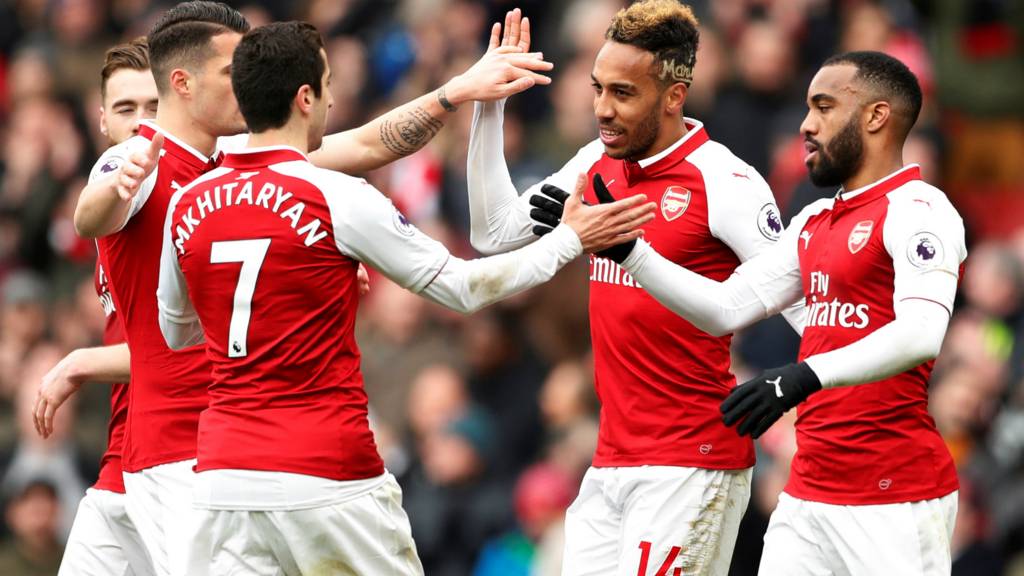 Arsenal see off Stoke with three goals in last 15 minutes
Get Involved

#bbcfootball or text 81111 (UK only)

Chris Atherton: Mark Noblerone.

Tom Fio: Creme Eggar Davids.

Rebel: Emile Hershey.

Early team news

Arsenal v Stoke (13:30 BST)

Arsenal midfielder Jack Wilshere could return after recovering from the knee injury which ruled him out of England's two friendlies against the Netherlands and Italy.

Alexandre Lacazette has been kept him out since 10 February but he could also make a return for Arsenal.

Stoke are expected to recall Mame Biram Diouf after a shoulder problem, as well as Erik Pieters, who was left out of the squad for the defeat by Everton two weeks ago after breaking a curfew.

Charlie Adam begins a three-match ban so is unavailable and Eric Choupo-Moting is injured.

Bayern stick six past Dortmund

Much like Manchester City in the Premier League, Bayern Munich are only one win away from taking the Bundesliga title.

They took one step closer to the trophy after humiliating third-place Borussia Dortmund with a 6-0 win on Saturday.

'Nothing better than that winning feeling'

West Ham 3-0 Southampton

Get Involved

#bbcfootball or text 81111 (UK only)

Stranceymeister: KitKat symons.

Jack Keable-Elliot: Cameron Carter-Snickers.

Matt: Paolo WanCHOMPe.

Behind the scenes at the London Stadium

West Ham 3-0 Southampton

West Ham's move to the London Stadium has been...eventful.

The problems between the board and the fans came to a head against Burnley earlier this month - with pitch invasions and tangible anger directed towards the club's owners.

BBC Sport's Simon Stone spent the day at the Hammers' home ground on Saturday to see what it's really like to be a West Ham fan this season.

Get Involved

#bbcfootball or text 81111 (UK only)

Gambeano: Old school one. Former Man City man. Keith Curle-ly wurly.

Cursan: LIONel Messi.

Great start! Keep them coming. We've got a few suggestions in the office too but my favourite is *drum roll*...

Rolo Toure! Take a bow Chris, take a bow.

Zlatan's LA debut

Arsenal v Stoke (13:30 BST)

Zlatan Ibrahimovic marked his LA Galaxy debut with a match-winning cameo as his side came from 3-0 down to beat new boys Los Angeles FC.

And he scored an absolute scorcher too.

Read all about his debut here.

Get Involved

#bbcfootball or text 81111 (UK only)

Because it's Easter weekend, it feels like you can have chocolate for breakfast!

So we want your best suggestions for chocolate bars/chocolate eggs/confectionery named after footballers. Former Arsenal player Marc OverMars is one that comes to mind, but I know you can do better.

Send your suggestions in using the hashtag #bbcfootball or text 81111 (UK only).

What happened on Saturday?

West Ham thumped Southampton 3-0 to move away from the relegation zone, Manchester City stayed on track to win the Premier League title next weekend and Manchester United and Liverpool both won to consolidated their top-four places.

It was a busy Saturday in the top flight but you can catch up on all of that with our round-up here.

We've got two big games coming your way this afternoon as Arsenal host Stoke before Tottenham travel to Stamford bridge for a battle of the London clubs.

We'll bring you updates throughout the day but first, here's what you might have missed yesterday...

Post update

Arsenal v Stoke (13:30 BST)

Stoke haven't won in seven games...

But Arsenal have been inconsistent...

Both teams need a victory today...

But who will come out on top?