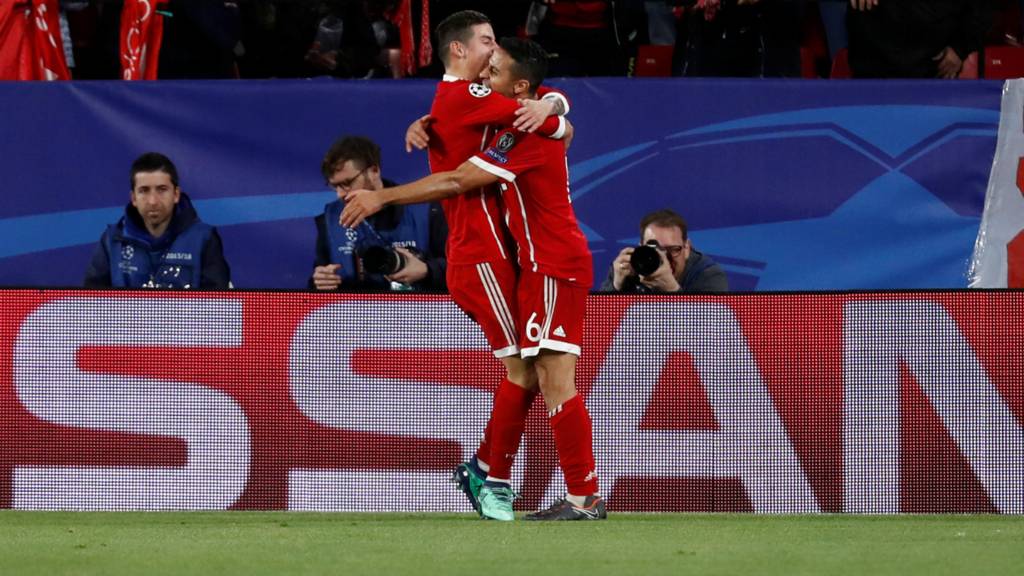 Champions League: Ronaldo scores stunning bicycle kick as Real hammer Juve
And with that we head off into the night.

See you tomorrow for Liverpool v Man City?

I've got a lot of time for nobody in the Juve camp saying 'it's only half time...'

Get Involved

#bbcfootball or 81111 on text

Ed: I've always said Ronaldo's the best ever. He can score any type of goal and he'd arguably be the top scorer in every major league.

Chris: I only saw the first half. So did I miss anything?

Not a whole lot really...

'Amost impossible'

Juventus 0-3 Real Madrid

Juve boss Max Allegri: "There is absolutely nothing to blame the boys for. We faced an extraordinary team with probably the best player in the world.

"Now we raise our heads, we think about the future and the league.

"For the first hour we also made a good game. But everything happened against us. They are really devastating, otherwise they would not have won so much in the last few years.

"Now it's almost impossible."

'Ronaldo goal requires practice'

Juventus 0-3 Real Madrid

Pat Nevin

Former Chelsea winger on BBC Radio 5 live

Image caption: DON'T TRY THIS AT HOME

You have to practice these otherwise you can break your back or land on your neck, because you are so high up.

You have to have really good technique, not just to get up and get the contact, but to land it. You have to have all this in your mind and compute this within a millisecond.

'Like Maradona and Pele'

Juventus 0-3 Real Madrid

Juventus goalkeeper Gianluigi Buffon: "Ronaldo is an extraordinary champion, together with Lionel Messi he is the only one that punctuates his team's most important victories, and is to be compared to Maradona and Pele.

"We were playing against incredible champions.

"There is great regret and it will not be possible to go forward in this event, for me it is a great regret but against certain opponents it takes a clear examination: they are objectively stronger."

'It was almost perfect'

Juventus 0-3 Real Madrid

More from Zinedine Zidane: "Juve had chances to score but didn't take them. We had to dig in, as you'd expect but we played some great football.

"Yes it was almost perfect, that's what he can do. That's why he stands out from the others. He can do incredible things."

Get Involved

#bbcfootball or 81111 on text

James: Tomorrow, kids all over the world will damage their backs, necks and God knows what else in hope of emulating that stunning Cristiano Ronaldo goal was. That is how you do it!!

These stunts are performed by trained professionals

More praise from players past and present

Juventus 0-3 Real Madrid

'My goal was better!'

Juventus 0-3 Real Madrid

Real Madrid boss Zinedine Zidane: "It's not easy to put three goals past Juve on their own field. We put in a great performance, but Juve also did very well, put us under pressure and had the chances to score goals, but we were more clinical.

"Of course Juventus aren't happy with the result tonight, but I will always have Juve in my heart.

"Cristiano Ronaldo is different. He's a different player to everyone else and he always has this desire to do something extraordinary in the Champions League, he never rests on his laurels.

"His overhead kick was remarkable, yet he missed two much easier chances. That's football."

Which goal was better - Ronaldo's or Zidane's in the Champions League final:

"Oh mine! Definitely mine."

'Extraordinary imagination from Ronaldo'

Juventus 0-3 Real Madrid

Pat Nevin

Former Chelsea winger on BBC Radio 5 live

The imagination to be able to do what Ronaldo did is extraordinary.

It is one of the greatest goals you would ever see, not just in Champions League football, but in football.

Get Involved

#bbcfootball or 81111 on text

Ramya: Cristiano...WHAT A PLAYER...The guy is like Benjamin Button,aging in reverse!!!

Hailu: One special goal doesn't make you the best ever but Cristiano Ronaldo has scored so many wonder goals and truly deserve to be the best ever.

People always sayin' my style is wild

Juventus 0-3 Real Madrid

'No excuse for Dybala red'

Juventus 0-3 Real Madrid

Pat Nevin

Former Chelsea winger on BBC Radio 5 live

Between Higuain and Dybala, they created chances for each other and others. On another day they would have scored them.

They caused all sorts of problem's for Real Madrid's defence.

No excuse for Dybala getting sent off. That was just stupid. He was utterly reckless and killed his team's chances dead.

And Alvaro Arbeloa played with Andriy Voronin...

High praise from a former team mate...

Juventus 0-3 Real Madrid

"Ronaldo can now leave Earth and play with Martians. He has done everything here." - Alvaro Arbeloa

(App users may need to click the link to view this tweet)

Better than this?

Juventus 0-3 Real Madrid

When you get into the changing room talking about scoring the 'best goal in Champions League history' and your manager can tell you to pipe down...

Isco or Dybala?

Juventus 0-3 Real Madrid

Mina Rzouki

European football expert

Dybala... disappoints again against quality opposition when the pressure is on. Maybe one day but not today.

Is he really the guy to build around? Give me Isco over him any day.

Get Involved

#bbcfootball or 81111 on text

Josh: Is there anything Cristiano Ronaldo can't do? Not content with just being a goal machine he's gone and scored arguably the greatest goal in the history of the Champions League too... Wow, I have actually ran out of superlatives to describe this man!!!

Simon: Yeah, Ronaldo is good, but has he ever scored on a rainy night is Sto- oh, he actually has...

That's 445 goals for Real Madrid since Cristiano Ronaldo joined the club...