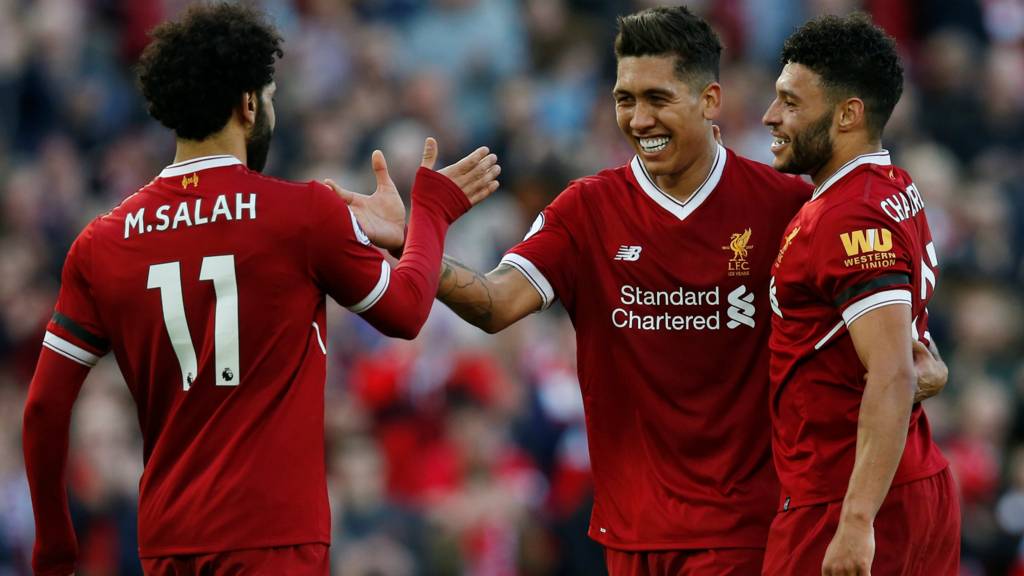 Premier League: Liverpool put three past Bournemouth
Summary
Mane with rebound after Begovic save
Salah adds second with header from Alexander-Arnold cross
Salah now has 30 Premier League goals this season
Firmino with low late strike from 16 yards
Farewell
Liverpool 3-0 Bournemouth
'He's a good package'
Liverpool 3-0 Bournemouth

More from Liverpool manager Jurgen Klopp on Mohamed Salah: "There is still work to do but what a season so far. Last year we were all excited about [signing him] and there was a point we were convinced. There is this last question if you don't play in England you can't say yes because it is more physical, but there was a point when we said yes he is kind of smart but he doesn't need to look like a bodybuilder, he is a good package."
'We need to mix it up'
Liverpool 3-0 Bournemouth

More from Liverpool manager Jurgen Klopp, on Mohamed Salah's fantastic season: "Maybe at the beginning some people were surprised but you see in every situation his threat. Now he has to mix it up, everyone wishes for him he will be top scorer but a lot of times we are in a position shooting and they cannot always give the ball to him. So we can still improve in this situation to use his threat and pass the ball somewhere else."
Thirty goals and counting...
Liverpool 3-0 Bournemouth
'Deserved'
Liverpool 3-0 Bournemouth

More from Klopp: "It was just mature and good football. When we lost the ball we were like lions, coming back with counter pressing, that obviously makes life uncomfortable for the other side. There were chances we didn't score but we knew we had to stay concentrated, I thought it was very deserved, the last 15 minutes someone took the key to the powerhouse out - the players all felt the intensity of the last few days and lost the game a little bit. We didn't control it, but then we scored a third and game over."
'Exceptional'
Liverpool 3-0 Bournemouth

More from Klopp: "The way they did it was really impressive to be honest, controlling over 70 minutes in a way that is exceptional actually. We scored one but had chance after chance with really good football against a side full of confidence, good footballers, quick on the counter attack, which makes your life really uncomfortable."
'Very, very, very important'
Liverpool 3-0 Bournemouth

Liverpool manager Jurgen Klopp, speaking to BBC Sport: "A good performance, and very, very, very, very important after an outstanding week when everyone has been saying how good, you are into the semi-finals. Today it felt like a parade with people in their cars using the horn, wow! What happened? But we have to stay angry, we play Bournemouth, the rest was a few days ago and I said a few times our whole lives is Champions League qualification, so these games are all so important."
Match stats
Liverpool 3-0 Bournemouth
Liverpool are unbeaten in their last 19 Premier League home games (W12 D7), the longest current run in the division, and the Reds' longest run since August 2009 (31 games).
Bournemouth have enjoyed just one win in their last 11 Premier League away games, drawing six and losing four.
Sadio Mane is now the outright top scoring Senegalese player in Premier League history, scoring 44 goals in the competition and eclipsing Demba Ba (43).
Mohamed Salah is the eighth different player to score 30+ goals in a single Premier League season – he's also the first African to do so.
Salah is also only the third different player in Liverpool history to score 40+ goals in all competitions in a single season, after Roger Hunt (1961-62) and Ian Rush (1983-84 and 1986-87).
'I really like the Ox'
Liverpool 3-0 Bournemouth

Klopp tells BT Sport he's not sure about the decision to name Alexander-Arnold man of the match:
"What a week for Trent Alexander-Arnold. Not long ago he needed a rest after a Premier League game. But now Joe Gomez is out he's playing every game.
"I'm not sure he's man of the match though - I really liked Alex Oxlade-Chamberlain's performance. He looks like a proper midfield player, using his speed and skill in the right moments."
Liverpool 3-0 Bournemouth

More from Klopp, on BT Sport: "It's a challenge for the boys, Mohamed Salah as well, to stay cool and do the right thing in the right moment. He could've passed at a couple of moments. But they are human and that's normal.
"There were a few pieces of football that were really good. We gave one or two chances away in the final few minutes and if you give one away it could be a different game. But mostly we controlled it and did really well.
"We have to fight until the end of the season and see where it gets us."
Liverpool 3-0 Bournemouth

Liverpool boss Jurgen Klopp, speaking to BT Sport: "The boys did fantastic. It was a brilliant game. Bournemouth are confident and usually play more football than they could today because our pressing was outstanding.
"We scored fantastic goals, although it took a bit too long for the second but we second fantastic goals. The last 10-15 minutes was intense but it was the perfect manner to play this game."
'We learned a lot'
Liverpool 3-0 Bournemouth

Bournemouth manager Eddie Howe, speaking to BBC Sport:
"We played a very good team today, one of the best in Europe and they are showing that. It was a tough test, we learned a lot. At half-time we were in the game but their second goal came out of the blue, the ball from Trent Alexander-Arnold and Mohamed Salah's header were unbelievable, we were kicking ourselves really because we always believed we could come back if there was one goal in it. That is the individual quality they possess, you won't see a better goal than this weekend, a real team goal.
"It gave us mountain to climb, we had chances after that, didn't take them and the third goal I though was unfair on us. We wanted to stay in the game and have a go at them late in the match, at 2-0 that is a lot more difficult. I was pleased there were signs we could compete but it came too late. We will go away and analyse this and find a way to do better next time."
Get Involved
#bbcfootball or 81111 on text
Johann: Liverpool showing their defensive frailties again. Allowing Bournemouth to have a shot on target.
Tom: A year ago we might have lost that game. Six months ago it might have been a draw. Now, it's basically a training exercise. Calm, measured, confident. Klopp has made such an improvement to the team this year - beautiful football.
'Hopefully Mo will keep Harry away'
Liverpool 3-0 Bournemouth

Liverpool captain Jordan Henderson, speaking to BT Sport: "We knew Bournemouth would make it difficult but we could have had a few more in the first half, I thought we dominated the game.
"Mo Salah has been brilliant. He just has to keep it going. His work rate, he is such a big player for us, hopefully he can keep scoring for us, he can keep Harry Kane away and win the Golden Boot."
Salah in good company
Liverpool 3-0 Bournemouth
(App users may need to click this link to view this tweet)
'Wonderful team performance'
Liverpool 3-0 Bournemouth

Alan Kennedy
Former Liverpool left-back on BBC Radio Merseyside
Without doubt a great result and a great performance. The fans wanted more goals, they got three and it was a wonderful team performance.
Bournemouth matched Liverpool in spells but they don't have the quality of Salah, Firmino and Mane. But they can be proud going back to the south coast.
Get Involved
#bbcfootball or text 81111
Ben Clarkson: Arsene Wenger could've had a world-beater on his hands if he'd used Oxlade-Chamberlain properly. What a player he's finally becoming.
Reece Young: Alex Oxlade-Chamberlain has put on an absolute clinic on how to play central midfield today. He has been perfect. Don't remember him ever giving the ball away. Well played.
Ahmed Ahsour: Mo Salah's goal reminded me of that crazy header by Robin van Persie in the World Cup.
FULL-TIME
Liverpool 3-0 Bournemouth
Fittingly, Liverpool are on the attack and causing Bournemouth problems when Chris Kavanagh blows the final whistle.
Job done for the hosts, an impressive showing after their midweek Champions League triumph.
Very ho-hum from Bournemouth, they were never really let into the game.
Liverpool 3-0 Bournemouth
The red sea surges forward on the counter as Bournemouth are caught behind the ball.
Liverpool work it to Andrew Robertson but the left-back blasts it over.
'A clever finish'
Liverpool 3-0 Bournemouth

Alan Kennedy
Former Liverpool left-back on BBC Radio Merseyside
Wonderful play.
Oxlade Chamberlain has been terrific, running all the time, this time he finds Firmino, he cuts inside, beats the defender, wrong-foots Asmir Begovic with a clever finish and all of a sudden it is 3-0.
SUBSTITUTION
Liverpool 3-0 Bournemouth
And that's your lot for Roberto Firmino as he's replaced by Dominic Solanke.
GOAL - Liverpool 3-0 Bournemouth
Roberto Firmino
Icing. Cake.
Georginio Wijnaldum turns the ball to Alex Oxlade-Chamberlain, who strides forward unopposed and has options either side.
The England midfielder picks Roberto Firmino on the left and the Brazilian forward cuts onto his right before sliding it low inside the near post.
A dominant scoreline now to go with a dominant performance.
CLOSE!
Liverpool 2-0 Bournemouth
Alex Oxlade-Chamberlain picks up the ball in space in the middle, gets it out of his feet and whacks a cracking strike just wide.
That would've been a screamer. Bournemouth escape conceding a third.
Klopp the perfectionist
Liverpool 2-0 Bournemouth

Alistair Yeomans
BBC Radio 5 live at Anfield
Jurgen Klopp is still urging and gesticulating from the touchline. He will be a little concerned that Bournemouth have gone close a couple of times recently - probably too little too late for the visiting side though.
Liverpool 2-0 Bournemouth
Charlie Daniels swings in a cross from the left but no Bournemouth shirt is close enough and Loris Karius can gather off Andrew Robertson.
Liverpool 2-0 Bournemouth
Into the final five. Nathan Ake does well to hold off Mohamed Salah to prevent him getting on the end of yet another curling ball over the top.
SUBSTITUTION
Liverpool 2-0 Bournemouth
Dejan Lovren has been hobbling a tad and is replaced by Ragnar Klavan.
Get Involved
#bbcfootball or text 81111
Mark: Well done Salah in getting 40 goals this season. Frightening though is that he's probably missed twice as many good chances he's created for himself this season.
Amrul Choudhury: Wow Mo Salah. Let us see what Kevin De Bruyne can bring to the party at Wembley. Saturday evening Premier League games will be worth it as long as it's a glamour tie.
Mike Rey: All the Liverpool fans were raving about Salah pre season. I was thinking he cannot be THAT good, but how wrong was I.
Liverpool 2-0 Bournemouth
Bit of complacency from the Liverpool defence in the last five minutes.
Callum Wilson gets in behind Virgil van Dijk but his strike across goal from a tight angle runs wide.
Loris Karius turns to give his defenders a bit of a roasting.
Liverpool 2-0 Bournemouth
Andrew Surman sweeps it out to Simon Francis, whose cross strikes Lys Mousset. The Bournemouth sub didn't read that but the ball rebounds to Dan Gosling...
...but his strike it straight at the onrushing Loris Karius. Big chance.
Liverpool 2-0 Bournemouth
Liverpool take another corner short to allow Trent Alexander-Arnold to swing in another dangerous cross from deep.
Bournemouth head out but Liverpool come again before Alex Oxlade-Chamberlain belts an ambitious drive well wide of the net.
Into the final 10 minutes. Any way back for the Cherries?
Get Involved
#bbcfootball or text 81111
Gareth Parry: Another for Salah. He scores his own goals rather than claims those of others.
Chris, Sussex: Did Salah definitely get a touch on that cross or did it go straight in? Asking for Harry.
Michael O'Dwyer: The nerve of Mo Salah to claim that. Went straight in. Trent AA all the way.
Will Harry Kane ever live his appeal down?
Liverpool 2-0 Bournemouth
The visitors finally showing signs of life as a dangerous cross is headed behind with Lys Mousset stealing in.
Nothing doing from the corner though.
SUBSTITUTION
Liverpool 2-0 Bournemouth
Goalscorer Sadio Mane is off for James Milner.
Liverpool 2-0 Bournemouth
Bournemouth's best attacking move of the match as Callum Wilson gets in behind and his cut back is just knocked behind for a corner.
Liverpool repel the first ball in and Joshua King is caught offside when it's looped back in. Not sure he needed to touch that - Wilson was getting there from an onside position.
Into the history books...
Liverpool 2-0 Bournemouth
(App users may need to click the link to view this tweet)
Liverpool 2-0 Bournemouth
Oh, how has he not scored? Liverpool put on another sweeping move that finds Roberto Firmino in space and bearing down on goal.
The Brazilian decides against shooting as Asmir Begovic comes out, cutting back onto his left foot and taking perhaps one touch too many.
Once he finally gets the ball out of his feet and towards goal with Dan Gosling closing in, Nathan Ake is back to block it and clear.
SUBSTITUTION
Liverpool 2-0 Bournemouth
And now a final change for Eddie Howe's side as Andrew Surman is on for Lewis Cook.
SUBSTITUTION
Liverpool 2-0 Bournemouth
Callum Wilson is on for Jermain Defoe.
CLOSE!
Liverpool 2-0 Bournemouth
Liverpool surge forward, brimming with confidence again, but Sadio Mane lashes just wide.