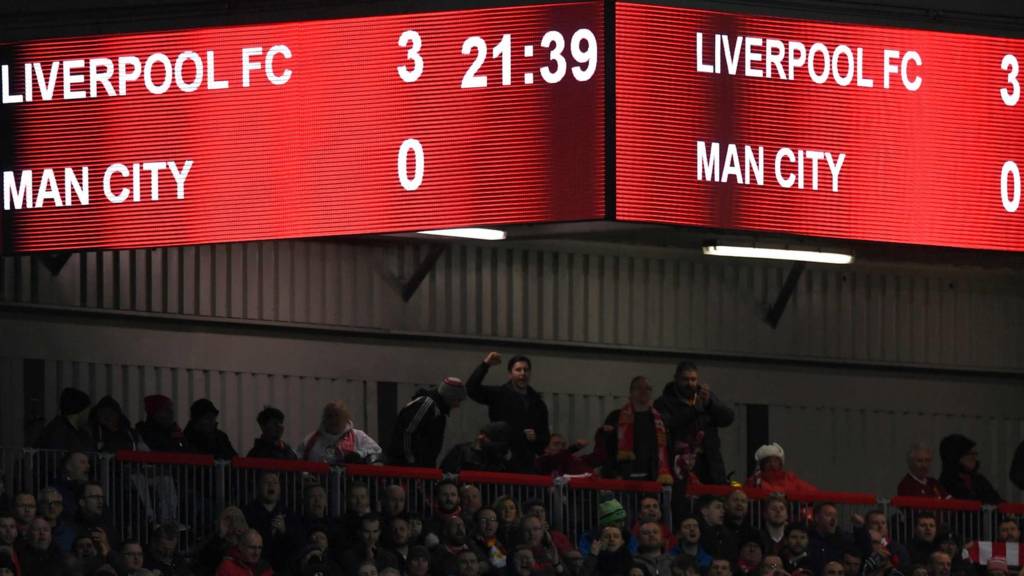 Liverpool stun Man City - all the reaction
Thanks for sticking with us this morning.

Gossip: Real in Old Trafford raid?

Real Madrid have reportedly rekindled their interest in Manchester United's 27-year-old Spain keeper David de Gea.

They have also enquired about France midfielder Paul Pogba, 25, and France forward Anthony Martial, 22.

There's plenty of other interesting bits of transfer talk in today's gossip page, like:

Liverpool eyeing a Gent winger
Chelsea looking to France for their next manager
Everton planning to sign another Besiktas star

Catch up with it all here.

Get Involved

#bbcfootball or text on 81111

Oli: Liverpool's midfield three performed out of their skin. It is such a shame James Milner has retired from England duty because he is the type of player England will miss in midfield. Hugely underrated and leading the CL assists! I hope Gareth Southgate is on the phone right now convincing him otherwise.

Michael: People keep mentioning Man City's 5-0 win earlier in the season, but always seem to forget that four of the goals were scored against 10 men, with a much weaker Liverpool defence. All Liverpool need is an away goal and there's no way City can win the tie

Atletico Madrid take on Sporting Lisbon, Lazio take on the conquerors of Borussia Dortmund - Red Bull Salzburg while RB Leipzig face Marseille (all 20:05 BST)

Cech to start?

Arsenal v CSKA Moscow (20:05 BST)

David Ospina has been Arsenal's nominated Europa League goalkeeper in all-but two of the club's ten fixtures this season.

But a number of national newspapers are suggesting that Petr Cech has shaken off a minor groin issue and is set to start in Europe for the first time since the Gunners 1-0 win over Red Star Belgrade in October.

Not good news for the Colombian as the competition begins to reach a climax.

Lacazette to return?

Arsenal v CSKA Moscow (20:05)

Pierre-Emerick Aubameyang might not be eligible to feature for Arsenal tonight but some good news coming over the horizon is that Alexandre Lacazette is in line to make his first start for the club since 30 January.

France forward, Lacazette, 26, is making his return from knee surgery and scored after coming off the bench in Sunday's Premier League win against Stoke.

Is he the man to add an extra dimension to Arsenal's attack?

'Some extra pressure'

Arsenal v CSKA Moscow (20:05 BST)

After two night's on Champions League football it is time to turn our attention to the Europa League with Arsenal hosting CSKA Moscow this evening.

Currently 13 points adrift of a Champions League place in the Premier League, it would be fair to say this competition has become a case of all or nothing for the Gunners' hopes of returning to Europe's top table.

No wonder Arsene Wenger has talked of "some extra pressure".

Video content

Get Involved

#bbcfootball or text on 81111

Ali: As someone who has never missed a Liverpool game under Klopp, I believe this was our best performance under him. From defence to attack, it was simply a complete performance.

Jon: Man City did not have a disallowed goal, because it's clear Virgil van Dijk stopped defending when the whistle blew, and most likely would have blocked the cross otherwise. Also, not convinced that City had any penalty shouts. Liverpool's first goal may have been slightly offside, but it's impossible to begrudge them that win based on the performance.

Chris: The tie is no way over. Let's not forget City turned Liverpool over 5-0 this season and Klopp is notorious for blowing his chance. He's always the bridesmaid.

Former Manchester United defender and Sky sports pundit Gary Neville has had his say on last night's big game and the Liverpool fans' reaction to it.

He then responded to another supporter who asked if he thought Jurgen Klopp's side could be title winners next season.

(App users may need to click the link to view this media)

Celtic draw blank at home

Video content

Liverpool's thumping win wasn't the only eye-catching result last night.

In Scotland, table-topping Celtic were held at home by Dundee.

Dedryck Boyata almost scored a 45th-minute own goal when he tackled Roarie Deacon, the ball striking the post.

Dundee's Simon Murray and home winger James Forrest also came close.

You can read more about that one here.

From Mexico to Milan, football says goodbye to 'an absolute gentleman'

BBC Sport's chief football writer Phil McNulty chronicles the late Ray Wilkins - one of the most popular figures in football.

Read more here.

Video content

Get Involved

#bbcfootball or text on 81111

Fabian: Strengthen that defence, get a world class holding midfielder and Liverpool will be a force to reckon with in world football. Stellar performance last night; no way back for City.

Jack: The thing that most Liverpool fans were thinking last night, was 'can we keep them out until the Etihad?'. The fact we did but added three goals was easily the best result we could have hoped for.

Olly: First Liverpool goal offside - certainly more so than City's disallowed goal plus a penalty not given for a foul on Sterling. The score should have been 2-1 with VAR.

Tributes to Ray Wilkins were also offered ahead of the Milan derby.

Wilkins made 74 appearances the Rossoneri and club legend Franco Baresi held up an AC Milan shirt with the ex-England captain's name on it moments before the game and also laid flowers behind the goal.

Baresi had earlier said he was honoured to have known Wilkins on his Twitter account.

Joe Cole - I will always remember

Quote Message: Raymond - I will always remember the great moments we shared. I would come out to training 20 minutes before we would start and playing the boxes game and two touch everyday, we had such a giggle. I loved You telling me about Franco Barresi and all the greats you have played with and against and reminiscing about the "good old days". Loved our daily chats and arguments about football and will always remember you saying " You young chappies should never give the ball away, these days you play on bowling greens, we played underneath the grass young man " But most of all mate I will miss bumping into you and catching up and i always left your company with a smile on my face and a spring in my step. You will always be "dangerously well". They don't make them like you anymore Raymond. Thoughts and prayers are with Jackie, Jade and Ross at this deeply sad time and still can't believe you are gone. Love, Joe xx from Joe Cole

Touching tribute to Ray Wilkins

This warms the heart and reminds everyone why Ray Wilkins, who died yesterday, was so admired.

Read more about his sad passing here.

Lineker pays tribute to Wilkins

Match of the Day presenter Gary Lineker also paid tribute to the late Ray Wilkins, saying he had "great memories of Ray as a team-mate and broadcasting with him as well".

Robson pays respects to Wilkins

Aside from events at Anfield, football remains in mourning today after the untimely death of Ray Wilkins at the age of 61 yesterday.

His former England and Manchester United teammate Bryan Robson has joined a chorus of former players to pay their respects to Wilkins, in the Daily Mail.

'Liverpool like a swarm of bees'

Not often you hear a football performance likened to a swarm of bees.

But here's MOTD pundit and former Liverpool defender Mark Lawrenson's take on events last night.

Manchester City's new sponsor confirmed

'Liverpool expose Man City's hidden flaws'

More analysis from BBC Sport's chief football writer Phil McNulty, who says that Pep Guardiola's fears were realised during Liverpool's 3-0 triumph over Premier League champions elect Manchester City.

Read more here.