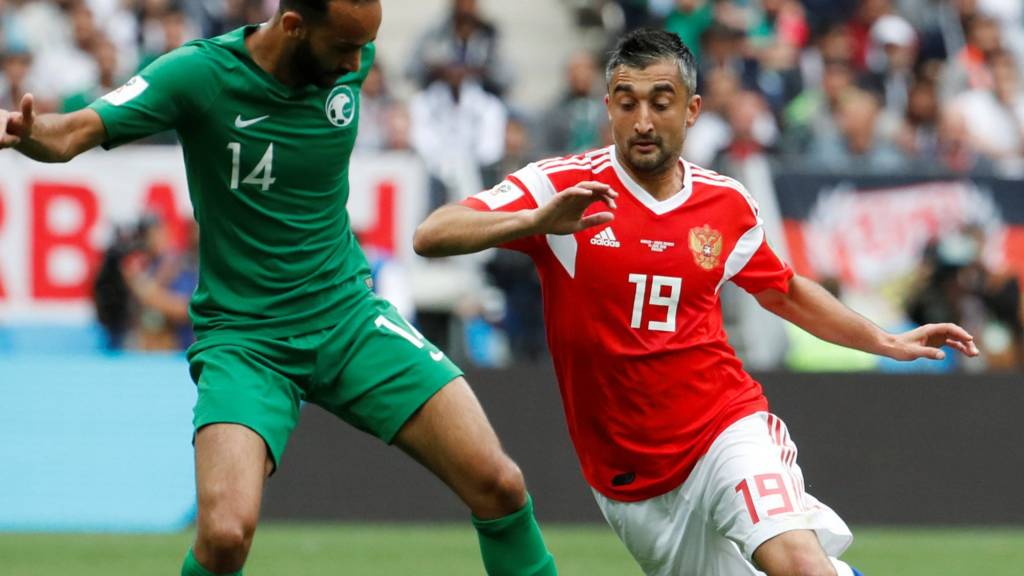 Catch-up: World Cup - Russia v Saudi Arabia
That was Russia's first win in eight games - had they not won today it would have been their worst run ever.

And what a way to do it.

Lopetegui unveiled as Real boss

Real Madrid president Florentino Perez says "nothing justifies" Spain sacking manager Julen Lopetegui on the eve of the World Cup in response to the La Liga club naming him as their new boss.

Lopetegui, who had his Real Madrid unveiling today, says yesterday was the saddest day of his life and today's the happiest.

Our player rater has closed - and the results are in.

Denis Cheryshev was the highest rated with 7.22, above Artem Dzyuba (7.16)

Saudi Arabia substitute Mohannad Aseri averaged 3.36. Oof.

I've just been looking at some of the player stats for the game and it doesn't make pretty reading for some Saudi players.

Yasir Al Shahrani gave the ball away 24 times, only winning it three times. He also misplaced 29% of his passes.

Mohammed Al Sahlawi only had 17 touches before he was replaced - three of them from kick-offs as far as I can see.

Post update

Russia 5-0 Saudi Arabia

Denis Cheryshev's two goals today were his first international strikes.

The 27-year-old Villarreal winger, who was born in Russia but raised in Spain, was winning only his 12th cap.

Owais Iqbal: re Saudi Arabia team fasting: it's permissable to not fast if you're traveling for more than 57.5 miles from your home and are staying for less than 15 days

SMS Message: Having drawn Saudi Arabia in the works' sweepstake, I'm feeling positive about collecting the prize for having the worst team in the tournament from Lee

Saudi Arabia have conceded 14 headed goals at the World Cup since their debut in 1994, that's five more than any other team over that period.

Watch: World Cup 2018 highlights - Russia 5-0 Saudi Arabia

Oh you said yes the first time, didn't you? Well here they are...

I said ARE YOU READY TO WATCH SOME HIGHLIGHTS?

Ready to watch some highlights?

'First step'

Russia 5-0 Saudi Arabia

Russia manager Stanislav Cherchesov: "After the draw we started understanding and seeing there is a crescendo.

"We made the first step, then there is a stronger opponent. We don't know if Mohamed Salah is going to play [in the match against Egypt]. With him or without him it is a respectably strong team, with him stronger obviously. It is just a different adversary."

'We must change our strategy'

Russia 5-0 Saudi Arabia

Saudi Arabia coach Juan Antonio Pizzi: "It was a tough game and we suffered a big and unexpected defeat.

"Russia did very well, while we did not appear to be in good shape. I don't believe that the opposing team has done anything to surprise us - I think that a poor performance explains the result.

"As for our strategy, we must change. We have to forget about it now and think of the next match. I have confidence in these players."

Russia manager Stanislav Cherchesov is asked how Alan Dzagoev is and says he doesn't know whether he'll play again in the tournament.

He says a scan tomorrow should tell them more.

Dzagoev suffered a hamstring injury in the first half and was replaced by two-goal Denis Cheryshev.

"He was in severe pain and couldn't continue playing."

Get Involved

#bbcworldcup or text 81111

Ben: Lest we forget, that scoreline isn't necessarily a determinant of a "useless" team. They did have more possession. What was the scoreline when Germany and Brazil met in the last World Cup? Surely it wasn't for lack of quality.

Denis Cheryshev says he has no problem with the decision not to start him, and says he's happy just to have been in the squad.

I think he's done enough to start against Egypt on Tuesday.