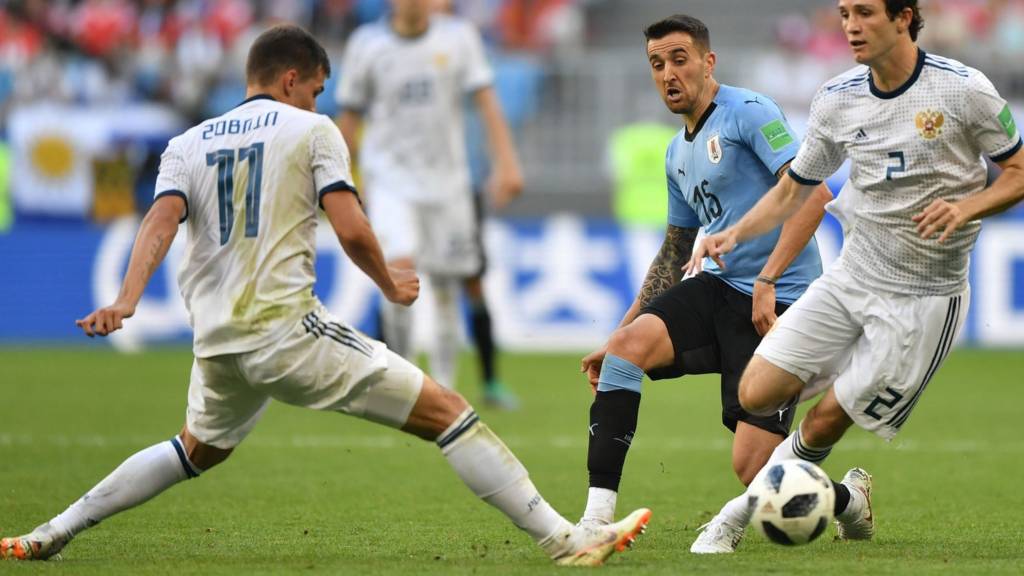 Catch-up: Uruguay battle Russia for top spot
Summary
Watch a full replay using the play icon
Uruguay and Russia tied on 6 points
Match determines who wins Group A
Get involved using #bbcworldcup
WATCH: Uruguay 3-0 Russia highlights

Thanks for joining me today, and getting involved in debate.

I'll leave you with the highlights of the game...

That's the end of this live page now.

Our evening ones are just starting - they're both live on BBC TV.

Take your pick...

Get Involved

#bbcworldcup or text 81111

Greg: Group A has been very weak. Russia exposed against a top-shelf team. Uruguay looked half-hearted in three games yet won them all. Mohamed Salah hype means nothing for Egypt who finish bottom of the group.

'Uruguay are the real deal'

Uruguay 3-0 Russia

Pat Nevin

Former Chelsea winger on BBC Radio 5 live

It is the right result because the better team won. It would have been better 11 against 11, but Uruguay are the real deal. You would not be surprised if they go a lot further in this campaign. We have found out what level Russia are at.

All five of Uruguay's World Cup goals in 2018 have come via set-pieces.

Uruguay are the only team to have scored three or more goals against a home nation in a group stage game - and have done so twice, beating South Africa by the same scoreline in 2010.

The hosts that day also had a player sent off.

Get Involved

#bbcworldcup or text 81111

Yasman: Uruguay trashing the Russians is an indication of what we will witness in the second round when the men are separated from the boys.

Uruguay have won their last three World Cup matches against European sides (Russia, England and Italy), having failed to win any of their previous 15 (D6, L9).

Good company

Uruguay 3-0 Russia

Edinson Cavani has become the second player to score a goal in three separate World Cup tournaments for Uruguay (2010, 2014 and 2018) after his strike partner Luis Suarez.

They had lost those previous two games Cavani had scored in, so this is the first World Cup win he has scored in.

They have won all five World Cup matches when Suarez has notched.

The pair have 96 international goals between them now.

You have until 30 minutes after full-time.

WATCH: Cavani taps in number three

WATCH: Cheryshev own goal doubles Uruguay's lead

WATCH: Suarez's low free-kick puts Uruguay ahead

Right, want to see some goals?

A reality check for Russia today? It did feel like people were getting carried away a bit. Saudi Arabia and Egypt were terrible.

So this is what Group A looks like.

Uruguay play the runners-up in Group B - who could be Portugal. But could also be Spain. And Russia play the winners of that group. Who could be Spain. But could also be Portugal.

Spain and Portugal are only separated by fair play, so it could still go either way. Iran could also qualify.

Get Involved

#bbcworldcup or text 81111

Johnny Magrinho: OK so at least we know Russia are only good enough to beat teams of similar quality to Egypt and Saudi Arabia. They aren't going to score again at this World Cup. At least the journey home won't be that long for them.