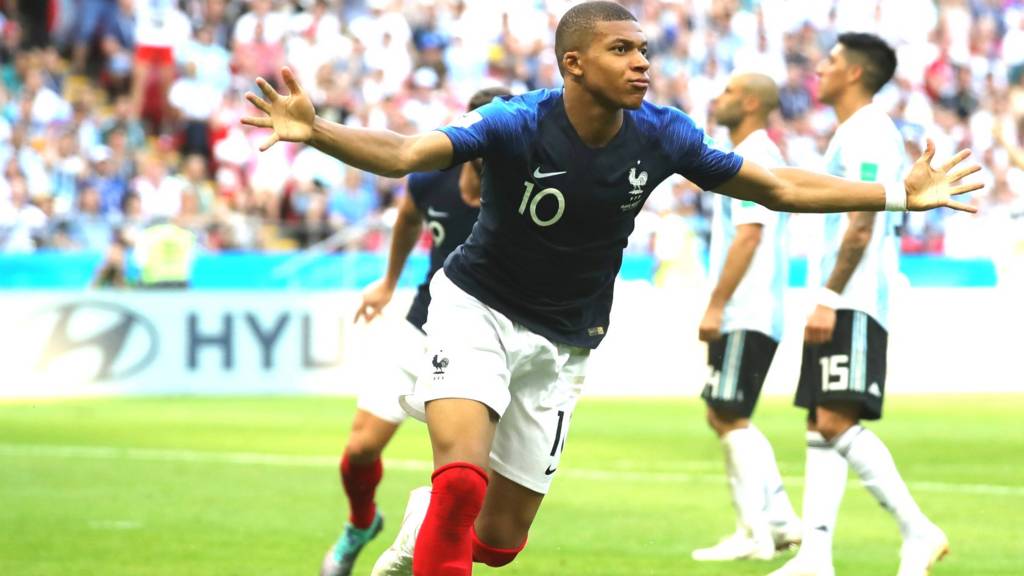 Watch highlights of World Cup classic...

France 4-3 Argentina

We're going to shut down this page now - but our build-up of Portugal v Uruguay - the next opponents for France - has just started.

Remarkably, this was the first ever 4-3 World Cup game excluding extra time.

France boss Didier Deschamps on comparisons between Brazilian Ronaldo and Kylian Mbappe: "Ronaldo was a forward player who was very, very quick. I think Kylian is even quicker.

"But this is somebody who was a world champion compared to a young player who has lots of ability and qualities. He is only 19 years old and he will make a lot of progress."

France forward Kylian Mbappe: "I'm very happy and it's flattering to be the second teenager [to score twice in a World Cup game] after Pele but let's put things in context: Pele is another category, but it's good to be among these people.

"As I've already and always said, at a World Cup you have all the top-level players, so it's an opportunity to show what you can do and what your abilities are. There's no better place than a World Cup."

France boss Didier Deschamps: "We answered the call, we had a lot of character. It was not easy because we were leading then conceded but we kept fighting.

"There was an excellent mentality. I am very proud and very happy for them. They have been preparing themselves for weeks and months. We couldn't miss it and we didn't miss it."

Lionel Messi is the first Argentina player with two assists in a World Cup game since Diego Maradona in 1986 (v South Korea).

He was the only player to have a shot saved today. Eight shots on target, seven goals.

The player rater has closed and the results are in.

Kylian Mbappe has got the highest average rating of any player at this World Cup so far.

Ready to feel old?**

Kylian Mbappe wasn't even born when France won the 1998 World Cup. He arrived on the scene in December that year.

** does not apply to young people who don't remember France 98

Get Involved

France 4-3 Argentina

Christopher: What an incredible game of football, kicking off the knockout rounds in style!!

Simon: I don't get the whole 'Messi doing it on his own in the World Cup thing'... Top players all through the Argentina squad not turning up.

Lee: The rest of the knock out games will have a lot to live up to!

'Two nations fighting'

France 4-3 Argentina

Guillem Balague

Spanish football journalist on BBC Radio 5 live

There were penalties, a turn-around that was unexpected, Messi moments and two nations fighting with different weapons. It was all about heart from Argentina and play from France.

France forward Kylian Mbappe became the first teenager to score multiple goals in a World Cup tournament since Michael Owen for England in 1998.

Was not expecting to put a Reese Witherspoon tweet in this live page.

SMS Message: I'm hoping this makes people realise that you CAN rest players in your final group game and still maintain winning momentum in the knockouts from Liam

Top scorers' table

France 4-3 Argentina

Those goals take Kylian Mbappe two away from the top of the goalscoring table. He joins Diego Costa and Denis Cheryshev on three goals.

Cristiano Ronaldo has a chance to overtake Harry Kane at the top later tonight.

France play either Uruguay or Portugal in the quarter-final on Friday.

That game is at 19:00 BST today.

WATCH: Aguero scores consolation

It's almost like playing Lionel Messi and Sergio Aguero together might have gone well...

Paul: What. A. Game

Brandon: This is the best world cup since at least Italia 90. Brilliant quality of football, shocks throughout coupled with excellent fans, venues and a great host country in Russia

Jay: All this match has done is brilliantly set us up to be disappointed with the rest of the knockout games.