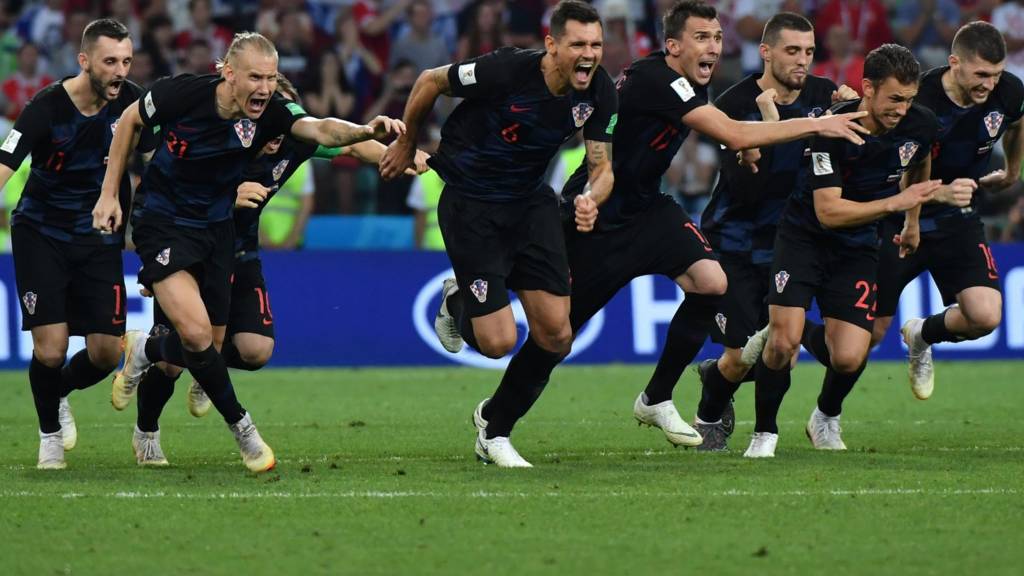 Catch-up: Russia v Croatia
It's coming home.

What a day!

England are in the semi-finals and this World Cup just keeps giving. I'm going to head off now (I'll probably be listening to Vindaloo on the way home).

But before you go, you should check out a few things on our website:

I'll leave you with three words...

You can relive all of today's action

Romain: RUS⁠ ⁠ 2-2 CRO⁠ ⁠Good news for Russia - they don't have to go home!

Simon: Never thought I'd ever say this... But I think football might actually be coming home.

Craig: Can't take anymore pen shootouts. Too nervy to watch! Bad that we got Croatia but at least they will be a lot more tired after that 120 min workout!

Andrej Kramaric's leveler in normal time meant Russia led for just eight minutes in the entire match.

SMS Message: England need to be wary for one reason ... Croatia have now been through the mill twice and come out fighting ... England have barely been tested from Martin

Domagoj Vida thought he'd sent Croatia through with another header in extra-time...

SMS Message: Surely Croatia couldn't have three penalty shootout victories in this world cup. Bodes well for England if it comes to that. from Ben

Mario Fernandes has made a name for himself at this World Cup. He impressed against Spain and kept his place for today's quarter-final.

He then repaid the faith by equalising with a terrific late header to send Russia into a penalty shootout.

England took 22 years to win a penalty shootout in a major tournament and Croatia have done it twice in a week.

DO NOT go to penalties on Wednesday, England.

SMS Message: One of the worst lots of penalties I've ever seen! Sunday leagues' finest from Liam

Dion Dublin

Ex-Aston Villa striker on BBC Radio 5 live

Most of the Russians have left the field of play now but as soon as the shootout was finished they had a moment of appreciation by clapping the fans. The players are distraught, while the Croatians are having an unbelievable evening on the other side of the coin.

Croatia pipped Russia to the post but I don't fear Croatia, and I hope Gareth doesn't either.

Ben: Scenes. Just pure unadulterated mental scenes. Surely the most dramatic World Cup ever. Unforgettable match. Unforgettable tournament.

Chelsea: Russia have won my heart over. Showed us how to lose a football match. Figh and give nothing away. And without the big name stars that flail all over the floor at the slightest contact. Lots for other teams to learn

Aaron: Mario Fernandes = Hero to Zero. Dragged Russia back into the game but his penalty cost them in the end...

This man has been a revelation.

Only Harry Kane has scored more goals at this World Cup than Denis Cheryshev. He's not even a regular starter for Russia but has been excellent in front of the home crowds.

He's adding a few 0000's onto his pricetag too with this screamer in a World Cup quarter-final.

Russia are also the first host country to be eliminated at the quarter-final stage of a World Cup since Mexico in 1986.

Ouch.