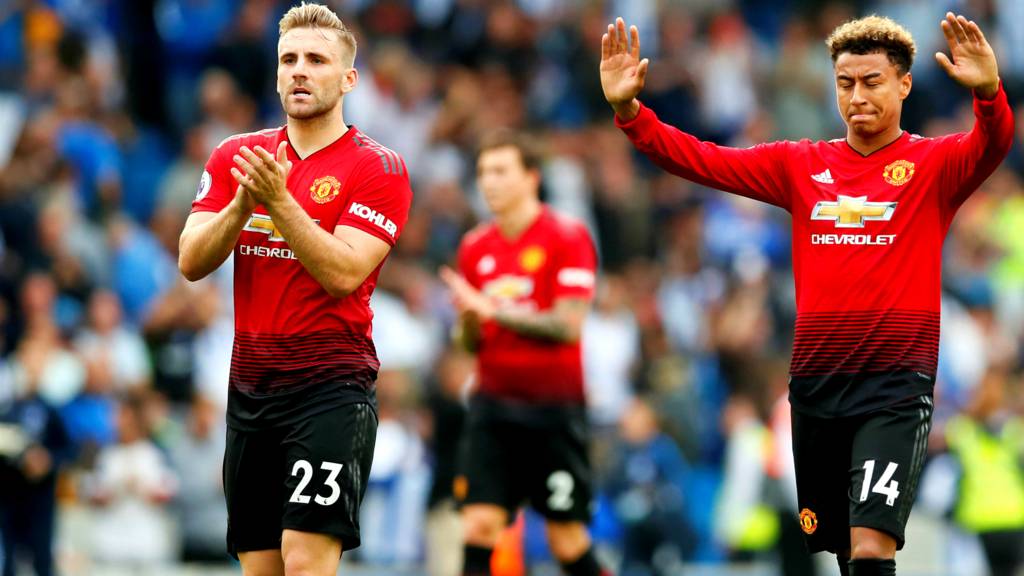 Brighton beat Man Utd - manager & player reaction
Man City employ new security measures

Lawro predicts

Manchester City v Huddersfield (13:30 BST)

Mark Lawrenson

Ex-Liverpool defender and BBC football expert

Huddersfield lost heavily at home to Chelsea last time out and it is hard to see them preventing a similar scoreline at Etihad Stadium.

Yes, the Terriers drew 0-0 here last season, but City had already won the title by then. You know Huddersfield will park the bus again, but I don't see them holding out for another point.

Prediction: 3-0

Breaking team news

Burnley v Watford (13:30 BST)

There isn't any as such - both starting XIs are unchanged from their previous Premier League matches.

Breaking team news

Man City v Huddersfield (13:30 BST)

City make three changes, with skipper Vincent Kompany, midfielder David Silva and forward Gabriel Jesus back in the starting XI.

Live Scottish League Cup coverage

Meanwhile, over at Rugby Park, Kilmarnock are playing Rangers in the Scottish League Cup.

That kicks off at 12:30 BST - you can follow the live text here and also BBC Radio Scotland coverage.

Team news coming up

#bbcfootball or text 81111 (UK only)

We are about four minutes away from team news for our 13:30 BST games: Man City v Huddersfield and Burnley v Watford.

Match predictions and thoughts - post them to #bbcfootball or text 81111 (UK only)

Have you dropped Kenedy yet?

I told my colleague Phil Dawkes to shove Kenedy in his fantasy team.

He was mulling over the Newcastle man or Fulham's Tom Cairney, but I said, "Mate, put in Kenedy against Cardiff - no debate".

By now we all know how the Brazilian's day panned out - an anonymous first half, aside from kicking Victor Camarasa and then a penalty miss in the 96th minute, which had he scored would have won the game.

So, yes he could get retrospective punishment... and he won't play against parent club Chelsea next week, but at least he did also pick up a fantasy point, so I don't know what Dawkesy's complaining about. Cairney provided two.

Saturday's talking points

Image caption: It was a day of contrasting fortunes for (left to right) Richarlison, Jack Wilshere and James Maddison

There were wins for Chelsea, Tottenham... and Bournemouth as the trio maintained their 100% records.

Two other London sides - West Ham and Arsenal - are struggling a wee bit with zero, zilch, no points.

England's World Cup surprise hero Kieran Trippier scored a cracker and England's expected hero Harry Kane finally recorded a PL goal in August which, if anything, will have people stop asking him 'that' question.

Imagine if Man City land Neves in January?!

Warning: there's a lot on offer

BBC Radio 5 live:

The Squad (on now) - Nick Bright and guests Jermaine from Cheeky Sport, Specs Gonzalez and Cel Spellman pick apart the weekend's football.
Man City v Huddersfield (build up from 13:00 BST)
Brighton v Man Utd (build up from 15:00 BST)
606 (after the 18:00 BST news)

BBC Radio 5 live sports extra (online only)

Liverpool FC Women v Manchester United Women (14:00 BST)

BBC One

To be a fly on the wall...

Image caption: Don't get on his wrong side...

Unless you've been living in Pyongyang the past few weeks you might have noticed that champs Man City have a documentary out which captured the drama of the expensively-assembled side's romp to the Premier League title last season.

Among other things, we found out that Pep likes a good swear, so if his team lose or draw at home to Huddersfield it would be great to have the cameras rolling once more to see what new words he might have learnt since.

It could happen, considering the Terriers did pick up a point at the Etihad back in May during their debut PL season.

A few miles away in Lancashire, Burnley will be hosting Watford. Will the Clarets be fatigued after their Europa League extra-time win on Thursday?

Could be a tricky one if Watford 'do a Watford' - aka start the season on fire, tail off after Xmas before dismissing their manager...

Both matches start at 13:30 BST. We will have team news coming up in about 30 mins, plus news, views, predictions, mirth and merriment.