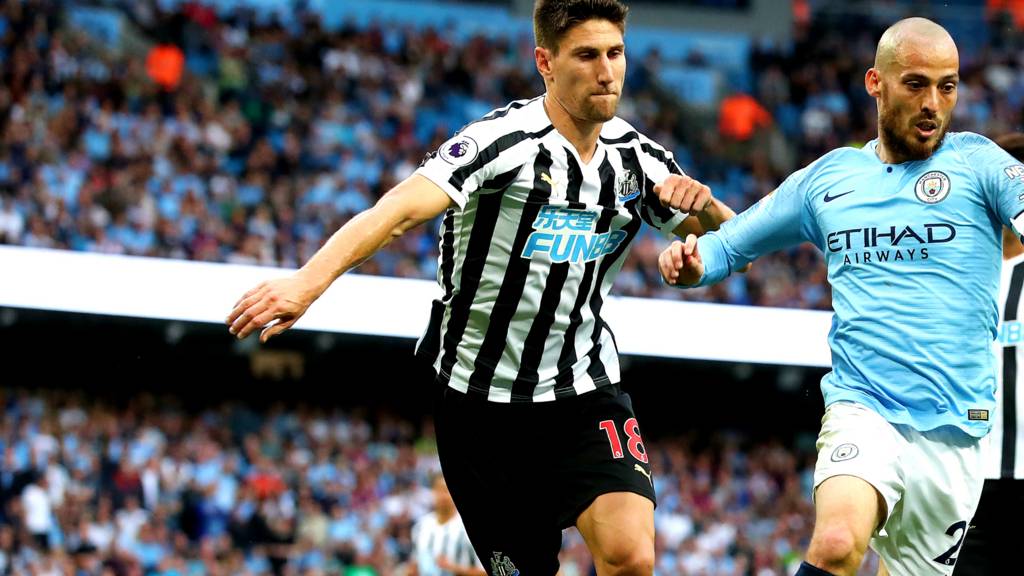 Man City v Newcastle - Walker with winner as champions continue unbeaten start
Handshakes for all

Man City 2-1 Newcastle

So the last two entries point you to a match report and to some European football action.

Short of cooking your tea for you I'd say my work here is done.

Congratulations to Manchester City, their rich owners on 10 years of stewardship, Kyle Walker on a goal, Vincent Kompany on a decade at the club, Newcastle on some dogged application and, of course, well done to you guys for tuning in to us.

Have a top Saturday night one and all.

Read all about it...

Man City 2-1 Newcastle

Where next?

European football anyone?

I know, I know, you've been following games since midday and now you're looking for a fix of action.

Gareth Bale has just netted for Real Madrid, so follow that here.

Get Involved

#bbcfootball or text 81111 (UK only)

Andy Horncastle: Last season City didn't tick properly when KDB was left out, so this injury could be a problem.

Malcolm Elford: Don't know why people are worrying about Man City's results. They got two wins and a draw last season and we all know what happened next.

When you find the net...

Man City 2-1 Newcastle

'My choice to leave out Sane'

Man City 2-1 Newcastle

Manchester City manager Pep Guardiola speaking to BT Sport:

"We thought it would be like this, difficult to attack. It was really bad the way we defended the goal but in general we had enough chances and in the second half we were in control. Against a team looking to exploit the set pieces and counter attack the most important thing is to be stable."

On his full-backs: "Benjamin Mendy is an important player for us, when you are injured for a long time he is still learning, Kyle has been here, his second year, he understands more and today helped a lot offensively and defensively."

Was Leroy Sane dropped or injured?: "Out of the squad. Another day Raheem is out, Riyad or Bernardo or Sergio or Gabriel. We have six strikers and I took that decision on the opponent and what I saw every day. Leroy was so important last season and hopefully important for us this season."

'I am proud of my players'

Man City 2-1 Newcastle

Newcastle boss Rafa Benitez after his side's loss to Manchester City: "I think everybody knows how good this Manchester City team is.

"We had problems because they have too many options, too much depth. We scored and we were in the game and I was happy.

"Against this team you can't give the ball away as they press quickly you can't afford these mistakes.

"To stay in the game for so long and have a couple of chances at the end and is good, so in terms of mentality it is positive for us.

"We knew that Yedlin could be a threat with pace and after scoring the own goal last week it is important for a full back.

"It will be tough and difficult to survive but we want to be competitive. We were close to getting something and that has to be a good thing for the future and the team spirit. I am really proud of my players. "

'I'm so satisfied'

Man City 2-1 Newcastle

Manchester City manager Pep Guardiola speaks to BBC Sport: "The counter attacks show that these teams don't need much to create problems. Step by step we will get our best condition. To start wit 10 points from 12 is a good start for us and I am so satisfied."

Were you pleased with the patience today? Especially second half. We controlled them and created. We were more fluid and our positions were where we were meant to be."

Was Leroy Sane left out due to injury?

"No, it was my decision. We have six strikers. Last time Phil Foden wasn't in the squad. I was sad to leave him out as I never see him training bad. There were no injuries. We have a big squad and today it was Leroy, maybe next day it will be another one."

Pep Guardiola coming up. He's not saying he's fallen out with Leroy Sane, instead stating he just left him out and the same will happen to others.

'Not too far away'

Man City 2-1 Newcastle

Newcastle boss Rafa Benitez speaks to BBC Sport: "I am really pleased with the effort, mentality and team spirit. We were in the game for a while. We gave the ball away or the first and the second was a great goal.

"It's the same situation for us, we have to improve on the ball and we'd have more chances against these teams.

"You could see at the end when we had four at the back that Aguero was one on one. As soon as you expose yourself a bit against these teams you have problems.

"We were trying to counter but they are strong at the back with pace. We have to be very precise on the ball when we get it back so we have to improve.

"I'm pleased to see the support of the fans and the way players were working. That's the main thing to have everyone together.

"We cannot be watching the table, it's too early. The main thing is the performance. We are not too far away, as soon as you start with a couple of victories you can go up."

We will be hearing from Rafa Benitez shortly, he's saying he's "really proud" of his players.

Get Involved

#bbcfootball or text 81111

Andy: Last season City didn't tick properly when KDB was left out, so this injury could be a problem.

Injured4life: As a City fan, I thought I'll be the first one to say it out loud. We are not the same without Kevin de Bruyne. Let's hope he comes back early like last time.

Long journeys home...

Man City 2-1 Newcastle

'Credit to Newcastle'

Man City 2-1 Newcastle

Goalscorer Raheem Sterling after his team's 2-1 win: "It's good to be on the score sheet early. We had to dig deep to get the three points.

"They've come and set up really well. Credit to Newcastle and they played a really good game out there today.

"We had quite a few games last season of teams coming here and defending deep and compact and we still got some great wins.

"Teams are trying to use counter-attacks to try and beat us and they did that again today."

Top-line stats

Man City 2-1 Newcastle

We live in a world filled with stats but really, these three tell you the essentials.

A brief scare at the Etihad but no more than that and City have now won each of their last 10 Premier League home games against Newcastle.

'We've got to brush off the cobwebs'

Man City 2-1 Newcastle

Manchester City goalscorer Kyle Walker speaking to BT Sport:

"Today we adapted the system differently which allowed me to get forward a bit more which was enjoyable. It's important to get three points and bounce back after a disappointing result against Wolves.

"When teams set up like Newcastle did you are going to get done on the counter, it is something we need to improve on. We've been done more than last season, so we've got cobwebs to brush off from the summer and hopefully we can come good after the international break."

Early days...

Man City 2-1 Newcastle

That has a relatively familiar look about it. Manchester United will want to keep pace tomorrow when they face Burnley...

'City need to hit top gear soon'

Man City 2-1 Newcastle

Paul Lake

Former Manchester City defender on Radio Manchester

David Silva was one of the better performers today for City Their rhythm was stifled after the first goal. It has not been electric which is exciting as it is still to come. It has to come soon because Liverpool, Tottenham and Chelsea are showing their quality.

Post update

Man City 2-1 Newcastle

Rafa Benitez is on the pitch putting an arm around some of his players and thanking fans. Interestingly he has a good chat with Jamaal Lascelles, who he reportedly fell out with last week. Is that for the cameras or was there never an issue anyway?