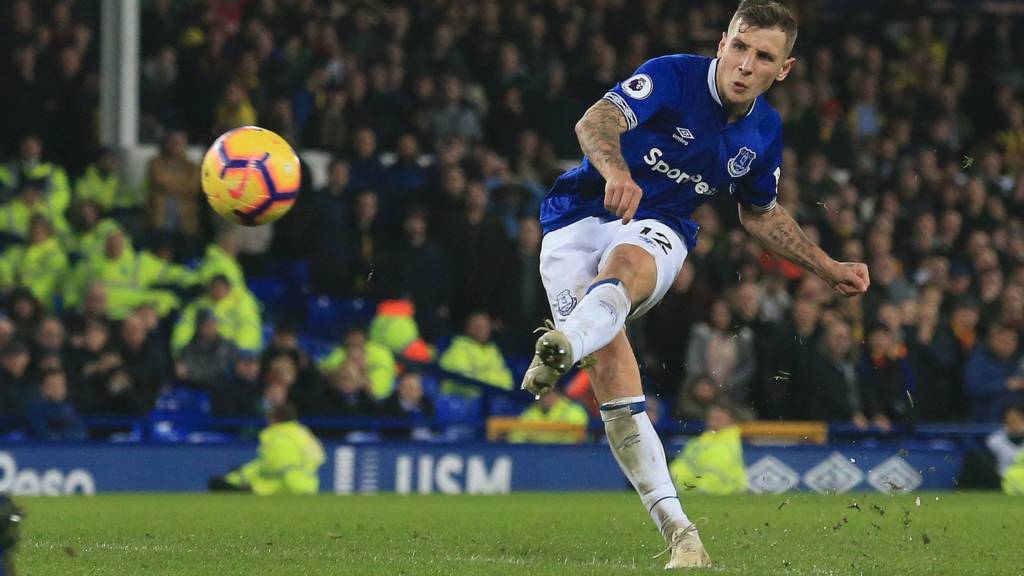 Digne's 96th-minute free-kick secures dramatic point for Everton
Summary
Listen on BBC Radio 5 live & online
Digne curls in delightful free-kick in sixth minute of injury time
Two Watford goals and Everton miss penalty - all in five minutes
Watford equalise when Pereyra's shot hits post and deflects in off Coleman, Doucoure heads in for lead
Kabasele fouls Mina in box - Sigurdsson's penalty saved by Foster
Richarlison opened scoring against former club - Walcott appeared to be offside in build-up
Watford remain winless in all 13 of their league trips to Goodison Park against Everton (D2 L11).

'Not important to me' - Silva on snakes

More from Everton boss Marco Silva to BBC Radio 5 live: "We lost our focus completely. Those two moments were not too special."

Will Sigurdsson continue to take penalties?

"Let's see what we can do and analyse the match. Gylfi is scoring many goals for us. He has all our support."

On Lucas Digne's goal

"You have good kickers. They work really strong. It showed personality and character to take that free-kick when people might have expected Gylfi. It's a very good goal."

On whether Watford fans holding inflatable snakes made the equaliser sweeter

"Of course not. I didn't see anything. It's not important to me. What I can control is my players. What is important is our fans and doing what we can to make them proud."

'Result would have been different with VAR'

Watford manager Javi Gracia to BBC Radio 5 live: "It's difficult to accept because in the second half we dominated.

"To concede in the last minute is tough to accept but we'll continue in the same way with the same attitude."

What did you tell your players at half-time?

"Keep playing the same way. Only some difficult decisions to accept changed the game in the first half. After that the team was confident playing the same way."

On Everton's offside goal and Yerry Mina not being sent off...

"I prefer not to say anything about the referees. If VAR was ready today the result would have been different. I'm very proud of my players."

Thirteen of the last 14 goals scored in Premier League games between Everton and Watford have come in the second half.

Everton boss Marco Silva to BBC Radio 5 live: "It's a difficult match to talk about. Second half they reacted and scored twice because we didn't do what is normal and what we should do. We have to be strong in these moments."

Post update

Everton 2-2 Watford

Only Burnley (9) have conceded more Premier League goals in the 90th minute or later since the start of 2017-18 than Watford (8 - level with Southampton and West Ham).

Lucas Digne's equaliser was the second latest goal in the Premier League this season at 95:08, behind only Ross Barkley's strike for Chelsea against Manchester United in October (95:27).

Get Involved

#bbcfootball or text 81111 (UK only)

SMS Message: I think going into the game we would've been very unhappy with a draw but under the circumstances Digne goal is worthy of a party from Isaac

Ieuan Latham: Drat thought Watford were going to win before that free-kick went in by Everton. They were the better team in the second half.

Just waiting for the two managers to come out and speak to the press. Some bored looking TV journalists in the tunnel waiting for some interview action.

Watford keeper Ben Foster to Sky Sports: "Fair play to the lads – to come back from 1-0 down. From what I hear it was an obvious offside.

"We kept going. It's very disappointing but we can take a lot from this.

"It feels a little bit like a defeat. It's a difficult place to come."

Watford captain Troy Deeney to Sky Sports: "It's a shame. It feels like a defeat but you have to give credit where it's due. The free-kick went in top corner. We felt we were the better team in terms of know-how. When you score two away from home, it's usually enough to win.

"The ref's have got a tough job. We as players just want a bit of respect when we're talking. When they make a mistake we didn't highlight it, we just tried to have a chat with him but he fobbed us off. We felt like the whole world was against us.

"Unfortunately we just fell a bit short."

Everton have failed to win their last six matches in December, since a 3-1 home win against Swansea City on 18 December 2017.

Watford have now played Everton (D2 L10) more times than anyone else in the top flight away from home without winning. They have two draws and nine defeats at Manchester United.

Post update

Everton 2-2 Watford

Hornets captain Troy Deeney gives his shirt to a fan in the crowd. He is riiiiiiped.

Watford defender Jose Holebas is inconsolable on the pitch as he bats away an encouraging arm.

That was Lucas Digne's first goal in English football. He was a summer signing from Barcelona.

FULL-TIME

Everton 2-2 Watford

What a game! I wanted it to never end. Watford fans wish it had ended 90 seconds ago.

Post update

Everton 2-2 Watford

Almost a chance for a Watford winner but Roberto Pereyra's cross-shot is across goal.

GOAL - Everton 2-2 Watford

Lucas Digne

WOOOOW!

Will Gylfi Sigurdsson take it? Will Richarlison take it?

No, it's left-back Lucas Digne, who steps up and hits a wonderful curling free-kick into the corner which leaves Ben Foster with no chance.

Post update

Everton 1-2 Watford

Seamus Coleman, the only player back, does well to stop Troy Deeney getting onto Gerard Deulofeu's pass. He plays a long ball forward which Christian Kabasele handles to give Everton a free-kick in shooting range. In Gylfi range. Needless.