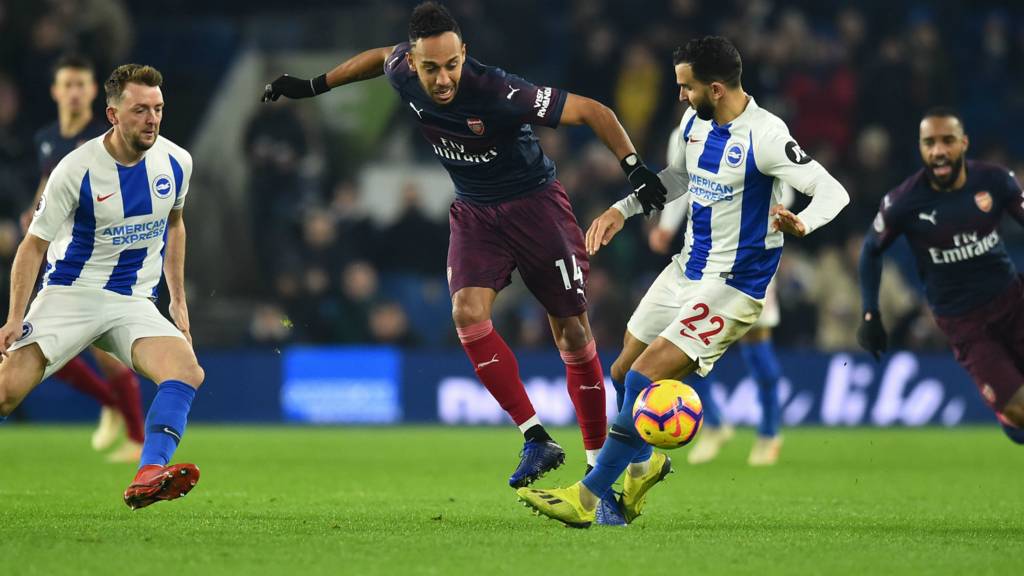 Brighton 1-1 Arsenal: Albion come from behind to deny Gunners
'Happy for Jurgen'

FT: Brighton 1-1 Arsenal

Brighton boss Chris Hughton, speaking to BBC Sport: "It's always a good point but I'm really happy with the reaction of the team. If they got a second goal in that good period they had, it becomes a really hard afternoon.

"But we worked ourselves into a really good game and as the second half became more open, on the balance of play we looked more likely to score. Solly [March's] chance was the best of the game.

"Jurgen [Locadia] had a difficult time, he came in injured last January, Glenn's [Murray's] form was very good, but he can play in a number of positions and trains hard every day. When that opportunity arises it means you're ready for it. I'm really happy for him. There is a lot of good competition within the side."

'Disappointed'

FT: Brighton 1-1 Arsenal

Arsenal manager Unai Emery speaking to BBC Sport: "I'm a little disappointed. I think the first half was key in the match. We started winning and had another two chances, and they saved from [Pierre-Emerick] Aubameyang.

"We didn't concede [many] chances for them but they drew level. Second half we could not impose our game plan. We did not make more clear chances to win the match.

"It's our process, we are leaving one process with the team. We can continue in our way with this point. It would be better if we won but I think the team worked well.

"If we scored our chances in the first half we could have won. In the second half we couldn't impose our game."

On his decision to substitute Mesut Ozil at half-time:

"It was tactical. It's the same every match. Sometimes I change it tactically when I need something to change."

Post update

FT: Brighton 1-1 Arsenal

Arsenal boss Unai Emery's just been speaking to BBC Sport's Steve Wilson - he confirmed the substitution of Mesut Ozil was not related to an injury, "only a tactical decision". Not sure if he feels it paid off...

Full quotes to come.

'He will be missed'

FT: Brighton 1-1 Arsenal

Brighton boss Chris Hughton, speaking to Sky Sports:

"After a difficult start and going behind against a good team, we showed great character to get back in the game. I thought in the second half if there was a team going to score it was us, we were a bigger threat, Solly March probably has the best chance of the game.

"Generally we start well, in those where you don't it's not something you've thought about before, to sit back, we like to start quickly but they are a very good team in possession, Arsenal have very good players on the ball, it's difficult to get close to them. After the first 20 minutes we very much got to grips with the game.

"Mat Ryan will be missed, that is why we have the squad we do. It's an opportunity for someone else now. Even at home, when you get a result against a top six team, a team who had until very recently gone on a long unbeaten run, a draw will always be a good result, but we finished the game strongly so a little bit disappointed, but overall it's not a bad point."

Post update

FT: Brighton 1-1 Arsenal

Of course, next up for Mat Ryan is the Asian Cup, playing for Australia. Brighton will miss him.

'Two points dropped'

FT: Brighton 1-1 Arsenal

Brighton keeper Mat Ryan speaking to Sky Sports: "It was disappointing that we didn't start too well. We knew Arsenal wanted to get in behind and we allowed it too easy early on. They hurt us on one occasion but we've shown character a couple of times this year and again we got back into the game. Unfortunately we couldn't get the win though.

"I felt that Arsenal were there for the taking. When we pressed them at the right moments they showed the frailties in their own play. So, playing at home, it was two points dropped. That's what I think anyway."

A quick reminder: Watford v Chelsea is getting under way at 19:30 GMT, and you can follow live text commentary of that one over here.

Post update

FT: Brighton 1-1 Arsenal

Pierre-Emerick Aubameyang got another goal and his good form continues. He's the outright Premier League top scorer once more with 13 goals, and has now been directly involved in 30 goals in 32 league appearances for Arsenal.

He might have had a hat-trick here in the game's opening stages though, and produced very little after the break.

Post update

FT: Brighton 1-1 Arsenal

Where does that leave the table? Arsenal creep into the top four, above Chelsea by one point, but the Blues are about to kick-off (19:30 GMT) at Watford.

Brighton stay 12th, they're 10 points above the relegation zone.

Post update

FT: Brighton 1-1 Arsenal

It's pretty remarkable to think Mat Ryan had zero saves to make after half-time. He kept his team in the game with three fine stops in the first half hour.

For the final 60 minutes of the match, Arsenal failed to have a shot on target.

Get Involved

#bbcfootball or text 81111

Naim Rahman: There's no hunger in these Arsenal players to win a game. They seem content with one point. It's embarrassing.

Rich in Kent: Shocking performance by Arsenal. Going back to the Wenger days, maybe he wasn't the problem after all.

Post update

FT: Brighton 1-1 Arsenal

Matthew Etherington

Former West Ham winger on BBC Radio 5 live

For me, taking Lacazette off was the biggest mistake Emery made because as soon as they did that Arsenal lost any impetus going forward.

Post update

FT: Brighton 1-1 Arsenal

Brighton hold the Gunners to a draw - and stop their losing streak running into a fourth match.

Arsenal might have had the game sewn up in the first 30 minutes. This wasn't a vintage display from them.

FULL-TIME

Brighton 1-1 Arsenal

Post update

Brighton 1-1 Arsenal

Brighton back with it. That could be that. Only a matter of seconds left. Bernardo about to take a throw on the Arsenal left.

Post update

Brighton 1-1 Arsenal

Granit Xhaka's delivery is cleared. It comes back to him. Stephan Lichtsteiner launches a low cross aiming for the jumble of bodies in the six-yard box. A Brighton boot wins out and digs the ball away.

Post update

Brighton 1-1 Arsenal

Lucas Torreira steals the ball and sets his team up the park. Brighton race back behind the ball. They had looked to be finishing on the front foot.

Torreira bounces a cross into the box that is sliced over the bar. Corner.

Post update

Brighton 1-1 Arsenal

Brighton in the Arsenal half. The Gunners break. Ainsley Maitland-Niles wastes it with a few stepovers that can't help him past the three players around him.

THREE minutes added on.

Post update

Brighton 1-1 Arsenal

Solly March thinks about a cross but then goes back and there's frustration from the home fans.

Davy Propper drives on goal. Bernardo swings a cross into the box that is just taken away from March by Pascal Gross' attempt at a header.