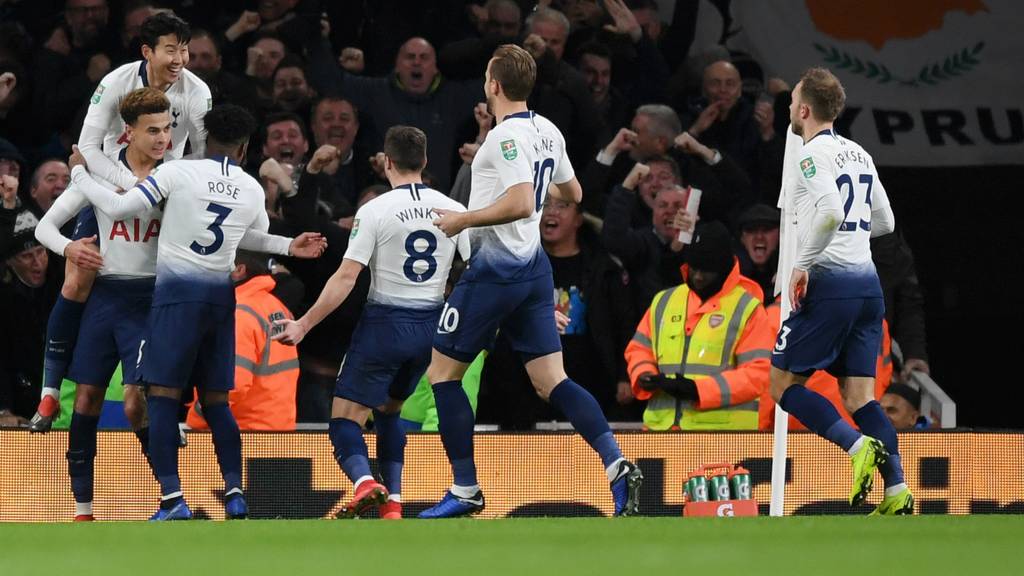 Carabao Cup semi-final draw - Man City v Burton & Tottenham v Chelsea
Summary
Semi-final draw - Man City v Burton & Tottenham v Chelsea (first leg week of 7 January, second leg week of 21 January)
Son puts away Alli's throughball, then Alli dinks chip with outside of boot over Cech from Kane's pass
Plastic bottle hits Alli on head in front of Arsenal fans
Chelsea beat Bournemouth with hazard goal
And on that note we shall say goodbye.

No football until FRIDAY now. A disgrace.

A tough run

Chelsea 1-0 Bournemouth

Bournemouth have lost seven of their last eight games in all competitions (W1), failing to score in each of the last three.

More from Spurs boss Mauricio Pochettino to Sky Sports: "Arsenal could rest players in the Europa League because they had qualified but we couldn't in the Champions League. The level of our fitness was fantastic."

The semi-finals are over two legs, by the way. The ties will be played in the weeks commencing January 7 and 21.

Tottenham manager Mauricio Pochettino on Sky Sports: "A very difficult draw, another London derby. We have already played Watford, West Ham and Arsenal.

"We shall see, Chelsea are a great team but we are excited. To be in the semi-final is fantatsic for us.

"I am very pleased tonight. The most important thing was to play well and win the game. We deserved it. We kept a clean sheet here after a very busy period."

Manchester City v Burton Albion

Piers Morgan looks genuinely furious to be wearing a Spurs shirt.

'A great feeling'

Arsenal 0-2 Tottenham

Tottenham defender Ben Davies on BBC Radio 5 live: "It's a great feeling. We put a good performance in and had to soak up pressure at times.

"We had to give them respect after their performance in our last meeting. They left a lot of space in behind them tonight.

"That [Dele Alli] finish was special. He made it look easy."

Get Involved

#bbcfootball or 81111 on text (UK only)

CJE, Halifax: Some good news for Man United.... with Bournemouth losing tonight, it means only Burton can prevent 6th place qualifying for the Europa League.

'We don't want you there. Go away'

Pat Nevin

Former Chelsea winger on BBC Radio 5 live

On trouble in the stands in recent games

It's really quite sickening. We were talking about anti-Semitism and racism the other day. It's important we don't rest on our laurels.

We don't want them there [fans]. Players, managers, owners, fans, ex-players, we don't want you there. Go away.

Post update

Arsenal 0-2 Tottenham

Tottenham goalscorer Dele Alli on Sky Sports: "We knew how important it was today, a big test. It was a strong performance in the end.

"Son is a passionate guy and brings his character out on the pitch. He's one of the fastest players I've seen, I didn't have a doubt he would finish.

"When I went through for my goal I knew I had to time my run and keep my composure."

Shouldn't take long. Four balls.

Get Involved

#bbcfootball or 81111 on text (UK only)

Ryan: Normally I would say it's an easy fixture for whoever plays Burton Albion, but with the magic and penalties involved with cup matches, you never know!

Did Bournemouth give themselves their best chance of qualifying?

Chelsea 1-0 Bournemouth

Steven Reid

Former Blackburn midfielder on BBC Radio 5 live

Probably not with the changes they made. Ryan Fraser had a massive impact when he came on. No, they've not picked their strongest team.

Maybe the fans will look at it and say 'we're happy with how we're progressing in the Premier League but we'd like the next step' - a first semi-final in their history. They can compete with the very best.

Get Involved

#bbcfootball or 81111 on text (UK only)

Ashley Shephard: What happens to the European place for winner of League Cup with three of four semi-finalists currently in top four Champions League spots. Burton Albion to get an Europa League spot? AC Milan at the Pirelli Stadium???

Unfortunately you have to win the League Cup to qualify for Europe. If a top-four side win it, the Europa League place will just go to the highest finishing Premier League team to miss out

'It made the goal a bit sweeter'

Arsenal 0-2 Tottenham

Tottenham's Dele Alli on being hit by a plastic bottle: "It is what it is. It made the goal a bit sweeter and the win."

George Cummins

BBC Radio 5 live at the Emirates

Arsenal have told me they are already examining CCTV to find the person who threw the bottle at Delle Alli.