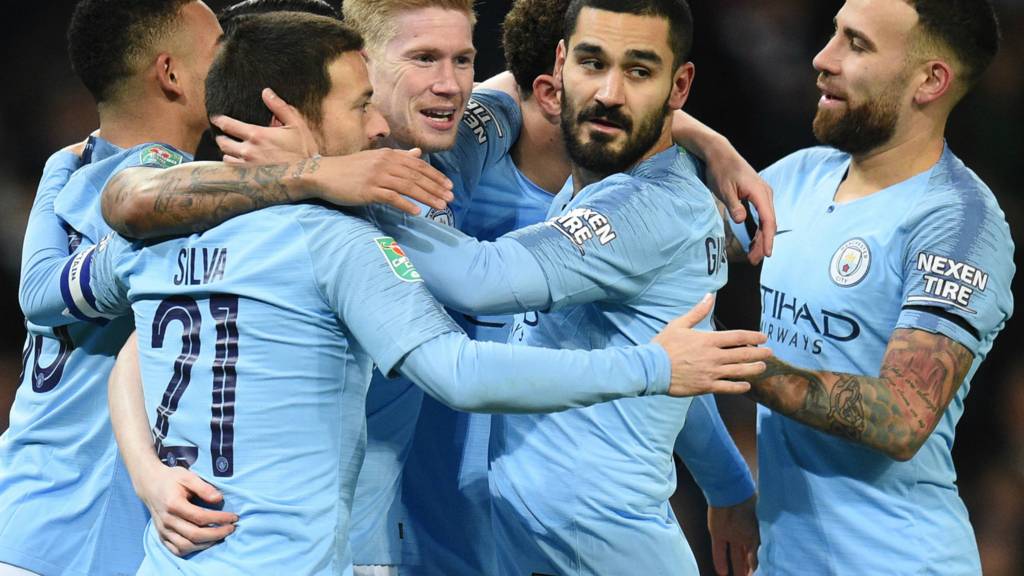 Carabao Cup semi-final: Man City score nine in Burton demolition
Over and out then - see you all on Saturday.

'We are in the final'

Man City 9-0 Burton

Pep Guardiola told BBC Radio 5 live: "Well we are in the final. Of course we have to play the second game but a big congratulations to Burton for their progress to this point. Nigel [Clough] played for this club so it is an honour to play against him.

"We played seriously and we scored the first goal quickly but they had a clear chance at 1-0. The difference between the Premier League and League One, is the quality of players of course, but it is also the rhythm and the intensity."

Get Involved

Text 81111 (UK only).

SMS Message: Well.... at least that's cheered Rotherham up a bit. You've got to feel for Burton though, their best moment came after about 14 seconds. Downhill after that. from Matt, Norwich

That is the real story of the night. Superb work. And we are so glad that Richard was able to get in. Even if he did have to see his team ship nine goals.

'I wasn't going to go back home after being stuck for hours on the M6'

Man City 9-0 Burton

Speaking to BBC Radio 5 live, Burton fan Emily who we have featured all night, said: "My brother Richard is based in Sheffield normally but he is up working in Glasgow this week. I'm London based so I thought I would drive up in half a day. Normally I would take the train but I'm moving house so I decided to drive because there are no trains coming back late at night. I left at 13:00 and I passed Burton-on-Trent about 15:45. I got onto the M6 and nothing showed on my sat nav as a problem but I obviously got onto the road when it happened.

"I was stuck on the M6 for around four hours in total. My brother said he was just going to go to the ground to try and blag it in, but I sent him a picture of his ticket with the bar code on it, and they actually scanned the photograph of the ticket. He had to convince stewards it was true, and showed them the reporting on the BBC Sport website, but they let him in."

Asked what now, Emily said: "I am going to go back to my brother's place in Sheffield because I've got to have a rest before getting back to London in the morning. I'm not going down the M6 because I'm told it's bad south bound so I'll head back down the M1 from Sheffield. It was a long journey for 15 minutes of football but having been stuck for four hours, I thought I wasn't going to go home so I just caught the final bit."

Post update

Man City 9-0 Burton

Manchester City are the first side in the top four tiers of English football to score at least seven goals in back-to-back matches in all competitions since Leeds United did so back in October 1967 (9-0 v Spora Luxembourg in the Fairs Cup and 7-0 v Chelsea in the top-flight).

'Our fans were here to celebrate us reaching this point'

Man City 9-0 Burton

Speaking to BBC Radio 5 live, Burton Albion manager Nigel Clough said: "It is not very pleasant when you are losing by that scoreline but it was nothing more than we expected. The only thing we can make the players aware of is the runs their players make, but making them aware and stopping them are two different things.

"We had a great chance at 1-0 and I don't think it would have altered the evening too much, but it would have been nice to have scored a goal. The worst part about it was knowing a lot of supporters were stuck on the motorway, but the ones that were here, were here to celebrate us reaching this point."

'We didn't do too much wrong'

Man City 9 (Nine)-0 Burton

Burton Albion manager Nigel Clough: "We didn't expect anytihng less with the gulf between the two teams, we thought it could have been more. We didn't too much wrong, two or three of the goals we could have done more but we didn't too badly."

When did you think it could get messy? "When the draw was made.

"Do I wish we hadn't played Not at all, we have made history in getting this far. It wasn't about tonight it was about the achievement of getting here. We kept going right to the end, they were shouting 'we want 10' and we stopped them, that's a positive for us. Some of the youngsters have had an experience that you can't buy.

"It's not nice when the goals are going in and you can do nothing to stop it. Pep said come in for a glass of wine and I hope he's got more than a glass. They are capable of doing that to Premier League teams.

"I can't wait for the second leg..."

'We are in the final'

Man City 9 (Nine)-0 Burton

Manchester City manager Pep Guardiola: "The result was good and of course we are already in the final but we have to play the second leg. We will take it seriously. Burton have had an incredible tournament. They have to be so proud, they did so well.

"Strikers need to score goals, Gabriel Jesus has had chances in the last few games and today he has scored. He is so important.

"It is not easy to play this type of game against a lower team, we made good runs in behind and we took it seriously. After the second and third goal it was easier, we were faster and quicker.

"I am off for a glass of wine with Nigel Clough, I know how important his father was for English football, he was a genius. Incredible. It will be apleasure to share some minutes with him."

Post update

Man City 9-0 Burton

Bring on the Gills

Man City 9 (Nine)-0 Burton

'We wanted 10 - maybe next time'

Man City 9 (Nine)-0 Burton

Manchester City left-back Oleksandr Zinchenko: "It's the first time I've played in a win like this. To be fair we scored a lot of goals, we wanted more, and our fans did too.

"We wished we could get 10, maybe next time. Was my goal a cross?! A little respect please...

"At half time Pep said keep going in the same way, the same spirit and if we can score more."

'I am gutted'

Man City 9-0 Burton

Speaking to BBC Radio 5 live on the M6, Burton fan Liz said: "We are still just outside Stoke-on-Trent but we have just started to move. I was working in Nottingham this morning before I set off, and then got as far as Stoke before we just stopped.

"But we have been following your coverage and it is a game of two halves. I am absolutely gutted but it is just one of those things."

'Never scored four before'

Manchester City striker Gabriel Jesus on Sky Sports: "I have never scored four before in my career, I am so happy for this. We played very well and with respect, that's important.

"Players like me want to play more, to help the team, and we went out there to win."

'That is the feeling you work so hard for'

Man City 9-0 Burton

Dion Dublin

Ex-Aston Villa striker on BBC Radio 5 live

It doesn't matter to a centre forward about the opposition. When the ball leaves any part of your body and goes into the back of the net, that is feeling you work so hard for. Tonight will give Gabriel Jesus a lot of confidence.

I remember it well Rob - it was centrepiece of my Goals Galore 1989/90 video which was on heavy rotation. Didn't Palace miss a penalty as well?

Get Involved

#bbcfootball or 81111 on text (UK only)

SMS Message: On 12 September 1989 Palace lost 9-0 to Liverpool in the league. Seven months later they beat Liverpool 4-3 in the FA Cup semi-final. Whatever doesn't kill you... from Rob

There's a Burton fan on the radio who is still stuck on the M6 and has just started to make her way home...

'It's a game of two halves,' she says.

That's the spirit!