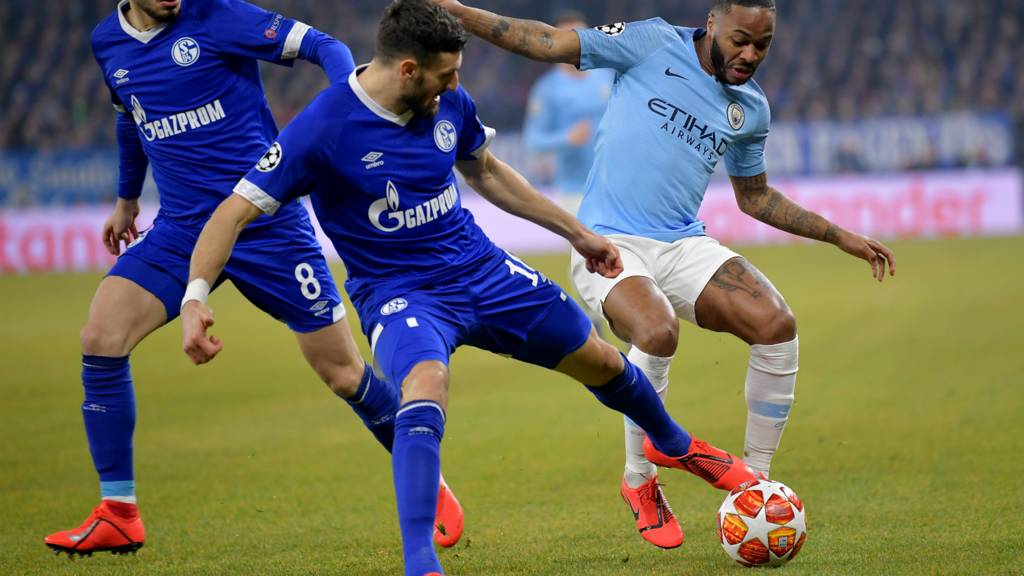 'It's the most complicated rule' - reaction to VAR drama in Man City win
And on that note we say goodnight!

Catch up on the match reports

Just joining us? Have a good read...

'Almost impossible to give'

Schalke 2-3 Manchester City

Danny Mills

Former Man City defender on BBC Radio 5 live

About the first penalty, I don't know. One week that gets given as a penalty, the following week it doesn't.

Referees tell me handball has to be deliberate, there's the distance from the ball, whether the arm is in an unnatural position - it's the most complicated law of all. It's almost impossible.

Maybe we should just say that if the ball hits your arm in the area, it's a penalty.

'We need a great second leg'

Atletico Madrid 2-0 Juventus

Juventus manager Max Allegri: "The second half was ugly, as we made the mistake of following their lead. Atleti are very good at letting a game go by without a shot on goal.

"Now we have the chance to turn this around, we must have faith, we'll have some players back and there's no point crying over spilt milk. We knew it was going to be tough, that Atletico Madrid force you to play badly, with a slow tempo. We moved the ball quicker in the first half, but not in the second.

"We got the approach wrong in the second half. It's that simple. These things can happen, there will be great disappointment after this 2-0, but we can turn it around. It won't be easy, we need a great second leg, but it can be done and we must have faith."

'We deserved more'

Schalke 2-3 Manchester City

Schalke head coach Domenico Tedesco: "We're obviously very disappointed by the result. We deserved more.

"For one of the few times this season we had a bit of luck on our side. We knew we'd be pushed deep, but we were sloppy too often on the counter and conceding the goals we did late on was heartbreaking."

Get Involved

#bbcfootball or text 81111 (UK only)

First Person: The thing I never get with VAR is why don't they put the replay on the big screen, that would solve so many issues with the timings.

Martin: Cricket's TMO has a checklist when reviewing - front foot no-ball, pitching in line, hitting in line, hitting wicket - and doesn't take long. Football should be able to cope with a similar short list - strikes a hand, distance, movement towards etc.

'I did it from the heart'

Atletico Madrid 2-0 Juventus

Many of you have been tweeting about Diego Simeone's celebrations on the sideline tonight, I haven't really been able to mention it but here are his quotes about it!

"It's not a nice gesture, I admit, but I felt the need to do it," Simeone said.

"It was such a tough game, we fought so hard and Diego Costa worked really hard when he wasn't 100 per cent fit. I had to show what I was feeling.

"I can only apologise if anyone was offended, but I did it from the heart."

That's not your heart Diego...

Deadly from 12 yards...

Schalke 2-3 Manchester City

Nabil Bentaleb has converted each of his 14 penalties in all competitions for Schalke.

Post update

Schalke 2-3 Manchester City

Michael Brown

Ex-Manchester City midfielder on BBC Radio 5 live

Away from home with 10 men, to go and score two goals... we sort of forget now how good this Manchester City side is. It's a great comeback.

That's what this club is about now, the never-say-die attitude as well as the ability.

'I trust VAR'

Schalke 2-3 Manchester City

Manchester City manager Pep Guardiola: "It was a great result. We gave them two penalties, we gave them a red card and in this competition that is not too good. We are still not ready to fight for the later stages. but the result is good.

"We played good. But still we lost some easy balls which we are not allowed to do in this competition. Were they penalties? I think so, they are two penalties, I trust VAR. I have arguments sometimes but not this time. They are both penalties.

"We played with incredible personality. We gave two goals when they did absolutely nothing. It is not over, this competition is completely different."

'Every opportunity to move his arm'

Former Premier League referee Peter Walton on BT Sport: "I still think it's a penalty, the ball has travelled a distance and Nicolas Otamendi has every opportunity to move his arm away. The point is he has made contact with the ball with his arm in the box and for me it's a penalty kick."

Tonight's big question...

What do we think?

You say Var, I say VAR.

'VAR being used too much'

Atletico Madrid 2-0 Juventus

Andy West

Spanish football writer

I'm a big advocate of VAR but I don't like the way it's being applied. It's being overused. Should only be there to correct clear and obvious mistakes. At the moment it's being used for way too many marginal decisions. Most of which seem to be going against Alvaro Morata.

Did Morata foul Chiellini? Maybe. Probably. 60/40 that he fouled him. But there's too much doubt to overturn a decision that has already been made. If VAR can't prove something conclusively, the original decision should stand.

'We can still do it'

Atletico Madrid 2-0 Juventus

Giorgio Chiellini, Juventus defender: "We knew they were very dangerous from set-pieces and we had to be more focused in those situations. We must remain calm because we can still do it. We have to reset our minds quickly and try to win in Turin."

Get Involved

#bbcfootball or text 81111 (UK only)

SMS Message: VAR should always have been done as a tennis/cricket/NFL style challenge system for the managers. Would lower the touch line arguments and add another aspect to a managers job. from Steve

SMS Message: Is it just me that thinks VAR could work if it worked on an appeals system a bit like cricket? Each team gets a set number of appeals the captain can decide to use on per game (very quickly obviously) but only give the ref 30 seconds or something to decide when viewing the replays? from Bill

'You can't win every game 3-0'

Schalke 2-3 Manchester City

Manchester City forward Raheem Sterling: "A really tough game, we made it difficult for ourselves at times but we stuck together, even with 10 men.

"For my goal, it was a little nudge in the back of the defender and I took my opportunity and we got the three points - err, a win!

"We have had some difficult patches this season, you can't win every game 3-0 and in the Champions League the opposition can hurt you."

Get Involved

#bbcfootball or text 81111 (UK only)

Joseph: That has to be one of the most entertaining evenings of CL football in the past few years! So much drama in both games.

Bradley: VAR, A brilliant free kick, a sending off and two penalties. That's what I call entertainment. And I'm a Liverpool fan.

'It means a lot'

Schalke 2-3 Manchester City

Man City free-kick scorer and former Schalke forward Leroy Sane: "It means a lot. I was a little bit sad for Schalke, because the atmosphere was amazing like it always is. Schalke did really well, the way they defended made it difficult.

"At the end we did it, we scored three goals away - that was the most important thing.

"You can see the will is a lot, we never give up, we always want to keep fighting."

Get Involved

#bbcfootball or text 81111 (UK only)

Wayne Ellis: You need to be brave when it comes to the knockout stages of the CL, sitting back at home against 10 men isn't going to get it done.

JP: How did S04 make it out of group stage?

Paul: I knew Schalke were lightweight and fall over easy but wow at the defender who got outmuscled by sterling lol. Should be embarrassed if he's showing more strength than you.