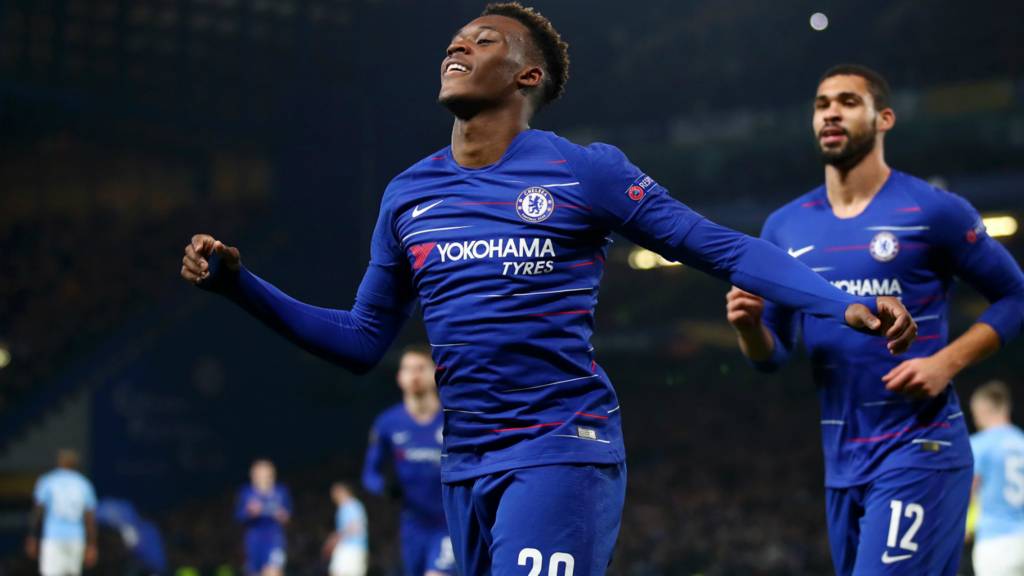 Chelsea join Arsenal in Europa League last 16
If you are not a Jorginho fan you might not be best pleased to hear that Sarri said in his news conference that the first 30 minutes of tonight's game showed how important the midfielder is...

Get Involved

#bbcfootball or text 81111 (UK only)

SMS Message: Don't understand the hate towards Jorginho. He was so effective earlier on in the season that teams had to man mark him! The fact that he's ineffective now is down to our stubborn manager. from Ossie

'I'm happy for my players'

Chelsea 3-0 Malmo (5-1 Agg)

Chelsea manager Maurizio Sarri said on BT Sport: "I'm happy for my players and the performance. We played 30 minutes very nervous and without confidence.

"We were better in the last 15 minutes of the first half and after the first goal. It's a good step, I think.

"After the first goal I think we went in confidence and moved the ball very fast and very well. Confidence is very important for playing our football."

On the Carabao Cup final: "It's very easy that Manchester City is in our minds. We played two weeks ago and now we can try to solve this problem."

On whether Callum Hudson-Odoi will feature: "We need to see the situation on Saturday, see what we spent on this match and we need to see the recovery.

"Callum played well but also Christensen and Emerson. We have to consider them for the next match, of course."

Get Involved

#bbcfootball or text 81111 (UK only)

Dr David: Nothing changes at Chelsea. When they're bad they find solace/delusion in beating minnows in the Europa League. Bring back Torres!

Patrick Bouabre: On Sunday I would be a lot comfortable dealing with city's press. If two press beaters like Kovacic and RLC played.

Deldude: Now Sarri can wait behind and greet the opposing Coach. Whereas he disappeared when Chelsea ended up in Zone 6 at Manchester City. Pls be consistent Mister Sari.

Maurizio Sarri is asked if he has had any contact with Roma.

"'Of course no, I have a contract with Chelsea for next season so it is impossible."

Post update

Chelsea 3-0 Malmo (5-1 Agg)

Tonight's win means that Maurizio Sarri has won 28 of his opening 43 games in charge of Chelsea in all competitions (D6 L9).

And that's one more than Pep Guardiola managed in his first 43 matches with Manchester City (W27 D9 L7).

Dead ball specialists

Chelsea 3-0 Malmo (5-1 Agg)

Since the start of 2015-16, Chelsea have scored 20 direct free-kick goals in all competitions, six more than any other Premier League side in that time.

'We paced ourselves'

Chelsea 3-0 Malmo (Agg 5-1)

Chelsea goalscorer Callum Hudson-Odoi: "I'm happy with the result. We all worked hard and played really well. Our mentality was strong. We paced ourselves and we deserved the win. The goal is a bonus for the work that the team did today.

"Hopefully I did well and made an impact.

"We are strong enough to beat any team [in this competition]."

'It was a good night'

Chelsea 3-0 Malmo (Agg 5-1)

Chelsea striker Olivier Giroud on BT Sport: "We needed some confidence back and a good win, especially to reassure ourselves defensively with a clean sheet. We were strong defensively and ambitious up front. It was a good night, we finished the job well and now we can focus on the next game.

"We were expecting them to press us high, with a compact block in midfield, so it was difficult to find a solution but we kept playing. The manager said to play quickly, we played through the lines, then in the second half they were a bit tired.

"It's good for confidence but now we need momentum. We need to play it as a final and learn from the mistakes we made in the league against them (Manchester City). I'm sure we will do well against them."

Olivier Giroud says that tonight's win will give Chelsea 'some confidence back.'

Late goals by Ivan Perisic and Matteo Politano gave Inter Milan a 4-0 home win against Rapid Vienna and a 5-0 aggregate victory, while Slavia Prague also eased through at Genk.

Rennes struck late to clinch a 3-1 win on the night at Real Betis and 6-4 on aggregate, as Dynamo Kiev, Benfica and Krasnodar hung on to complete the last 16 line-up.

Post update

Chelsea 3-0 Malmo (5-1 Agg)

The draw for the round of 16 will be held tomorrow at 12:00 GMT. The first legs will be played on 7 March, and the second legs will be played on 14 March 2019.

And Arsenal can be drawn against Chelsea.

Post update

Chelsea 3-0 Malmo (5-1 Agg)

Callum Hudson-Odoi gives his shirt to a fan in the front row. PR 101.

Overdue

Chelsea 3-0 Malmo (5-1 Agg)

Krasnodar took a late lead at Bayer Leverkusen and although the hosts hit straight back to make it 1-1, they need another or Krasnodar will go through on away goals.

FULL-TIME

Chelsea 3-0 Malmo (5-1 Agg)

Job done.

GREAT SAVE!

Chelsea 3-0 Malmo (5-1 Agg)

Fine save! Ruben Loftus-Cheek rolls his defender inside the area and gets a shot away from a narrow angle, well pushed clear by the shoulder of Johan Dahlin...