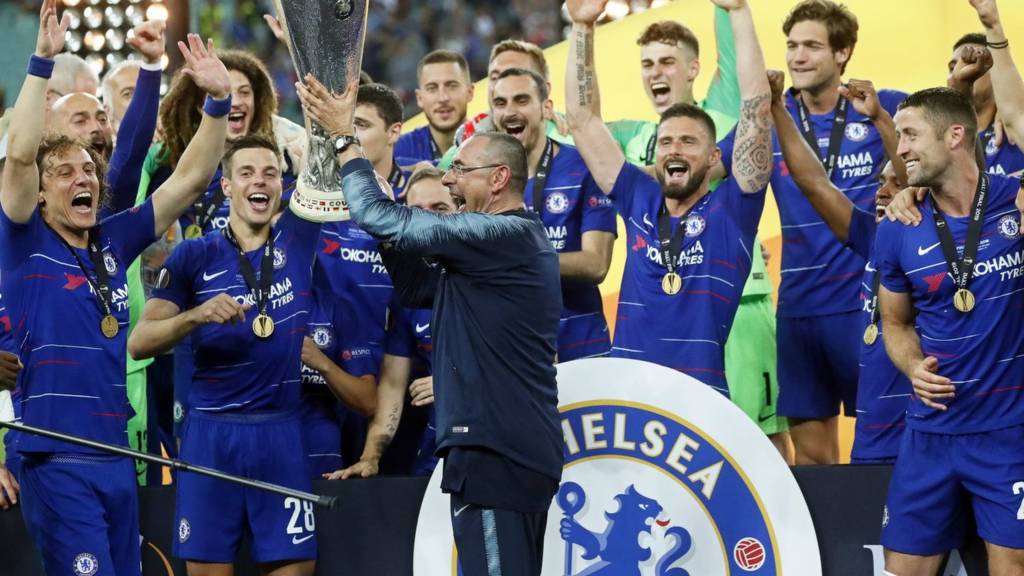 Sarri 'deserves success', Emery has 'huge job ahead' - best Europa League final reaction
Only Granit Xhaka and Mateo Kovacic played more passes than Jorginho tonight.

'Man City would batter the door down for Jorginho'

Chelsea 4-1 Arsenal

Pat Nevin

Former Chelsea and Scotland winger on BBC Radio 5 Live

Maurizio Sarri's actually built something which is really nice looking and I've enjoyed watching it being built.

We'd been talking about Jorginho and Mesut Ozil, and whoever won that battle would make a big difference in the game, and Jorginho was immense.

If Jorginho left right now, Man City would batter the door down to take him. That's how good a player he is.

I'd love to see Sarri get another year, he deserves it, to see if he can develop it further.

Here comes Unai Emery in front of the cameras. He starts with 'good evening' as is customary. Top start.

'Most talented Chelsea player in history'

Chelsea 4-1 Arsenal

Cesc Fabregas

Chelsea and Spain midfielder on BT Sport

When Eden Hazard has the ball you expect something to happen and the rest of the players come alive. I cannot say he will be the best player in Chelsea history but he is the most talented player they have ever had.

'Arsenal were never going to get back into the game'

Chelsea 4-1 Arsenal

Martin Keown

Former Arsenal defender on BT Sport

People may question why Alex Iwobi did not start the game because it was a wonder strike but Arsenal were never going to get back into the game.

This gets better.

Rob Green is not even in the Chelsea squad for the Europa League.

'It's fake news'

Chelsea 4-1 Arsenal

Pat Nevin

Former Chelsea and Scotland winger on BBC Radio 5 Live

I think some of the stuff that was said about Maurizio Sarri was nonsense. I thought the Jorginho thing was a masterstroke from the start, N'Golo Kante's been brilliant since he moved further forward.

It was just a misunderstanding in the Carabao Cup final (with Kepa) and a massive thing was made of it. Yesterday's story was an absolute joke. I was here at the training session and he didn't get in a huff because two players fell out. He was in a huff because he couldn't get a closed training session (from the media). It's fake news.

Maurizio Sarri was born 10 days before Alex McLeish.

This is his first trophy...

Smiffy: Thank you Eden Hazard, you've been a legend

James: Well that trophy lift was a bit of a shambles

Emmanuel: This game shows that Unai has an uphill task rebuilding Arsenal, especially emotionally and psychologically, beginning with off loading the "old and tired legs". The board must support him.

Unsurprisingly, we've had no reaction from the Arsenal camp yet.

Get Involved

#bbcfootball or text us on 81111 (UK Only)

SMS Message: Re Steve in Plymouth: get your facts right... it wasn't Emery who gave Ozil that contract, it happened in January 2018 under Wenger/Gazidis, Emery inherited it... I just hope we somehow manage to shift him from Wispa, Holloway

'Another European trophy'

Chelsea 4-1 Arsenal

Speaking to BT Sport, Chelsea winger Pedro said: "In the first-half I think it was more open and Arsenal had a lot of chances but I think we controlled the game well in the second-half and moved the ball between the lines until the end.

"It is unbelievable and it is another goal and another European final. The best thing was the team work today. It is another trophy and I am happy to win another title and I think we deserve it because we were the best team in the tournament.

"To close this season with the trophy is great. I link with Eden well and he is the best player. I'm so happy for him to win this title."

Pedro joins the club

Chelsea 4-1 Arsenal

Chelsea's Pedro became the fifth player to score in a European Cup/Champions League and Uefa Cup/Europa League final, after Allan Simonsen, Dmitri Alenichev, Hernan Crespo and Steven Gerrard.

'Maybe it's in Sarri's hands now'

Chelsea 4-1 Arsenal

Andy Townsend

Ex-Chelsea midfielder on BBC Radio 5 live

All of a sudden, maybe the situation goes back into Maurizio Sarri's hands a bit. Is he going to say to himself 'if I can't buy any players to improve this Chelsea team, I'm going to lose my best player, my prospects next season aren't as good. Maybe I take the Juventus job, maybe I do go'.

'Sarri deserves this'

Chelsea 4-1 Arsenal

Chelsea defender David Luiz: "We had some ups and downs but we have improved a lot and learned a lot this season. We finished well and won a trophy. It is my third title in Europe with Chelsea, they believe in my game. Sarri is a great guy, a great coach and he deserves this.

"The manager did amazing for this club. I don't know about speculation, now is the time to talk about the title."

Get Involved

Text 81111 (UK only).

SMS Message: So Emery's nightmare decision to give Ozil £350k a week & not renew Ramsey's contract has come back to bite him! I knew it would & I'm glad it has! His stubbornness has cost Arsenal a champions league spot and showed the world we have no backbone from Steve, Plymouth

'Sarri looked like a dead man walking'

Chelsea 4-1 Arsenal

Andy Townsend

Ex-Chelsea midfielder on BBC Radio 5 live

People should recognise a manager who's been through the wringer this season. There was a point where Maurizio Sarri was being severely undermined. Managers at Chelsea have a habit of looking like a dead man walking, they seem to get that very quickly, and he had that. It looked like this guy's gone and it's only a matter of time before he's replaced. For whatever reason he's stuck it out, the club have stuck it out. He's turned it round, he's got them to a European final and they won it with plenty to spare.

Post update

Chelsea 4-1 Arsenal

So Sarri to stay? Hazard to leave.

Higuain and Kovacic to go back?

A busy old summer on the cards at Chelsea, especially if they are banned from signing players during the next two transfer windows until the end of January 2020.

Get Involved

Text 81111 (UK only).

SMS Message: To all fellow Arsenal fans, I know it hurts but don't claim the lads didn't try, ultimately this team, barring the two up top, doesn't have the quality to compete anymore - the more distressing issue is the owner won't even contemplate spending from Dom, London

Iconic

Chelsea 4-1 Arsenal

Where were you when Rob Green lifted it in Baku?