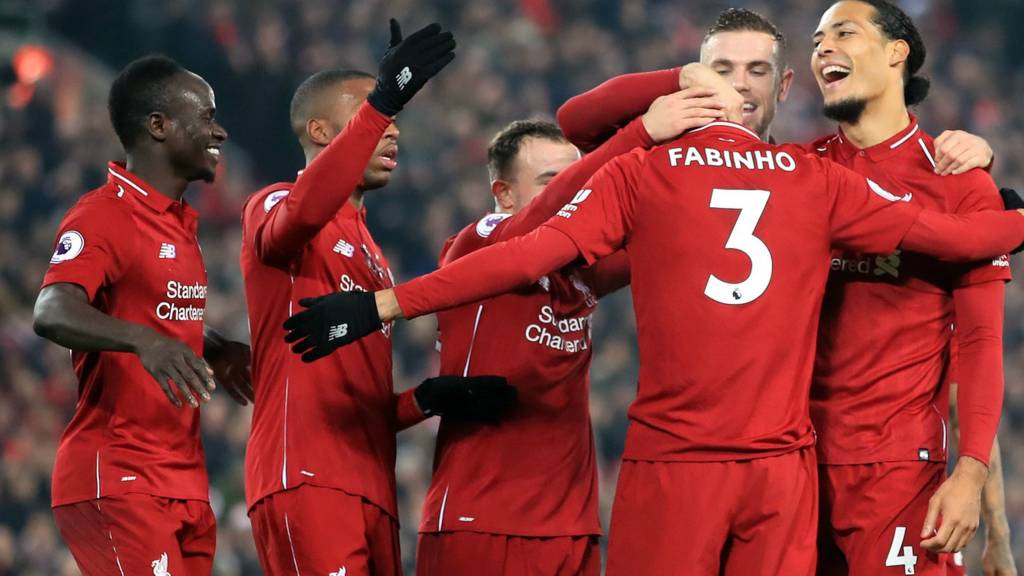 Premier League: Liverpool win & go six points clear as Man City lose, Spurs hit five
And with that we'll close this page down - jump over here for the second half of Brighton v Arsenal.

Solskjaer on Sanchez

Man Utd 3-1 Huddersfield

Simon Stone

BBC Sport at Old Trafford

A little bit more on Alexis Sanchez from Ole Gunnar Solskjaer.

The Chilean returned from South America a couple of days ago after recovering from a hamstring injury.

"He's had two days of good fitness work, hopefully he can join in training with the ball as soon as we get back in again.

"He is touch and go for Bournemouth but he will definitely be involved at Newcastle.

"I've not had time to sit down and speak with him in that much detail but he's eager to get back on the pitch, at it seems to me he is a workaholic."

'Francis injury doesn't look good'

Tottenham 5-0 Bournemouth

Bournemouth boss Eddie Howe on captain Simon Francis who was stretchered off: "It doesn't look good. I do not have a diagnosis for you, but he is having a scan and it does not look too promising from his perspective."

'Liverpool and City are the real contenders'

Tottenham 5-0 Bournemouth

Mauricio Pochettino to BBC Sport: "We are in a very good position, but Liverpool and Manchester City are the real contenders.

"It is one thing to be a point above them, but Manchester City are the reigning champions and Liverpool are doing fantastic. We are between them and there is still a lot of work to do.

"It is important to manage confidence in the right way, a victory makes us believe, of course, but we think step by step and make sure we can be ready to arrive at the next game in the best condition. The competition is very demanding, be sure to be ready to compete in three days.

"We are only halfway to the end of the season, we need to replicate the same second-half of the season. It is up to us, if we show the same quality and same belief and behave in the way we behave, then maybe at the end of the season we can talk in the way that maybe we fight for big things.

"I am so pleased [with the win] the effort was fantastic. To have one day less after Everton I am very pleased with the performance."

'This is for our fans and our players'

Burnley 1-5 Everton

Everton boss Marco Silva speaking to BBC Match of the Day: "The first thing I'd like to say is this is for our fans and our players.

"The fans welcomed our players before the match, which is fantastic after a tough result on Sunday. And the players as well, they deserve this.

"It was a good win for us and now is the moment to rest and prepare for the other quick games."

On responding to Sunday's defeat to Tottenham: "I think the best solution to the last result was to play as quickly as you can, luckily for us we played after three days.

"They showed they are here to fight, to compete and to show the ambition we have as a club."

On goalscorer Lucas Digne: "I think the credit has to go to all the squad and not just one or two, but of course Lucas Digne has done well and settled. We never had any doubts about his quality or his attitude. His left foot is fantastic."

'We don't know when we're beaten'

Leicester 2-1 Man City

Leicester winger Marc Albrighton: "It was hard work out there. We rode our luck at times but once we scored we more than deserved at least a point.

"A big trait of ours is that we don't know when we are beaten. We were under the cosh but came back into it. We've had a good week, we are brimming with confidence but we can't get complacent. It's Cardiff next."

'We wanted a clean sheet'

Man Utd 3-1 Huddersfield

More from Ole Gunnar Solskjaer to BBC MOTD: "You need momentum. The next two games will be massive for us. Coming into those games with confidence is great.

"This is Manchester United. When you score a first, you want a second. When you score a second, you want a third. We wanted a clean sheet. Every team is built on that foundation. We've conceded from two set-pieces so far. We'll make sure we get a clean sheet soon."

Romelu Lukaku, Alexis Sanchez and Anthony Martial could all be back for the next game...

"Not a bad front three to come in and knock on the door. It will be great to get them back. Maybe we'll change the front three."

'They were the better side and deserved to win'

Burnley 1-5 Everton

Burnley boss Sean Dyche to BBC Match of the Day: "They started much brighter, much sharper with more energy. They were the better side and deserved to win.

"The last 10 minutes of the half we deserved to get back in it and the game settled. We got a bit more on the front foot, scored a goal and all of sudden the next goal is vital.

"The chance for Tarkowski is massive. If we put that in, after what happened to Everton against Tottenham the other day, then it may change the whole event. We then started the second half the brighter and you never know from then. But it didn't go in and the game went after that.

"We're in a results industry, winning brings belief, a good feeling and free mindedness – they almost act in the zone. But when results go against you, you're so focused on your own job you can sometimes forget the team cohesion.

"So that mentality has got to be clear as we've got some games coming up that are absolutely massive this season.

"The margins are super fine; the challenge this season is we haven't kept the margins tight. There's a number of reasons why, but there's no excuse. We are where we are and we don't overly deserve to be better than where we are."

'Humbling to lead United out'

Man Utd 3-1 Huddersfield

Man Utd boss Ole Gunnar Solskjaer to BBC Sport: "I've not got used to it yet. It's humbling knowing I'm leading this team out.

"Let's see if I get used to it. I captained a couple of games but this was very different.

"They are the best fans in the world. I had such a great relationship with them. It was probably more emotional for my family in my box as I was focussed on the game.

"I was surprisingly calm all day. The lads have helped me settle in really quickly.

"Dave's [de Gea] save was the defining moment, one of the best saves I've seen. I could see it going top corner and he stretches his second arm out.

"Paul [Pogba] knows he can score more goals and create chances. He had a few assists last week. He's happy now."

'Huddersfield didn't deserve to lose'

Man Utd 3-1 Huddersfield

Huddersfield boss David Wagner to BBC Sport: "I'm not sure it was a deserved defeat. We played very well. We had the first clear-cut chance and another one before half-time.

"The second half we had unbelievable opportunities. I don't know how many we had.

"This is our problem. It was our problem again today. The players played very well. I'm very happy they showed the reaction after losing last week when we weren't at our best.

"It was a very good performance, but we lost the game. They have world-class players. Paul Pogba's goals were world class and so was De Gea's save.

"We wanted to play football against them and give them them a fight and that's what the players did. If we were clinical we could have got something out of the game.

"If we show the determination, effort and commitment we did today, every game we have a chance. We are not clinical enough. That's what we have to change. If we can solve that, we have every chance of collecting a lot more points in the second half of the season."

'We have to be clinical'

Crystal Palace 0-0 Cardiff City

Crystal Palace winger Andros Townsend told Sky Sports: "It was very frustrating, not to put at least one of the chances away. If we want to start climbing the table we have to be clinical like we were last week.

"Initially you thought it was going to be one of those days, but with the amount of chances we were creating we always knew we'd get another one. We did but we couldn't put it in.

"In the past we've had problems following up good performance with another, and we did do well today, but we just couldn't put the ball away."

'They are better than us at the moment'

Leicester 2-1 Man City

Manchester City manager Pep Guardiola: "We had a lack of power to create more chances. We have to try to find the solutions. Fernandinho is not able to play, he is injured, we have to overcome it. Ilkay Gundogan was good with the ball, he played good.

"Liverpool and Tottenham deserve it, they win games and we don't, the gap is increased. Last season we had a big gap, this season Liverpool and Tottenham are very good. We have finished the first half of the season, we have enough points to be champions but the other teams make more, they are better than us at the moment.

"Football is fascinating, unpredictable. People say what we did last season was easy, it was very difficult."

'We have to be better than three teams'

Liverpool 4-0 Newcastle

Newcastle boss Rafael Benitez speaking to BBC Sport: "We knew we were playing a very good team and knew staying in the game was crucial

"Start of the second half there was a light penalty, it's hard when you're 2-0 down. If you have chances and don't take them or make mistakes it is difficult.

"The first goal is a mistake and the second is key in terms of confidence."

Still a miracle to keep Newcastle up? "Yes. You can see the difference between some teams. We have to carry on doing things right and we have to be better than three teams."

On his reception at Anfield: "My relationship with the city and fans is fantastic."

I've got a degree of sympathy for Eddie Howe there - obviously you can't be unlucky to lose 5-0 but Bournemouth had 14 shots to Spurs' 10 today. They played OK - just got mullered in both penalty areas.

'Tough one to take'

Tottenham 5-0 Bournemouth

Bournemouth boss Eddie Howe to BBC Sport: "It was a tough one. One of those days every shot they had went in, every shot we had didn't.

"You have to admire qualities they have. But it is disappointing we created so many opprtunities ourselves, if we had got one back might be different but disappointing day.

"We conceded some bad goals today, hugely frustrating on the back of a clean sheet, we wanted to build momentum

"It is a tough Christmas period, we go to Manchester United and try and put it right."

'A race until the final day'

Liverpool 4-0 Newcastle

Liverpool boss Jurgen Klopp, speaking to BBC Sport: "The start of the game offensively was very lively, defensively a bit inbetween, I didn't like it too much.

"But apart from that the whole game was really good, we could've scored more, the chances were there with fantastic movements. Right to the end we were wanting to control the game but still wanted to score.

"It's difficult to break down Newcastle's formation, they worked hard but the boys stayed in the game and did the job.

"We had no idea about the Manchester City result until after the game. We play City soon - if I was them I would think there is only four points because we still have to play them, then we play Arsenal before then as well.

"The only thing that matters to us is the performance and keeping that level of performance. It's good but that's all. Tottenham are flying - they had a difficult summer but they are doing brilliant.

"We are on a good run as well. Chelsea will win, Arsenal will win, it will be a race until the final day

"But we are in it and that's important. We're just creating a basis for the rest of the season and the basis after the first part of the season is obviously a good one."

'We need our confidence back'

Leicester 2-1 Man City

Manchester City manager Pep Guardiola to BBC Sport: "It was a similar performance to the Crystal Palace game, we started well but conceded a goal the first time they arried in our box. Mentally we are lacking confidence in that situation.

"We have to accept it, we have to realise that we have to work harder and try to get immediately one good result and get our confidence back.

"Of course we are worried [about not keeping clean sheets], the result is what counts, we lost. In four days we have another one. We are together, we will work harder and we will come back with some good results. The season is very long and we have lots to fight for.

"It was another fantastic goal against us. There are games when your opponents have clear chances and don't score and games when they score goals like this."

'We were trying to win'

Crystal Palace 0-0 Cardiff City

Cardiff manager Neil Warnock told Match of the Day: "I thought we were a bit nervous in the first 10 minutes but then we grew into the game and looked more positive. We looked to play and created some good chances.

"We didn't try to shut the shop up, towards the end we were trying to get a winner. I thought their goalie made the best save but Manga's tackle on Zaha, I don't know where he got that from!

"It's not from the training ground, it's elementary mistakes that have cost us so far. You're going to have opportunities when you have Zaha and Townsend, and players like that.

"So we're tried to limit them and we did. We stayed strong and on another day we could have got all three points."

Post update

Man Utd 3-1 Huddersfield

Man Utd midfielder Nemanja Matic to BBC Sport: "After Cardiff, we gained more confidence. It was important to win at our stadium, to bring a smile on the face of our supporters.

"We made some mistakes. We need to see what we can do better. It's a completely different atmosphere when you win games.

"This club doesn't accept drawing or losing a game. This is the way we have to try to win the next one.

"It's always important to score early if possible. After that we have more space to play. I'm happy with my goal."

'We had over 20 shots'

Crystal Palace 0-0 Cardiff City

Palace boss Roy Hodgson told Sky Sports: "In the first half we started well but lost the key in the 20 minutes before half-time. I don't think at that stage we looked like scoring. But in the second half we took the game to Cardiff and made therm defend doggedly.

"We had over 20 shots in the second half, we hit the crossbar and forced saves from their goalkeeper, but the ball wouldn't go in for us.

"We had a good result last time but this one we started from scratch. You have no God-given right to get continuity, that's not the way it works.

"They worked hard for a point and they got it. We had a lot of opportunities and a lot of good play but we just couldn't put the ball in the net. I can't fault the players in the second half though. They did everything they could to score."