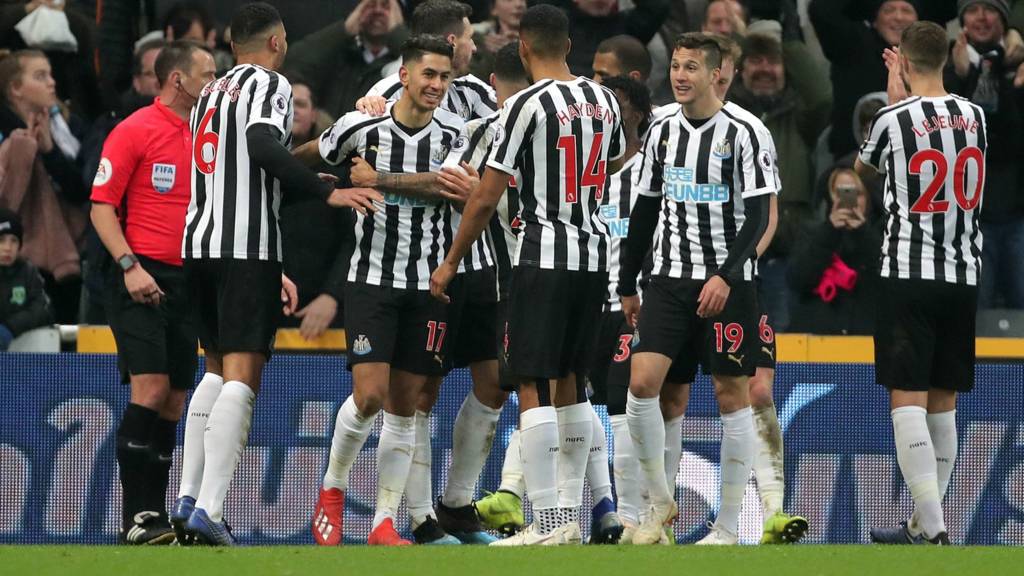 Reaction as Liverpool edge thriller & go seven points clear, Man Utd & Newcastle win
That draws this page to a close - jump over here for the second half of the Arsenal v Chelsea game...

'We defended very well'

Bournemouth 2-0 West Ham

Bournemouth manager Eddie Howe: "I'm very pleased. It's a real reward for the players' mindsets during this difficult run we've had. It's been incredibly hard but they've not let their heads drop and they've trained well.

"I was so keen for everyone to feel that winning feeling again off the back of everyone sticking together. Performance-wise, today maybe wasn't as good as some of the games we lost recently, but we defended very well after Callum's great strike."

On Callum Wilson's performance: "Callum is very much a team player. He's a vital part of what we do here and he knew how important the game was for us as a group. He delivered a very good display."

'It was a very close game'

Bournemouth 2-0 West Ham

West Ham manager Manuel Pellegrini: "Of course we are disappointed about the result. It was a very close game in the first 45 minutes, and in the second half we had a clear opportunity to score the first goal.

"We didn't and then they scored a beautiful goal, but one which had a lot of luck too because the rebound came in exactly the position for their player to shoot."

On Andy Carroll's second-half miss: "Andy had a very clear chance, but he has had a long time without playing and it is not easy for a player to recover immediately.

"He is working hard and I'm sure that he will improve game-by-game."

'A big decision has gone against us'

FT: Watford 0-0 Burnley

Asked whether he thought Chris Wood was offside when he 'scored', Burnley manager Sean Dyche said: "I didn't think it was at the time, and looking back, I don't think it was now and I'd be surprised if the majority didn't think it was onside.

"We had three or four golden chances and it was a good performance. The energy and the edge we play with as a group is coming back but those extra two points would have been very welcome. Unfortunately a big decision has gone against us.

"VAR is a definite for me. I know it needs to be made better but they are two big points. We haven't always had the right decisions go our way, and we are 65 Premier League games without a penalty which is an anomaly.

"They started well in the first 10 minutes but we played well. Ben [Foster] is a good keeper and Tom [Heaton] has done really well, and the team is operating really well in front of him. The spine of our team is very good and we are looking a strong outfit."

'Hopefully a one-off'

Liverpool 4-3 Crystal Palace

Jordan Henderson speaking to Match of the Day: "At times I thought we were good but there's a lot of things we need to improve on. I'm sure we'll analyse all of that but we showed great character to come back and win the game, so overall we have to be delighted with the three points and recover now for the next game.

"We said at half time we had to start the second half well and we did that, we came out and started really well with a couple of good goals but we can control the game much better than that. Hopefully that was just a one-off.

"We're not looking too far ahead. That's how we've been doing it and again today we found a way to win."

'The goalkeepers were everywhere'

FT: Watford 0-0 Burnley

Watford manager Javi Gracia said: "I think today it wasn't our best game but it was positive to get a point. We tried to win the game and were looking for different options to attack.

"We created chances, the first one with Gerard Deulofeu at the beginning of the game, and we created two more in the first half but I think the goalkeepers were everywhere today."

On Chris Wood's offside goal for Burnley: "I didn't see but I have listened and I have nothing to say. I always support and respect the referee's decisions."

'We deserve better'

Liverpool 4-3 Crystal Palace

Crystal Palace defender Mamadou Sakho speaking to Match of the Day: "I think it was one of the most difficult games for Liverpool at Anfield this season. We played really good and deserve better. They scored some lucky goals but that's football, we have to accept it and look ahead.

"I think today we concede a few goals but it's not only one player it's a team and we have to react like a team and think like a team so after this game we must work to try to get three points next game.

"We just listen to the manager to what he wants us to do and try to give our best and tonight we showed a lot of power as a squad but it's a shame we leave with no points. When you give all this beautiful football after 95 minutes you can be a little bit disappointed. It's a shame."

'They were more aggressive than us'

Southampton 2-1 Everton

Everton manager Marco Silva speaking to Sky Sports:

"Always when you don't win a match and keep the good work it is disappointing. They deserved the three points, we had a big chance but they deserved it, you are playing against teams fighting really hard to leave the danger zone.

"I have already spoken to the players and given feedback. It is something for us to speak about more inside, they were more aggressive than us. We have to be in a good balance and be more aggressive, most of their chances came from when we lost the ball.

"Inconsistency is something we are working on, we are trying to find it (consistency), now points will be more and more difficult to get as the clubs are fighting really hard, and we have to do the same."

'We pushed Liverpool to the limit'

Liverpool 4-3 Crystal Palace

Crystal Palace manager Roy Hodgson speaking to MOTD: "We did it at Man City, we got a good point at Man United and on another day, in another world, we would have got something from this as well. We took Liverpool to their limits, they struggled to create chances in the first half and they scored some fortunate goals."

On Julian Speroni: "I think that he deserves a lot of credit. He hasn't had the chance to play in over a year, its unfortunate to have to replace two goalkeepers in the same game. Not many teams could come to Anfield and survive that and we are lucky. He made a bad mistake, he'll hold his hand up for a mistake which will grab headlines but it's very unfortunate. Those things shouldn't happen to a man like him. I found that very cruel today. But the third goal, the one I feel has cost us, he'll hold his hand up and say that was my mistake."

'We are not happy'

Southampton 2-1 Everton

Everton manager Marco Silva speaking to Match of the Day:

"When you lose like we lost this afternoon we are not happy, we didn't perform well and they deserved three points. When you analyse the match that's what happened. I have given feedback to the players. They (Southampton) are giving everything to get out of danger zone so it is important we give the same.

"You can put quality on the pitch but they were better than us in the first half, we started better second half, but then they had a fantastic goal and they were on top. Our players kept trying to create chances but couldn't score.

"First half we didn't create at all, we were faster second half and more aggressive with fast decisions. Then their goal changes the game again."

Post update

Southampton 2-1 Everton

Southampton have won more Premier League games under Ralph Hasenhüttl (4 in 8) than they did with Mark Hughes (3 in 22).

'We deserved something from the game'

Liverpool 4-3 Crystal Palace

Crystal Palace boss Roy Hodgson speaking to Sky Sports: "I'm very proud of the team. I don't know what's crazy about the game. We conceded some poor goals. The fourth shouldn't be allowed because there's a clear handball. So I'm not sure what's crazy about it, I'm disappointed for the boys that they've got got anything from it.

"You know they have extremely good players, you know it will be a hard task and it will require a lot of discipline and we did well to come back to 2-2 and 4-3 at the end after conceding a very unfair goal.

"You need character and personality and good team spirit, people prepared to stick to the game plan even when it's not going your way. We knew if we deviated from the plan we could find it very difficult but we stuck to our way of playing and really I should be stood here congratulating the lads on getting something out if it.

"We showed a lot of composure, created opportunities at will. There's been so many games this season where we've taken encouragement and we've played better than the result has shown. That disappoints me more than anything - I should be extremely satisfied but the fact we've lost 4-3 dents that."

'We have built something up here'

Southampton 2-1 Everton

Southampton manager Ralph Hasenhuttl speaking to Match of the Day:

"The history of the last games where we gave goals away was on my mind but we played a fantastic game today, it could be four or five, fantastic football and defence. A great win for us.

"We had two big chances in the first half and were unlucky but the belief and the strength you could feel it every second today. The guys really showed they are focused and committed and that is the key for the future, 11 players going in the same direction.

"It was an intense time near Christmas but we have now had a run of games and learn very quickly, looking forward it is really enjoyable to work with this team and the characters in the group. We have built something up here and I hope we can carry on like this.

"Very important games in January and February, they are the most important months - if you do it well you have a big chance to leave the relegation zone."

'Not the end of the world'

Newcastle 3-0 Cardiff

Cardiff manager Neil Warnock, speaking to Sky Sports: "I didn't think it was a 3-0 game. I couldn't see them breaking through until the first goal which was poor from our point of view. We started the second half well and were dangerous and then conceded the second that killed us. We didn't have anything drop for us and they were better than us in the final third.

"Nine of the lads that played today were in the Championship last year. While we are disappointed it is not the end of the world. We looked a half decent side. I didn't think in the last third we did enough.

"There was some great defending but we could have picked a better pass out at times in the second half."

The old ones are not always the best

Liverpool 4-3 Crystal Palace

Crystal Palace 'keeper Julian Speroni (39y 246d) became the oldest player to make a Premier League appearance this term, and the oldest to appear in the competition since Shay Given (40y 151d) vs Crystal Palace in September 2016.

The quiet word with Marcus

Man Utd 2-1 Brighton

Manchester United interim manager Ole Gunnar Solskjaer: "Sometimes you make it hard work. I thought we played some great stuff at times. At the start of the second half we could have finished the game with great chances. But in any game of football you are never sure until it's over. Last 20 minutes we were in trouble.

"They do dig deep. The boys showed against Tottenham and today that we don't give up and there's a great team spirit.

"You can't always play fantasy football. At times we did and it's a great three points.

"What a finish from Marcus Rashford. The way he finished it off. It is great working with him. That was his 150th game, I think he has scored more than a couple of the legends we have so he has a great future ahead of him.

"What I like the most is to get into their heads and find out what they are thinking. He is so calm and assured when he is finishing. That was the first thing I said to him when I met him. He had missed some chances and I said 'no problem, you'll be alright, just settle down a little bit'.

"Today we were tested. I didn't think we played the game out as we should have. That's perhaps the next challenge for the boys.

"The last month has been fantastic. It's one of those things. It is real now. To be fair, it does feel like coming home. I do feel at home and I really enjoy it."

'It's class to be here'

Man Utd 2-1 Brighton

Man Utd interim boss Ole Gunnar Solskjaer speaks to Sky Sports: "We should have maybe played the game out better than we did as the last 15 minutes we were under it.

"Marcus Rashford has been top class. You start with work rate. He has that, works like no one else, runs channels, holds the ball up. He has now calmed down in front of goal and he's assured and is practising all the time. Now he's confident.

"I can't complain can I? I am smiling and this is one of these things I will remember for the rest of my life. It's been a roller coaster and it's class to be here."

KICK-OFF

Arsenal 0-0 Chelsea

'Best game so far'

Southampton 2-1 Everton

Southampton manager Ralph Hasenhuttl speaking to Sky Sports:

"It was the best game so far, defensively good, we gave two chances away but a lot of chances to score, it could have been four or five. It was a very deserved win for us.

"We played good football, we were good in transition and created a lot and we were very balanced so it was a complete team performance and with the right decisions in the right moments.

"Today it was important to show it doesn't matter if we play on a Wednesday, we are very strong and physical. Ward-Prowse played 120 minutes and gave everything today. It was important to come back with a big win.

"It is an important step for us and now we have three games against important opponents."

Asked about the length of stoppage time:

"There was nearly no end! But we concentrated until the end, it's a shame we didn't have the clean sheet and a nervous last eight minutes but the team deserved it."

'No signings for Brighton'

Man Utd 2-1 Brighton

Brighton manager Chris Hughton: "The biggest disappointment is the goals we conceded. I thought we very much gave them a game. We will need lots of that come the end of the season but I thought there was a chance for us today.

"If it was going to be one team it was going to be us going to score but we needed a bit more quality in the final third and in general. At times we broke well approaching the final third and that's the difference in the quality.

"At the moment I don't think we will be bringing anyone in in January. You can never say never but I don't think it will be the case. Possibly one or two will be going out on loan."