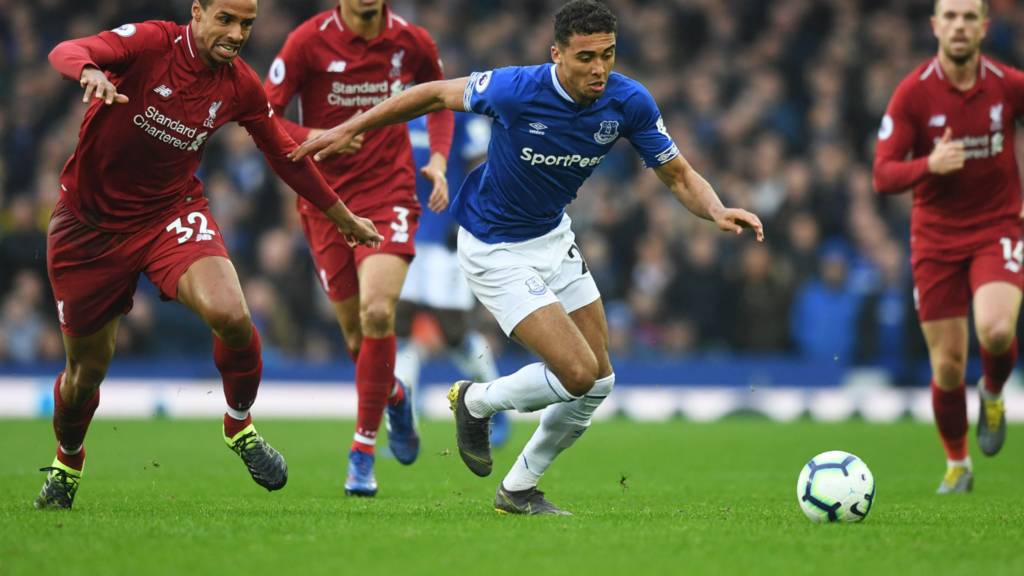 Liverpool title hopes dented by Everton draw - reaction
KICK-OFF

Watford 0-0 Leicester

Post update

Watford v Leicester (12:00 GMT)

Brendan Rodgers has done some coaching already - he called Jamie Vardy over for a quick one-on-one chat.

Post update

Watford v Leicester (12:00 GMT)

Here we go! Z Cars time. Players on the pitch as Brendan Rodgers makes a low key exit from the tunnel.

It all feels a bit early on a Sunday doesn't it...

Get Involved

#bbcfootball or 81111 on text (UK only)

Christopher: There's a kernel of what Deeney says that resonates. But it's simplistic to say role models should be at home. Plenty of kids grow up without both parents or without any at all. In that vacuum it's possible that a 'highly visible online' sportsperson fills the void

Rob Millward: Brendan Rodgers - 'I think Leicester should be challenging for European football'... Think being at Celtic has made his delusion off the charts! As long as they can stay in the Prem they should be happy!

Due a win...

Watford v Leicester (12:00 GMT)

Brendan Rodgers has failed to win his opening league match as manager of each of his four previous clubs in the English leagues.

Watford (1-1 draw at Bristol City), Reading (0-0 draw v Nottingham Forest), Swansea (2-0 defeat at Hull), Liverpool (3-0 defeat at West Brom).

5 Live have full match commentary of all three matches this afternoon so tune in, sit back and relax.

Ali Bruce-Ball and Efan Ekoku are on duty for Watford v Leicester, Vicki Sparks and Don Hutchison take the Fulham v Chelsea match, and it's John Murray and Pat Nevin at Goodison.

It all starts at 11:55 GMT.

It's not even close by the way - Jamie Vardy has got 71 Premier League goals, a many as Brian Deane, while Troy Deeney 'only' has 35, the same as Benito Carbone.

Troy Deeney is a great talker, whenever I hear or see him do inteviews. A very interetsing man.

Who has got more Premier League goals - he, or Jamie Vardy?

And when you've pondered that why not try our goalscorers quiz...

Get Involved

#bbcfootball or 81111 on text (UK only)

David Jones: Troy Deeney stands up, takes responsibility for his actions and mistakes and expects others to do the same. It's a breath of fresh air and on this issue he's 100% right. @WatfordFC are lucky to have @T_Deeney as captain

Footballers are not role models...

Watford v Leicester (12:00 GMT)

It is "lazy" to call footballers and celebrities role models, says Watford striker Troy Deeney in an interview about knife crime in Britain.

Deeney, 30, was asked about the number of young people being stabbed in the UK in recent weeks - and what he could do as a high-profile sportsman to help.

"I don't like the word role model, first and foremost," Deeney told BBC Radio 5 Live's Sportsweek.

"The role model should be in the house at all times."

Leicester a stepping stone for Rodgers?

Watford v Leicester (12:00 GMT)

Jermaine Jenas

Former Tottenham midfielder on BBC Radio 5 live

I always thought when Brendan Rodgers took the Celtic job, it was to regain credibility after the job at Liverpool.

He has done that and achieved all he can at Celtic but he wanted to be back in the Premier League and if things go well at Leicester, he develops players and wins a trophy then a big-six job may come his way.

Even the weather has obliged. It's cold and wet again - up in Salford anyway - and the TV gods have given us all the sort of Sunday where the biggest movement you'll need to make is from sofa to fridge.

No messing about, no gaps in the schedule. In fact, not sure when we are going to get a meal in at all...

Watford v Leicester (12:00 GMT)

Fulham v Chelsea (14:05 GMT)

Everton v Liverpool (16:15 GMT)

Get Involved

#bbcfootball or 81111 on text (UK only)

What are your thoughts on the return of Rodgers, the promise of Parker or the clout of Klopp?

Image caption: 'Boss, give me some balls to run on to man...'

Whatever you want to get off your Sunday morning chests, fire away via the usual channels...

Team news

Watford v Leicester (12:00 GMT)

Watford make one change to the side that lost 5-0 at Anfield in midweek.

Jose Holebas, who missed the defeat to Liverpool through suspension, is recalled in place of Adam Masina, who has to settle for a place among the substitutes.

Watford XI: Foster, Janmaat, Mariappa, Cathcart, Holebas, Doucoure, Capoue, Hughes, Pereyra, Deulofeu, Deeney

Subs: Gomes, Cleverley, Success, Masina, Gray, Quina, Kabasele

Brendan Rodgers also makes one change to the Leicester team that beat Brighton 2-1 at the King Power Stadium on Tuesday.

Captain Wes Morgan joins Harry Maguire and Jonny Evans in a three-man defence, with Demarai Gray dropping to the bench.

Leicester XI: Schmeichel, Pereira, Evans, Morgan, Maguire, Chilwell, Tielemans, Ndidi, Maddison, Vardy, Barnes

Subs: Ward, Soyuncu, Gray, Iheanacho, Mendy, Fuchs, Ghezzal

The big one, is the late one

Everton v Liverpool (16:15 GMT)

Brendan Rodgers was sacked by Liverpool hours after a Merseyside derby draw with Everton.

I'm going to go out on a limb and say that the same fate is not awaiting Jurgen Klopp this afternoon - whatever the result at Goodison.

But his side need a win really...

Scott's back in town...

Fulham v Chelsea (14:05 GMT)

Speaking of new men at the coal face, Fulham have Scott Parker in the hotseat for the first time, again against his old club.

Can the former England captain produce a remarkable turnaround and keep Fulham up?

No. No he can't. But let's see what he can do, starting at Chelsea, who have had another quiet week...

Breaking

One change for Brendan

Watford v Leicester (12:00 GMT)

Just the one change for Leicester, but it is a fairly significant one. Big Wes Morgan comes back into the side, but he replaces Demarai Gray, who was excellent in midweek. That also means a back three. I think.

Watford also make just one change as Jose Holebas comes back in. Adrian Mariappa, who started for Rodgers in his first game as a manager way back in 2008, starts again.

Early start

Watford v Leicester (12:00 GMT)

Brendan Rodgers is back in the Premier League. Drink it in.

It's been a long time. Three-and-a-half years after he was sacked by Liverpool, Rodgers will lead out his new side Leicester this lunchtime.

And he may not get the warmest of welcomes...

For Watford are the club that gave Rodgers his first chance in management, plucking him from the Chelsea academy back in 2008, and their fans didn't like the fact that he walked out to take the Reading job just a few months later.

I'm sure they've forgotten though Brendan...