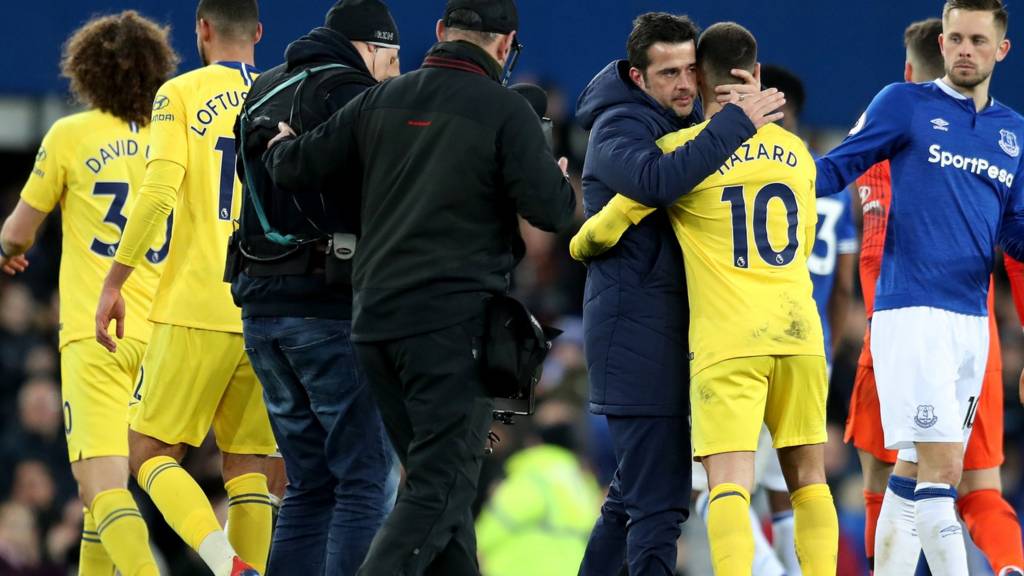 Premier League - Everton win to damage Chelsea's hopes of top-four finish
Summary
Everton v Chelsea - live commentary on BBC Radio 5 Live
Richarlison heads in before Sigurdsson scores after his penalty is saved
Mane scores 11th in 11 games in all comps following Firmino cut-back
Defensive error allows Babel to score against former club
Rico foul on Mane allows Milner to win game from penalty spot
Hitting a century

Everton v Chelsea (16:30 GMT)

Jordan Pickford is making his 100th Premier League appearance for Everton today.

Chelsea on the up

Everton v Chelsea (16:30 GMT)

Alistair Magowan

BBC Sport at Goodison Park

A lot has changed at Chelsea since Maurizio Sarri was reportedly on the brink of being sacked last month after that 6-0 hammering by Manchester City.

Through to the Europa League last eight and with a vital game in hand today, the quest for a Champions League spot next season looks a lot more inviting. If they can beat Everton, Chelsea will leapfrog Manchester United, draw level on points with fourth-placed Arsenal and trail third-placed Tottenham by a single point.

Everton haven't won at home since the 13 January. No wonder Marco Silva is asking for a "fantastic atmosphere" in his programme notes.

'I am not giving excuses'

FT: Fulham 1-2 Liverpool

Liverpool midfielder James Milner speaking to Sky Sports: "The gaffer told me to come on and calm it down and the first thing I do is slice it and put Virgil under pressure which wasn't ideal...

"The goal was important to put away. You have to go back to what you practise, be calm and do what you do."

Liverpool centre-back Virgil van Dijk: "I am not giving excuses. I should have handled it better. They scored but so did we and we have three points and move back to the top of the table.

"We knew it would be tough. We made it difficult for ourselves. We weren't calm on the ball. We got the three points though and we can now focus on the national teams."

Tune in

Everton v Chelsea (16:30 GMT)

You can listen to full commentary of this match on BBC Radio 5 live and build-up has just kicked off.

Post update

Everton v Chelsea (16:30 GMT)

Now off to Goodison Park where Everton are taking on Chelsea.

Jurgen Klopp does his usual fist pumping celebration in front of the travelling fans but he's not quite as delirious as usual.

Liverpool's players don't look particularly pleased either. They were poor in the second half. Scott Parker looks a little crestfallen as he applauds Craven Cottage. Ryan Babel does the same - he was a bright spark for Fulham.

Are you not entertained?

Everton v Chelsea (16:30 GMT)

Gary Flintoff

BBC Radio 5 live reporter at Goodison Park

There is only one word to describe Goodison Park half an hour before kick off... Subdued. There were some cheers when Ryan Babel scored for Fulham earlier, but the home fans are clearly not sure what to expect this afternoon.

FULL-TIME

Fulham 1-2 Liverpool

All over. Liverpool survive a scare and move back to the top.

YELLOW CARD

Fulham 1-2 Liverpool

Joe Bryan slides in on Sadio Mane and goes in the book. Liverpool will take their time over this free-kick.

SUBSTITUTION

Fulham 1-2 Liverpool

Mohamed Salah is replaced by Daniel Sturridge. It's just not happening for him.

INJURY TIME

Fulham 1-2 Liverpool

Three minutes for Liverpool to hang on and they will return to the top of the table.

Post update

Fulham 1-2 Liverpool

Ryan Sessegnon fires a dangerously cross in from the left but it's skips out of reach from Aleksandar Mitrovic. Virgil van Dijk looked to have it covered though.

Post update

Fulham 1-2 Liverpool

Mohamed Salah cuts inside and tries to catch Sergio Rico out with a curler towards the top corner. It's always going wide though.

GREAT SAVE!

Fulham 1-2 Liverpool

Mohamed Salah just can't score at the moment. Sadio Mane waits for the Egyptian to make the run on the left, which he does, but Salah's shot from inside the box is well held by keeper Sergio Rico.

CLOSE!

Fulham 1-2 Liverpool

What a goal this would have been!

James Milner, Andy Robertson, Divock Origi and Mohamed Salah combine nicely down the left before it's played into the middle for Georginio Wijnaldum.

He has time to pick his spot and he almost finds it with a dangerous curling shot but it flies inches past the keeper's right post.

Drama in the FA Cup! Brighton have come from two goals down to make it 2-2 in the 94th minute!

GOAL - Fulham 1-2 Liverpool

James Milner

Cool as you like. The experienced midfielder blasts it down the middle. That makes up for his error in Fulham's goal.

Breaking

PENALTY - Liverpool

Fulham 1-1 Liverpool

Mohamed Salah's curling shot is rebounded but as Sadio Mane tries to poke it in, he's dragged back by Sergio Rico. Clear as day.

James Milner to take...

CLOSE!

Fulham 1-1 Liverpool

Liverpool try to respond immediately but Mohamed Salah's shot at a close angle is well saved.

Andy Robertson then whips a ball in to the backpost and Salah is inches away from getting a toe on it.

Get Involved

#bbcfootball or text 81111 (UK only).

Richard: All the hallmarks of the last time we threw it away ... what has Shaqiri done to Klopp?

Kaushik: Seriously why does Bobby have to be hooked off even though it's Salah missing in the game?!

Khan: Take Fabinho off now. Bring on Sturridge or Shaqiri. Throw in the kitchen sink!