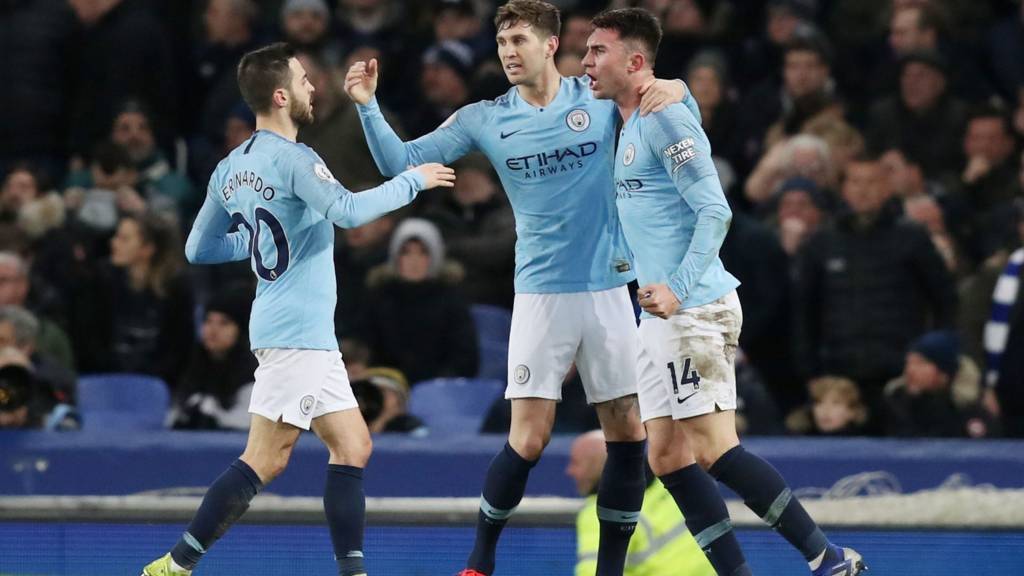 Man City go top with win at Everton
Summary
Man City go top of the league with win
Laporte heads in David Silva's free-kick, Jesus adds second in injury time
Everton remain ninth
Get involved - #bbcfootball
And that's that - see you all later on!

Seagulls lead in extra time

West Brom 1-2 Brighton

Over on BBC Two now, Brighton lead in the FA Cup replay.

You can follow and watch that game here.

El Clasico

Barcelona 1-1 Real Madrid

'99% of teams defend like us'

Everton 0-2 Man City

More from Marco Silva: "It is strange when you lose and play like that. The times we conceded were tough for us. My feeling is that they didn't deserve that, but we have to be positive. I am not happy that we lost but I take many positives.

"Together, like I saw tonight, for sure we will be stronger. We always tried to score, the game was open until the end, we had a strong attitude.

"We had to forget straight away the way we played against Wolves and we did. We are talking about set-pieces every time, it is more mental than something more.

"99% of teams in the Premier League defend in the same way as us but when you are so negative about something sometimes bad things come to you."

Post update

Everton 0-2 Man City

Manchester City boss Pep Guardiola to BBC Sport: "Goodison Park is always tough. We didn't concede one shot on target. It's a good victory. We have a lot of games in our legs and minds.

"Top of the table - we have to wait for Liverpool to go to Old Trafford (on 24 February) and if they win we are not top. We have a tough game against Chelsea, it is non-stop.

"The first half we arrived in positions we wanted to. Second half we had more problems. We tired after our effort in the last game but two goals, a clean sheet and a good performance."

'The team showed what we must do'

Everton 0-2 Man City

Everton manager Marco Silva: "There are positives but again we didn't take the points we want and we are working to achieve. At the moment bad things come too easy, we concede after 47 and 97 minutes. Just working like we did tonight, things will change for us, I am really positive. The team showed what we must do.

"The fans are so good, at the end of the match what they did for our players, I don't have doubts. We are all together and we will give them what they want and what they deserve.

"Everything was different compared to Wolves, I have to be honest. This has to be our image as a team. We must be consistent, it is an obligation for us. A desire to win, an aggression, it is what we have to do every time against every team. You have to respect every team.

"Be aggressive at set-pieces, we were in the zone we must be in, we moved a little bit, it was a good delivery and header but we have to challenge. I have to speak with my players about this, it is not normal.

"I cannot understand why we must play tonight, it is very tough for us."

Mark him up!

Everton 0-2 Man City

Everton have conceded more goals from set pieces than any other Premier League team in all competitions this season (19).

'A lesson to never give up'

Everton 0-2 Man City

Manchester City manager Pep Guardiola: "Goodison Park, 0-2, we have to be happy. We had problems in the second half but it was a good game. In terms of consistency, we didn't concede one shot on target. To score in the last minute of the first half helped us a lot.

"We are not the tallest team in the world so we don't expect to score from set-pieces but Mikel Arteta works a lot on them. Many decisions could be better, but that is my job to analyse those.

"Gabriel Jesus has scored nine goals in a short time and Sergio got three at the weekend, it is important to have two good strikers. I am so satiusufed, we have a game every three days for three months.

"I don't know how far we will get, maybe we will die in the road, but we are trying. We have played one more game than Liverpool, it's good to be top but Liverpool has a game at Old Trafford.

"I don't think too much about that but four or five days ago we could have been seven points behind, it is a lesson to never give up.

"We have an incredible test on Sunday against Chelsea."

'It's a difficult period'

Everton 0-2 Man City

Everton forward Dominic Calvert-Lewin: "It's very disappointing, we worked so hard to get a result but it's a lapse in concentration again at the end of the first half. There's no hiding place, we've conceded a few from set pieces and we are working hard to get it right. We'll turn it around.

"We have to be proud of ourselves, every one to a man put in a good shift. That's not enough sometimes you have to show quality but you saw from the reaction from the fans at the end they are happy with that.

"It hasn't always been the case this season. It was important to get the fans behind us again, it gives us a lift. It's a difficult period, results aren't going our way. It's down to us to put it right."

Late drama

West Brom 1-1 Brighton

In the FA Cup, where it's heading to extra time...

Get Involved

#bbcfootball or 81111 on text (UK only)

Nii: Pep said goal difference could decide the title. Looks like his players got the message right.

Adam Duke: Nobody- reds included- can say Everton have rolled over for City

'We want the title'

Everton 0-2 Man City

Manchester City striker Gabriel Jesus: "For me it is amazing, not just the goal but because the team played very well. We came to win the game and to work hard, we know that when teams come here it's so difficult. They have a lot of amazing players and an amazing manager.

"Everyone won the game. We know that it is going to be difficult. We want to play well in every game and at the end of the season we want the title."

Post update

Everton 0-2 Man City

Manchester City will end a day top of the Premier League for the first time since December 15th 2018, when they were top after a win over Everton.

Post update

Everton 0-2 Man City

Huge celebrations from those in light blue tonight. Nothing is won in February but considering they were facing a seven-point deficit just a week ago that's a good week for Manchester City.

FULL-TIME

Everton 0-2 Man City

All over!

Manchester City are back on top but nobody can say that Everton didn't give that their all.

GOAL - Everton 0-2 Man City

Gabriel Jesus (90 mins)

BIG.

Manchester City wrap up a big win as two subs combine. Kevin de Bruyne unlocks the Everton defence with a lovely through ball, Gabriel Jesus is onside and clean through. He tries to chip Jordan Pickford, who makes a smart save, but Jesus is able to wriggle and head in the rebound.

Post update

Everton 0-1 Man City

Kevin de Bruyne takes the ball into the corner and buys a cheap free-kick from Dominic Calvert-Lewin...

Post update

Everton 0-1 Man City

Post update

Everton 0-1 Man City

Great feet from Bernardo Silva to take on two men and force a corner. City keeping the ball well, killing the clock...

Post update

Everton 0-1 Man City

Stay on your feet! Raheem Sterling picks up a short corner and for a moment it looks like he's going to be taken down but Everton defend well, counter as Fernandinho loses the ball but Everton can't make anything happen.