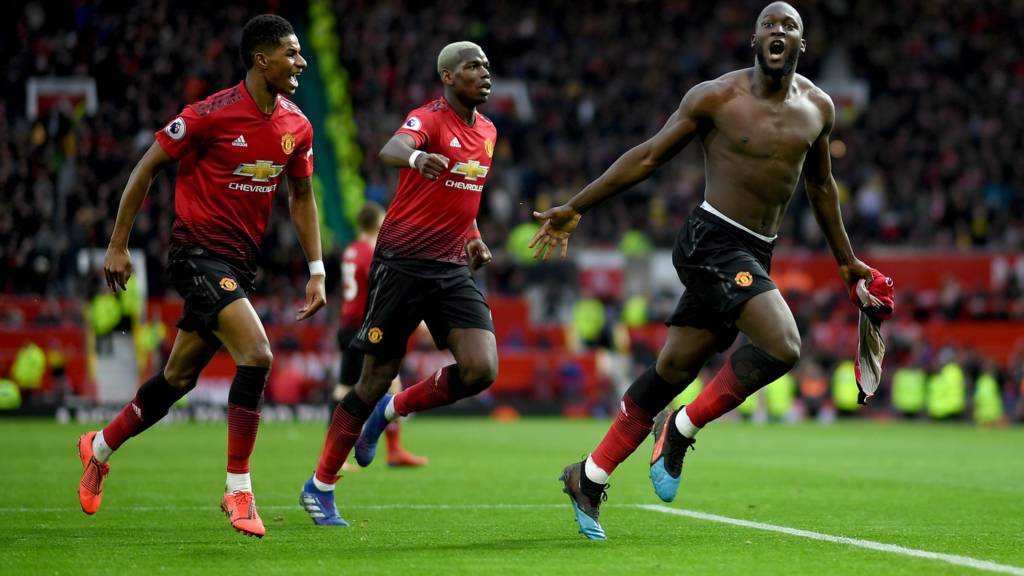 Mahrez sends Man City top, United beat Saints in 3-2 thriller, Brighton win - reaction
'Three points closer'

Burnley 1-3 Crystal Palace

Crystal Palace boss Roy Hodgson: "The two players I brought in, Cheikhou Kouyate and Max Meyer, they have been extremely good every time they have come on the field. And of course moving Jeff Schlupp up gave us some strength down that side and of course it meant that I could leave Andros Townsend and James McArthur out of this game. They have worked so hard in every game for us, so it was good to get some fresh legs in, and also in the case of Max and Kouyate to give them a chance to play.

"There are lots of big games, and you only get a short period of time to really savour the victory but having said that, we will savour it at least until we meet Brighton, that is another very big one. But the important thing is it is three points closer to that points total that we think we need to ensure our place in the Premier League next season. For us like so many teams, that has got to be our primary goal."

'We got more and more dangerous'

Burnley 1-3 Crystal Palace

Crystal Palace manager Roy Hodgson: "It is always a difficult place to come, Turf Moor, Sean has got the team very well disciplined, very well organised, you know exactly what pressures you are going to be under. I thought we dealt with that extremely well throughout the game. Peter Crouch came on and punctured our clean sheet right at the end but I think we dealt with it extremely well and by contrast, when we had the ball going forward I thought we looked pretty dangerous and the longer the game went on the more dangerous we got. To score three goals away from home against any team is a good performance, and to do it against a team of Burnley's calibre with their quality of defending is even more so.

"There were some excellent moves, we could have had aggravated the score with one or two excellent moves but the bottom line in the Premier League is you shouldn't be asking for too much. You've got to be very happy when you come away, you've given a good performance, very solid throughout. We were good enough going forward to create the chances and when you win, even if it is only by one goal you've got to be happy, so I'm delighted with the team's performance, and delighted it lifts us up that little bit higher in the table."

Sorry for the delay in bringing you Roy Hodgson's reaction - here it comes...

Friendlier side of football

#FAPeoplesCup

Away from the pinnacle of professional football, we met some teams with amazing stories in the first round of the FA People's Cup last weekend, like Guru Nanak Ladies FC from Gravesend...

You can see how they and all the other teams got on in the FA People's Cup first round on the BBC Red Button at 14:05 and 19:15 GMT on Saturday, 2 March and on the BBC iPlayer here.

Post update

Burnley 1-3 Crystal Palace

Of players to appear in the Premier League this season, only Phil Jagielka (6) and Scott Dann (5) have scored more own-goals in the competition than Burnley's Phil Bardsley (4).

Post update

Bournemouth 0-1 Man City

Manchester City's David Silva has provided 80 Premier League assists - the joint-eighth best tally in the competition (level with David Beckham).

Neil Warnock not sounding overly confident of turning it around...

'Bennett should have been sent off'

Wolves 2-0 Cardiff

Cardiff boss Neil Warnock, speaking to Match of the Day: "It has been the story of our season. We never gave ourselves a chance. The lads made mistakes they shouldn't have done and they know that."

On Ryan Bennett's foul: "He should have been sent off, that is a booking anywhere else.

"Just look at his body language. It takes some guts to send people off, Andre Marriner is a top referee but he missed two or three free-kicks in the first half and the sending-off was simple for a man of his calibre."

On Sol Bamba's injury: "It is disappointing and sums our season up. We will regroup, probably without Sol and go again next week"

On the result: "We are all down, we are bound to be flat when just got beat. If you do not care then there is something wrong with you. They have not done on it on purpose, but you can not afford to give a team of this quality chances like that. I thought they were so nervous. We dominated for the first 20 minutes and then I stood there and two minutes later we are 2-0 down. I can not understand it.

"I do not know what more I can get out of the lads. But I have to get more, look at how I can get more out of them. They are such an honest group, I can not fault any of them."

Sanchez to have scan

Man Utd 3-2 Southampton

Simon Stone

BBC Sport at Old Trafford

A couple of updates from Ole Gunnar Solskjaer's post-match press conference.

Firstly, Alexis Sanchez will have a scan on the knee injury that forced him off early in the second half.

"It looks like his ligaments but hopefully he won't be out too long," said Solskjaer.

Secondly, the Manchester United boss confirmed Paul Pogba will carry on penalty duties despite today's miss.

"I missed them," he said. "I told him to get ready for the next one."

Burnley had 18 shots to Palace's 10, and had 57% of the ball too.

'We've had tough results before'

Burnley 1-3 Crystal Palace

Burnley manager Sean Dyche reflecting on defeat to Crystal Palace: "We know they break quickly but at crucial times we got caught out. It's confusing when you look at the stats - the stats make it look like a good performance but we know stats don't win games.

"We're still looking at the next game, we know these games are important. Most people are probably confused, Palace are a good side and most people are probably scratching their heads when they see them down there [in the table].

"We've done a lot of work on this run, we've had tough results before and responded. The next game is important to get back to our levels of performance."

'Exciting' end to the season

Man Utd 3-2 Southampton

Manchester United manager Ole Gunnar Solskjaer tells Sky Sports: "I have been part of so many games like this, towards the Stretford End in the second half. That Stretford End will always suck a ball into the net for you. That is the best place to score a winner.

"We had character and belief more than quality. We lacked a bit of class, we should have been 2-0 up after five minutes. But we have three points and we are happy.

"They had two unbelievable strikes and we got a sucker punch at 2-2. It was a great response. We know the character and personality is there, so is the crowd.

"We are three points behind Tottenham now, the last nine games will be very exciting.

"I have decided that as long as I am here I am going to enjoy every single second. I am so happy for the players."

'I am angry'

Brighton 1-0 Huddersfield

Huddersfield manager Jan Siewert speaking to BBC Sport: "I am totally angry because we lost the game because of a free-kick. In the Premier League if you are not switched on, you cannot allow this as it is a goal.

"We were not switched on. From the first minute to the 95th or 96th you have to be switched on. I am angry, we were running and fighting. Because of injuries we had early substitutions but we still should have got something out of the game

"Jonathan Hogg got a knock in the first half and after the game against Wolves, I know it is not easy against Brighton, they have good intensity and this early substitution definitely affected the game.

"We had many shots on target, we had possibilities but we lost because of a free-kick."

And there's been a goal already!

KICK-OFF

West Ham 0-0 Newcastle

The late game has kicked off too - follow that one with Caz over here.

Long ranger!

Man Utd 3-2 Southampton

Four of the five goals at Old Trafford came from outside the penalty area - no game in Premier League history has had more than that.

(Quite a few have had four).

'Made the fans proud'

Man Utd 3-2 Southampton

Southampton manager Ralph Hasenhuttl tells BBC Sport: "The team deserved more than to be defeated today. They made a fantastic game and tactically we were very good. The first half was very good and played a brave performance. The team showed they wanted to get something.

"We maybe could have had two penalties and at 2-0 up it would be much more difficult for Man United. We were defeated by a fantastic Romelu Lukaku.

"We never stopped playing for a point and feeling we could get something out of the game.

"The players felt there was something possible here but it was disappointing in the end. Nobody asks how we lost, for me it would be better if we did not play as good and got a point. We made the fans proud today.

"If we stay working and playing like this, focusing on clean sheets, we showed we can score."

'Good first half, not so good second half'

Wolves 2-0 Cardiff

Wolves boss Nuno Espirito Santo speaking to Match of the Day: "It was a good performance. The first half was very good, but not so good in the second half.

"They were difficult to play against, we defended well against their set pieces and were able to counter-attack and I wish we could do more.

"Cardiff unbalanced themselves with their direct game and we had superiority and could have done better. A 2-0 scoreline is not a comfortable result ever, especially against Cardiff because they are so tough. I am always afraid something will happen.

"We are a short squad, just 16 players, we have to manage well. Other players that have come in have pleased me a lot.

"It has been a tough week, we will settle down and recover well and prepare for the next room."

'The players deserve my admiration'

Bournemouth 0-1 Man City

Manchester City manager Pep Guardiola speaking to BBC Sport:

"We made one of the best performances we have played, they were very organised. But they didn't have one shot, we defended well from throw-ins and free-kicks. We created a few chances, people should understand how difficult it is to attack 11 players [who are defending]. Thanks to the players, they are absolutely incredible.

"We demand a lot of the players without giving them the time to rest physiologically, that is why it is incredible. No matter what happens this season they deserve my admiration

"Vincent Kompany wasn't 100% John Stones does not have a big problem, it was a precaution, Kevin [de Bruyne] will be out for a while with a muscular problem, hamstring."