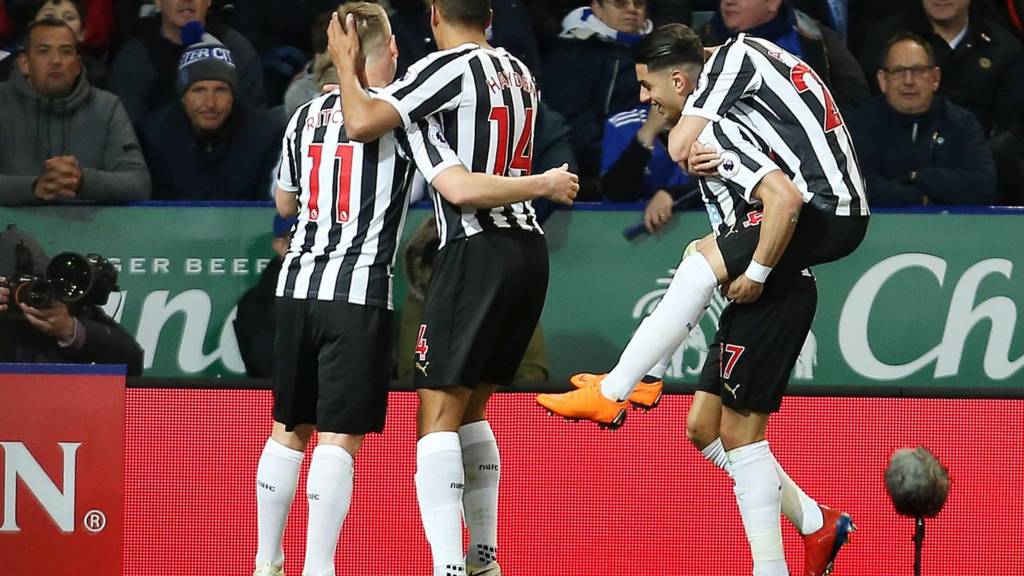 Newcastle hold on for important win over Leicester
Summary
Listen online & on BBC Radio 5 Live
Perez heads in Ritchie cross for only goal - Newcastle 10 points clear of relegation zone
Leicester's four-game winning run ended
And that's that. See you all in the morning for a load more lovely Premier League fare.

Post update

Leicester 0-1 Newcastle

More from Rafael Benitez on Sky Sports: "Doing the right things we can compete with teams between seventh and 12th. We have to be more competitive in the window and then you have a massive potential at Newcastle."

Are you doing such a good job that the owner doesn't think he needs to spend money?

"That has been my problem for a while - at Inter we didn't spend anything. You have to do your job but sometimes you need some help."

'This is our first disappointment'

Leicester 0-1 Newcastle

Leicester boss Brendan Rodgers on Sky Sports: "We were too slow with the ball in the first half. Technically we need to be better in these type of games.

"We had a couple of half chances. When the ball was lost we could have been better in that wave of pressure and Newcastle have quick players on the counter. We will be better for it.

"Each game is different, this is our first real disappointment. We will go away and reflect and be better in the next game."

'Relationship with fans means a lot to us'

Newcastle manager Rafael Benitez to BBC Sport: "It was a good game against a good team. We did very well. Our players worked so hard. This relationship between the players and fans means a lot to us. The players and fans tried to do their best.

"As a coach you always have a game plan. You can prepare however you want but it depends on the players to make the difference.

"The problem against James Maddison or Jamie Vardy is you have to concentrate from the first minute to the last. We are really pleased with the clean sheet and three points. You have to enjoy today and be ready for the next one.

"We had two or three counter-attacks that we could have had a little more composure and scored more."

On their aims for the final weeks...

"It's one game at a time, like we've done all season. It's difficult to know what will happen in the players' heads each week."

'This is why I am here'

Leicester 0-1 Newcastle

Leicester manager Brendan Rodgers: "It's difficult to break down a team like that, it's an area we will get better at. There wasn't a lot in the game, our final pass just wasn't there but we gave everything. We couldn't break down their defence.

"We will learn from it, this is why I am here. Games like that you have to stay patient and have tactical discipline. The players have been first class snice I came here but if you're not quite on it a result like this can happen.

"The speed of our passing in particular can be much better. We let them get into shape too early. It needs to come quicker. We changed it around a few times but it was one of those evenings. It will be good for our leanring going forward."

Will Benitez stay?

Leicester 0-1 Newcastle

Newcastle manager Rafael Benitez is asked by Sky Sports about the possibility of him staying...

"I have been trying to win titles everywhere in different countries. We have to have a team who can compete. This city, the club has potential. It's massive. I'm not looking to spend £200m, but doing the right things.

"You can do everything right with your tactics, but the other team has one player that can make the difference. You'd have to pay £30m to buy a Leicester player."

Rafa Benitez has been more open in this chat than he usually is. He still won't say whether he will be there next season but says that it is a massive club, a massive city but they need more help and to spend more money.

'We needed to do almost everything perfect'

Leicester 0-1 Newcastle

Newcastle manager Rafael Benitez to Sky Sports: "It's massive for the team. You have to give credit to the players who worked hard. We were playing against a good team. We needed to do almost everything perfect and we were close. It's easier with this commitment from players and managers.

"Tactically we needed to adjust a lot of things and we did it."

On Miguel Almiron: "He's working really hard. You can see he's running behind the defenders. He has the pace and stamina and is working for the team. He'll take time to adapt."

A change in style

Leicester 0-1 Newcastle

Leicester City completed 649 passes in this match, their highest total in a Premier League game since 2003-04 (when Opta began recording this data); indeed, three of their four highest successful pass tallies in this time in the division have been recorded in their six fixtures under Brendan Rodgers.

Post update

Leicester 0-1 Newcastle

This was Leicester City's eighth home league defeat of the campaign, their most in a Premier League season at the King Power Stadium since it opened in 2002. Only in 1994-95 (10) and 2001-02 (9) have they lost more home Premier League games in a single season.

Post update

Leicester 0-1 Newcastle

All the Newcastle fans are still singing. You'd think they had just won the league!

'We want to finish as high as we can'

Leicester 0-1 Newcastle

Newcastle midfielder Matt Ritchie to Sky Sports: "For sure [I can sleep easier]. We still want to build on it and finish as high as we possibly can.

"We have to keep going and keep believing. We have some good games and are targeting points."

'38 should be enough'

Leicester 0-1 Newcastle

Newcastle forward Ayoze Perez on Sky Sports: "I alwways believe in the cross, Matt Ritchie has got a good delivery so it was a great goal. The team showed great character to get three points.

"38 points should be enough and that means a lot. The team has worked really hard this season and we can say we are a Premier League team for next season."

Here's what the man from the Times thinks...

Post update

Leicester 0-1 Newcastle

It's looking grim for Cardiff down there.

'Mission accomplished'

Leicester 0-1 Newcastle

Andy Townsend

Ex-Chelsea midfielder on BBC Radio 5 live

Congratulations to Rafa Benitez and his Newcastle players. That's as good as I've seen them away from home – the way they defended. They had a game plan and a cutting edge. That makes them a different proposition.

The players are walking over to the fans - almost like it's the last game of the season and they've survived. They know it's job done, mission accomplished. There's no danger now, they'll be playing Premier League football next season.

Newcastle fan with his top off - CHECK.

Post update

Leicester 0-1 Newcastle

An afternoon - probably a whole day? - off work for the travelling Newcastle hordes and it's all worth it now. Ayoze Perez leads his team-mates over to thank the away end who are in booming voice.

A first home defeat for Brendan Rodgers, a win that surely sees Newcastle safe.

Post update

Leicester 0-1 Newcastle

Big thumping header from Harry Maguire but he's 18 yards out when he meets a cross from the left and he needs someone in the middle to get a touch...