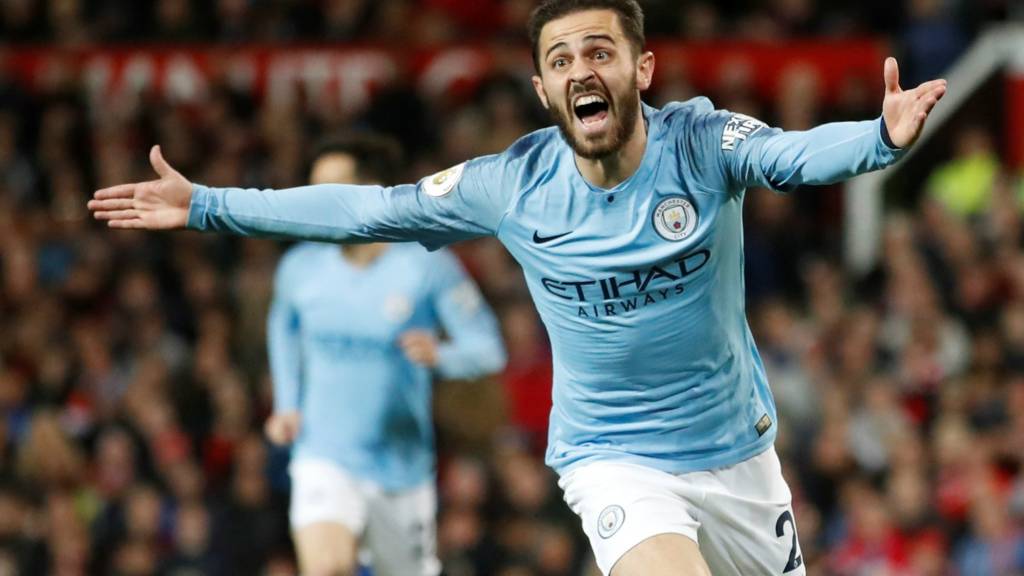 'It's in our hands' - Best action & reaction as Man City take control of title race
Shaun: Robbie Savage has a poor memory. De Gea, Smalling and Young have already won Premiership titles with Utd.

The player rater has closed now. Your man of the match was Leroy Sane with 7.21, the only man to get more than 7/10.

The lowest rated? Alexis Sanchez (2.38).

Jonny Guckian: Solskjaer starting to sound Moyes-esque in his post match comments. He calls that game a 'great reaction'? I saw one shot on target and another 90 minutes without any real attacking threat. He's a legend but not the answer for Manchester United.

In Manchester United's last 63 Premier League games at Old Trafford, dating back to February 2016, they have lost five.

Three have been against Manchester City.

'Lingard is probably immune'

Man Utd 0-2 Man City

Robbie Savage

Ex-Leicester City & Wales midfielder on BBC Radio 5 live

Jesse Lingard had a big opportunity to score and he let Raheem Sterling run past him for the second goal. He is probably immune from the criticism some of the others receive because he is an a academy graduate.

Are these players going to win them the Premier League? I can't think of one player that would get anywhere near winning the title.

Post update

Man Utd 0-2 Man City

More from Manchester United manager Ole Gunnar Solskjaer to BBC Sport:

"We wanted to minimise their strengths and maximise ours. Next year when we get a pre-season behind us that will help us to know that your shape is the same every game.

"If you look at Manchester City and Liverpool the relationship of the players have been built over years and that's the signs of a good team."

On his team being leaked before kick-off: "I don't think it was a big surprise we were at the Cliff training ground.

"We're still in with a chance and we're still in it with so many things happening in the chase for the top four. They [the players] wanted it and you can see they are hurt and we'll give Chelsea a good go."

Ian: Let's hope the City and Liverpool fight at least goes to the last day of the season. 2012 was so much fun!

RegularJon: Sunday will be my first OT visit of the season, not sure I want to go at this rate

Choomah: Burnley might very well be the team to have a major say in this title race.

Manchester City have scored 157 goals in all competitions - the most by an English top-flight side in a single season in history.

I've got to say Ole Gunnar Solskjaer's three interviews - to BBC TV, Radio 5 Live and Sky Sports were all remarkably similar.

Post update

Man Utd 0-2 Man City

Manchester United manager Ole Gunnar Solskjaer speaking to BBC Sport: "We got a great reaction from the players and the supporters.

"You could see from the first minute that they wanted to show the crowd who were incredible again.

"The first half was decent, we held our own and created chances with some efforts. Going in to half-time we know there was a lot of work to be done, but they won deservedly because they had too much for us.

"They are the best team in the country, they have set the standard in the last two seasons and I don't know how many points they've taken. What Pep Guardiola has done with his players is remarkable and we are so close to it in the vicinity so we feel it every day

"Of course we are disappointed but you can look at yourself and say we gave everything but we need to do that tomorrow and the next day, it's about doing everything you can to close it [the gap]."

Richard: You have to say Solskjaer looks and sounds completely lost.

Helles: Delusional statements by OGS...

Bizarre: As long as Ed Woodward & The Glazers remain in charge, then United will continue in this form. The club is a mess. You can change the manager but it's the boardroom that needs changing. Until that happens, the United we see now, is what you will continue to get.

'Living so close, we feel it more'

Man Utd 0-2 Man City

Speaking to BBC Radio 5 Live, Manchester United manager Ole Gunnar Solskjaer said: "We certainly got a reaction. The players and the supporters were together. The players wanted to show they really care. The first half was positive, we were pleased at the break.

"Unfortunately, we conceded two sloppy goals in the second half that could have been avoided. I would never point the finger at any players so it is down to all of the players to work together. We know we are having a tough time but we stick together when we lose. Everyone can see what City have done over the last few years.

"He [Pep Guardiola] had a tough first season but he has turned it around and they have set the standards for everyone. Living so close to them, we feel it more, but we will have a better attitude than everyone else. In the short term, we are still in the race for the top four and we know we must deliver a good performance against Chelsea."

Manchester United boss Ole Gunnar Solskjaer is speaking to BBC Sport now. He says he's not worried that their starting line-up was leaked in the media earlier today.

Post update

Man Utd 0-2 Man City

Remember those running stats from earlier that had Manchester United ahead at the end of the first half....

Well come full-time Manchester City have covered over 4km more than United. So Pep Guardiola's men basically 5km more in the second half - or about 500m per man.

'I would sell Pogba'

Man Utd 0-2 Man City

Robbie Savage

Ex-Leicester City & Wales midfielder on BBC Radio 5 live

I would sell Paul Pogba. After the stick he got at the weekend I thought we would see him track back and smash tackles tonight, but I didn't see any of that.

'We got a reaction'

Man Utd 0-2 Man City

Man Utd boss Ole Gunnar Solskjaer, speaking to Sky Sports: "We got a reaction and in the end we were beaten by a better team. But we got a reaction from fans and players and had a go. You can see the work-rate was there, it wasn't good enough.

"There is a difference in quality. That is why they are top and we are where we are. They have set the standard. Living in Manchester we cannot be happy with that. It is up to us to close that gap and overtake them.

"Today you can't say that any of them didn't run. You could see clearly an intent and focus. We just need to keep working on it.

"City want to win it back and by their aggression to win it back there will be fouls. They keep the ball high and are hungry to win it back. They stopped us very well.

"David [De Gea] made some terrific saves as well today. It is every day work for everyone. He has high standards. When we are having a time like this we need to stick together, batten the hatches down and keep working. We have to come back fighting on Sunday."

Get Involved

Text 81111 (UK only).

SMS Message: Better from Utd in terms of effort, but in truth the quality is not there. That said it was a couple of soft goals that an in form De Gea would normally save. City should not celebrate just yet though, there are tougher games than Utd ahead. from Alan, Seaton

'We have to be calm'

Man Utd 0-2 Man City

Speaking to BBC Radio 5 Live, Manchester City manager Pep Guardiola said: "We have to be so calm because on Saturday we go to Burnley and we know how difficult it is. We have been playing like this in the last six months and we have not had a break. The players are incredible."

Asked how he intends to stay calm: "We do not read the papers or switch on the TV. The players have a lot of massages and they have to eat and sleep well. We need everybody together at this stage."

'We didn't play like Manchester United'

Man Utd 0-2 Man City

Manchester United forward Marcus Rashford speaking to Sky Sports: "Today we didn't play like Manchester United. It's not right. The bare minimum is to work hard and give all for the badge, the supporters, the club and yourself.

"It has been a tough road to get to where we are, to get there and not be putting up the same performances as we were in January is disappointing. We know what's been going wrong, it's mentality and willingness to run for your team.

"Forget the league and top four, you don't lose this game. It's that simple as a Manchester United fan. We never call each other out but we have to be real with each other. It's a matter of trying to improve each other.

"It's more getting back used to doing it on the pitch. They [the supporters] know we can do it. Forget the top four and the Champions League. We have to get to the bottom of it and start playing like Manchester United for ourselves."