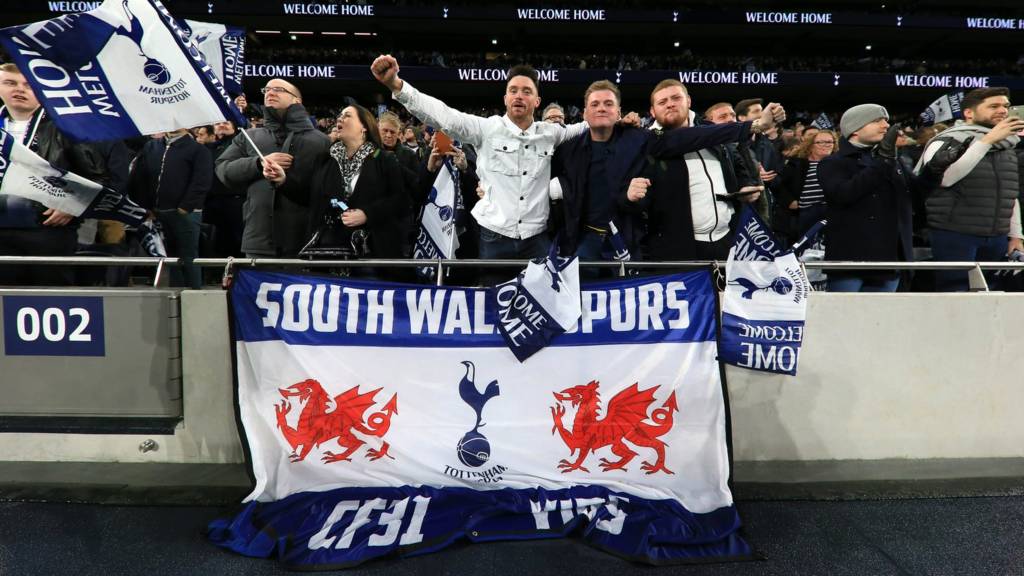 Spurs win first game in new stadium, Man City go top, Chelsea dominate
Even brighter than the moon, moon, moon

Post update

Man City 2-0 Cardiff

Cardiff manager Neil Warnock: "Someone told me before the game that some clubs have played against City recently and never had a shot."

Cardiff had one shot on target.

'It's a lot on Hazard's shoulders'

FT: Chelsea 3-0 Brighton

Garth Crooks

BBC Sport football expert on BBC Radio 5 live

Without Eden Hazard, Chelsea do not frighten teams. With him they are a different kettle of fish. But it's a lot on his shoulders and I don't think they will finish in the top four.

Post update

Man City 2-0 Cardiff

Only Blackburn Rovers (18 in 1994-95) have ever scored more goals in the opening 15 minutes of their games in a single Premier League season than Manchester City have in 2018-19 (17).

Maurizio Sarri's commitment to calling Ruben Loftus-Cheek 'Loftus' is superb.

'We needed to change'

Chelsea 3-0 Brighton

Chelsea boss Maurizio Sarri to BBC Sport: "We played good football. We conceded nothing, only one goal opportunity in the last minute. We did very well and scored three wonderful goals.

"In this match we played like we did in the first part of the season.

"I think so [Chelsea looked fresh]. After 50 matches it's very difficult to play every three days. We needed to change. We're lucky because Callum is doing very well. Loftus has no problem with his back for the first time this season. Giroud is in a good period. We're lucky.

"Callum played very well and defended very well. He has improved during the season a lot. He's ready to play 90 minutes in very important matches. The only problem is Ruben, who had cramp in his hamstring after 75 minutes. I want to be sure his back is OK.

"The atmosphere was really good. I want to say thank you to our fans. They were with us for 90 minutes."

Callum Hudson-Odoi has been directly involved in nine goals in his nine starts for Chelsea in all competitions, scoring four and assisting five.

Hudson-Odoi is the youngest player to provide an assist on his first Premier League start for Chelsea (18y 146d).

'He might force the situation himself'

FT: Chelsea 3-0 Brighton

Garth Crooks

BBC Sport football expert on BBC Radio 5 live

Big teams want Callum Hudson-Odoi. If Chelsea are not prepared to play him in big games, he might force the situation himself.

'Hudson-Odoi has huge potential'

Chelsea 3-0 Brighton

Chelsea goalscorer Olivier Giroud to BBC Sport: "It was a good cross [from Callum Hudson-Odoi] and a good finish. The keeper was on the ground so I put it in the air. I was happy for the team and myself.

"I'm not surprised [about Hudson-Odoi]. He's improving. He's got huge potential. I'm sure he will become a top, top player. He needs to play in more games but it's coming. He's a good player and a good man in the dressing room. England can be happy to have him.

"When I'm on the pitch I try to help my team to win and try to score when I have an opportunity. We need to keep this up. We've shown some great character. We scored nice goals. It's good for the future. We need the momentum now.

"It [Eden Hazard's goal] was typically what he can do in training - dribbling past one player and shooting. The keeper was a bit unlucky with the goals because Ruben Loftus-Cheek's goal was top corner."

'No complaints about result'

Tottenham 2-0 Crystal Palace

Crystal Palace boss Roy Hodgson: "I think we needed to hang on another five or 10 minutes at 0-0. The first goal was a bit unfortunate being a deflection. Spurs had been the dominant team - no doubt about that.

"We can't complain about the result - they played very well. I cannot be too disappointed with my side but there was no surrender on our side."

'Foden will have a decision to make'

FT: Man City 2-0 Cardiff

Danny Mills

Former England defender on BBC Radio 5 live

This was Phil Foden's first start and he has improved since last season, but he hasn't played enough football to start week in week out. He will get to a stage, maybe at the end of next season, when he will have a big decision to make.

He is a boyhood fan and they play great football, but if his pals of a similar age are playing football, he might not sign a new deal because he will be wanting to play.

'We need three wins'

Man City 2-0 Cardiff

Cardiff City boss Neil Warnock to BBC Sport: "I don't think they could've given us any more. I was disappointed to concede early doors. They move it so quick it is difficult.

"It would have been interesting if we scored at the end to see how nervous we could have made them, but I have to be pleased.

"The first goal - Neil Etheridge played really well - he knew he should've saved it. I shouted to Kevin de Bruyne at half-time, 'Kevin, did you mean that? Tell me the truth'. He said 'no I didn't'. So I can let Neil off, although he should still save it!"

The remaining games and what's needed to stay up? "You can afford the odd draw but I think we have to win three at least, add a draw and who knows?"

'This win is for Daniel Levy'

Tottenham 2-0 Crystal Palace

Spurs boss Mauricio Pochettino, speaking to Sky Sports: "It's a special moment, a special night. I feel and believe it is the best stadium in the world.

"We knew the game was going to be difficult and tough. You don't know how we're going to react but, playing the way we played in the first half, we were going to score.

"I'm pleased for [chairman] Daniel Levy because of this fantastic project and I dedicate that victory to him.

"The emotion was amazing from the beginning. To win was so important to us. Today we touched the glory. Now we need to touch the glory of lifting trophies. Now is the start of a chapter. We close one chapter and open another chapter and bring victory to our fans."

Post update

Chelsea 3-0 Brighton

How many more points do Brighton need?

There's only one place up for grabs remember and Cardiff are five points adrift with 18 to play for...

'Quality can wear you down'

Chelsea 3-0 Brighton

Brighton manager Chris Hughton to BBC Sport:

Was it a case of just being beaten by three good goals?

"There is more to it than that. But there is some fact in it. For good periods we were very much in the game. They can turn opportunities into brilliance. I was disappointed with the first goal – we generally defend well there. It's hard to do anything about the second and third - they were top quality.

"Against the quality they've got that [trying to defend and hope to score your chances] can only be the game plan. If we were good enough to take the game to them that would be wonderful but we're not.

"The quality can wear you down. We needed to show more [going forward].

"Anthony Knockaert had our best chance of the game late on. It wasn't like we gave up which is important. I can't fault what the players gave."

On the relegation scrap...

"It's going to be a battle. There isn't anybody around us not fighting hard. Cardiff run Chelsea close at the weekend. Our thoughts are on the FA Cup tie on Saturday [semi-final v Man City]. Very quickly after that it's about doing enough to stay in the division."

'Great European nights'

FT: Tottenham 2-0 Crystal Palace

Garth Crooks

BBC Sport football expert on BBC Radio 5 live

I think there was a little bit of anxiety in the stadium tonight because the fans wanted them to win so badly. The speaker system is a little bit overpowering but I think there will be great European nights here.

'Wait and see on Aguero...'

Man City 2-0 Cardiff

Manchester City boss Pep Guardiola to BBC Sport: "We played really well. We started really well. A magnificent goal from Kevin de Bruyne. Unfortunately we missed a lot of chances, we need to score more goals.

"Phil Foden played excellent. He did everything, arriving in the right positions with the right tempo. He always has chances, has a sense of goal. He's ready, we know it, to play any game in any position.

"He competes with David Silva, Kevin, Gundogan, Bernardo. He trains incredible."

Will Sergio Aguero be fit for the FA Cup semi-final against Brighton on Saturday? "We will see on Aguero..."

'Big risk?'

FT: Tottenham 2-0 Crystal Palace

Danny Mills

Former England defender on BBC Radio 5 live

Players are fragile and they like their habits and familiarity. They like their routine and the little things like how much tape they wear and how they walk out of the tunnel. At this stage of the season you really don't want things to effect the players.

Suddenly for Spurs, the drive into the stadium is different, their family are sat in different parts of the stadium and you could almost treat every game in the run-in as an away fixture. Clearly they have had to move in for financial reasons and it's a big risk.

Get Involved

Text us on 81111

SMS Message: Sarri plays the team the fans have been crying out for, 10 games too late. from Adrian

SMS Message: Re the empty seats comments (didn't realise every other stadium sold out for every game) - no allowance to be made for the fact we're at Wembley at the weekend and some people might not have been able to afford tonight? from Daniel, Manchester

'17,000 fans singing in unison'

FT: Tottenham 2-0 Crystal Palace

Garth Crooks

BBC Sport football expert on BBC Radio 5 live

As the fans leave, the stadium takes on a different sense of beauty. As the atmosphere started to build before kick off, it was very exciting and then there was one moment when 17,000 people to our right started to sing in unison. It was emotional and it was a wonderful occasion and it's important that Spurs won today.

They go back to third and they were capable of keeping a clean sheet. There was a bit of anxiety in the final 15 minutes and Spurs will need more confidence when Man City come here in a very different proposition. They got through it and they won quite comfortably in the end.