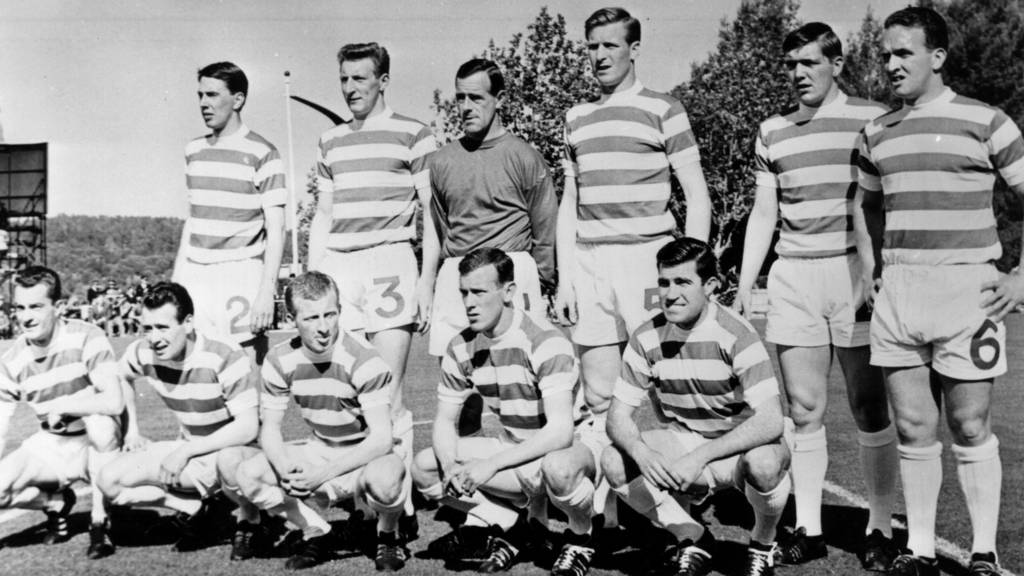 Billy McNeill - a day of tributes to a football legend
Watch: Glasgow 1967: The Lisbon Lions

BBC Radio Scotland's Sportsound is about to switch its focus to tonight's Championship game between promotion-chasing Ayr United and relegation-haunted Partick Thistle.

However, there is more about Billy McNeill on the BBC Scotland channel, which is broadcasting the "Glasgow 1967: The Lisbon Lions" documentary as a tribute to the former Celtic captain and manager starting at 20:00 BST.

A reminder of why we are celebrating the achievements of Billy McNeill.

McNeill made his Celtic debut on 23 August 1958 in a 2-0 home win over Clyde in the League Cup, while his final appearance came on 3 May 1975 when he captained Celtic to a 2-1 victory over Airdrieonians in the Scottish Cup final.

In that time, he won nine league titles in a row, seven Scottish Cups and six League Cups.

On 25 May 1967, he enjoyed his finest hour, lifting the European Cup in Lisbon after a 2-1 win over Inter Milan.

He was a beaten European Cup finalist in 1970 and played in the semi-finals of that competition in 1972 and 1974.

Along the way, he pitched in with 34 goals. Yet he only won 29 caps for Scotland in an era of many top players.

Not to forget four league titles, three Scottish Cups and one League Cup as a manager.

Tom English

BBC Scotland's chief sports writer

Quote Message: I am just glad that Celtic put that statue of Billy McNeill outside Parkhead while he was alive. Unlike the players of today, Billy and the Lisbon Lions were part of the community

Tom English

BBC Scotland's chief sports writer

Quote Message: This is a man to be celebrated in amongst the sadness. What a life he had and what a legacy he leaves - the fact that he was the leader of this iconic team, the Lisbon Lions, that conquered Europe and won countless trophies in a fantastic era for Scottish football - a lot of good teams going hammer and tongs

McNeill 'immediately impressed'

Former Aberdeen captain Willie Miller recalls Billy McNeill's short spell at Pittodrie.

"He came to Aberdeen before he went to Celtic, but we knew he was there just to learn the trade and serve his apprenticeship," he tells BBC Scotland's Sportsound.

"We didn't know how long he was going to be there and it turned out to be only a season, but that season we didn't win any silverware, but we were very close to doing that - second in the league and we were beaten by Rangers in the Scottish Cup final.

"But it was his presence that affects you. There are not too many people who walk through the door and you are immediately impressed with - before he opens his mouth and speaks. He had that."

Image caption: Billy McNeill and Willie Miller were left disappointed by defeat in the 1978 Scottish Cup final

'Legend not a big enough word'

Former Celtic goalkeeper Pat Bonner says the great players in the Lisbon Lions - Jimmy Johnstone, Bobby Lennox, Bobby Murdoch, et al - were overshadowed by Billy McNeill.

"He was the captain," he tells BBC Scotland's Sportsound. "He was the guy who went up and lifted the cup on his own and probably no Celtic captain will ever do that again.

"I was there in 1978 when he came back to the club as manager - coming back into the club after Jock [Stein] had left.

"When you meet the guy for the first time, his chest out and his presence.

"He was hard on us. You had to be shaven in the morning. No jeans were allowed in there.

"I remember telling the story of hanging up my jacket on peg before a game and he said 'hang it up properly. You know that little loop at the back, that's for hanging up your jacket'.

"That was Billy McNeill. If you went out, you had to have your socks up, jersey tucked in, all the little qualities that he learned from the likes of Jock Stein. Legend is not a big enough word to describe Billy McNeill."

Fond memories of McNeill

#bbcsportscot

Andy Campbell: Once told him my auld mans favourite player was Jim Baxter...there followed 1hour of fantastic stories of slim Jim. You will be sadly missed big man.

Gary Monteith: Never seen him play. Only got to see footage and read stories about him. The respect he gets shows you the type of man he was. A true leader. A true captain. A huge loss to the Celtic family. RIP Billy McNeill

Richard Innes: Ah, Billy McNeill. Remember being blown away by the story of the 1967 Lisbon Lions as a young boy. All but one member of the squad born within 10 miles of the ground! Try explaining that to a 12 year-old football fan of today...

Pete Young: East End of Glasgow was quiet on this sunny May evening. My older brother had sent me over to Coia's Cafe to stock up on ice lollies and chocolate for the match. Scottish football's greatest triumph. Rest in peace, Billy

More on BBC Radio Scotland

The first hour of Sportsound, which is about to start on BBC Radio Scotland 810MW, will be dedicated to discussing the life, times and legacy of Billy McNeill.

Paying tribute will be former Republic of Ireland goalkeeper Pat Bonner, who played under McNeill with Celtic, former Scotland defender Willie Miller, who played under him at Aberdeen, plus BBC Scotland's chief sports writer, Tom English.

Coverage of the big Scottish Championship game between Ayr United against Partick Thistle follows about 19:30 BST.

Image caption: Willie Miller and Pat Bonner are on your radios right now

McNeill's route to Hampden

The creators of this Billy McNeill poster are threatening to print 100 or more of these to "plaster the city centre and route to Hampden" ahead of the forthcoming Scottish Cup final between Celtic and Hearts.

Former England midfielder and former Manchester City manager Peter Reid...

Scotland left-back Andrew Robertson and his Liverpool team-mate, and former Celtic man, Virgil van Dijk...

Brighton & Hove Albion and Israel midfielder Beram Kayal...

Indeed, the great and the good are flying in with their condolences now...Here's a former Republic of Ireland international...