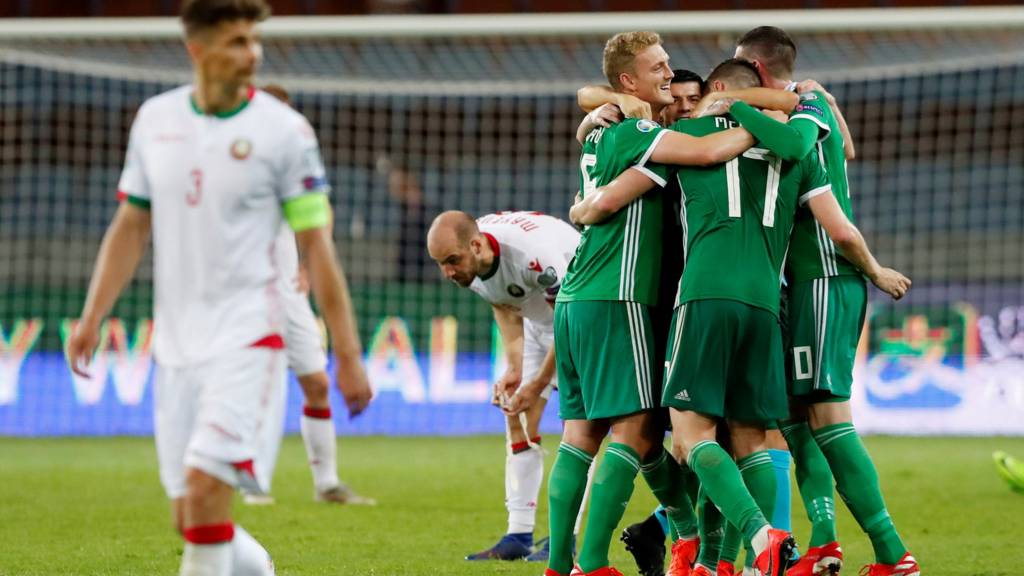 Euro 2020 qualifier - Belarus 0-1 Northern Ireland
Kyle Lafferty has a crack from the free-kick but the keeper parries it away.

Paddy McNair? More like Pele McNair. I'm pushing it there but he does well to win a free-kick as Denis Polyakov hacks him down in a good position.

That was a tasty goal, I've got to say. Great play by Paddy McNair.

Northern Ireland need to be careful. Belarus play in right-back Oleg Veretilo on the overlap, he's free in the box but his shot is high and wide.

Northern Ireland have a throw-in. Can they keep it in the corner? No, but Belarus can't take advantage with a long ball forward.

Some Northern Ireland fans are on top of what looks like a metal scaffold celebrating. Health and safety...

That's Paddy McNair's first international goal. And what a time to score it. Think Northern Ireland deserve that for their second-half performance.

GOAL - Belarus 0-1 Northern Ireland

Paddy McNair

YESSSSSSS. We have lift-off.

Northern Ireland are on the brink of winning four qualifiers out of four.

Jamal Lewis takes a throw-in to Paddy McNair. He plays a one-two with Jordan Jones, bursts into the box, cuts around a defender and then blasts the ball past the keeper into the back of the net.

Bizarre attempt by Belarus. Igor Stasevich picks out Yuri Kovalev with the corner but his header from about 14 yards is well wide. It looked rehearsed but not sure how they expected that to work.

Good sliding tackle by Jordan Jones to stop Oleg Veretilo but Belarus have a corner now.

Kyle Lafferty has only had three touches and he catches Oleg Veretilo with a high foot. Yellow card.

Michael Smith almost scores Northern Ireland's goal of the season. The free-kick is headed out to the full-back, who absolutely blasts in a 25-yard volley which flies wide.

Having seen a replay it wasn't actually that close.

Free-kick for the GAWA. Up go the defenders.

Can the visitors find a breakthrough? Steven Davis slides in a pass to Michael Smith but his cross is a bit too weak for George Saville in the box.

Oooh. Belarus have a chance but Pavel Nekhajchik slams the ball into the side-netting. Big man Denis Laptev was looking for the ball in the centre. Escape for NI.

Northern Ireland are really knocking on the door now. A big night out in Minsk if they find a winner.

A nice touch from George Saville and the ball lands to Michael Smith, who blasts a shot well wide from 20 yards out.

A rare proper chance for Northern Ireland as George Saville's 18-yard effort is punched away by Aleksandr Gutor.

NI have another couple of shots blocked and Jordan Jones' shot is put behind for a corner.

Remember Belarus are going to the Euro 2020 play-offs no matter what after winning their Nations League group last year.