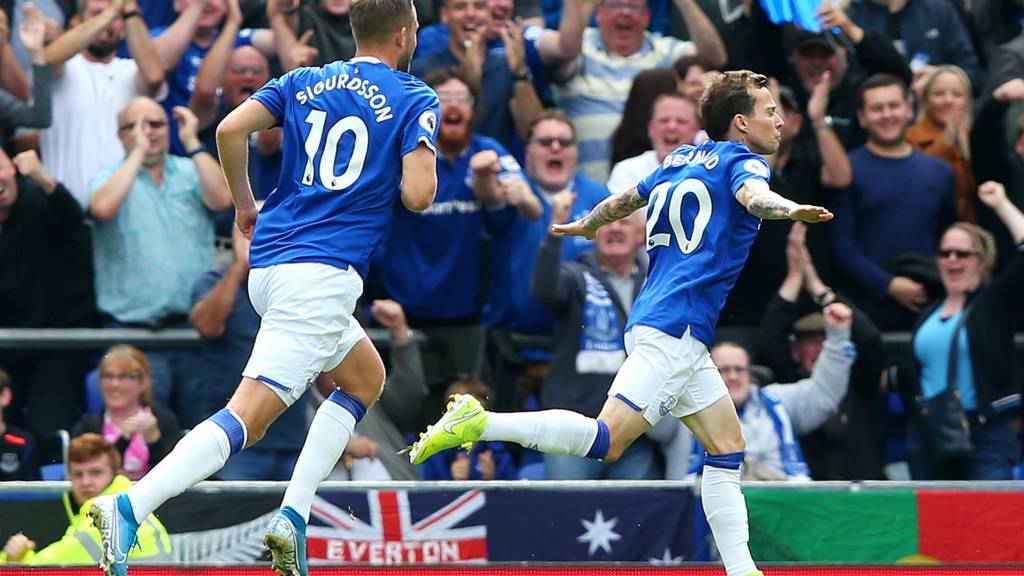 Wins for Liverpool, Everton & Bournemouth; Norwich big victors
Joshua King's second minute penalty for Bournemouth (1:40) is the earliest spot kick to be scored in a Premier League match since Sergio Aguero against Newcastle in February 2015 (1:12)
All 53 of Javier Hernandez's Premier League goals have come from inside the penalty area - only Tim Cahill (56) has a better such record in the competition
Watford boss Javi Gracia has lost six consecutive matches in all competitions for the first time in his career as a manager
Daniel Farke is the first Norwich manager to win his opening home Premier League game in charge of the Canaries since Mike Walker in August 1992
Liverpool's Sadio Mane is the first player to score in his first Premier League start of a campaign in four back-to-back seasons since Mark Viduka did so between 2002-03 and 2005-06

ICYMI: Guess who is second in the league?

Another day we'd have got the equaliser - Ings

Southampton 1-2 Liverpool

Southampton goalscorer Danny Ings on forcing Liverpool keeper Adrian into the mistake which gave his side hope of earning a draw: "I always like to press keepers and you try to get a bit of luck, thankfully it hit my leg and went in.

"Then I had another chance to equaliser but it just hit my heel and didn't go in. It was a bit of good movement and maybe I was thinking it had gone in before it went. Nine times out of 10 and it would have gone in.

"It is always hard against a top team, who have so much quality, speed and power. We were unlucky with our chances and they were very clinical.

"We played some good football, there are lots of positives to take and it was a great reaction from last week. We didn't give up. Another day we would have got that equaliser."

We showed our fight - Hasenhuttl

Southampton 1-2 Liverpool

Southampton manager Ralph Hasenhuttl, speaking to BBC Sport: "We had a big chance to make the equaliser, Danny Ings could have been the big hero of the day against his former club. He scored the first one and the second was an unbelievable chance.

"We showed a reaction from last week, we had a fantastic first half but it was an amazing goal from Sadio Mane. The second half was difficult after this and we had tough moments. But at 2-0 we didn't give up, we believed what we were doing and finally came back to 2-1.

"We tried everything and it is a pity we haven't got a point but showed our fight.

"We have to take our chances, that was the big difference. They had one big one for Sadio Mane and scored, we had a big header from Maya Yoshida and it was a good save from the goalkeeper.

"We had some good chances but weren't not clinical enough if you want to take something against a big team."

Post update

Brighton 1-1 West Ham

Banana skin headlines were already prepared - Klopp

Southampton 1-2 Liverpool

Liverpool manager Jurgen Klopp, speaking to BBC Sport, on his side's recovery from playing 120 minutes in Turkey on Wednesday: "It was so difficult for us today. We showed from the first second that nobody was tired today. We were here to win game, that was the only reason, so we had to fight like crazy.

"I said before the game that most of the headlines were written, everyone was prepared for what looked like a banana skin, because Southampton had lost their first game and we had problems here last year.

"Our plan for the headline was 'the mentality giants are in town' - that was my headline. I thought the boys fought for each yard of the pitch and played good football and scored wonderful goals."

On the lack of preparations after the Super Cup: "We had no time, we came back late on Thursday and the coaches sat in a meeting together to watch games of Southampton, Friday we showed the players and then came here.

"We had a proper sleep of course and then played the game, that's how it is."

Adrian has ticked that box now - Klopp

Southampton 1-2 Liverpool

Liverpool manager Jurgen Klopp, speaking to BBC Sport, whether it was unexpectedly close after Adrian's mistake let Southampton back into the match: "No it wasn't. If you give a goal like this, the other team is coming up and the other teams feels the intensity of the last week.

"Southampton had one more big chance and if they score then we can't moan about that - but I think we deserve three points. I'm happy with the performance.

"We gave them a proper boost by that nice pass by Adrian. He has finally arrived because it is his third game and so it is normal for a Liverpool keeper to tick that box [by making a mistake]! Now we can carry on."

'Our objective is to stay up'

Norwich 3-1 Newcastle

Newcastle goalscorer Jonjo Shelvey: "We didn't start the best. The gaffer spoke about us upping the intensity, at half-time. We showed that early on after the break but then they got the second goal and they took the sting out.

"Steve Bruce said afterwards that there wasn't a lot to say. We weren't up to our usual standards. We'll review the game on Monday and look to put things right.

"We missed the firepower of Allan Saint-Maximin. The longer the season goes on the new players will be able to embed themselves into the squad.

"Our objective is to stay up. The Premier League is getting harder and harder every season."

'I was surprised I scored a volley like that'

Norwich 3-1 Newcastle

Norwich hat-trick hero Teemu Pukki speaking to BBC's Match of the Day:

"One of the best games I've had here. A hat-trick in the Premier League I wouldn't have even dreamt about a couple of years ago.

"Before I came to Norwich I had a couple of good years in Denmark. The lads took me in well here. The way we play suits me. The guys gave me a lot of chances and I could have scored more today.

"I was surprised I scored a volley like that. The two others were important to kill the game and get the three points.

"I believe in myself and believe the way we play we will do well in the Premier League. I was confident after scoring many goals last year."

'Impressive to see out win'

Aston Villa 1-2 Bournemouth

Bournemouth manager Eddie Howe speaking to Sky Sports: "A really hard game, Villa are a good team. We knew the second half would be difficult - a two goal lead can swing very quickly.

"We looked good on the counter, we had a threat today and could have had more but the third didn't come. I think the most impressive aspect was how we saw the game out after conceding late last week. It's a big win to come here and perform the way we did.

"It was two quite evenly balanced teams. The home support were really good for Aston Villa today. We're still building the team, it's a good result."

On debutant Harry Wilson: "I think you can see in aspects of the first half he performed really well, it was natural for him. Hopefully he can build on this and he can have a successful spell."

'Mistakes will be punished'

Aston Villa 1-2 Bournemouth

Aston Villa's Jack Grealish speaking to BBC Match of the Day: "We could have got something out the game. Two sloppy goals have cost us. You have to focus on what you can do to make it right. Second half we were a much better team. The difference between the Premier League and Championship is, if you make mistakes, you get punished.

"It wasn't to be. We go back onto the training pitch and go again next week.

"You will get punished. Last week I gave the ball away and Harry Kane scored, this week we gave a penalty away. As soon as we learn I'm sure we'll be fine."

GOAL - Man City 2-1 Tottenham

Sergio Aguero (35 mins)

Kevin de Bruyne with another assist, this time with a cross from the right, and Sergio Aguero tucks home.

They make it look so simple time and time again.

'I'll roll up my sleeves - there's plenty of work to be done'

Norwich 3-1 Newcastle

Newcastle manager Steve Bruce speaking to BBC's Match of the Day: "It was a very difficult afternoon. I knew it was going to be difficult. Norwich had their tails up with it being their first Premier League game at home.

"The whole display with and without the ball was not the level required.

"We had two big chances in the first half. If you can take one of those when you're not playing at your best... if one goes in it's a different scenario.

On taking the Newcastle job: "I never expected this job to be easy. I only walked in four weeks ago. I'll roll up my sleeves because there's plenty of work to be done."

Get Involved

#bbcfootball or text 81111 (UK only)

Laurence Mason: All things considered that is a great win for Liverpool especially after a tough match in the super cup. Two wins, great start.

John: Dear AVFC are you Fulham in disguise? £ does not buy safety. Need to cut out the errors.

Post update

Norwich 3-1 Newcastle

'We want to make Goodison our fortress'

Everton 1-0 Watford

Everton boss Marco Silva, speaking to BBC Sport: "The three points were the most important thing. We scored a goal and did not concede and that was important for us. Looking at the whole picture I think we deserved the win.

"Of course the second half I would like the performance to be better but it is the first home game of the season. I think we had more big chances than them to score.

"My style and my philosophy is I like to play offensive football. Keeping clean sheets is important but what I want is to score more goals. With a second goal you are more safe. We want to make Goodison our fortress."

On Moise Kean's cameo: "Was tough for him. He had that big moment to make an impact and put his stamp on the game. He didn't score but he is a boy and he should improve and should know better our team in time."

GOAL - Man City 1-1 Tottenham

Erik Lamela (23 mins)

GOAL - Man City 1-0 Tottenham

Raheem Sterling (20 mins)

What a stunning cross from Kevin de Bruyne and better header from Raheem Sterling.

Follow live text commentary from Emma Sanders at the Etihad by clicking here.

Many calls about Newcastle?