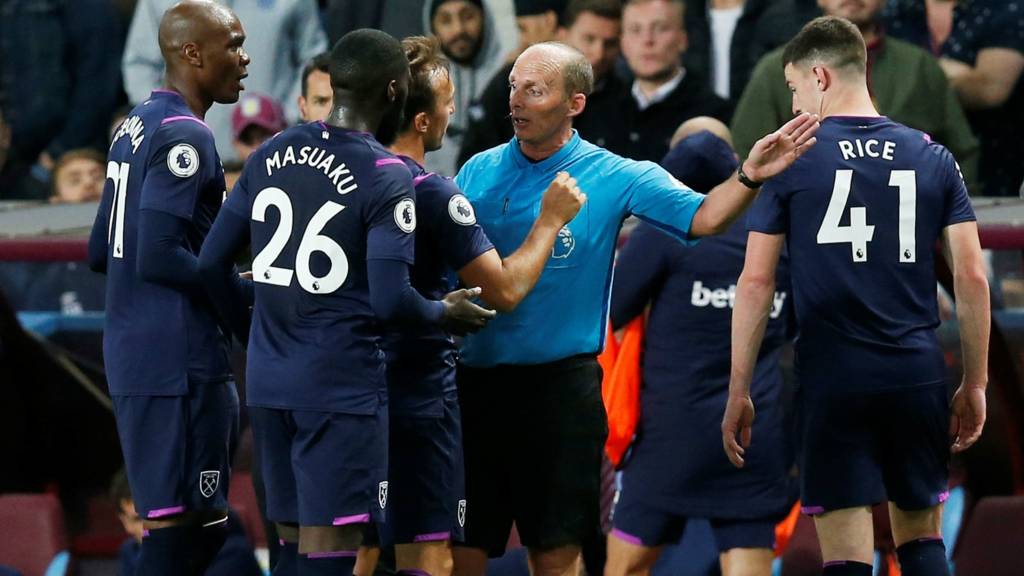 Aston Villa 0-0 West Ham - 10-man Hammers hold on for point
That's all the reaction we have so all that is left for me to do is say goodbye...

... goodbye!

'They sorted the clash themselves'

Aston Villa 0-0 West Ham

Aston Villa boss Dean Smith, speaking to Sky Sports: "I am disappointed a little bit but also a little satisfied with how we played. West Ham have four forward players who are very good and I felt we restricted them very well.

"I am disappointed when we went down to 10 men we didn't use the extra man well enough. Players got sloppy, took too many touches on the ball.

"I think we did get a little too desperate to be honest, the players wanted to do it on their own. It can be tough but it shouldn't be.

"West Ham I thought played very well with the 10. It can happen but the performance in general was good today.

On Mings and El Ghazi clashing: "I haven't seen it back. They have had an altercation so to speak but I didn't even mention it to them in the dressing room. They sorted it themselves. We have a good group, they understand what we are about as a football club and as a group. It was sorted out very quickly."

'We didn't look like we had 10 players'

Aston Villa 0-0 West Ham

West Ham boss Manuel Pellegrini, speaking to Sky Sports: "I think we had a very good performance. We tried to win from the first minute of the game until the last minute. When we had 10 men we continued to try to have the option with the ball, not just to defend.

"The important thing is that it didn't seem like we had 10 players. We continued playing and had good moments in attack without distractions in defending.

"We had the personality to come here and try to win from the first minute. We couldn't but a point with 10 men is a good result.

"Happy yes because if you are away if you cannot win don't lose it."

On Masuaka sending off: "I don't know if it is unlucky or innocent. Playing away with the pressure of the fans with a yellow card from before a lot of times the player is sent off."

'Complete game' for West Ham

Aston Villa 0-0 West Ham

West Ham boss Manuel Pellegrini to BBC Sport: "It was a typical sending off when you play away, with the pressure of the fans in every foul. Like Mark Noble in first half, I don't think it's a yellow card.

"I don't want to talk about the referee, I'd prefer to talk about the team's personality to come here and try to win the game. We had a chance to score in the last minute.

"We played with 10 men exactly the same as 11. I'm very happy with the personality and performance. If you cannot win, don't lose it.

"We did a complete game. Unfortunately we didn't win it with the last chance. I want to see in every game the attitude we saw tonight. I'm happy with the way we're improving. Every game is different."

'We never used our extra man'

Aston Villa 0-0 West Ham

Aston Villa manager Dean Smith to BBC Sport: "I thought 11 v 11 we were really good and created the best chances. You have to take them.

"I expected a little better of us when they went down to 10. We never used that extra man and got rushed on the ball rather than keeping our structure.

"Overall I thought we performed really well – our defensive organisation was good and we restricted them to few chances.

"We're evolving as a team, some of them have only played a couple of Premier League games. They're getting better and better.

"We became risk-averse near the end of the game. The running stats were through the roof, I can't question their work-rate. [It was just a case of] using the brain a bit in the last 20 minutes – we should have made them work and drag them out of position. Instead we were trying to take men on."

On Anwar el Ghazi's clash with Tyrone Mings...

"That's a heat of the moment thing. I didn't even talk to them at half-time, it had already been sorted. I expect players to look after themselves and take responsibility. There's a limit, you can't step over. There's a really good leadership group, they looked after it themselves."

'It was all handbags'

Aston Villa 0-0 West Ham

Aston Villa captain Jack Grealish, speaking to Sky Sports: "The lads are devastated and it feels like a loss in there.

"When they went down to 10 men we probably got worse, myself included. We gave away too many balls. The red card affected us more than them. We were forcing things."

On his late chance to score: "I should have scored. Maybe I could have gone with my head and I'll probably be losing a bit of sleep over that tonight."

On the clash between team-mates Tyrone Mings and Anwar El Ghazi: "It's all handbags. In the heat of the moment Ty was saying Anwar didn't track his runner but as soon as we got in at half-time it was put to bed and they shook hands. We said that can't be happening on the pitch and said as soon as we left the dressing room everyone had to be together. I did say to the ref 'what are you even checking for?' but he said he had to. Emotions were running high but it was nothing and it was squashed in the changing room."

'We should be pushing for top six'

Aston Villa 0-0 West Ham

West Ham midfielder Declan Rice: "We're very happy with the point. We were a bit slow in the first half and in the second half when we went down to 10 it was always going to be tough. We dug in and we were still creating chances, which was positive.

"When Arthur went off we really dug in. If this was the West Ham of last season we'd have lost this game. That's what the manager has done, we're really confident and in every game we're pushing for three points.

"Without a doubt we should be pushing for top six. Last season we were losing at teams like Wolves and Cardiff. We're on eight points, which is eight points better off than we were after four games last season, so we're seeing that as a positive, that's for sure.

"It was a very happy camp from the first moment of pre-season. Everyone was delighted to see each other and there was lots of laughing and giggling. When we're playing we're playing with confidence, we're defending and attacking hard."

'We got worse when they went down to 10'

Aston Villa 0-0 West Ham

Aston Villa captain Jack Grealish to BBC Sport: "It was a mixed performance. In the first half, we were the better team and had the better chances. Maybe at the start of the second half too.

"I feel like as they went down to 10 men, we tried to rush things and force things and give the ball away. We got worse when they went down to 10 men.

"We've found our feet at this level. We know what it takes. We probably hoped for a better start. I feel we should have won today.

"Teams can sit back with 10 men and the game opens up. That's what happened today.

"We were brilliant defensively, with our second clean sheet in row at Villa Park. We need to be deadlier in front of goal. As soon as we are, everything will click into place.

"Tonight I should have got a goal and assist.

On Gareth Southgate watching...

"That's my dream, to force my way into the England team. He was probably happy with my first-half performance, second half not so much. I was so desperate to win, I probably tried to force a few balls."

Goalless draw? Standard - the stats

Only in 1997-98 (3) did Aston Villa accrue fewer points after the opening five games of a Premier League campaign than they have managed this season (4).
West Ham have suffered just one defeat in their last nine top-flight games (W5 D3), after losing five of the seven before that.
Eight of the 41 Premier League meetings between Aston Villa and West Ham have ended goalless, the highest proportion (19.5%) of any fixture in the competition that's been played 30+ times.
Since their return to the Premier League in 2012-13, West Ham have picked up 22 red cards in the competition (level with Arsenal), with only Newcastle managing more during this period (26).
Mike Dean racked up his 102nd red card in the Premier League, 35 more than any other referee has awarded in the competition (Phil Dowd, 67).
Since the start of last season, Aston Villa's Jack Grealish has been fouled 179 times in league football (including play-offs), 49 more than any other player in the top four tiers.

Long season ahead for Villa?

Aston Villa 0-0 West Ham

Lee Hendrie

Former Aston Villa midfielder on BBC Radio 5 Live

It looks like it will be a long, old season for Aston Villa. Where are the goals coming from? That worries me.

Post update

Aston Villa 0-0 West Ham

The point is enough to move Aston Villa out of the relegation zone but both sides will likely be disappointed they didn't take the three points.

For West Ham, they missed the opportunity to move up to third but do move up to eighth. They are now on eight points after five games.

Applause for both sides

Aston Villa 0-0 West Ham

Simon Stone

BBC Sport at Villa Park

Both sides getting a deserved ovation from their respective sets of supporters.

The last couple of minutes in particular were end-to-end with penalty shouts in both boxes and West Ham nearly creating the chance that would have won the game with the last attack.

Given they had 10 men, the visitors will probably be happiest with the point.

They are four unbeaten now, which is as many as they have managed in the Premier League under Manuel Pellegrini. They entertain Manchester United on Sunday.

Get involved #bbcfootball

JavelBleach: These two are both going down, surely!

Alex Howarth: What a terrible game of football. Desperately low on quality.

FULL-TIME

Aston Villa 0-0 West Ham

All over! A feisty and entertaining game ends honours even.

Post update

Aston Villa 0-0 West Ham

Now West Ham have a penalty claim but again Mike Dean waves play on.

What a finish to the game. End to end.

SUBSTITUTION

Aston Villa 0-0 West Ham

Fabián Balbuena is on for Mark Noble as West Ham look to bolster their defence.

Aston Villa have a corner and the ball eventually falls to Wesley, who tumbles in the area. Villa fans want a penalty, Mike Dean is not interested.

Post update

Aston Villa 0-0 West Ham

It had been attack after attack from Aston Villa but West Ham have managed to get the ball out of their own half and are looking dangerous themselves now.

This could go either way as we enter the first of three minutes added on.

Issa Diop has been superb tonight

Aston Villa 0-0 West Ham

Simon Stone

BBC Sport at Villa Park

In the space of a couple of minutes, Issa Diop stepped out of central defence and made decisive interventions for West Ham.

Diop has been excellent tonight, completely in control.

No wonder he was linked with Manchester United in the summer.

Post update

Aston Villa 0-0 West Ham

Oh was that the chance!

Jack Grealish breaks the offside trap to meet a superb ball into the box. He goes for the volley but doesn't connect from six yards out. What an opportunity that was.

Post update

Aston Villa 0-0 West Ham

Jack Grealish tries to a slip a pass through for Wesley but Issa Diop reads the danger superbly and intercepts before clearing.