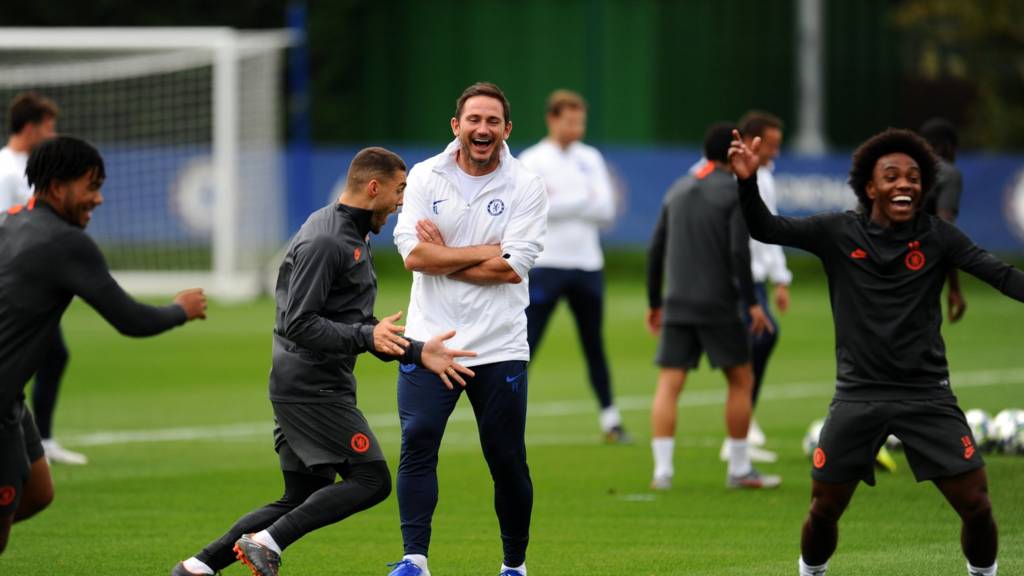 Chelsea 's pre-Champions League news conference
Post update

Watford 2-2 Arsenal

Post update

Watford 2-2 Arsenal

Hornets sting Gunners

Watford 2-2 Arsenal

A Watford side brimming with attacking intent fought back from two goals down at half-time to draw at home to Arsenal in Quique Sanchez Flores' first match since being reappointed Hornets manager.

The hosts fired in 31 shots - a club-record for a Premier League game - as Arsenal's shaky defence finally cracked after the break.

Watford levelled the scores when Roberto Pereyra rolled in a late penalty to secure only their second point of the season.

Tom Cleverley had earlier reduced the deficit when Gunners defender Sokratis Papastathopoulos gave away possession inside his own area.

Pierre-Emerick Aubameyang put the visitors in front when he collected Sead Kolasinac's pass on the turn before firing past Ben Foster.

Arsenal doubled their lead as Aubemeyang finished a sweeping team move but the hosts improved after the break as the Gunners unravelled in front of the vociferous home support.

The Hornets had their chances to complete a stunning comeback with a decisive third, but the otherwise impressive Gerard Deulofeu dragged his effort narrowly wide.

The result sees Arsenal move into seventh, while the Hornets remain rooted to the bottom.

Plus, Aston Villa play West Ham at Villa Park tonight at 20:00 BST.

Anfield rift? What Anfield rift?!

Mo Salah silenced the haters with this absolute gem of a tweet over the weekend.

Monday blues? Watch the below video and all will be solved.

Premier League stat attack

It just seems to keep getting better and better for Liverpool.

Champions League winners in June, five points clear at the top of the Premier League table in mid-September and on an incredible winning streak that stretches back to March.

So just how long can Liverpool keep winning? Is Sergio Aguero on course for the Golden Boot? And why is Chelsea's current season stirring memories of a past title-winning campaign?

BBC Sport looks into some of the weekend's Premier League statistics.

Get Involved

#bbcfootball or text 81111

Plenty of talking points from the weekend, that's for sure.

On that note, I'm opening the floor and handing over the gauntlet to you lovely lot.

Get in touch with your thoughts on anything Premier League-related from the weekend.

Tweet me using #bbcfootball or text me on 81111 (UK only, include your name please)

'We'll catch Kop again'

Monday's Daily Star

'Xhaka: We were scared'

Monday's Daily Mail

'Power play'

Monday's The Guardian

'Gunners stung'

Monday's Daily Express

'Watford revival/Double hit'

Monday's Daily Telegraph

Copyright: Daily Telegraph

'We'll catch up' - De Bruyne

Monday's The Sun

'Fright or fight'

Monday's Daily Mirror

Don't trust what I have to say about the weekend, though.

Let's see what back pages look like on this gloomy Monday morning.

Such a plethora of headlines means it's hard to pinpoint just one defining moment of the weekend.

That's where I come in.

I'll be bringing you round-up and reaction to the best of the weekend's action.

Buckle up.

A very good morning to you!

The Premier League is back after the international break - and what a way to mark its return!

Liverpool five points clear.
Watford's comeback.
That Otamendi error.
The Pukki Party continues.
Cherries seal first home win.
Seven goal Molineux thriller

Oh how I love the top flight...