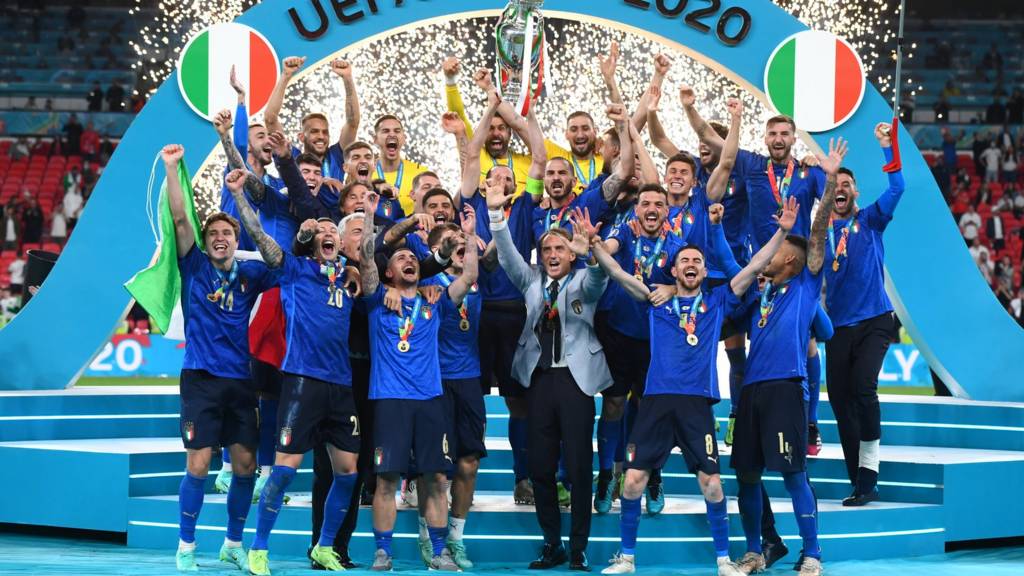 Reaction to Italy's Euro 2020 triumph and England's penalty heartbreak
That is it from us for our live coverage of Euro 2020.

It has been an absolute pleasure bringing you what has been a magnificent tournament.

So from myself and all my colleagues here at the BBC Sport website, thank you for following.

All the best reaction and analysis will follow on site over the next few days.

Congratulations Italy, you deserved it.

Stay strong England, especially Marcus, Jadon and Bukayo. You've done the country proud. Qatar 2021 isn't that far away. We go again.

And here is the whole thing, in one neat package...

Video content

Video content

And it ended in more penalty pain for England...

Video content

Things got a bit spicy, but extra-time couldn't separate the two sides...

Video content

Video content

Video content

But Italy deserved their equaliser...

Video content

It was a tense affair...

Video content

Video content

Video content

Video content

This feels a long time ago...

Video content

Video content

Video content

Video content

Post update

Italy 1-1 England (3-2 on pens)

Italy captain Giorgio Chiellini: "A few tears fell. We all deserved it, at this age we realise even more what it means to win such a trophy. We have been saying that something magical is in the air since the end of May, day after day.

Italy defender Leonardo Bonucci: "It's incredible, when I think back to where we started. When you are at the bottom of the hole, you see how great men regain their strength. I want to say thank you to our great coach, our great team, our great country. We are full of joy and happiness."

Post update

Italy 1-1 England (3-2 on pens)

Italy boss Roberto Mancini, speaking to RAI Sport: "We did well. We conceded a goal straight away and struggled, but then we dominated the game.

"The lads were wonderful, I don't know what more to say. It's important for all the people and all the fans. I hope they're celebrating (in Italy)."

'Heartbroken, disappointed, gutted'

Italy 1-1 England (3-2 pens)

England defender Harry Maguire on ITV: "Heartbroken, disappointed, gutted, the lads are devastated, we gave everything, we gave absolutely everything out there.

"It was a bit of ding dong out there, we had the first half, they had the second, extra time could have gone either way. We found a another gear in the second half of extra time and put pressure on them.

"To be decided by penalties is disappointing obviously. More importantly to lose the match is not what we came into this stadium for, we wanted to bring that trophy home.

"[Italy] are a top side, they are going to have parts of the game where we are going to come under pressure and we are going to have to see it out. they didn't create many clear cut chances. They scored from a set play, its took about five ricochets in the box and fell to their player for a tap in so it just wasn't our night.

"There was time in the second half where of course we should have been a little bit more braver on the ball but there was times where we did it excellent and maybe we could have punished them a little bit more in the positions that we got to. Especially in the first half and in extra time too.

"They have been excellent throughout the tournament so we can't control the game from start to finish over a 120 minute period. We controlled it well enough to warrant taking them all the way and we just couldn't find that extra bit.

FA "appalled" by online racism aimed at England players

FA spokesperson, in response to the online abuse aimed at England players tonight: "The FA strongly condemns all forms of discrimination and is appalled by the online racism that has been aimed at some of our England players on social media.

"We could not be clearer that anyone behind such disgusting behaviour is not welcome in following the team. We will do all we can to support the players affected while urging the toughest punishments possible for anyone responsible.

"We will continue to do everything we can to stamp discrimination out of the game, but we implore government to act quickly and bring in the appropriate legislation so this abuse has real life consequences. Social media companies need to step up and take accountability and action to ban abusers from their platforms, gather evidence that can lead to prosecution and support making their platforms free from this type of abhorrent abuse."