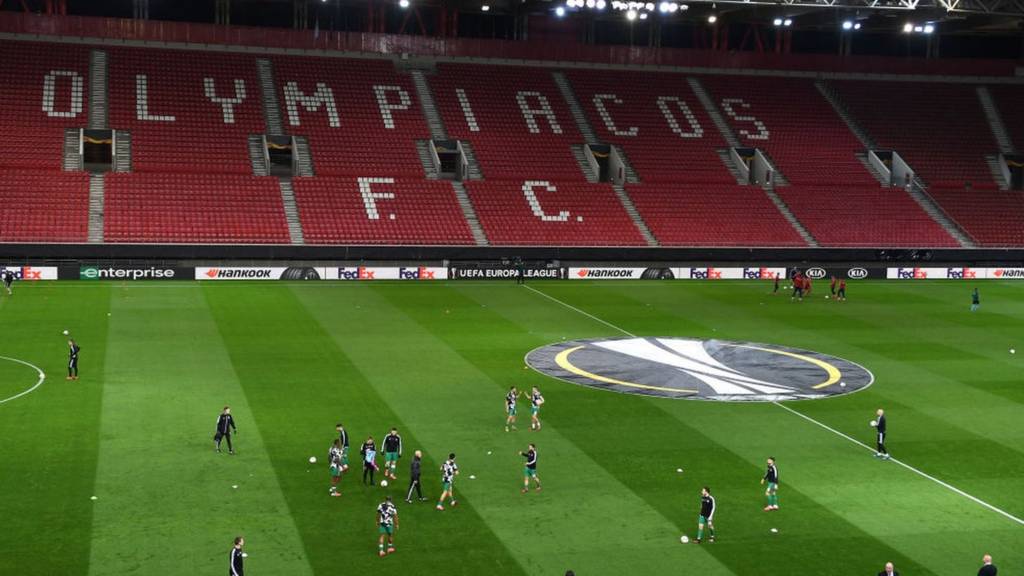 Europa League - Wolves draw first leg against 10-man Olympiakos, after Man Utd thrash LASK
I can't think of a better way to say goodnight.

Over and out.

'It was not a very good game of football'

Olympiakos 1-1 Wolves

Wolves boss Nuno Espirito Santo speaking to BT Sport, and asked about whether the match with live with him under the circumstances: "It stays with me because I have to work on it and analyse it.

"The beginning of game was strange. The energy levels were missing ...someone to push.

"It was not a very good game of football. We had control then possession of the ball but didn't imbalance them with chances.

"It was not the best game to watch for sure."

On if the players were fully focused: "Let's be fair to the players and everybody with what's happening. During the game they were focused. Olympiakos is a very good team.

"Now we are going to think about West Ham. We keep on working. Now we have West Ham and hopefully next Thursday we play again.

"We have a long way to go. A lot of matches. So tough, so tough. The schedule is very tight."

The Arsenal statement says: "It is clear we will not be able to play some fixtures on their currently scheduled dates."

Best of luck to the schedulers here.

The Premier League still saying games will go ahead...

Breaking

Arteta tests positive

Blimey.

Arsenal manager Mikel Arteta has tested positive for coronoavirus.

Post update

Olympiakos 1-1 Wolves

Image caption: And the crowd went wild...

Wolves goalscorer Pedro Neto tells BT Sport: "I tried to help the team to do my best and with 10 guys it was difficult, they closed in behind and now we go to the second game.

"We know that they will get towards their goal, we have to move it faster and we create chances in the second half.

"I think we could have shot more times but now we focus on the next one."

'We didn't want to get distracted'

Olympiakos 1-1 Wolves

Wolves skipper Conor Coady on BT Sport: "It was a tough game, it went harder when they had 10 men. We needed to move the ball faster but it's a draw away from home.

"They are a good team, they have played in the Champions League this season. We have scored an away goal which is important and we will look forward to it.

"It was a strange experience, we didn't want to get distracted by what's going on, this is a massive tie for this club.

"We put ourselves on the pitch and we look forward to the next one. We want to push, want to improve."

A worrying trend

Olympiakos 1-1 Wolves

Wolves have conceded the first goal in eight of their last nine away games in all competitions, with the only exception during this run being a goalless draw at Manchester United in February.

The French FA have just cancelled all football, male and female, professional and amateur, at all age levels.

The resumption of the Europa League seems a bit of a stretch.

FULL-TIME

Rangers 1-3 Bayer Leverkusen

FULL-TIME

Olympiakos 1-1 Wolves

Get Involved

#bbcfootball or text us on 81111 (UK Only)

Richard C: I think what the Wolves and Manchester United games have shown us today is that we just can't do matches behind closed doors. No atmosphere, no passion in any of the games. Difficult to watch to be honest

Post update

Olympiakos 1-1 Wolves

A booking for time wasting for the Olympiakos keeper as we tick into added time.

GOAL - Rangers 1-3 Bayer Leverkusen

Leon Bailey (88 mins)

A late goal that could do for Rangers in the tie. Did he mean this? It's either a bit lucky or a brilliant finish, I can't really decide. Leon Bailey gets the ball on the left of the area, chops on to his right foot and then clips a ball to the back post and in.

I think on second viewing he did mean that...

Post update

Olympiakos 1-1 Wolves

Real quality from Raul Jimenez to tiptoe his way into the area and stand up a cross, Jose Sa gambles on coming for it and just about punches it away from the arriving numbers. Can Wolves nick this?

Post update

Olympiakos 1-1 Wolves

Five minutes of normal time left - Adama Traore ties his man in a knot but sees his cross well cleared.

Post update

Olympiakos 1-1 Wolves

Pedro Neto has made a difference for Wolves since he came on, he dances inside and gets a shot away before Diogo Jota loops a tame header over the top.

Nine minutes remain.

Post update

Olympiakos 1-1 Wolves

Wolves building some pressure but it's very much walking pace. 1-1 probably not a bad result for either side, the hosts being down to 10 for so long and Wolves pocketing an away goal.

I say all this with the previso that who knows if the rest of this tournament will even happen?

GOAL - Rangers 1-2 Bayer Leverkusen

George Edmundson (75 mins)

Hope?!

Rangers defender George Edmundson is left all alone from a corner and knows what to do - head in off the far post.

Post update

Olympiakos 1-1 Wolves

Interestingly on twitter there are suggestions that the crowd and the brass band are pre recorded and being played over the PA.

We shall maybe never know.

Post update

Olympiakos 1-1 Wolves

If you're just tuning in Wolves have a man advantage after the early sending off of Ruben Semedo. They were behind but have levelled it up and now have 20 minutes to try and find a winner.