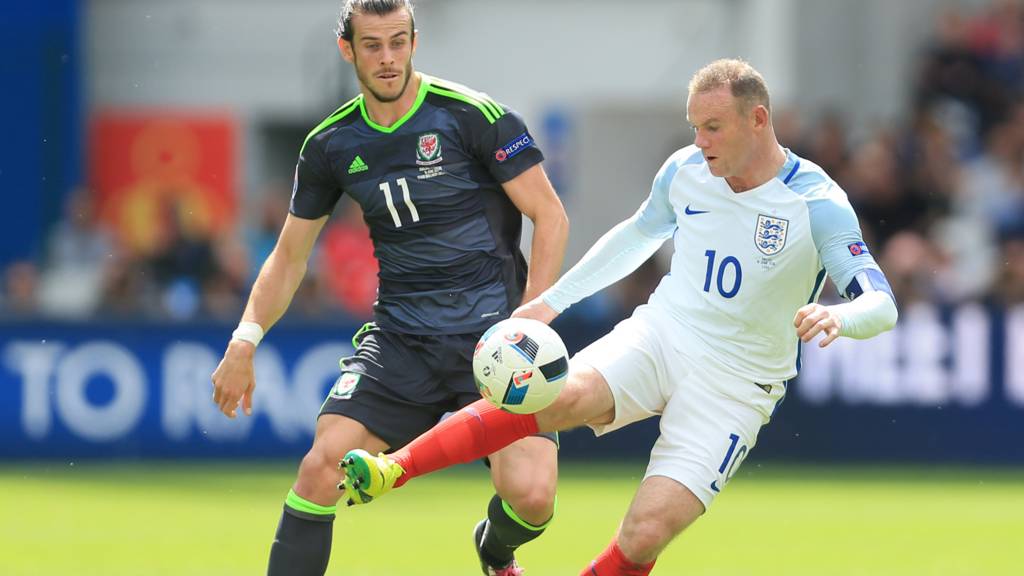 Watch: Euros Rewind - England v Wales 2016
Well that was not the most high-quality game you'll ever see at the Euros - but it was lively!

'The guys showed great heart'

Wales boss Chris Coleman: "A point for us would have fantastic. They are a very good team, very strong. Congrats to Roy, he made some good substitutions and we knew they would push us back. Most of the time we looked quite strong and although they had a lot of possession I wasn't that worried.

"The guys showed great heart. They stuck into the game and with 60 seconds remaining, to give up that point we worked so hard for, we are gutted but we have to move on. We are here to get through to the last 16. If you are from Wales, you always looked at this game because it is England but for me it is the middle game of three. We move on and have to show a reaction against Russia.

"When you are bringing on the likes of Vardy and Sturridge and Sterling and Kane are going off, they are top players. We knew that it would be tough, it was a good old fashioned derby. They had been on such a good run coming into this tournament, we knew they would be disappointed after a point against Russia and they would come on strong. It wasn't to be in the end."

'Two ends of the spectrum'

England manager Roy Hodgson tells 5 live about the contrast in emotion from the opening draw in Marseille to today's win: "It's certainly two different ends to the spectrum. It's a long time since myself and the coaching staff have showed such joy at a goal. That's because that goal the other night put us under a bit of pressure.

"When the chances don't go in and you've compounded your task by conceding that Gareth Bale goal, it really is a happy moment when both the substitutes score.

"I thought it was on the cards all the way through the second half."

On his half-time team talk: "I thought we were doing OK but I thought there were other aspects of our game which we could bring to the game. In the second half it was much more aggressive in terms of our attacking play. We were in a hair's breath so many times but it took until the 92nd minute.

"I have great empathy with Chris and the Welsh team because he must have been looking at a good draw. He will be today as I was on Saturday night."

'Rooney has been tremendous'

England 2-1 Wales

Alan Shearer

Former England captain on BBC One

Wayne Rooney is the only England player who has been tremendous in both games. He was man of the match in the first game, and he won't be far away in this game too. He wanted to dictate the play, grab the game by the scruff of the neck and played very well.

England have won a game at a major tournament for the first time having been behind at half-time.

Daniel Sturridge is the 10th England player to score at both the World Cup and the Euros.

A Liverpool player has scored at the last nine tournaments England have appeared at (Euro 96 the last time a Liverpool player didn't).

'We gave everything'

England 2-1 Wales

Video content

Wales forward Gareth Bale: "Obviously it is massively disappointing but I am very proud of everybody. We gave everything like we always do and I have said before if we go out but have given 100% then we can't do any more. We are disappointed at the moment but we are strong inside and the tournament is not over yet. We will go into the next game with even more strength.

"We keep fighting all the way. We will keep fighting to qualify."

'A beautiful feeling'

England 2-1 Wales

Video content

England striker Daniel Sturridge: "It's a great feeling. Unbelievable. I am grateful to the gaffer for the opportunity and God for allowing me to score. It is a brilliant feeling.

"It is only one more game in the group, so no-one wants to get too excited but the atmosphere is unbelievable and the togetherness between the two'A beautiful feeling' countries here is unbelievable.

"It is great to help the boys win the game, my brother and my cousin have travelled here to the game and it is great for them to experience this."

'Roy did what he had to do'

England 2-1 Wales

Alan Shearer

Former England captain on BBC One

It was much better second half. Roy did what he had to do, he gambled and brought the subs on. When you bring subs on they have to make an impact and the two guys have done that.

They deserved it. England stretched them a bit more, we got bodies into the box and the guys that came on produced.

FULL-TIME

England 2-1 Wales

Jeers, whistles, Bale!

Almost the latest of late equalisers as the Madrid magic man thumps a header wide.

Video content

Robbie Savage

Ex-Wales midfielder

Over the 90 minutes you've got to say, England deserve it.

Two half-time subs have both scored for England. That's a massive turnaround.

Post update

England 2-1 Wales

Ian Dennis

BBC Radio 5 Live senior football reporter

Gary Neville has just done a Jose Mourinho and legged it all the way down the touchline. Joe Hart came from even further back.

The bench erupted. Contrast that emotion to Wayne Hennessey to my left. He's just had a swig of his drink and beat the post with his fist.

How has that squeezed in?!

GOAL - England 2-1 Wales

Daniel Sturridge (90 mins)

Video content

Would you believe it!

England needed a hero and Daniel Sturridge has found what must be the winner!

It's the third scruffy finish of the game as he plays a one-two with Dele Alli and somehow stabs it past Wayne Hennessey at the near post. Extraordinary drama.

INJURY TIME

England 1-1 Wales

THREE minutes added on. Chris Smalling with a superb clearing header from in front of Gareth Bale.

Post update

England 1-1 Wales

Into the 89th minute. Huge for both sets of players. Wales in the driving seat in the group as it stays like this.

England on top on the pitch, Kyle Walker shoots from a mile out and it's charged out.

Sporting theatre. Superb.

Post update

England 1-1 Wales

Chris Waddle

Ex-Tottenham and England winger on BBC Radio 5 Live

I keep saying there is going to be one more chance...

Robbie Savage

Ex-Wales midfielder

That's what it means.

I feel your pain! I feel it!