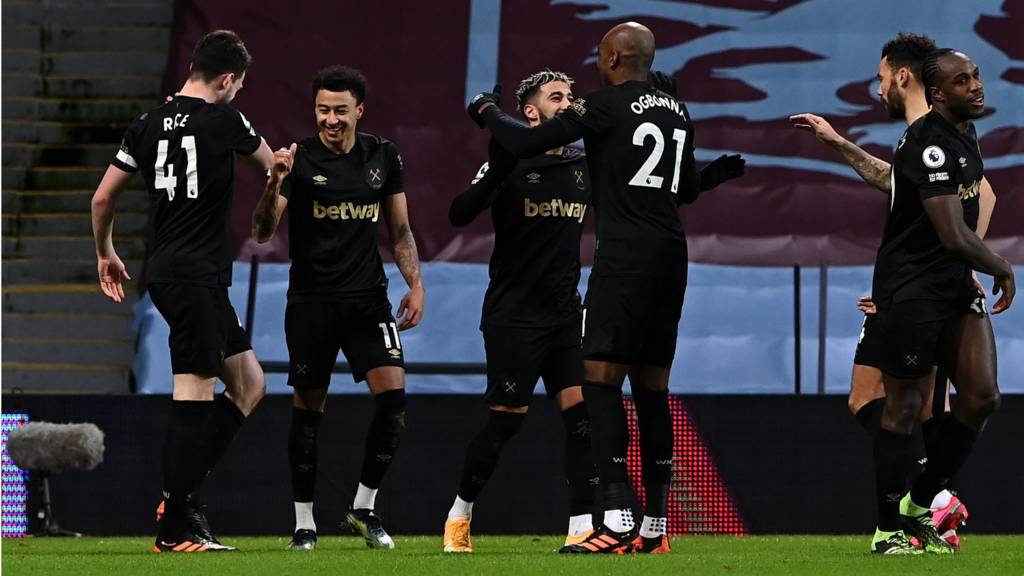 Premier League: Brighton stun Liverpool, Lingard scores twice on West Ham debut
Jesse Lingard was only the second player to score twice on his Premier League debut for West Ham, after Trevor Sinclair against Everton in January 1998.

Lingard for England?

Aston Villa 1-3 West Ham

West Ham boss David Moyes, speaking to BBC Sport: "Really satisfying. We were disappointed a bit on Sunday but tonight was much more like us. Coming to win at Villa is really tough. They cause you lots of problems.

"We didn't feel like we did enough at the weekend but we did today. Jesse helped us with that. We had to play well because of Villa's quality.

"It is great when you bring someone in and they do well. If he keeps up the form he showed tonight, and he is not completely match fit, scoring the goals, he will not be far away from Gareth Southgate's England squad in the summer. And he will help us no end before the summer. All round a really great performance.

"Soucek has been a brilliant buy since we brought him in a year ago. We can't hide it anymore. He brings a lot of what we need at West Ham at the moment.

"We have had some good away results this season but I put Villa up there with the best teams this season. The players have done a great job."

'We have to find solutions'

Liverpool 0-1 Brighton and Hove Albion

More from Jurgen Klopp: "You saw what went wrong, it's more about why? The only explanation now is that we are a fatigued team, mentally more or less. That leads to not the maximum freshness in your legs. Brighton deserved to win, they played well, they did well.

"We had our moments but they deserved to win. They are a good football side. We had to defend with a lot of running, there is no formation in the world where you are always in the right place. The best way to defend against a team like that is to keep the ball yourself but we couldn't do it tonight.

"The only thing we can do is use the things that happen and learn from them. The solution is always the players. It has been a tough week and tonight it was not enough. City are flying and we have to find solutions."

'We looked mentally not fresh'

Liverpool 0-1 Brighton

Liverpool boss Jurgen Klopp to BT Sport: "We played against really good opposition, that's clear.

"We looked mentally not fresh. They deserved to win. We wanted to play better and more convincing. We lost too many balls in promising situations. I know the boys can play pass A to B but today B did not seem reachable.

"We had a really tough week. Brighton is a football-playing team.

"We were not fresh tonight and that's when you have to find a way. Each player can play better than they did tonight. I know them, it's not because they didn't want to. Something else must be the reason.

"If we make too many chances we lose rhythm. That leads to the situation where Brighton beat Liverpool and deserve it."

'Lingard plays like that and he'll be back in England squad'

Aston Villa 1-3 West Ham

West Ham boss David Moyes: "Very good. It was an excellent performance. Villa have been in good form. I didn't think we played very well against Liverpool but we moved on tonight.

"Jesse is still getting used to us and us to him. We are thrilled because he made a difference. If he keeps on like that it won't be long until he is back in the England squad. He made the team better tonight. I felt we were short in areas where we make chances. It is proved tonight that we needed him.

"I thought there were a few shouts for penalties that could have gone either way. The players have done the job. Soucek scored another goal and was a wee bit unlucky late on not to have another."

'We looked tired mentally'

FT: Liverpool 0-1 Brighton

Liverpool boss Jurgen Klopp speaking to BBC Radio 5 Live: "Disappointed, nothing to smile about really. Tough one to take. A really tough week, two away games, two very intense games and tonight we looked really like we weren't fresh enough mentally and physically. A lot of moments where we gave the ball away too easily, in moments the boys looked tired mentally. I know they can pass the ball from A to B but it didn't happen, we made it easy for Brighton but they also did really well.

"Brighton deserved to win, no doubt about it. For me it's more important to find an explanation for why we lost this game and understand what happened here tonight. We didn't look convincing.

"Nothing good to say about it, it's over. Whatever set back we have to try and come back but we make more changes and then we have no rhythm so it's a problem. This week was hard, we lost our second home game in a row, but we can't change anything now we have to work with it."

'Fantastic result, fantastic performance'

Liverpool 0-1 Brighton

Brighton manager Graham Potter to BT Sport: "Fantastic result, fantastic performance. It had everything. We showed courage when we had the ball and when we didn't. We defended with our lives. We limited a good team to not too many chances. We had a few ourselves.

"You have to be disciplined here. Huge credit to the players who worked so hard. I can't speak highly enough of the character of performance – sensational.

"It's not an easy place to get points. They're a top team. We're just trying our best in this league. Every game we face a huge task. It's one for the supporters and everyone involved in the club. It's not often a club like us come here and win.

"We were 3-1 down at Wolves at half-time at the start of the year and it wasn't looking so good then. We made it 3-3 and we've been on a good run since."

'We gave poor goals away'

Aston Villa 1-3 West Ham

Aston Villa boss Dean Smith tells BT Sport: "The best team won tonight and we were not at our normal pace in how we play. five games in a short period caught up on us, that is the way it looked. We gave poor goals away and if they open us up you half accept that and they have just broke straight through the middle for the first. The second was horrendous and it was poor defending, that is unlike us and it's rare I have said that this season.

"The first half was shaded by them, we had a couple of chances and started the second half better and gave a poor goal away. You are always chasing a game, the manner of the goals disappoints me.

"Jack Grealish can pop up anywhere and we probably should have played down the side of him a little more.

"We bounced back after the Burnley defeat and have to do that now again, we are in a better place than last season and only two or three games where I came out and I was disappointed and this is one of them.

"We have set the standards after 19 games, you want to keep that going. Unfortunately tonight we didn't."

'Players were amazing'

Liverpool 0-1 Brighton and Hove Albion

Brighton boss Graham Potter to BBC Sport: "A fantastic performance, the players were amazing. We fought when we had to but we showed quality in attack.

"To come here and win you have to be close to perfect and I thought we were. We tried to attack, tried to play, it was a game of football.

"It's a good run but we need to carry on. The nature of this league is that things turn quickly but this is a good night for our club."

'Better team won'

Liverpool 0-1 Brighton and Hove Albion

Liverpool defender Andrew Robertson to BT Sport: "The better team won, Brighton were better at pretty much everything. They pressed us, won the ball back and created chances.

"First half was ok, it was a nothing game and you got the sense that one goal was going to be enough to win it. In the last three games at home we have been really disappointing and we have to get back to it, we are a long way off it.

"Brighton played four centre-backs and they were all outstanding but we have been disappointing. We are not finding the way to win."

'Jesse is an unbelievable player'

Aston Villa 1-3 West Ham

West Ham striker Michail Antonio: "It was unbelievable. It is a quality team, Villa. Great attacking threats and solid. We knew it would be difficult but we played well and pressed them. Jesse (Lingard) is the new boy and will get the limelight but it is a team performance. Jesse is an unbelievable player. He plays nice one two touches with me and Benrahma. He always wants the ball and shows.

"Today was difficult game. All we can do is play well every time we step out on the field."

'We are not in the title race'

Liverpool 0-1 Brighton

Liverpool defender Andy Robertson: "Brighton were the better team. We were hugely disappointing all over there park. You have to give the the team credit for playing well. They created chances, pressed us – did everything we wanted to do.

"We didn't really do anything of note. With a long record of going unbeaten we've lost two. When you don't show up you don't get results.

"We prepare for every game different. It's just not clicking. We need to find a way to get results, especially at home. You can do everything in training

"Any game against Man City is a big one. As this moment stands, we're not in the title race. We are seven points behind them and they have a game in hand. I'm sure they'd say the same if they were potentially 10 points behind. We need to get back to the Liverpool everyone knows.

"We're still a good team. We don't turn into a bad team overnight."

'Three points the most important'

Aston Villa 1-3 West Ham

West Ham midfielder Jesse Lingard to BT Sport: "Three points is the most important thing, the team worked hard as a collective and we think about the next one against Fulham.

"The team have been great with me, I have settled in fairly quickly and some familiar faces help.

"In training we have that connection and built it up fairly quickly. On matchday it is fairly easy to play with Michail Antonio and Declan Rice.

"I started tonight, scored two goals and got three points. I was smiling before the game and during, I just enjoy playing football."

"It has been a long time, I have come here to get game time and scored two goals but like I said, three points is the most important."

'We had to work our socks off'

Liverpool 0-1 Brighton

Brighton goalscorer Steven Alzate to BT Sport: "Big result. The last few games we have been getting decent results. It's been coming. Massive win today.

"They're champions for a reason. We stuck to our gameplan and it worked.

"I'm not sure [whether it's his goal] but I'll take it. It's my first Premier League goal. Got to take that one.

"We had to work our socks off to keep a clean sheet.

"We have got some good players and we want to catch the opposition on counter-attack when we can.

"The Premier League is not easy. Picking up points is big and especially against a team like Liverpool."

Get Involved

#bbcfootball or text 81111 (UK only)

SMS Message: Brighton's win has been coming for a while. They play some good football and it's no wonder they've got this result tonight. Well done the seagulls. from Ian

SMS Message: The Brighton result completely warranted, teams have nullified the threat of Liverpool's full backs and then a woefully unimaginative midfield is exposed from George in Warnham

And here's how the top of the table looks now. It's been a great few weeks for Manchester City...

'A good side to watch'

FT: Liverpool 0-1 Brighton

Dion Dublin

Former Man Utd striker on BBC Radio 5 Live

The energy impressed me the most - closing Liverpool down and they were doing that at pace but when they got the ball back they seemed to have an air of confidence and coolness and finding the gaps that Liverpool normally do of their opponents. I thought they were outstanding, organised, well drilled, and a really good side to watch.