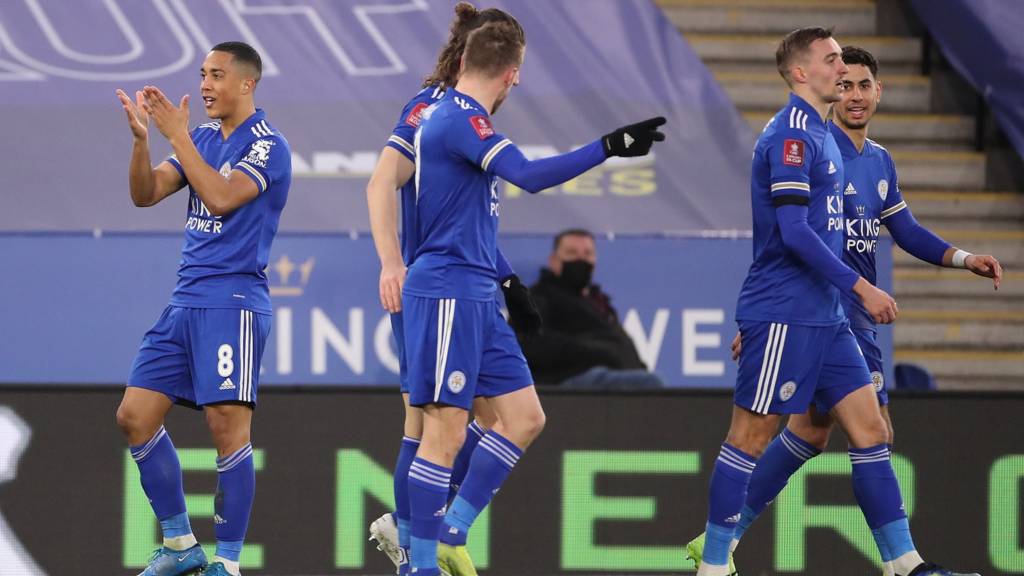 Leicester into FA Cup semi-final with win over Man Utd
Watch the goals again

Leicester 3-1 Man Utd

Right that's the end of this live page now. Thanks for joining us today. I'll leave you with this link to the Villa-Spurs live text and some clips from Leicester's victory.

Post update

Leicester 3-1 Man Utd

Leicester defender Jonny Evans: "Southampton will be a tough game. They're probably thinking they're happy with the draw and we're happy with the draw. May the best team win on the day."

Get Involved

#bbcfootball or 81111 on text

SMS Message: It's the first game away from home we've lost in England in over a year, it's not the end of the world, we had a tough game on Thursday night and are allowed a bad game every now and again, I wish some of our fans can learn to accept that we can't win and play well in every single game! from Luke in Manchester

Get Involved

#bbcfootball or 81111 on text

SMS Message: Fair play to Leicester from a United fan: completely deserved to win that game. Nice to have a game that isn't decided by some sort of VAR controversy too. Good luck in the rest of this tournament: I will be rooting for you to end your long wait for a cup win and frankly would prefer Leicester to win out of all the remaining teams. from Stuart, Solihull

Post update

FT: Leicester 3-1 Man Utd

In what was Brendan Rodgers' 100th game in charge at the club, Leicester City have reached the semi-finals of the FA Cup for the first time since 1981-82 – they had lost five consecutive FA Cup quarter-final matches before today.

'Two games from history'

Leicester 3-1 Man Utd

Leicester City manager Brendan Rodgers to BBC Sport: "I'm obviously delighted. It was a great team performance. Every aspect of the game was complete.

"We showed courage to play football against one of Europe's greatest teams. I'm so happy for the players. I thought we thoroghly deserved it.

"Kelechi has always contributed. Maybe his confidence was lower but he works so hard every day and always comes in and gives his all. You see his confidence now. He's at the top of his game.

"It's a different structure [up front]. Kelechi is probably best with someone up there with him. Those two are working very well.

"Our solidity and intensity of press was very good. When we dropped into our shape we denied them space. To beat Manchester United 3-1 you have to be complete in all aspects of the game and the players did that.

"[The semi-final] is a way off yet. I told the players they were three games from history. Now it's two. We're making the right steps, we're on the right path. We're very ambitious to be the best we can be. That's the challenge and it's the test we're enjoying."

'We had no spark'

FT: Leicester 3-1 Man Utd

Manchester United boss Ole Gunnar Solskjaer speaking to BBC Sport: "We didn't have the spark tonight - but it's understandable. This team have been fantastic in the last three or four months. We played every three days and been on a great run. It just caught up with us, all the games and travels. Thursday night in Milan was a big night and took a lot of out of us physically. We didn't have the extra zip, authority and confidence today.

"We tried to get on the front foot and start well because sometimes you can get that adrenaline boost and confidence if you get a goal and that can carry you over the line. We've got too many players that have played too many games and too many that haven't really had much football, Anthony Martial, Donny van de Beek, Paul Pogba and others are trying to get in who haven't had enough football. We didn't have enough against a tough team.

On changing the line-up: "I would've done the same again, the changes were necessary to do. We knew Paul [Pogba] wouldn't last more than an hour and I don't think I would do anything differently. What goes on behind the scenes isn't always known."

On conceding the first goal: "We want to build from the back and want the players to be confident - sometimes it doesn't work and that's one time it didn't.

"When we win, we win together and when we lose, we lose together. We're not pointing fingers and blaming - the second one is a good goal by the boy but maybe with a zip of energy we could've got to him and wouldn't have been done as easily in the middle. That's been one of our strengths, keeping clean sheets and been dogged but we didn't have the opportunity."

On moving forward: "We've got the Europa League and Premier League to concentrate on - yes we would've liked to go to Wembley but now all the focus is on the games we do have. We're in a good position in the league and we want to keep improving, of course Leicester are just behind us so it won't be easy but we want to keep going and get as far as possible in the Europa as well."

'Everyone worked together'

Leicester 3-1 Man Utd

Leicester midfielder Youri Tielemans told BBC Sport: "It was a really good team performance.

"Everyone worked together. Everyone was talking, everyone was positive. Thats's what we need to win these type of games.

"It was a very hard game and I think we did brilliant.

"I saw the space and ran into it. I tried to keep the ball low with my shot and put it into the corner [for his goal]. It helped the team and Kelechi did brilliantly [to score the third]. We worked hard to keep the lines together.

"Kelechi is a good character, always happy. He's very shy. The scream [at the end of his BBC interview] is all the enjoyment coming out."

Get Involved

#bbcfootball or text us on 81111 (UK Only)

Dorian Bate: As a United fan, I will first and foremost say Leicester were the better side and deserved to go through. Though I've seen so many people criticise Solskjaer, the issues today were not his fault but a lack of desire and knowhow from the players on the pitch.

SMS Message: What a performance from the boys in blue , Dreaming of lifting that trophy in May to complete the domestic trophy sweep. Also still to this day I'm astonished United paid £80 million for Maguire. He wasn't even our best centre-back! from Lewis, Leicester

'I'm taking my opportunity'

FT: Leicester 3-1 Man Utd

Leicester goalscorer Kelechi Iheanacho speaking to BBC One: "I can't express the feeling - I feel great and the whole team are happy. We were waiting for this time and we're into the FA Cup semi-final for the first time [in almost 40 years] so we're happy. We focus on the next game and hopefully we can get to the final.

"We worked really well in training to get ready for this game - tactically we worked hard. We really felt ready to go and we passed the ball very well and got in open spaces and got the runs and the goals.

"I'm enjoying it - I just need to focus and keep going. It's not easy to get an opportunity but I think I am taking mine - I just need to keep working hard every day and they opportunities will keep coming."

On his partnership with Jamie Vardy: "The partnership is really helping us in the team I am really happy playing alongside Jamie, it's helping me a lot creating space and getting the shot in behind so I hope we can keep working hard together."

'No one will want to face Leicester'

FT: Leicester 3-1 Man Utd

Dion Dublin

Former Man Utd striker on BBC One

Everyone is talking about Manchester City but Leicester are also one of the teams to avoid. Absolutely superb today. No other side will want to take on a team in that sort of form, with a manager that loves and trusts his players - and they give him so much in return.

'United couldn't cope with Leicester'

FT: Leicester 3-1 Man Utd

Alan Shearer

Former England striker on BBC One

Leicester were so much better than Manchester United, from start to finish. United couldn't cope with their energy, their pace, closing down and in every single position, Leicester were better. Well deserved victory.

While we're waiting for reaction, I'll let you know the build-up to the Premier League game between Aston Villa and Tottenham has started here.

Not good reading for some fantasy football players (ie me).

Here's the Kelechi Iheanacho goal which made the game safe for Leicester.

Post update

FT: Leicester 3-1 Man Utd

Jermaine Jenas

Ex-Tottenham and Newcastle midfielder on BBC One

Not many teams will want to come up against Leicester playing like this. They are well organised, hard to beat, have intelligent players all over the pitch. Brendan Rodgers should be proud of his players tonight.

FULL-TIME

Leicester 3-1 Man Utd

Leicester reach their first FA Cup semi-final since 1982. They will play Southampton at Wembley in four weeks' time.

Manchester United are out.

Get Involved

#bbcfootball or text us on 81111 (UK Only)

UnitedWeTalk: An absolute shocking display of football today from United! Well done Leicester City! A well deserved win! Manchester United have been disgraceful.

The Supreme Bean: Really poor tactics from Ole today. Time and time again he gets it wrong in the big games. There's definitely a mentality problem with United too...

Post update

Leicester 3-1 Man Utd

The fake crowd are in great noise. Leicester are heading to Wembley.