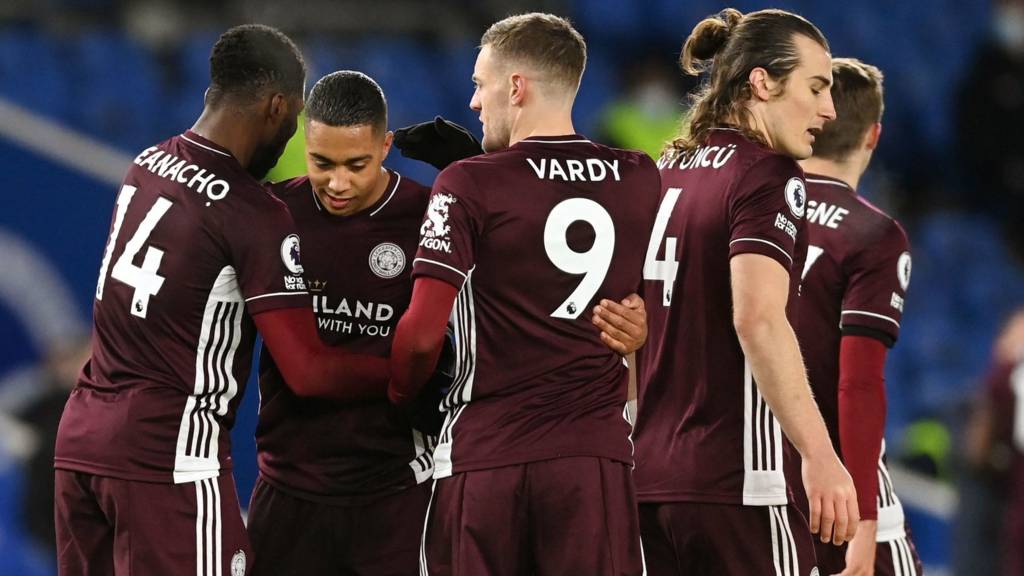 Premier League: Leicester strike late to beat Brighton
The gulf in Manchester and Liverpool without Europe?

Ole Gunnar Solskjaer and Kevin de Bruyne are on BBC Radio 5 Live's Football Daily podcast talking about tomorrow's Manchester derby.

Could a new number nine see United really close the gap next season?

Glenn Murray and Sami Mokbel also discuss Jurgen Klopp's bullish comments about Liverpool's future even if they miss out on Champions League qualification, and whether the opportunity for a big move may have passed for Wilfried Zaha.

That's the end of this live text now. Thanks for joining us today.

Join us tomorrow for four more games - including the Manchester derby. Speaking of that game, here's a couple of bits of BBC preview material.

Bye for now.

Post update

Brighton 1-2 Leicester

Brighton's Adam Lallana speaking to BBC Sport: "It felt good in the first half but the game is 90 minutes long and we need to learn that.

"It almost felt we had won the game at half-time and if you have that mentality you get punished in this league.

"As a team everyone dropped our level 5% and that is too much combined against a team like Leicester who are fighting for the Champions League and were clinical when they got their chances.

"I had Covid-19 just after Christmas and was out of action for a few weeks. We have a strong squad, talented players on the bench and we all kind of need to up our game if we are going to turn good performances into results.

"We are in a fight and need the points."

Post update

Brighton 1-2 Leicester

Brighton boss Graham Potter speaking to Sky Sports: "We are suffering. I thought the performance deserved something from the game. In the first half we played well, in the second half not as well.

"Over the course of the game I felt we just missed too many passes to get any sustained pressure and be really ourselves.

"You expect them to respond and push for an equaliser which is normal but whenever we got the ball we gave it away too cheaply and we were under more pressure.

"We had an opportunity in attack and turned it over and they score. We responded quite well but then it was a disappointment at the end to concede in the manner we did.

"I haven't seen it back. He made a wonderful save in the first half and you can see his quality but if it is [Robert Sanchez's] it is not the reason we lost.

"We are where we are in the league. We know we are in a fight, we know we have to perform and be at our best. You need a bit of luck and today we didn't earn as much as we should have."

Post update

Brighton 1-2 Leicester

Leicester City manager Brendan Rodgers speaking to Sky Sports: "Very important [win]. We were playing a good side. First half we didn't press the game well enough and we didn't pass it well.

"So we had to ask a question at half-time and in the second half I thought we were brilliant. The tempo of the game was better and we stopped them playing and showed our quality.

"We have to deal with it [injuries]. You only have to look at the bench we have some young players which is okay because we love young players but some of them aren't playing regular in the under-23s.

"But still, I expect us to be better. We weren't aggressive enough. Brighton are a very good side and if you give them time to play they can play and they manipulate the ball well. So we deserved to be behind.

"In the second half the speed, tempo and movement was better and we scored a very good goal and got the goal from the corner at the end."

On Kelechi Iheanacho and Jamie Vardy: "It was a great finish [from Iheanacho] and he is working very hard. Jamie is amazing for us. He is such a threat. With all the injuries we are tying to get as many attacking players on the pitch as we can. Delighted for the players but there are one or two things we can look at."

'Lots of football to play, lots of fighing to do'

Brighton 1-2 Leicester

Brighton manager Graham Potter to BBC Sport: "It feels sore. I thought overall our performance - certainly the first half - was good. We were close to getting a second.

"In the second half, Leicester responded and we didn't play as well. Still we had some opportunities but it felt like a draw might have been the right result.

"There was no problem with the approach and intention of the team. That was good. We made a few too many errors against a team going for the Champions League. While I didn't think we were bad, I didn't think we were really good.

"The goal at the end is a bit of a blow.

"Adam Lallana did some really nice touches, nice combinations. He helped the team, kept us going. He was a positive for us.

"We gave up the opportunity too often with the ball, turned it over too cheaply. When you do that against a good side you get pushed back more than you'd like.

"There's lots of football to play, lots of fighing to do. We have to pick ourselves up and go again for Southamptom. There's no other way."

Post update

Brighton 1-2 Leicester

No side have won fewer home points in the Premier League than Brighton this season (10), while Leicester have won four more on the road than any other side so far this term (34).

'We were outstanding in the second half'

Brighton 1-2 Leicester

Leicester City boss Brendan Rodgers to BBC MOTD: "Brighton were better than us in the first half - we were too slow and not aggressive enough. They deservedly went in front.

"We had to look at things at half-time. We are much better than we showed in the first half. We were outstanding in the second half.

"They were excellent, they are a good side. You can see why they beat top teams.

"Once we got to grips with it in the second half... the players were brilliant in the second half. It was a change of mindset, we needed to be more aggressive. Once we did that we had more energy on the ball."

On Sidnei Tavares: "We're obviously thin on the ground with attacking players. Sidnei Tavares was excellent. Technically he's very good. I felt we needed that player who can take the ball and pass it forward. It was a nice 70 minutes for him. He's a talent. He needs to get more physical in the game. He loves the ball, that's the type of player I like. He nearly scored a great goal. There's a great opportunity here for him if he contines to work and keeps his head down and doesn't get carried away."

On no midweek game: "I think it allows us to get onto the coaching field again. It's the first free week I can remember in a long time. We can get some coaching into the players. The mentality has been incredible - to be up there challenging with 10 games to go. "

Post update

Brighton 1-2 Leicester

Leicester have faced Brighton more often in the Premier League without losing than they have any other opponent (8 games – W6 D2).

Post update

Brighton 1-2 Leicester

Brighton have dropped 17 points from winning positions in the Premier League this season. Only Southampton (18) have dropped more.

'Almost felt like we'd won the game at half-time'

Brighton 1-2 Leicester

Brighton goalscorer Adam Lallana to Sky Sports: "Second half we were poor. It almost felt like we'd won the game at half-time. If you drop your levels you get punished.

"There have been games we've felt hard done by but today doesn't feel like that. We didn't perform well enough in the second half.

"We've proven we can get results against big teams. We all dropped off a couple of percent. We were too passive and we got punished.

"It's always nice to go one up at home. We had a couple more chances. But you can't rest on your laurels.

"I don't remember them creating too much. The poor keeper at the end just got caught under the ball but he's been tremendous for us. He'll learn and he'll bounce back."

'It feels like a very big result'

Brighton 1-2 Leicester

Leicester City midfielder Youri Tielemans speaking to Sky Sports: "The first half was not good enough at all. It was not diffcult to do better in the second half. It wasn't good.

"We had a good reaction and now we have to recover for next week and we have to start better.

"We were a bit loose out of possession and they got onto us very quickly. We didn't react positively in duels and were not quick enough with the ball. It was a bit of everything.

"Credit to him [Kelechi Iheanacho] for the finish and we score in the end from a set-piece. We are very happy with a win. We need to try and make up for the guys who are not there and tonight we did it in the second half.

"It feels like a very big result. You could see they played good football, scored early in the game so it was up to us to react to that."

Match of the Day starts at 22:20 GMT on BBC One and this website

Post update

Brighton 1-2 Leicester

Brighton scored with their only shot on target in the first half, while Leicester scored with both of their shots on target in the second half.

Post update

Brighton 1-2 Leicester

Leicester are unbeaten in 10 consecutive top-flight away matches within a single season for the first time.

They have won 10 of their 15 top-flight away matches this campaign for only the second time. They managed 11 in 2015-16.

Post update

Brighton 1-2 Leicester

That was Marc Albrighton's 40th Premier League assist - 10 for Aston Villa and 30 for Leicester.

Get Involved

#bbcfootball or text 81111 (UK only)

JeddOwen: Same old Brighton. Same old consistency. Same lessons not being learnt. Is it the manager? Is it the players? Something has to change. Since beating Spurs and Liverpool we have been woeful and our form has slumped alarmingly quick!