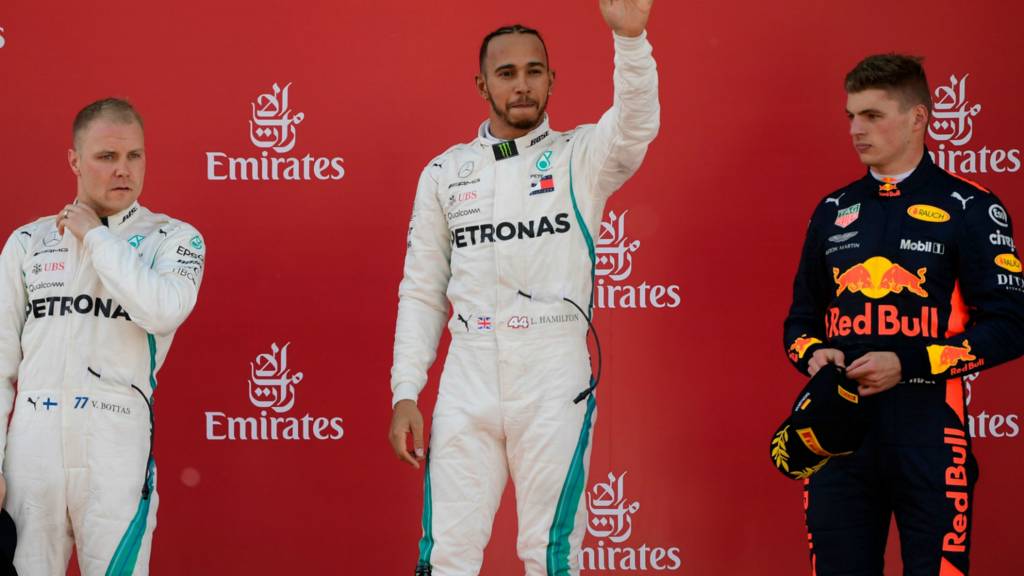 Reaction to Hamilton's Spanish GP win
Strong support for home favourites Fernando Alonso and Carlos Sainz.

Copyright: Circuit de Barcelona-Catalunya

Copyright: Circuit de Barcelona-Catalunya

Jeremiah Kariuki: Definitely the current season is shaping out to be one of the best in the recent times. Full of unpredictability and also all teams having scored points already, unlike recent previous seasons.

Josh Gribby: Best season in quite a few years yes - but has been mainly down to safety cars to spice it up, and hopefully some rain today! I bet we've just jinxed it now...

'It is going to be really tough today'

Pole sitter Lewis Hamilton: "It definitely felt good, it is very close between us so great to be up there.

"It is going to be really tough today, there is rain about, we have a great crowd, I hope we don't struggle with the tyres and can take the fight to everyone."

Ian Fergusson

BBC weather presenter

Some 15mm of heavy rain washed the circuit overnight. Whilst showers were always a possibility in the forecast, the latest official FIA (MeteoFrance) prognosis of an 80% chance of showers during the race will have grabbed teams' attention this morning...

Just over an hour to go until lights out and the drivers are away for the drivers' parade.

There's a few clouds up above, and there is a strong chance of rain during the race...

Four races down, 17 to go.

I've found every Sunday to be superbly entertaining so far, do you think this is shaping up to be one of Formula 1's best-ever seasons? If not, why and and which one did you find yourself enjoying more at this stage?

Let us know via #bbcf1 or text in on 81111 (UK only)

'We're not going to brake. Our egos are too big!'

Andrew Benson

BBC Sport's chief F1 writer

Two weeks after their high-speed crash together after 38 laps of intense racing in Baku, Red Bull drivers Max Verstappen and Daniel Ricciardo start alongside each other on the third row, separated by only 0.002 seconds in qualifying. Can they stay apart in the race?

Ricciardo joked: "We're not going to brake. Our egos are too big!" More seriously, he added: "For sure I expect Christian [Horner] to have a word with us before the race, and for the next few races until things calm down. And until he sees proof that things have calmed down he'll definitely talk to us. Obviously we're in a difficult position because we want to not only beat each other, we want to attack Kimi [Raikkonen] or whoever is in front of us. Look, we've attacked before and kept it clean so we just need to do that."

Verstappen said: "I don't think I need to do anything different and I won't. Because that's who I am and it brought me to where I am."

Mmmm.

The man who made F1 great - without meaning to

It's been a hugely entertaining start to the season and hopefully that will continue today.

Who do we have to thank for this great start? BBC Sport's Jack Nicholls credits a man few people may know.

Find out who in the above video.

Lewis Hamilton is in prime position to secure victory but how do you see the top three shaping up in this race?

Let us know your podium prediction here.

After getting off the mark in Azerbaijan last-time out Lewis Hamilton will be hoping to make it back-to-back wins today and start to build a decent gap over Sebastian Vettel.

The reigning world champion also got a mighty dollop of luck at the last race, with Valtteri Bottas suffering an agonising late puncture while leading.

Hamilton will be extra determined to win this one on his own merit.

Who'll provide the masterstroke in Spain?

Pablo Picasso, Salvador Dalí and Francisco Goya are renowned as some of Spain's most talented artists.

Whilst some of the paintings at today's Grand Prix might not quite match up to the work of their famous predecessors, spectators at the Circuit de Barcelona-Catalunya will hope today's masterpiece will come in the form an enthralling race in the Spanish sunshine.

The question is who will deliver the masterstroke?

Andrew Benson

BBC Sport's chief F1 writer

Lewis Hamilton has to be considered a strong favourite to take his second successive win this afternoon.

Only three times in the last 17 years has the Spanish Grand Prix not been won from pole position, and that's where the world champion starts for the first time since the opening race in Australia.

But Valtteri Bottas qualified only a smidge slower and is determined to make amends for his lost win in Baku, while Sebastian Vettel believes the race will be "close" and the Red Bulls looked quick in race trim in Friday practice.

There have been three winners in four races so far. Will Spain bring a fourth? Or another repeat?

2014:

2017:

2018: Hat-trick?