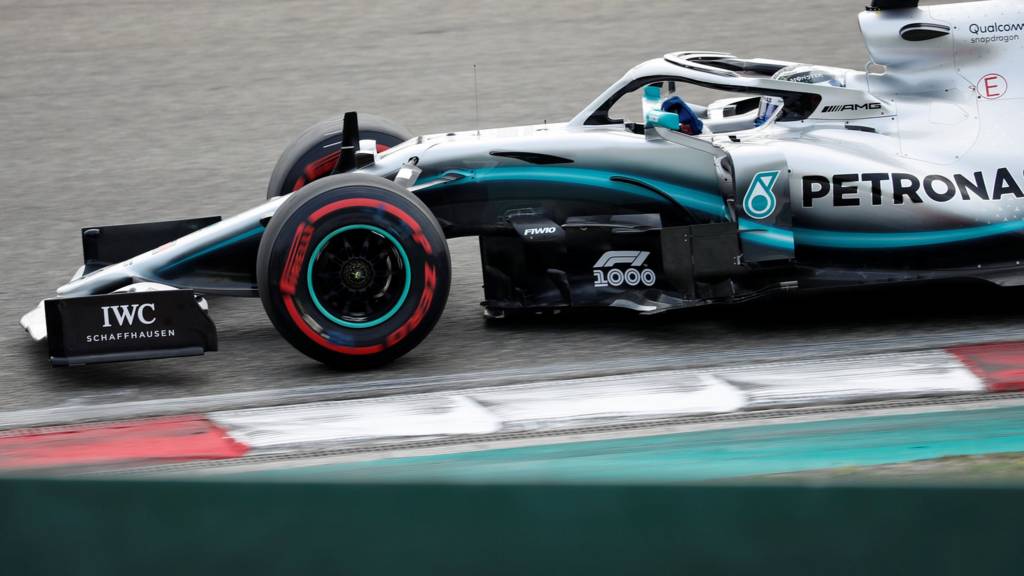 How China practice unfolded
Summary
Bottas top in second practice - Hamilton and Bottas spin
Close between Mercedes, Ferrari and Red Bull
Vettel fastest ahead of Hamilton in first practice
Final practice & qualifying live on 5 live Sports Extra and online
Your favourite grand prix

#bbcf1

Nick Williams: Favourite GP's? Belgium 1998 one of my favourites, as for a more modern favourite Germany last year, had everything, was a joy to watch.

Mercedes Valtteri Bottas finishes fastest in second practice. He posted a time of 1 minute 33.33 seconds.

That lap was just a tad quicker than what Sebastian Vettel managed in FP1.

Vettel was second quickest in FP2, followed by Max Verstappen. Lewis Hamilton was fourth.

It means we had three cars, Mercedes, Ferrari and Red Bull, all posting times in the 1:33s.

Promising for the weekend.

Peeeep, peeeeep.

That's all folks.

The chequered flag is waving. The cars on track can finish their laps and then we'll be done for the day.

Valtteri Bottas is going to have the fastest time from FP2.

There are only a couple of cars in the pits but it doesn't look like there'll be any serious changes to the best times in the final minutes of Friday practice.

They're all on their long runs.

We have a couple of minutes left.

Download the Chequered Flag podcast

This week's Chequered Flag podcast is a bit of a treat as F1 celebrates its 1,000th race.

The BBC Radio 5 Live team have sat down with former F1 chief Bernie Eccelstone for an in-depth chat.

You can listen and download it here.

Williams are still propping up the rest this weekend. Robert Kubica has been marginally quicker than his team-mate George Russell. He is 19th fastest and Russell 20th.

It's going to be a loooooonng season.

Your favourite race

#bbcf1

Martin Johnston: Got to be the 1979 French Grand Prix with Gilles Villeneuve and Rene Arnoux fighting for 2nd like it was for the title!

Here's the official line from the horse's mouth (excuse the bad pun).

Charles Leclerc is done for the day.

He has just spoken to Sky Sports on the way back to the hospitality tent.

Asked about his car's problem, he said: "We don't know yet. We will see.

"I had quite a bit of traffic on the second run so there were not really any representative lap times.

"It is only FP2 so hopefully tomorrow will be better."

Your favourite race

#bbcf1

Dimitris-Nickolas Benekos: Montreal 2011 and Silverstone 2008 are classics but I have fond memories of that Nürburgring GP of 2007 with the turn one becoming a swimming pool.

That's a good effort from Nico Hulkenberg to be up in fifth. We've not really mentioned him today but both he and team-mate Daniel Ricciardio have posted good times.

With 15 minutes to go in FP2, this is how it looks at the top.

1. Bot 1:33.330

2. Vet +0.027

3. Ver +0.221

4. Ham +0.707

5. Hul +0.766

The problem with Charles Leclerc's car is almost certainly a leak. The mechanics are now on their knees mopping up some fluid from under the car. It's like when you've spilt the milk in the kitchen, just probably a bit more expensive.

Carlos Sainz is throwing his McLaren around this track. He currently has the sixth fastest time.

Right now he's on a longer run with a heavy fuel load but things still look good.

Things are not looking good with Vettel's team-mate Charles Leclerc.

Three or four mechanics are huddled around his Ferrari. The seat is now being taken out of Leclerc's car. Is his session done? It looks like it.

Various bits of bodywork have been removed. Another problem for Leclerc?

Sebastian Vettel has a little moan about Sergio Perez in the Racing Point in front of him.

"They are racing harder on a Friday than on Sunday," he says.

Ouch.

I tell you what with the top three currently being made up of a Mercedes, a Ferrari and a Red Bull, it points to an exciting weekend ahead.

Could we have a three-way battle at the top?

Charles Leclerc's Ferrari is parked in the garage and the 21-year-old has just hopped out. He is only seventh fastest in this session.