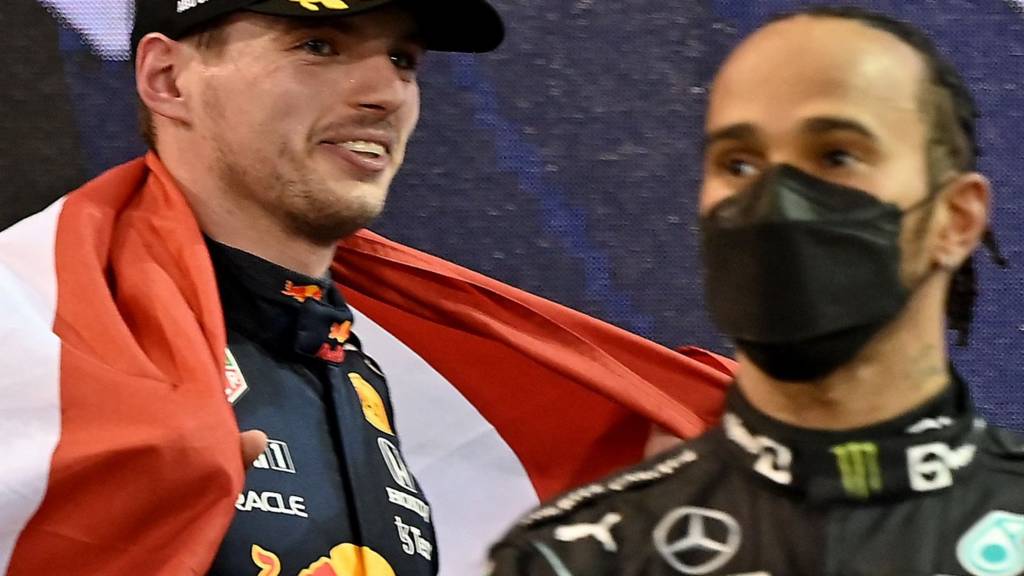 Highlights, as Verstappen's F1 world title stands after Mercedes protest rejected
The social media highlights

F1's most frantic finale - in pictures

How a dramatic day unfolded

Red Bull's Max Verstappen snatched his first Formula 1 world title by beating Lewis Hamilton in a thrilling finale to the season in Abu Dhabi - but only after the Briton's Mercedes team had two protests against the result rejected by stewards.

Hamilton had appeared in control of the race and on course for the title himself, despite controversy on the first lap, until a late safety car.

The race was restarted with one lap to go with Verstappen on fresh tyres and Hamilton on old ones and the Dutchman swept by to win the race.

It was in many ways a fitting end to one of the greatest and most contentious seasons in Formula 1 history - and the arguments over right and wrong will rage for some time to come.

At the end of the race, while Verstappen screamed with delight and Red Bull celebrated, Briton Hamilton sat in his Mercedes for several minutes, disbelieving at the way events had turned against him in the final minutes.

However, Mercedes launched two protests - one for Verstappen overtaking Hamilton under safety car conditions just before the restart, and one over what they believe was officials not correctly following the rules on safety car procedures - both of which were rejected after several hours and meetings between the two teams.

But late on Sunday Mercedes announced their intention to lodge an appeal against their rejected protest.

Best quotes from the decisive day

F1 world champion Max Verstappen: "It's unbelievable. Throughout the whole race I kept fighting then there was the opportunity in the last lap. It's incredible. My team know I love them. I hope we can do this for 10, 15 years together."

Runner-up Lewis Hamilton: "Congratulations to Max and his team. I think we did an amazing job this year. I am so proud of the team, and so grateful to be part of the journey with them. We gave it everything this last part of the season and never gave up, that's the most important thing.

Red Bull team principal Christian Horner: "We didn't want it to end in the steward's room. They have come to the right decision, we are grateful. Max is a very worthy world champion."

Well it took longer than most title deciders but in the end we got there as the most enthralling seasons in F1 ends in dramatic and controversial fashion.

Max Verstappen can celebrate the first of no doubt many world titles but the situation is not resolved yet as Mercedes announce their intention to appeal.

Whatever your thoughts on today we can surely reflect on what has been an incredible season fought hard between two incredible drivers.

Lewis Hamilton may have lost out today but he will surely come back hungrier than ever to claim that record eighth world title.

See you in 2022.

Breaking

Mercedes lodge intention to appeal

Mercedes have lodged their intention to appeal the decision of the stewards to dismiss the team's protest.

'We didn't want it to end in the steward's room'

Red Bull team principal Christian Horner speaking to BBC Radio 5 Live: "They have done an amazing job this year, showing passion and determination.

"Max got a little bit lucky with the safety car tonight but still had to come through with the strategy.

"We didn't want it to end in the steward's room. They have come to the right decision, we are grateful.

"Michael Masi wanted to let them race. That's what we have talked about for years. Nikki Lauda came up with the concept of 'let them race' and that's what they did.

"Max is a very worthy world champion and we are very proud of him."

'I dreamed of becoming world champion'

Sky Sports have just grabbed a very quick word with Max Verstappen.

Asked how relieved he is, the 2021 world champion says: "Very. It has been a very stressful day. [I'm going to] have a tiny drink."

Jennie Gow

BBC Radio 5 live pit-lane reporter

Max Verstappen is a deserved champion. The music rings out, the champagne will flow, they will miss their flights, they won't care, this is their [Red Bull's] moment and they are shining.

So, decision made. Right decision or wrong decision?

Hit the thumbs to tell us what you think - thumbs up for the correct decision to reject Mercedes' protest, thumbs down if you think it was the wrong decision.

'I suspect this hasn't ended here'

Andrew Benson

BBC Sport's chief F1 writer

I suspect this hasn't ended here. The second protest by Mercedes has been rejected, I don't think Mercedes are going to be happy about that.

Lots of people up and down the pitlane have got questions about how the FIA have handled this race.

I have spoken to people who think if it had not been a world championship decider it probably would have ended behind a safety car.

Were the rules followed correctly?

Was the way things were dealt with by FIA race director Michael Masi appropriate?

All these issues need to be discussed.

The creditability of the sport has been brought into question this weekend and I think a lot of people will have serious questions about what has happened.

Jennie Gow

BBC Radio 5 live pit-lane reporter

'We are the Champions' is the music ringing out from the Red Bull garage now but there is a real sense of bitter-sweetness.

'We are going to go and celebrate'

Red Bull team principal Christian Horner: "We are going to go and celebrate this championship now. Thank you very much."

Christian Horner goes over to Max Verstappen and tells him that he is now definitely the 2021 world champion and the two hug.

What a long and unusual wait for Verstappen to be able to finally celebrate his maiden world title.