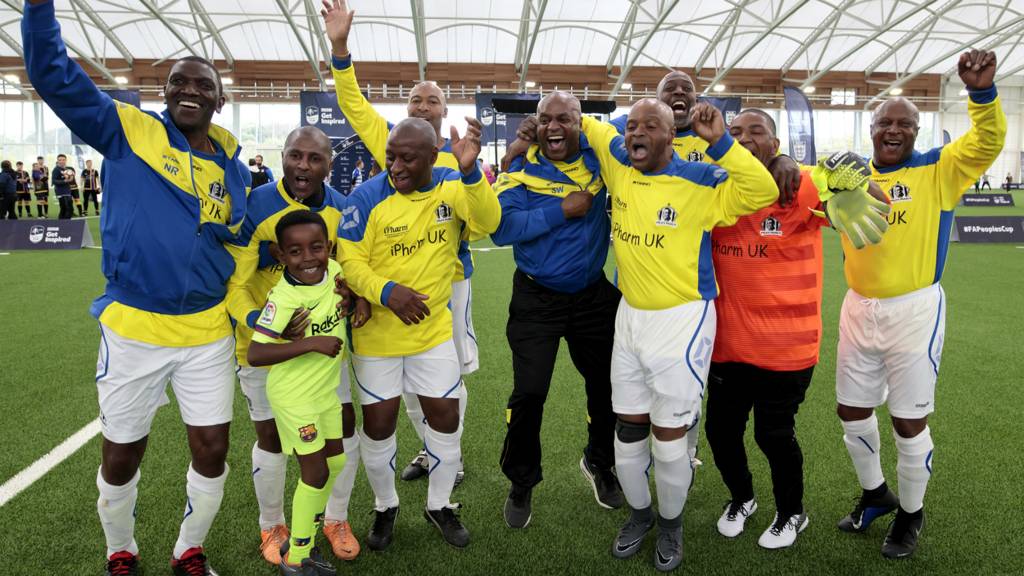 FA People's Cup finals: Day Two as-it-happened
Catch up with Saturday's action here and watch a special highlights programme about the finals and 2019 competition on the iPlayer.
2019 FA Cup People's Cup highlights

2019 FA People's Cup champions

FC United Manchester Whites (Disability League)

Swale Tigers (Disability Championship)

Reading FC Deaf United (Disability Premiership)

Pele's Pearls (Mixed Walking)

Balotteli-Tubbies (College Female)

Scorpionz Blue (Adult Male)

Hackney Jurassics (Female Vets)

Birmingham WFW Blues (Female Walking)

2019 FA People's Cup champions

Maidstone United (Disability Youth)

Team Best (Men's University)

Disco Trimmers (Men's Collage Futsal)

Plymouth Warriors (Disability Female)

Aston Sharks (Female University)

Who Are Ya (Adult Female)

White Horse (Men's Vets)

What a year it's been in the FA People's Cup!

We hope you've enjoyed the competition and will come back again next year. If you haven't entered before, then why not?

Keep an eye out for some exciting changes to the event for next year too - we're pulling together the finer details of that but we'll let you know as soon as we can.

Stay tuned! We'll leave you with a list of this year's champions...

Here's the goal that gave Birmingham WFW Blues victory in the Female Walking category!

Mike Murphy

BBC Get Inspired reporter at St George's Park

The Jurassics are back! They won this trophy back in 2017 too.

While the Hackney Jurassics - winners of the Female Vets competition - pick up their medals, here's a bit of their history.

This was filmed before last year's competition, where they went out in the group stages on the finals weekend.

Here's the moment the Lucky Seven's keeper smashes his penalty against the outside of the post, meaning Scorpionz Blue won the Adult Male crown.

Dramatic!

Scorpionz Blue, Hackney Jurassics and Birmingham WFW Blues will receive their winners medals very shortly.

Robbo in all her glory - surrounded by fans!

Birmingham's number 5, aka "Robbo", seems to be leading the victory chants on the pitch.

She wants the other two Birmingham teams in the group picture too but they're insisting on a champions alone one.

CHAMPAGNE MOMENT

Birmingham WFW Blues 1-0 Preston North End

Birmingham WFW Blues are the inaugural champions of the Female Walking category!

Post update

Birmingham WFW Blues 1-0 Preston North End

The Birmingham Blues have brought their supporters out in numbers. They think they are going on to win this!

GOAL

Birmingham WFW Blues 1-0 Preston North End

Birmingham take a shock lead against the run of play! It's a long-range effort from the number 2 and somehow and slips under the legs of the keeper.

It sets off chants of "Birmingham, Birmingham" on the sidelines.

Post update

Birmingham WFW Blues 0-0 Preston North End

There's nothing to separate the two teams here. Are we in for another penalty shootout?

Support for The Blues!

#FAPeoplesCup

GREAT SAVE!

Birmingham WFW Blues 0-0 Preston North End

It's a strong start from Preston here. The number 4 gets a yard on her defender but her shot is well saved by the Birmingham keeper, who gets a crucial hand on it.

KICK-OFF

Birmingham WFW Blues v Preston North End

We're off in the final match of the day. Birmingham WFW Blues and Preston North End are battling it out for the Female Walking title.

The Birmingham WFW Blues, who are actually wearing white tops, are in the same colour as their opponents Preston North End.

It means there will be a coin toss to see who wears bibs for this next final.

Here's the goal that gave Hackney Jurassics their second People's Cup title in three years!

They beat Endcliffe Jokers earlier on.