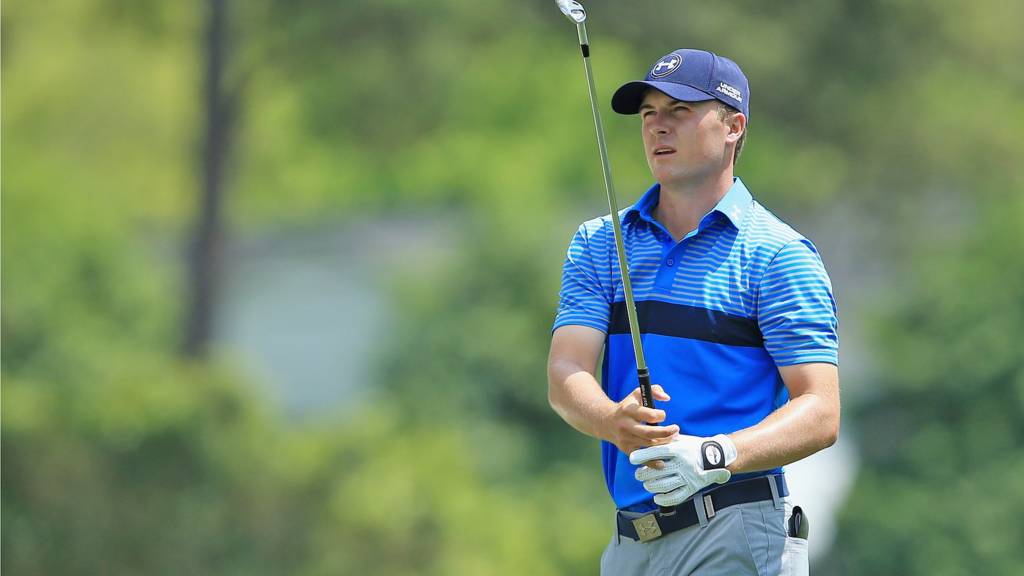 Right, that's your lot for tonight, see you on the morrow.

Round one leaderboard

America's Jordan Spieth leads by three

-8 Spieth (US); -5 Hoffman (US), Rose (Eng), Els (SA), Day (Aus); -4 Henley (US), Garcia (Spa);-3 Haas (US), Simpson (US), Casey (Eng), Palmer (US)

Selected others: -2 Mickelson (US); -1 Willett (Eng), T Watson (US), Gallacher (Sco), McIlroy (NI), B Watson (US), G MCDowell (NI); Level Harrington (Ire) +1 Poulter (Eng), Westwood (Eng), Woods (US); +2 Lyle (Sco), Donaldson (Wal); +3 Donald (Eng), Woosnam (Wal)

Well, a fascinating opening day at Augusta, with plenty of low scoring in favourable conditions and a few stunning performances. None more so than 21-year-old American Jordan Spieth, who continued his recent good form with an eight-under 64, just failing to match the course record by one shot.

Fowler in with a one-over 73, Garcia makes a fine save at the last for a 68. Day with a six-footer for par... nails it for a 67 and a tie for second, with England's Justin Rose, American Charley Hoffman and South Africa's Ernie Els. And that's that...

Garcia with his third at 18 and he stiffs it to within a few feet from the bunker. Tiger being interviewed on the box, he looks pretty pleased with his work today. As he should, that was a proper grafter's round of golf.

Garcia leaps out of the frying pan and into the fire, more sand for the Spaniard down the last. Fowler safely on in two. Day, like Garcia, playing from Lyle's bunker and, like Garcia, he shows just how good that shot was from Lyle back in 1988 - good enough, but over the back.

Welshman Jamie Donaldson leaves his par putt right at 18 and finishes with a two-over 74. Woods does make his par putt disappear for a 73. Much work to do tomorrow, but he's given himself a good chance of making the weekend. Jimmy Walker matches his score, quite a few good judges were tipping him this week.

Woods putting from miles out at 18 and that's a fine effort from there, he should pop in for par and a pretty decent round of 73. Some wayward play but his short game was demonically good at times.

A rousing welcome for Woods at the last, although his approach was not much cop. Garcia tugs his tee shot left at 18, Day's done the same and found sand. Not just any sand, but Lyle's Bunker.

England's Luke Donald is two over through 17, I'll let you know how he finishes up. Day's sand escape at 17 is pretty ordinary. That's a fine birdie attempt by Garcia, he'll stay -4. Dubuisson of France is in with a two-over 74, I think he made a rare birdie at the last. Day bogeys 17, he drops into a four-way tie for second and leaves Spieth three shots clear.

Masters leader Jordan Spieth talking to Sky Sports: "That was very special. The greens were softer and a little slower than they will be the rest of the week which allowed me to fire shots into the greens,. Last year I was tentative but this year I was a little more ready to fire at the pins, knowing I had receptive greens.

"The 15th is one of the easiest holes and [at eight under] I was thinking I could post a nine under round. That would have been incredible and that is what I was thinking coming down the stretch.

"I didn't do that. I had a bit of a mud ball and was a bit between clubs [for my second shot]. It was my only mistake but nice to make a birdie on 18."

Day looking for six straight birdies but he's pushed his drive at 17. The Aussie having to threadle it through the trees - he does so, but finds sand. Woods at 18 and that's a corker, fading it round the corner. Garcia safely on in two at 17, as is Fowler.

Woods for birdie at 17, a slippery eel of a putt down the slope... started left and stayed left but should make par. Playing partner Jimmy Walker walks away with a bogey, he's one over. Donaldson of Wales muffs his birdie attempt, stays one over. Woods also one over heading down the last.

Graeme McDowell, speaking to Sky Sports: "I hung in there well despite not driving the ball well. To shoot one under is a pleasing start but there's a bit of work to do tomorrow. The greens are more receptive than I've ever seen so it's difficult to adjust when in your mind you're used to them being faster. They are fast but not scary fast. There's certainly scope for them to be dried out."

Woods with his second at 17, from the middle of the fairway it might surprise you to hear. Right into the middle of the green. Garcia makes par back at 16, stays -4 and four off the lead.

What know you of Jordan Spieth? He's 21, from Dallas and won the US Junior Amateur in 2009 and 2011, joining Tiger Woods as its only multiple winners. He has two wins on the PGA Tour. Jason Day makes it five straight birdies after a magnificent tee shot at the par-three 16th, the Aussie is six under and two off the lead.

Spieth cards 64, leads on -8

Billy Horschel is in with a 70, he's one of 30 men under par so far. Spieth has made his long-range birdie putt disappear! That's a 64 and he has the clubhouse lead, by three shots. The last man to make nine birdies in a round at Augusta was Tiger in 2011.

Garcia has got eight feet for birdie at 15, slightly left to right... misses by a whisker, he stays four under. Fowler makes a par to stay +1.

Spieth from the middle of the fairway at 18 and that's a fine approach, he's got a birdie chance for a 64. Garcia pops his third at 15 to within birdie range. Kuchar bogeys the last for a round of 72. Daybirdies 15 to get to -5...

Woods with seven iron at 16... good enough, makeable birdie attempt from there. Day's third at 15 is with a wedge and that's a peach, he could make birdie from there. Woods for a two at 16, from 25 feet... a few revolutions short, stays +1.

Garcia into the 15th... he's overcooked that by miles, bit of adrenalin kicking in down the stretch. The 18th is the hardest hole on the course today, playing 4.51. McDowell edges that average a little bit higher with a bogey, the Northern Irishman is in with a 71.

Leaderboard

Jordan Spieth leads by two shots

-7 Spieth (US) after 17 -5 Hoffman (US), Rose (Eng), Els (SA) -4 Henley (US), Day (Aus) 14, Garcia (Spa) 14-3 Haas (US), Simpson (US), Casey (Eng), Palmer (US)

Selected others: -2 Mickelson (US), McDowell (NI) 17, -1 Willett (Eng), T Watson (US), Gallacher (Sco), McIlroy (NI), B Watson (US) Level Harrington (Ire) +1 Poulter (Eng), Westwood (Eng) +1 Woods (US) 15, Donaldson (Wal) 15

McDowell clubbing up the hill at 18. That choppy swing of his and he's overdone it, racing it through the back. Spieth stays -7 after 17, that cack-handed grip of his works a treat.

Garcia creams his drive down the middle at 15, never been much wrong with his long game. Spieth has a left-to-righter for birdie at 17 and that's a beauty, he'll tap in for par to stay -7. My apologies, this tap-in for Woods at 15 is for par... it's a slippery one but it's straight in. Tiger stays +1.

Garcia and Day are inseparable, Day follows in his playing partner for a birdie of his own. Woods very nearly finds the drink with his second at 15 but his ball digs in on the bank. Woods's third shot is decent, if a little bit firm, but he should make birdie from there.

Garcia in a spot of bother at 14, chipping on... NAILED IT! If that hadn't gone in, it would have ended up in South Carolina. The Spaniard is now four under, three off the lead.

Jay Townsend

Former American professional golfer on BBC Radio 5 live Sports Extra

"I don't think any of us thought Tiger would chip and putt the way he has today. He had a perfect opportunity to blade it through the 11th and into the water but he played an excellent shot."

The scoring Masters

Couples cannot keep run up

Jack Nicklaus may lead the way with six Masters wins, but who has this course nailed down to a tee?

If we take players to have completed 50 rounds or more before today's start, Tiger Woods delivers the lowest average score of 70.86 strokes. Next comes 'Lefty' Phil Mickelson on 71.21, with Fred Couples third with 71.91.

Couples has not had a great day, though, and will bump that average up somewhat - he is five over through 16.

The average score around Augusta - based on a par 72 - is 74.17, so the marks above are all the more admirable.

Spieth takes aim at 17 and that's a good swing, he's given his ball a right old rollocking. Harrington in with a 72, could have been better, could have been worse, he'll take it. Fowler not having a great day but he hits the pin at 14, although he might have been better off missing it.

Woods on tee at 15 and he's clattered it into the gallery. "Tiger, you dumbass," says Woods, as scattered patrons scrabble around in the pine straw. Probably would have been better off shouting 'fore!' instead...

Spieth with a good save at 16, he stays -7 and two clear of the field. Three straight birds for Stenson between 13 and 15, the Swede looks to be shaking off that fever of his as his round progresses, he's now +1.

Copyright: Andrew Redington

We have lots of pictures from day one of the Masters in a special gallery on our Facebook page.

Carter's five things you never knew about Augusta

5. What's in a name?

Iain Carter

BBC golf correspondent on Radio 5 live

Bobby Jones thought naming the event "The Masters" was too presumptuous but relented in 1939 when the tournament assumed its current identity.

Day & Garcia birdie 13, are -3

Day curls his eagle putt close at 13 and taps in for birdie and -3. Garcia also goes close with his eagle attempt, also moves to -3.

Woods aiming way left with his irons today, every shot a cut, and he's not happy with his approach at 14. Playing partner Jamie Donaldson of Wales is on the same score, +1. Spieth with a long-ranger for birdie at 16... work to do to make par...

VOTE RESULT

How many more majors will Tiger Woods win?

Our vote is closed and you, the BBC Sport audience, seem to think Tiger Woods is done for major championships.

A whopping 69.5% of you say he will not add to the 14 he has, 13% of you think he has one more in him.

Incredibly, 5.3% of you feel Woods can summon two more big titles and 12.1% believe he will win more than two majors.

Remember Jack Nicklaus stands four ahead of Tiger on 18. Thanks for your votes.

Day, Garcia and Fowler all safely on in two at the par-five 13th. Spieth at 16, safely on, nothing more than that. Kuchar has nicked another shot back at 15, he's two under through 16.

Ernie Els, speaking to Sky Sports: "I didn't get off to a great start, my tee shot was way off in the trees and I had to scramble for four. My putting felt unbelievable today and has felt good for a couple of weeks. I am putting well, I felt patient and I felt in control, which is a nice feeling to have.

"Experience always helps, being patient helps, like I was today, waiting for the rounds to develop. But the course can bite you. I have had great experiences here and some bad ones but today was a great one."

Jason Day going with iron at 13, not sure why. He finds the fairway but is a long way back. Garcia has marmalised his tee shot with a three wood, shot gone for Spieth up at 15, he drops to -7. Another up and down from Woods at 13, his short game looks in pristine condition.

Two-time winner Tom Watson, 65, talking to Sky Sports: "At my age I was just hoping to break 80. It is a struggle when I am hitting three woods and three hybrids from back there and your playing partner is hitting an eight iron."

McDowell birdies 16, is -2

Spieth's chip from the bottom of the slope at 15 comes up short, he'll do well to make par from there. He certainly will now, he's left his birdie putt about 20 feet short. McDowell of Northern Ireland gets to two under courtesy of birdie at 16.

Jay Townsend

Former American professional golfer on BBC Radio 5 live

"My prediction is 149. That is the number I predict for Tiger's first two rounds. Five over and outside the cut line."

Garcia putting from off the green at 12 and he's raced it miles by. Victor Dubuisson of France didn't make the cut on his Masters debut in 2014 and he's made an iffy start this year, he's three over after 13.

Jay Townsend

Former American professional golfer on BBC Radio 5 live Sports Extra

"Spieth has got a tough up and down on 15 if he's to get to nine under but nobody else has shot better than 67 today. It's a phenomenal round so far."

Joint clubhouse leader Justin Rose, speaking to BBC Radio 5 live: "It was a nice start. I was in a good pairing, there was a nice buzz and that worked well for me. The second round is key, as are all rounds, but it doesn't have to be about leading from the front this week, just good solid golf."

GET INVOLVED

Get involved via #bbcgolf

All day we have been asking you to pick your fantasy fourball. Which sports stars would you love to play golf with? Send us a picture and we will see what it looks like.

Haroun (second left) has tweeted us saying he'd love a game with Jose Mourinho, Thierry Henry and Sonny Bill Williams.

Tweet us your picture and picks to #bbcgolf.

Sweden's Henrik Stenson was feeling a little bit dickie heading into this week and he got off to a pretty ordinary start. But he's birdied 13 and 14 to drag himself back to +2. Big miscalculation from Spieth at 15, he's carried the green and will struggle to make birdie from there.

Els tied for clubhouse lead on -5

Els has a 10-footer for par at 18... leaves it just right and that's a round of 67 and a tie for the lead on five under. Shot gone for Day at 11, he's back to -1.

Carter's five things you never knew about Augusta

3. It wasn't always wealthy

The club struggled for funding in its early days to the extent that they couldn't pay local suppliers for items like toilet rolls. Nowadays it is one of the wealthiest golfing entities in the world.

How do I get a green jacket Bubba?

McIlroy needs Bubba's par five prowess

In 25 rounds at Augusta, Bubba Watson is 53 under on the par five holes - numbers two, eight, 13 and 15.

Rory McIlroy, in his 23 rounds, is just 23 under.

Bubba Watson has two green jackets. Rory McIlroy has none, though he does own a few dodgy green shirts.

Tiger almost holes his third from the drop-zone at 12, he should make bogey. Fine save by Palmer at 16, he stays four under. Els at 18, firing in from 167 yards, comes up short. Spieth on tee at 15, going with the big stick, mashes one down the middle.

GET INVOLVED

Get involved via #bbcgolf

Johanna Mackin: Koepka wins sharpest sartorial offering of the day for his vintage Hilfiger-esque ensemble.

He may look good Johanna but he's melted down slightly. From three under on eight to two over by 14.

Tweet us your views on today's play to #bbcgolf.

Spieth birdies 14, leads on -8

Ryan Palmer has birdied 15 to get to -4 and three off the lead. Woods's lid has been rattling for a few holes and now it's blown off at the 12th, where he's found Rae's Creek with an eight iron. Spieth pops in for birdie at 14, he's now eight under. For the record, the course record is 63, set by Nick Price of Zimbabwe in 1986 and matched by Greg Norman of Australia in 1996. No man has ever carded a 62 in a major championship.

England's Paul Casey, who finished with a 69, speaking to Sky Sports: "Any score under 70 would be a good one. It was wonderful to be out there making some putts and I could not be happier.

"I am very excited. I have a different outlook on this, wanting to embrace the week and enjoy it. No matter how I play it is not the biggest thing in my life. There were a couple of interesting tee shots out there but I did not feel bothered about them, I was very much relaxed and played with what I was given."

Day also saves par at 10 to stay -2. Spieth fizzes one onto the short stuff from behind a tree at 14... what a shot, he's got a four-footer for birdie. Woods is making plenty of saves today, he makes another clutch putt at 11 to stay +1. Ernie also saves par at 17, stays -6 and one off the lead.

Post update

Ernie's green envy

Ernie Els does not have a green jacket in his wardrobe. Between 2000 and 2004 he finished in the top 10 every year at Augusta but since then, tied for 13th in 2013 is his best mark.

He has two Open Championships to his name and two US Open titles. Success aplenty but the 45-year-old has not won since his Open success in 2012.

Here's three-time major winner Padraig Harrington putting for birdie at 15 and in it goes, he's now -2. Jason Day having to improvise at 10, putting away from the hole and through the fringe and coming up well short. Woods with a peach of a chip at 11, no sign of those yips so far today. Garcia chips in for par at 10, stays -2.

Ernie threads his second through the pine trees at 17 but I'm not entirely sure where that ended up. He's got a fried egg in the bunker, good luck getting up and down from there. Spieth pushes his tee shot at 14, just as he did on 13, but he looks like he's got away with it again. The golfing gods are with him. So far.

Master and the apprentice

Ernie Els, aged 45, trails 21-year-old Jordan Spieth by a shot. Here's a fun fact about the pair from the European Tour on Twitter: When Ernie played his 1st Masters, Jordan Spieth was 254 days old.

Spieth birdies 13, leads on -7

Garcia with his second at 10 and he's hooked it into the pine straw. Spieth with a feather for birdie at 13... in it goes, we have a new outright leader...

Charley Hoffman, speaking on Sky Sports: "It was nice to get off early, it was not too warm and perfect conditions for me. I was able to take advantage. It was a nice finish and I am happy to be done."

Spieth with a doozy of a third at the 13th, he should make birdie from there for the outright lead. Woods at 11 and he's mangled one down the middle. There might still be a few things wrong with Woods's game, but a bad back wouldn't appear to be one of them.

After your Ken Brown fix? Here he is relaxing between commentary duties. That is a bottle of Masters water he's holding but - in between sips - he has, as always, got his thoughts on the course: "The early conditions were absolutely perfect. First out was Charley Hoffman and so far he has the lowest score.

"There is not a breath of wind. There was rain yesterday so the greens are softer. Conditions could not be better. That would favour players with less experience as the conditions are very manageable."

Rory McIlroy has been speaking to BBC Sport. On being four shots of the lead, the world number one said: "It really doesn't matter right now. I'm trying to be as patient as possible.

"It was a solid start. Anything under par today is a decent score. I just chipped away at it and got a couple of birdies on the back nine.

"I was nervous and excited teeing off. I have been wanting to get going for a while."

Spieth looks like he's laying up at 13 and indeed he does. Woods with a four-footer for par at 10, rattles it in to stay +1. Ernie takes aim at the 400-yard 17th and he's tugged that left to leave himself a spot of scrambling.

Post update

Can Spieth be stopped?

Not a bad three weeks for Spieth - victory at the Valspar, second at the Texas Open on the last weekend in March and the same position a week later at the Houston Open.

Kuchar chips in for eagle at 13, moves to -1. Ryan Palmer remains three off the lead after a par at 14. Here's Ernie on the 16th, putting from 15 feet... too much borrow, stays -6 and tied for the lead.

Garcia & day birdie 10, are -2

Woods is slap-bang middle of the 10th, ball slightly above his feet, and he's leaked it into the bunker out right. Spieth with driver at 13 and he's sprayed it right... great break, ricochet back onto the fairway. Garcia drains a birdie putt at nine, he's out in two-under 34. Jason Day joins him with a birdie of his own...

Carter's five things you never knew about Augusta

4. Paying for the course was a struggle

Iain Carter

BBC golf correspondent on Radio 5 live

The club struggled to pay course designer Dr Alister McKenzie who died shortly before the first Masters (or the Augusta National Invitation Tournament as it was called) in 1934.

Els on tee at the par-three 16th, right at the flag, another birdie opportunity uphill. Spieth on 12, to tie for the lead... walks straight after it, thinks he's missed it but the ball decides to drop in.

Padraig Harrington has made birdie at 13 to get back in the red, signs that the Irishman is rediscovering something like his vintage form of yesteryear. Woods with three wood off the tee at 10, draws it down the slope, nicely done.

Here's Ernie putting for eagle at 15, for the lead... squeezes it in with that short blade he's using again, the four-time major winner looks it very good nick indeed. Great par putt from Woods at nine, misses by a couple of inches, he's out in 37.

Par-3 goes in fun direction

Augusta's local paper

Wayne Staats of the Augusta Chronicle writes: "As Niall Horan got whisked away on a golf cart from the Par-3 Course, a teenage girl sobbed. 'I love him so much,' the 13-year-old cried to her father. 'I'm never coming here again!'"

Copyright: Augusta Chronicle

It seems Rory's One Direction hook up went down a storm at Augusta.

"Sometimes it wasn't clear who was more popular with autograph-seekers, the top-ranked golfer or the music star," adds Staats.

Jason Day, one of the bookie's favourites, very nearly makes eagle from 100-odd feet on nine. The Aussie is one under. Woods playing from the pine straw and he's clipped it onto the ninth green, well enough. Spieth for birdie at 11, down the hill but he doesn't hit it.

Ernie Els has got a shortish putt at 15 to go six under and into the outright lead. What an approach that was. Woods's frustration beginning to get the better of him - he sprays another wood at nine before swinging his club violently in the other direction. Hit it fat, about 100 yards, like watching Da Vinci doodling with crayons.

Northern Ireland's Graeme McDowell misses the green with his tee shot at 12, he's level thus far. A lot of people backing Rickie Fowler this week but he's got off to an iffy start, he's +1 through seven. England's Luke Donald out in 38, it's going to be tough winning his first major from there.

BBC Golf correspondent Iain Carter has all the bases covered at Augusta, you can just see that Georgian sunshine peeping through.

Koepka has unravelled at 11, he makes a triple to drop back to +1. Spieth with a peach into the guts of the 11th green, he's got another very makeable birdie putt for the outright lead. Woods sprays one off the tee at nine, club falls out the back of the swing, he's got some patching up to do. Again...

Woods's third at eight and it's decent, leaving himself a six-footer for birdie. Sergio Garcia has made birdie at seven to get into the red, Woods makes that putt to get back to level par.

The Spanish great and two-time winner at Augusta would have been 58 today.

Spieth joint leader on -5

Brooks Koepka finds drink at 11, Wales' Jamie Donaldson is experiencing a tough start to his third Masters, he's +3 through seven. Another birdie for Spieth at 10, he joins the leaders on five under par.

Carter's five things you never knew about Augusta

2. Tight purse strings keep it private

Iain Carter

BBC golf correspondent on Radio 5 live

Plans for a grand clubhouse and housing around the course needed to be shelved because of the economic depression of the late 1920's and 30's. Otherwise it would be hard to imagine the ultra private and exclusive establishment that materialised.

Spieth birdies nine, is -4

Many thanks Luke, this is Ben Dirs. I join you as Jordan Spieth has followed birdie at eight with another at nine to get to four under and one off the lead. Woods at eight and he's got a free drop away from the grandstand. I'll let you know...

Post update

Woods finds extra yardage

There are claps for Tiger Woods but don't ask why as I have no idea. On the eighth fairway he lamps one with a fairway wood. A ping from the club. He clears the green and it's under the feet of a spectator who seems in no rush to move. A chip back down, Tiger will need another good up and down to make birdie on the par five and get back to level par.

Our man Ben Dirs will talk you through it, over to you Ben...

Brooks Koepka gives one back on the par four 10th and will now be two under. He is a debutant remember and well placed.

The men with a hot touch at the moment are undoubtedly Jordan Spieth and Ernie Els. Spieth works one into the 10th green - it's a par four - lands on the right fringe but takes a lovely little bounce and that will be another birdie chance.

Els is on 14, also a par four, lofts it... birdie chance. Around 15 feet.

Post update

McIlroy ends day one

Round over. The early glares out of the way. Rory McIlroy ends day one a stroke under par. His long uphill putt on 18 affords a roll in, Phil Mickelson has the same finish but will sleep tonight a shot better off that the favourite.

Ryan Moore completes the trio by almost holing out from the bunker on 18 - lips out - tap in, two over.

The Big Easy - Ernie Els - has never won here. He told us Rory McIlroy will do so one day when quizzed in midweek.

Early doors it looks more likely the South African will as he birdies 13. He nearly eagled the par five but pushed it just slightly right. That is four under.

Co-leader Charley Hoffman, speaking on Sky Sports: "It was nice to get off early, it was not too warm and perfect conditions for me. I was able to take advantage. It was a nice finish and I am happy to be done."

Post update

Mickelson and Rory on 18

Those geeky types like us at BBC Sport will know what the 18th green at Augusta looks like, a split level number. Rory McIlroy and Phil Mickelson don't give their approaches enough juice and will have to putt uphill onto the higher level. Birdie chances slim to none.

Tiger Woods, now can he follow up on that stunner of an approach to seven. It's a putt of 25 feet or so and it looks on line... short. He will stay one over.

No sign of Jordan Spieth slowing down as he hits the turn. The man in red-hot form has 25-20 feet on nine... he has putter's walk. He knows it's in. Four under. Rory about to play on 18.

Different days for the Willett brothers

"Brother Danny Willett shot under par in 1st round of his Masters debut. I swapped some switches. Who's living the dream?" - reads a tweet from the debutant's brother.

Danny Willett, speaking on Sky Sports: "If someone had said I would have finished on 71 before the start of the day I would have bit their hand off. It has been fantastic, the only thing that was different is I would have thought the drive in at 5.45am would have been easy but there were huge crowds. The crowds have been awesome, it gives you goosebumps."

Oh yes... Tiger rolls back the years. Is it 1997 again? Could this moment of magic ignite this round?

Woods is behind a tree, left of the fairway on seven with barely a shot but he digs down on one and the ball basically disappears. No one knows what is happening other than him. Time for the moment of truth as it drops from on high... cure roars and whoops.

It finds the heart of the green. Magnificent.

One of his playing partners Jimmy Walker is inspired and follows by drilling one to within four feet.

I wonder what Rory McIlroy would have taken at sunrise?

Red numbers undoubtedly, but one under? He'd probably have liked more. Finds the middle of the fairway on 18. Mickelson is also on the nice grass.

Splash. Who? Shane Lowry.

The Irishman is in trouble on 11. Pulled it on the par four as he went big for the green.

Paul Casey ends with bogey and a round of 69 - three under. Jordan Spieth sends an eagle putt past and converts for birdie and three under overall through eight. What now for Woods? Yes. Solid up and down and he makes par on six.

Sergio Garcia is following Tiger up the sixth and will take nine Iron... starts it right into the par three green. A monster... four feet away from the pin but wait, trickle, trickle, it rolls back down a slope and leaves a chip.

Margins. Small but critical at Augusta.

A break here, a bunker there

Harrington gives one back

Copyright: PAdraig Harrington

Three-time major winner Padraig Harrington has been busy practicing, tweeting and scribbling this week.

"Busiest yardage book of the year. Still adding notes every time I play Augusta. No course is as complicated," tweeted the 43-year-old.

Harrington won the Honda Classic last month, his first PGA Tour win in nearly seven years.

He pushes a putt past on 10 though and goes back to level par.

Tiger shrugs in dismay with his ball in the air on the par three sixth. It's a first show of frustration from the 14-time major winner.

Where will it drop? Where will it drop? We wait eagerly. Right of the green it's a reckless one but if he chips well he can haul a par here.

Remember, the rumours were Tiger had the chipping yips...

Post update

Spieth good, Tiger bad

Jordan Spieth, a par five, a chance to pick up a shot. Here he is in the middle of the fairway and wallop.

It's green, it's probably 20 feet from the hole, it's a chance to move on from that mark of two under. Stand by for a Tiger mishap...

Paul Casey is going to have some nightmares tonight if he's not careful. The approach to 18 I mentioned leaves a nasty uphill chip, that drops short and he putts from the fringe. The putt loops right to left away from the hole and this is now tricky for bogey. A double looms...

England's Ian Poulter, who finished +1 despite taking an early lead at -2, has revealed his frustration with his short game today. In a tweet that starts with an expletive, he wrote: "I only missed 5 greens, 1 up and down. Then 6 over for the other 4 greens missed."

Return of Paul Casey

England's Casey is -4 through 17

John Murray

BBC Radio 5 live commentator

"Paul Casey is back in the top-40 in the world and it is a welcome upturn in form. It is great to see his confidence back."

Post update

Casey in trouble

If I had a pound for every time I've read positive stuff about Brooks Koepka I'd have at least a fiver in my pocket.

The 24-year-old can absolutely smash the casing off a ball and he has an eagle putt on eight. It's long, make sits way up to the hole, the line is off but that will do him for a birdie and three under.

Now then, Paul Casey is wearing a cap brighter than the sun. His ball on 18 practically orbits the sun as it whistles over the green and beyond. A nasty - no very nasty - chip awaits.

A ping from Webb Simpson from the thing rough on 18, he does the exact same thing as Bill Hass, greenside bunker. The Americans are following one another up the final drag. What a sweet noise there was on that strike.

Don't undo all your good work now Webb... three under for the day would be a great start.

No birdie joy for Lefty and Rory on 16, both will have short putts for par. Bill Haas on 18 dribbles one past and will end on bogey, two off the lead.

Here is Tiger fifth hole, a left to right swinger from 25 feet... nope. A nice read but not the pace needed. Par.

He is one over with five done, would he have taken that?

Post update

England's Justin Rose and America's Charley Hoffman share the clubhouse lead at -5

-5 Hoffman (US), Rose (Eng) -4 Henley (US), Casey (Eng) 16, Palmer (US) 8 -3 , Els (SA) 10, Mickelson (US) 15 Haas (US), Simpson (US) 16, Matsuyama (Jap) 16 -2 Streelman (US), Reed (US), D Johnson (US), Schwartzel (SA) 15, Cabrera (Arg) 9, Koepka (US) 7, Spieth (US) 6, Fowler (US) 3.

Selected others: -1 Willett (Eng), T Watson (US), Gallacher (Sco), Harrington (Ire) 8, Garcia (Spa) 3, B Watson (US), McIlroy (NI) 15.

Rickie Fowler is never short of colour and his start has been bright. Dulled a little here though as he tickles a putt on the fourth hole - not enough gas. Bogey.

Tiger Woods, white shirt, grey slacks, white cap. Centre of the fifth fairway he rockets one and gives it the full gaze - solid into the heart of the green. An outside birdie chance.

Rory McIlroy is on the par three 16th tee, picturesque over water. This is the famous green which slopes down to the hole on the final day and McIlroy plants his tee shot on the dance floor. It will roll down the slope for a tap in will it? No. Clings to the brow of the slope and he will now have a long putt across the slope. Margins. Very fine.

Bill Haas is four under par coming up 18, he sets one up from the left side of the fairway... wooosh. That swing noise is wonderful but is the shot? Not really, he pushed it right into a greenside bunker. Work to do for the American if he is to stay one off the lead.

Carter's five things you never knew about Augusta

1. An exclusive club

Iain Carter

BBC golf correspondent on Radio 5 live

When Bobby Jones and Clifford Roberts first conceived the idea of Augusta National they envisaged a membership of around 1800 people with an entry fee of $350 and annual subs of $60. Actual membership levels are thought to be around 300.

Post update

Rory ups his game

Now then, McIlroy has 21 feet for birdie on 15, surely not... YES! That ball rolls around the inside of the cup. Birdie, one under. Bogey for Woods on four - one over for day one.

What then for Jordan Spieth - 21 years of age, two PGA Tour wins already, his most recent less than a month ago.

He tonks one into trees on seven but produces a stunning second to land 11 feet from the yellow flag. Delightful.

Noh Seung-yul is another Masters debutant and his belly will probably be doing flips on Amen Corner. A par three, over water, the crowd watching on... plants it 20 feet from the pin. Wipe your brow son, a job well done.

Tiger will make bogey at best on four, his effort from the fringe of the green goes past. Jordan Spieth is living up to his pre-tournament hype, two under through six.

From grimaces to smiles

Tiger Woods

"I worked my ass off. That's the easiest way to kind of describe it. I worked hard."

Tiger Woods did not hold back on describing his journey to the Masters after leaving us all in suspense as to whether he would turn out.

The 14-time major winner took an indefinite break from golf to get his game tournament ready, now he says that time is "finally" here.

"People would never understand how much work I put into it to come back and do this again, it was sun up to sun down," he said.

Woods has just chipped from the sand over the flag t the fringe of the green and will have a tester for par on four - seven yards.

Jay Townsend

Former American professional golfer on BBC Radio 5 live

"My prediction is 149. That is the number I predict for Tiger's first two rounds. Five over and outside the cut line."

Tiger watch - the eyes in the galleries focus on his frame as he lines up on the par-three fourth.

The hole named Flowering Crab Apple measures 240 yards but there are no flowers growing where Tiger's going - sand.

Front-right bunker gobbles his ball. The yo-yo start continues. He started bogey, birdie, par, needs an eagle and maybe a double bogey for a full house. This hole could be problematic now.

Post update

Rickie looking slick

How about a birdie-birdie start? Is it one of the outsiders feeding off adrenaline? Nope - Rickie Fowler.

Tied for fifth last year, this young man has major-winner written all over him (not literally).

Angel Cabrera makes the turn two under - a former champion chalking up some early red numbers.

Post update

Justin's great start

The defending champion Bubba Watson ends with bogey to conclude one under for the day. No major damage but a blip to finish.

What about the US Open champion Martin Kaymer? He destroyed the field to land that title in 2014 but he can only par the 13th - a par five - to stay +3.

You could say Tiger Woods has had a topsy-turvy start - bogey-birdie. The chaos continues.

A monster drive on the par four third leaves him with a chip from 24 yards and he chunks it, a clink and a clank, 21 feet past the hole. Still a birdie putt. It'll probably drop such is his volatile start.

He doesn't, taps in for par and Rose ends with par - five under for the day, joint leader.

Thanks Ben, you hand to me as Justin Rose lines up for one of the key moments of day one so far. He has 21 feet for birdie on the last hole to take the outright Masters lead...

Frenchman Victor Dubuisson has picked up a shot at the par-four third, he's in the red. Righto, I'm taking a break, here's Luke Reddy for a bit...

Andrew Magee

American PGA Tour winner on BBC Radio 5 live

"It is all about the weather and the conditions mean scoring is easier today. The greens are still full of grass, they are not that light brown colour that they will be by Saturday and so there are birdies coming out of the trees."

Poulter & Westwood card 73s

English duo Ian Poulter and Lee Westwood are in with 73s - not the starts they would have wanted, but not wrecking rounds either. Woods has almost found the green with a three wood off the tee at the par-four third. Whatever his recent form, he won't be leaving anything out on this course.

McIlroy birdies 13, Woods birdies two

Rose has made par putts of eight and nine feet on 16 and 17 to stay tied for the lead, that's the stuff of a Masters champion. Woods drains a four-footer at the par-five second to get back level. McIloy made that birdie putt on 13, is back level, Mickelson walks away with a scrambling par to stay two under.

GET INVOLVED

Get involved via #bbcgolf

Who would you love to play an 18-hole fourball with? Why not tweet us your picture and your choices and we will knock up one of these.

Paul Garnham tweeted us his image and wants to play with Pete Sampras, Colin Montgomerie and Michael Jordan. A great three.

"I'd enjoy going 'Monty Monty Monty' if things went wrong," tweets Paul.

Tweet #bbcgolf.

Mickelson with a lovely pitch from the drop-zone, he should make par despite going swimming. McIlroy putting for eagle from somewhere over in Alabama... that's a beauty, should pop in for birdie.

England's Danny Willett reflect on his Masters debut

The 28-year-old from Sheffield was in the clubhouse on -1 after a round that included an eagle putt on the 13th. He tweeted: Nice first day!! Some lovely golf out there and a bit up n down on the greens!! Nothing better than a cheeky 60 footer!! Boom!!

Mickelson's second at 13... splash, swimming with the bream in Rae's Creek. McIlroy, feet well above his feet... safely on. US Ryder Cupper Patrick Reed is in with a two-under 70, as is fellow American Kevin Streelman.

Latest leaderboard

England's Justin Rose ties for the lead at -5 with clubhouse leader Charley Hoffman

-5 Hoffman (US), Rose (Eng) after 15-4 Henley (US), Casey (Eng) 13 -3 Haas (US) 14, Matsuyama (Jap) 13 -2 Streelman (US) 17, Reed (US) 17, B Watson (US) 15, D Johnson (US) 14, Simpson (US) 12, Mickelson (US) 12, Snedeker (US) 10, Palmer (US) 4, Kuchar (US) 2,

Selected others:-1 Willett (Eng), T Watson (US), Gallacher (Sco), Scott (Aus) 14, McDowell (NI) 3, Spieth (US) 2Level Harrington (Ire) 5+1 McIlroy (NI) 12 , Westwood (Eng) 16, Lyle (Sco) , Donaldson (Wal) 1 , Donald (Eng) 1, Woods (US) 1 +2 Clarke (NI), Poulter (Eng) 17

Full leader board (official website)

Schwartzel birdies 13, is -3

Stephen Gallacher of Scotland is in with a very creditable 71, Schwartzel of South Africa bends in a birdie at 13 to get back to -3. Rickie Fowler is in the last group out and he's birdied the first, lots of people fancy him this week.

Mickelson bombs one down the middle at 13, McIlroy flirts with the trees. Two-time champion Jose Maria Olazabal is in with an ugly 79, not quite as ugly as 2003 champion Mike Weir's 82. Defending champion Bubba Watson is two under through 16...

GET INVOLVED

Get involved - text 81111 (UK users only)

Who would be your dream golf fourball?

Ali in Edinburgh texts: Me, a duck (for when I inevitably hit the water), former Eastenders star Todd Carty, and Germaine Greer to rightly chastise Augusta (and other courses!) on taking so long to accept female members.

Tweet us on #bbcgolf or text 81111.

Here's Woosie, with his second at 11. Best I've seen yet by some distance, not afraid of the drink. The 1991 winner from Wales is level. Woods walked away from the opening hole with a bogey after three-putting from 43 feet.

McIlroy's birdie attempt at 13 curls too soon and he stays +1. Mickelson rams in his par putt, stays -2. I hear Tiger has a five-footer for par at the first...

Drinks needed in April sun

An Augusta bevy?

BBC Sport's Ian Singleton at Augusta: "At the moment Augusta is sweltering. The course is packed with spectators in shorts sipping beer or soft drinks from their Masters 2015 plastic cups. These cups are clearly highly collectable with many carrying a stack of half a dozen empty ones to take home with them. The cost of a drink? $1.50 (£1.02) A club sandwich is $2.50 (£1.70)."

It's Mickelson to fire first at the 12th. Lefty has been feeling the effects of arthritis of late but that's a total misread, racing it a couple of feet high and five feet past. Casey right in the mix, he birdies 13 to join that group on four under, one off the lead.

Eye of the Tiger

Tiger Woods starts his tournament

"I've had some frustrating moments," Tiger Woods told the BBC with a smile.

His relaxed demeanour has been a talking point this week, perhaps a man who appreciates just being at golf's most immaculate venue after a frustrating time of injury and poor form.

But asked what he's looking for come Sunday he coyly told BBC Sport: "I'd like to win. I'd like to get another green jacket, I've got four, I'd like five. That's why I was practicing so hard to get ready at the highest level."

We will know a lot more about his challenge in the next four hours.

Mickelson on tee at the par-three 12th... solid, indeed a touch better than solid. McIlroy's is about as good, two birdie chances. Woods is on in two at the first, but he's got a monster for birdie. Bill Haas birdies 13 to get to -4 and into a tie for third.

Rose joint leader on -5 after birdie at 15

Justin Rose of England has birdied 15 to join Charley Hoffman atop the leaderboard on -5.

Will Tiger Woods make the cut? What will be the winning score? BBC Radio 5 live's Iain Carter, Alistair Bruce-Ball and Mark Chapman have been giving their views on what might or might not happen in Augusta. Feel free to watch the experts on the BBC Radio 5 live website.

BBC Radio 5 live coverage of the Masters begins tonight at 20:30 BST

McIlroy has got a 12-footer for par at 11... slides it right, drops to +1. Mickelson from about 10 feet... he got a read from McIlroy, pops it in to stay -2. Rose has a two-foot putt at 15 for a share of the lead. Tiger Woods is under way, I'll let you know...

Post update

Donaldson about to start with Woods

Welshman Jamie Donaldson rocked up on debut in 2013 and had the cheek to down a hole in one.

Last year the course didn't bite back at him too hard and he claimed the Czech Masters in 2014 as his progression on the European Tour continued.

He also enjoyed the small honour of netting the winning point to claim the Ryder Cup for Europe.

Could Wales have a green jacket heading its way 24 years after Ian Woosnam's success?

McIlroy with his third at 11, from just off the green... hasn't hit it, and neither did Mickelson, that could be two bogeys. Crenshaw makes it back-to-back birdies at 12 and 13, the two-time champion gets back to 11 over. Augusta got too big for him, but it's doubtful if there's ever been a better putter.

Tom Fordyce

Chief sports writer at Augusta

"Tiger to the practice area. The driver getting a thorough working-over from the four-time Masters champion, but it's the short irons that have been the main source of his travails in this truncated season. You've seen better chips come out of a microwaved cardboard box than the stuff Woods produced around the greens at the aptly-named Waste Management Open earlier this year. Can the old magic return at the scene of so many of his finest performances?"

Get involved

Join the debate on #bbcgolf

BBC Sport's Conor McNamara wants to get involved with our chat today - name the three sports stars you would love to play 18 holes with. We want you to send us a picture of yourself and we will include it in a split picture of you and your chosen three.

Conor has gone rogue and super imposed the heads of Zinedine Zidane, Pele and Diego Maradona on the heads of some playing partners.

Tweet us your image to #bbcgolf.

Poulter double-bogey at 16, is +2

The marquee group has just appeared down the 11th fairway, Mickelson and McIlroy have both sprayed their approaches right. Pretty much everyone scared witless of the drink this afternoon. Double for Poulter on 16 after birdies at 14 and 15. The Englishman kept his ball dry but a duffed chip and a couple of missed putts see him drop to +2.

Post update

Dubuisson under way in second Augusta visit

He had a first feel of Augusta last year but can Frenchman Victor Dubuisson tame this course on his second visit?

He missed the cut 12 months ago, shooting a 74 and 75, so needs a massive upward shift. But he's still only 24 and the Frenchman is still developing - involvement on Europe's winning Ryder Cup team last year will have undoubtedly been beneficial.

Doubts about Donald?

Luke Donald (tees off at 18:37 BST)

Former world number one Luke Donald is bidding for his Major but with a poor power game off the tee compared to other contenders, it looks unlikely that will come at Augusta.

The Englishman, who has three top three finishes in 10 Masters appearances, is ranked 187th in driving distance on the PGA Tour and his form so far in 2015 has been patchy.

Splendid recovery by Casey at 12 after an errant tee shot, he should walk away with a par. Matsuyama's birdie attempt stays a touch right of the hole, he stays -2.

Latest leaderboard

America's Charley Hoffman is the clubhouse leader on -5

-5 Hoffman (US), -4 Henley (US), Rose (Eng) after 13, -3 Streelman (US) 16, Haas (US) 11, Casey (Eng) 10 -2 B Watson (US) 13, Simpson (US) 10, Matsuyama (Jap) 10, Schwartzel (SA) 10, Mickelson (US) 9, Snedeker (US) 9, Els (SA) 4 D Johnson (US) 13 -1 Willett (Eng), T Watson (US)

Selected others: Level Poulter (Eng) 15, McIlroy (NI) 9, Lyle (Sco) 6, Harrington (Ire) 2, McDowell (NI) 1 +2 Clarke (NI), Westwood (Eng)

Full leaderboard (official website)

At 19, Scottish amateur Bradley Neil is the youngest man in the field and he's +2 through six. Adam Scott, winner a couple of years back, is back in the red after a birdie at 13. Patrick Reed has picked up a shot at the par-five 15th, he's -2 and three off the lead. The breeze picking up a touch at Augusta National...

D Johnson birdies 13, is -2

Casey walks away with a par at 11, stays -3. Dustin Johnson putting up the hill at 13 - he's -10 at this hole over his career. Leaves it just right but taps in for birdie, moves to -2. Spain's Miguel Angel Jimenez went out in level par but 'The Mechanic' has blown up coming home - bogeys at 10, 11, 12 and 14 and a double at 13, he's six over.

Post update

Stenson under way with room to improve

Sweden's Henrik Stenson will need to seriously up his Augusta game if he is to win this week.

His average score of 73.63 around this stretch will not bring home the bacon. Can he get off to a good start?

Henley cards 68, one off the clubhouse lead

Russell Henley is in with a four-under 68 and is one behind clubhouse leader and fellow American Charley Hoffman. Dustin Johnson with his approach at 13 and it's a peach with nothing more than an eight iron. Sweden's Henrik Stenson has just got chocs away down the first, he's playing with the much-fancied Jordan Spieth.

Bubba has a longun for eagle at 13... rides it eight feet by. Our first sighting of England's Paul Casey, playing his second at 11... as with many, leaves it right. Casey has three top-10 finishes on the PGA Tour this season and lost a play-off at the Northern Trust Open in February. Rose birdies 13, is back to -4 and a tie for second...

Mickelson eagles eight, is -2

Mickelson showing some form, he's just eagled eight to get back to two under. McIlroy, however, hasn't quite got going yet, he's out in level.

No more majors for Tiger

Tiger Woods

Fordyce's Masters danger zones

Hole 12 - Golden Bell

Tom Fordyce

Chief sports writer at Augusta

What: 155-yard par three

Why: Short, but laced with danger. Guarded by Rae's Creek at front, sandtraps fore and aft. Minimal margin for error.

Gallacher birdies 15, is -2

Scotland's Stephen Gallacher is two under after birdie at 15, Ireland's Padraig Harrington kicks off with a bogey. Westwood wasn't saying his prayers round Amen Corner - bogey, double-bogey at 12 and 13, he's three over.

VOTE

Any more majors for Tiger?

It is time for our second vote of the day and it's all about Tiger.

How many more majors will Tiger Woods win?

Register your vote on the right of this page.

The vote will close at 2200 BST. The result will be announced in this page. Full terms and conditions available here.

T Watson cards one-under 71

Two-time winner Tom Watson is in with a 71, that's mightily impressive. Villegas of Colombia finished bogey, double-bogey for an even-par 72. If he only could, he'd currently be taking a seven iron to the locker room.

BBC Sport - Get inspired

Professional tips for you

Take your time, clean your grips, do not take gambles.

These are just a few of the tips some professionals have given BBC Sport to pass on to you so you can start scratching shots off that handicap.

Watch this video for tips from Jose Maria Olazabal, G-Mac and others.

"Let the score come to you," says Olazabal.

Rose has hammered his drive down the middle at 13, Bubba has carved his into the jungle out left. In case anyone was wondering, Russell Henley, currently second and also a bit handy with a guitar, is no relation of the Eagles' Don. At least not as far as I know. Any anyway, Don played drums. I think.

Els birdies two & three, is -2

Bubba saves par at 12 and stays -1. Tom Watson is also -1 after 17, could finish in the red. Patrick Reed picks up a shot at 13 to clamber into the red. Ernie Els, who has never won at Augusta, has come out firing with birdies at two and three, he's two under.