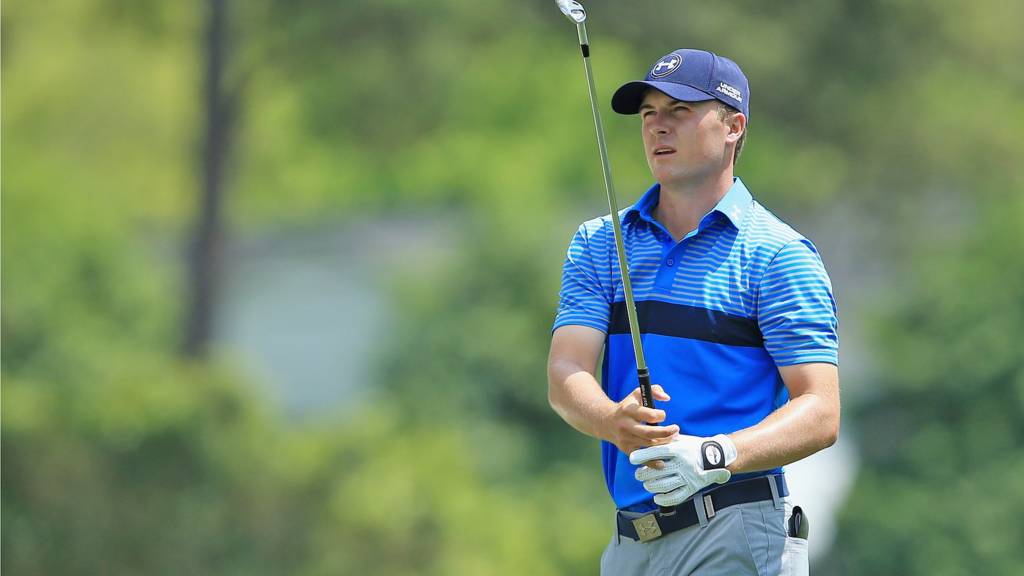 Summary
Rory McIlroy chasing career Grand Slam at Augusta
McIlroy opens with one-under-par 71
Jordan Spieth leads by three on -8
England's Justin Rose tied second on -5
Defending champion Bubba Watson finishes -1
Sergio Garcia -4; Paul Casey -3; Tiger Woods +1
Right, that's your lot for tonight, see you on the morrow.
Round one leaderboard
America's Jordan Spieth leads by three
-8 Spieth (US); -5 Hoffman (US), Rose (Eng), Els (SA), Day (Aus); -4 Henley (US), Garcia (Spa);-3 Haas (US), Simpson (US), Casey (Eng), Palmer (US)
Selected others: -2 Mickelson (US); -1 Willett (Eng), T Watson (US), Gallacher (Sco), McIlroy (NI), B Watson (US), G MCDowell (NI); Level Harrington (Ire) +1 Poulter (Eng), Westwood (Eng), Woods (US); +2 Lyle (Sco), Donaldson (Wal); +3 Donald (Eng), Woosnam (Wal)
Full leaderboard (official website)
Well, a fascinating opening day at Augusta, with plenty of low scoring in favourable conditions and a few stunning performances. None more so than 21-year-old American Jordan Spieth, who continued his recent good form with an eight-under 64, just failing to match the course record by one shot.
Fowler in with a one-over 73, Garcia makes a fine save at the last for a 68. Day with a six-footer for par... nails it for a 67 and a tie for second, with England's Justin Rose, American Charley Hoffman and South Africa's Ernie Els. And that's that...
Garcia with his third at 18 and he stiffs it to within a few feet from the bunker. Tiger being interviewed on the box, he looks pretty pleased with his work today. As he should, that was a proper grafter's round of golf.
Garcia leaps out of the frying pan and into the fire, more sand for the Spaniard down the last. Fowler safely on in two. Day, like Garcia, playing from Lyle's bunker and, like Garcia, he shows just how good that shot was from Lyle back in 1988 - good enough, but over the back.
Welshman Jamie Donaldson leaves his par putt right at 18 and finishes with a two-over 74. Woods does make his par putt disappear for a 73. Much work to do tomorrow, but he's given himself a good chance of making the weekend. Jimmy Walker matches his score, quite a few good judges were tipping him this week.
Woods putting from miles out at 18 and that's a fine effort from there, he should pop in for par and a pretty decent round of 73. Some wayward play but his short game was demonically good at times.
A rousing welcome for Woods at the last, although his approach was not much cop. Garcia tugs his tee shot left at 18, Day's done the same and found sand. Not just any sand, but Lyle's Bunker.
England's Luke Donald is two over through 17, I'll let you know how he finishes up. Day's sand escape at 17 is pretty ordinary. That's a fine birdie attempt by Garcia, he'll stay -4. Dubuisson of France is in with a two-over 74, I think he made a rare birdie at the last. Day bogeys 17, he drops into a four-way tie for second and leaves Spieth three shots clear.
Masters leader Jordan Spieth talking to Sky Sports: "That was very special. The greens were softer and a little slower than they will be the rest of the week which allowed me to fire shots into the greens,. Last year I was tentative but this year I was a little more ready to fire at the pins, knowing I had receptive greens.
"The 15th is one of the easiest holes and [at eight under] I was thinking I could post a nine under round. That would have been incredible and that is what I was thinking coming down the stretch.
"I didn't do that. I had a bit of a mud ball and was a bit between clubs [for my second shot]. It was my only mistake but nice to make a birdie on 18."
Day looking for six straight birdies but he's pushed his drive at 17. The Aussie having to threadle it through the trees - he does so, but finds sand. Woods at 18 and that's a corker, fading it round the corner. Garcia safely on in two at 17, as is Fowler.
Woods for birdie at 17, a slippery eel of a putt down the slope... started left and stayed left but should make par. Playing partner Jimmy Walker walks away with a bogey, he's one over. Donaldson of Wales muffs his birdie attempt, stays one over. Woods also one over heading down the last.
Graeme McDowell, speaking to Sky Sports: "I hung in there well despite not driving the ball well. To shoot one under is a pleasing start but there's a bit of work to do tomorrow. The greens are more receptive than I've ever seen so it's difficult to adjust when in your mind you're used to them being faster. They are fast but not scary fast. There's certainly scope for them to be dried out."
Woods with his second at 17, from the middle of the fairway it might surprise you to hear. Right into the middle of the green. Garcia makes par back at 16, stays -4 and four off the lead.
What know you of Jordan Spieth? He's 21, from Dallas and won the US Junior Amateur in 2009 and 2011, joining Tiger Woods as its only multiple winners. He has two wins on the PGA Tour. Jason Day makes it five straight birdies after a magnificent tee shot at the par-three 16th, the Aussie is six under and two off the lead.
Spieth cards 64, leads on -8
Billy Horschel is in with a 70, he's one of 30 men under par so far. Spieth has made his long-range birdie putt disappear! That's a 64 and he has the clubhouse lead, by three shots. The last man to make nine birdies in a round at Augusta was Tiger in 2011.
Garcia has got eight feet for birdie at 15, slightly left to right... misses by a whisker, he stays four under. Fowler makes a par to stay +1.
Spieth from the middle of the fairway at 18 and that's a fine approach, he's got a birdie chance for a 64. Garcia pops his third at 15 to within birdie range. Kuchar bogeys the last for a round of 72. Daybirdies 15 to get to -5...
Woods with seven iron at 16... good enough, makeable birdie attempt from there. Day's third at 15 is with a wedge and that's a peach, he could make birdie from there. Woods for a two at 16, from 25 feet... a few revolutions short, stays +1.
Garcia into the 15th... he's overcooked that by miles, bit of adrenalin kicking in down the stretch. The 18th is the hardest hole on the course today, playing 4.51. McDowell edges that average a little bit higher with a bogey, the Northern Irishman is in with a 71.
Leaderboard
Jordan Spieth leads by two shots
-7 Spieth (US) after 17 -5 Hoffman (US), Rose (Eng), Els (SA) -4 Henley (US), Day (Aus) 14, Garcia (Spa) 14-3 Haas (US), Simpson (US), Casey (Eng), Palmer (US)
Selected others: -2 Mickelson (US), McDowell (NI) 17, -1 Willett (Eng), T Watson (US), Gallacher (Sco), McIlroy (NI), B Watson (US) Level Harrington (Ire) +1 Poulter (Eng), Westwood (Eng) +1 Woods (US) 15, Donaldson (Wal) 15
Full leader board (official website)
McDowell clubbing up the hill at 18. That choppy swing of his and he's overdone it, racing it through the back. Spieth stays -7 after 17, that cack-handed grip of his works a treat.
Garcia creams his drive down the middle at 15, never been much wrong with his long game. Spieth has a left-to-righter for birdie at 17 and that's a beauty, he'll tap in for par to stay -7. My apologies, this tap-in for Woods at 15 is for par... it's a slippery one but it's straight in. Tiger stays +1.
Garcia and Day are inseparable, Day follows in his playing partner for a birdie of his own. Woods very nearly finds the drink with his second at 15 but his ball digs in on the bank. Woods's third shot is decent, if a little bit firm, but he should make birdie from there.
Garcia in a spot of bother at 14, chipping on... NAILED IT! If that hadn't gone in, it would have ended up in South Carolina. The Spaniard is now four under, three off the lead.
Jay Townsend
Former American professional golfer on BBC Radio 5 live Sports Extra
"I don't think any of us thought Tiger would chip and putt the way he has today. He had a perfect opportunity to blade it through the 11th and into the water but he played an excellent shot."
The scoring Masters
Couples cannot keep run up
Jack Nicklaus may lead the way with six Masters wins, but who has this course nailed down to a tee?
If we take players to have completed 50 rounds or more before today's start, Tiger Woods delivers the lowest average score of 70.86 strokes. Next comes 'Lefty' Phil Mickelson on 71.21, with Fred Couples third with 71.91.
Couples has not had a great day, though, and will bump that average up somewhat - he is five over through 16.
The average score around Augusta - based on a par 72 - is 74.17, so the marks above are all the more admirable.
Spieth takes aim at 17 and that's a good swing, he's given his ball a right old rollocking. Harrington in with a 72, could have been better, could have been worse, he'll take it. Fowler not having a great day but he hits the pin at 14, although he might have been better off missing it.
Woods on tee at 15 and he's clattered it into the gallery. "Tiger, you dumbass," says Woods, as scattered patrons scrabble around in the pine straw. Probably would have been better off shouting 'fore!' instead...
Spieth with a good save at 16, he stays -7 and two clear of the field. Three straight birds for Stenson between 13 and 15, the Swede looks to be shaking off that fever of his as his round progresses, he's now +1.
We have lots of pictures from day one of the Masters in a special gallery on our
Facebook page.
Carter's five things you never knew about Augusta
5. What's in a name?
Iain Carter
BBC golf correspondent on Radio 5 live
Bobby Jones thought naming the event "The Masters" was too presumptuous but relented in 1939 when the tournament assumed its current identity.
Day & Garcia birdie 13, are -3
Day curls his eagle putt close at 13 and taps in for birdie and -3. Garcia also goes close with his eagle attempt, also moves to -3.
Woods aiming way left with his irons today, every shot a cut, and he's not happy with his approach at 14. Playing partner Jamie Donaldson of Wales is on the same score, +1. Spieth with a long-ranger for birdie at 16... work to do to make par...
VOTE RESULT
How many more majors will Tiger Woods win?
Our vote is closed and you, the BBC Sport audience, seem to think Tiger Woods is done for major championships.
A whopping 69.5% of you say he will not add to the 14 he has, 13% of you think he has one more in him.
Incredibly, 5.3% of you feel Woods can summon two more big titles and 12.1% believe he will win more than two majors.
Remember Jack Nicklaus stands four ahead of Tiger on 18. Thanks for your votes.
Day, Garcia and Fowler all safely on in two at the par-five 13th. Spieth at 16, safely on, nothing more than that. Kuchar has nicked another shot back at 15, he's two under through 16.
Ernie Els, speaking to Sky Sports: "I didn't get off to a great start, my tee shot was way off in the trees and I had to scramble for four. My putting felt unbelievable today and has felt good for a couple of weeks. I am putting well, I felt patient and I felt in control, which is a nice feeling to have.
"Experience always helps, being patient helps, like I was today, waiting for the rounds to develop. But the course can bite you. I have had great experiences here and some bad ones but today was a great one."
Jason Day going with iron at 13, not sure why. He finds the fairway but is a long way back. Garcia has marmalised his tee shot with a three wood, shot gone for Spieth up at 15, he drops to -7. Another up and down from Woods at 13, his short game looks in pristine condition.