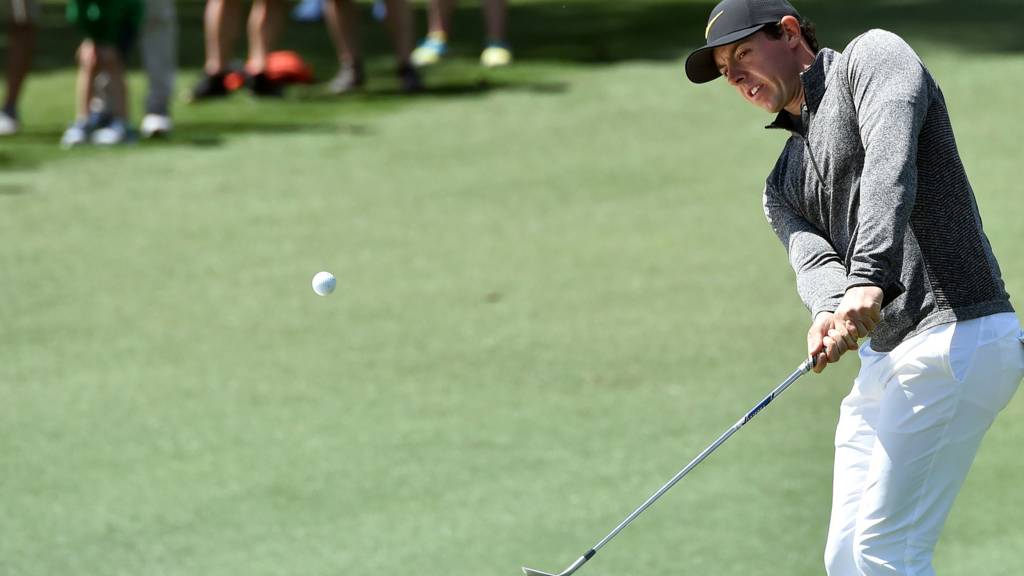 Relive day one of the 2016 Masters
Summary
Champion Jordan Spieth leads on -6
Shane Lowry & Danny Lee on -4
Rose, Poulter, Casey, Garcia, Kjeldsen -3
Rory McIlroy bogies 18 to finish -2
Jason Day level par after being -5
Els takes nine shots on first hole
Jay Townsend

Former American professional golfer on BBC Radio 5 live sports extra

"McIlroy misread that by about seven feet."

Post update

McIlroy (-3 after 16)

What's that jangling? Is it McIlroy's nerves? After three-putting the last, another one might be on the cards for the world number three. His first effort from the front of the 17th green is dragged off quicker than a confrontational dog being moved away from someone's ankles by its owner.

Post update

McIlroy (-3 after 16)

Rory nails his tee shot on 17. Down the middle, 300 yards plus. Should be a straightforward nine-iron into the flag. Oooh, looks like he's not give it enough beef. Will it hold? Sort of. Just held on to the front fringe.

Poulter reflects on his round of 69

Post update

Kjeldsen (-3 after 18)

Soren Kjeldsen is the Gary Barlow of the golfing world. Because he's resurrected his career as he approached his 40s. Nothing to do with thinning blond hair.

The Dane goes down on his haunches, willing his birdie putt on the last to drop. It doesn't. But he is still grinning away after a 32 on the back nine. He joins the illustrious rat pack on three under.

Phew. We can all sleep tonight. Ernie won't.

News. Big news.

Ernie Els DID NOT card a 10 at the first. It was only a nine.

There was chat that he seven-putted, but footage only showed six. Now his round has finished, he has signed for a nine.

It's still the worst first hole in Masters history, but at least he didn't break double figures. 

Bogey

McIlroy (-3 after 16)

Rory McIlroy grimaces. His expression is that of someone who has just watched his football team throw away a two-goal lead at home. That puts him three back...

In the clubhouse

McDowell (72)

Graeme McDowell has slipped under the radar today. Pretty impressive for a bloke wearing bright green trousers. Suppose they're a sort of camouflage on a course that looks like the fairways have been given a lick of paint. 

The Northern Irishman three putts on the last, sticking him level after day one. Talking of three-putting Northern Irishman...

Iain Carter

BBC golf correspondent at Augusta National

"McIlroy's body language looks very good, he's got that bouncy stride at the moment."

Post update

McIlroy (-4 after 15)

Rory's putter has been gently smoking in the past hour or so. It will be totally on fire if he sinks this one. Gently she goes from the back of the 16th green...finishing about four foot from a par.

-6: Spieth (18)

-4:  Lowry (16), Lee (18) McIlroy (15)

-3: Casey (18), Rose (18), Poulter (18), Willett (16), Garcia (16)

Selected others: -1:Westwood (18), Fitzpatrick (18),McDowell (17) Par: Day (18), Mickelson(18),Stenson (18), +8: Els (18)

Follow these links for tee-off times and a full leaderboard.

Post update

Willett (-3 after 16)

Oh Danny boy! Where are you going? Willett overcooks his approach on 17, sizzling off the back edge and greasing down the slope.

Difficult shot back. Or is it? He dinks it off the ridge, teasing it back down within a few feet. Top drawer.

Post update

McIlroy (-4 after 15)

Back to 16...McIlroy has the honour. Watch the wet stuff, Rory. Bubba, Day and Cabrera have all splashed about in the drink today. Not our man. Safely over the back of the pin, back left. Makeable? Hmmm..

Nice one Stephan. Let's have some more drama in the next 50 minutes, shall we?

Scott Piercy on the last...dinks a wedge on to the green after a huge drive. The ball is clinging on to the top deck like Steve McClaren is clinging on to his hairline.

That fails too. Down, down, down...

Right then, three holes to go for the final group, which includes the charging Rory McIlroy. Here to talk through the closing stages in Jonathan Jurejko.

Iain Carter

BBC golf correspondent at Augusta National

"Brilliant from Rory McIlroy. It was never in doubt and he is making his move."

In the front door for McIlroy, now only two behind Jordan Spieth. That's three shots gained in three holes. He joins Shane Lowry and Danny Lee at four under. It's getting tasty.

McIlroy, on the green, but in a different county to the flag. It's lightning, downhill, like putting on ice. Rapid past the hole, eight or 10 feet back up the hill for birdie to get to four under.

'Probably my best Masters start'

Poulter (69)

Ian Poulter looks pretty happy with himself as he faces a post-round media grilling. And rightly so. The Englishman, yet to win a major, is three shots off the pace.

"That was tricky out there," he says. "I wanted to take care of all the par fives. The wind was swirling around the front nine, but I played lovely.

"I had two three putts for the day, that's a little frustrating because if I hadn't then I'd be even closer.

"But it has been good start - probably one of my best starts at the Masters."