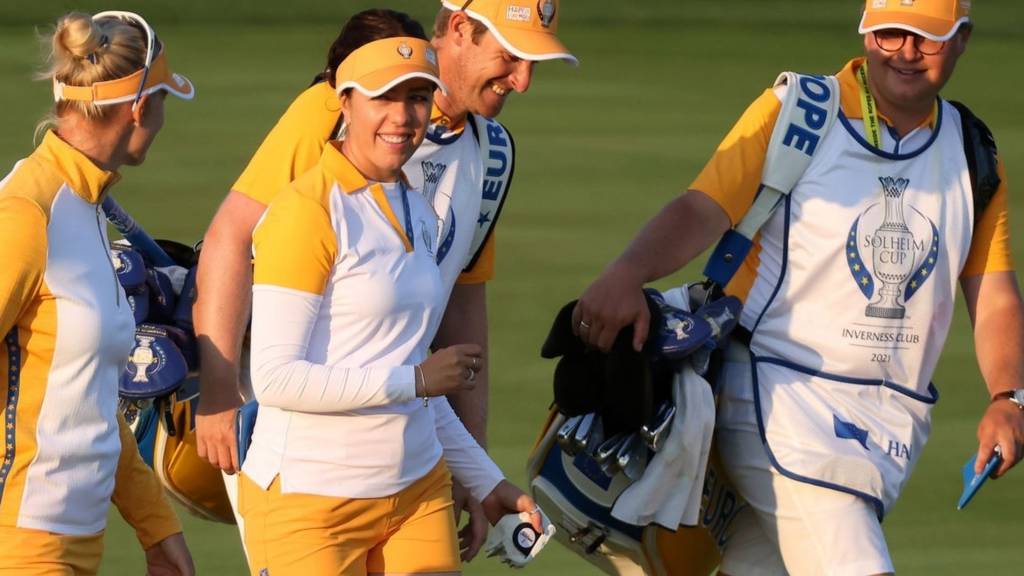 Relive Solheim Cup day two as Europe take two-shot lead over US
Monday finish to Solheim Cup

That's all from us tonight!

Thanks so much for joining us, and we will be back for what is bound to be a thrilling end to the Solheim Cup from 16:30 BST on Monday.

See you there!

Highlights of Solheim Cup Day 2

Another thrilling day at Inverness Golf Club and if you have been following the text all day, then grab a cup of cocoa and settle down for the highlights at 12:00 midnight on BBC 2, if you are in the UK.

You can also read the report of all the day's action here.

'Key to get off to a quick start tomorrow' - Matthew

The Team Europe captain Catriona Matthew has been talking to Sky Sports:

"Certainly a rollercoaster this afternoon. It ebbs and flows so quickly. That last 20 minutes for us was crucial, I think.

"It was important – to have such a big lead after yesterday, we'd have been a bit down if we had given it away."

What was your advice after the USA comeback in the morning?

"Just keep going, keep plugging away and keep it to one or two holes until after the turn - it started to get quieter and we weren't hearing quite so many calls from the US fans."

What are you expecting tomorrow?

"We know its going to be a tough task tomorrow. The crowds are going to be bigger and louder so it's key for us to get off to a quick start."

Europe need just 5 points from the 12 singles matches to retain the Solheim Cup. USA need 5 1/2 to win.

'Two-point lead is huge' - Reid

Mel Reid and Leona Maguire clinched the half point that gives Europe a two-point lead ahead of the singles tomorrow - they spoke to Sky Sports:

Mel Reid: "I didn't play great today, but credit to Leona – she played very solid. Those girls are relentless – theyre going to be tough to beat so we're over the moon with this result.

Leona Maguire: "We were prepared for that – that's what Lizette does week in and week out. We holed some putts ar the right time to answer the back."

What was your focus at the end - to get half-point or the overall lead?

Reid: "It's difficult to not look at the leaderboards. It was very red at one stage. They came out firing this morning and had the momentum.

"To go in with a 2 point lead is huge."

'Very happy for Europe' - Ciganda

The momentum changed as Carlota Ciganda and Nanna Koerstz Madsen secured their point, and Ciganda had this to say to Sky Sports:

Carlota Ciganda: "I think it was really important to get that point. At some point the USA was playing really good. We both played great. Very happy to win, very happy for Europe.

"I try not to look to much to the scoreboard – you want to concentrate on the match and I think we played some great golf."

Reid salvages crucial half point

Reid & Maguire A/S Salas & Kupcho

Lizette Salas is finally ready and her putt is on its way. Like others before her, she aims out right and leaves it out there. In for par though so Jen Kupcho can really attack hers.

Downhill, in from the left. Pace is critical here. The ball is on its way... borrowed way too much.

So... Europe have two chances to win the hole and halve the match. Leona Maguire is first up, from about 15 feet. She's been superb all day but this is one putt too far.

All down to Mel Reid then. I'd fancy myself from this distance. A huge roar from the European team huddled together on the edge of the green. Silence from the US crowd.

That's a huge blow.

Magic Mel

Reid & Maguire v Salas & Kupcho 1UP (17)

There's one match out on the course and could there be a late twist in the day?

Europe need to win this hole to halve the match. And has Mel Reid just played the trump card?

She takes on the flag, which is protected by a bunker. She is looking hard after her ball, willing it on. It plunges into the rough atop the bunker and takes a skip forwards onto the green and trickles to about 18 inches. Wow. Just wow.

The Americans are both on the green in two. Lizette Salas is studying a 30-footer, while Jen Kupcho has a 25-footer...

'I was pretty chilled' - Hull

As they clinch another point for Europe, Charley Hull and Emily Petersen talk to Sky Sports:

How were you feeling coming in?

Charley Hull: "I was pretty chilled all the way and we had some good momentum."

How different is this Solheim Cup from your debut?

Emily Pedersen: I feel like I am a whole other person, a lot more mature and it is nice to have Charley by my side."

US win 17 to go dormie

Reid & Maguire v Salas & Kupcho 1UP (17)

Over on the 17th, Mel Reid goes pin-seeking with her second shot. It's a bold strike with the pin located at the back edge of the green and heavy rough just a few yards beyond.

An American ball is in the rough, just beyond the green. It's Jen Kupcho's. She's out with a wedge and flicks the ball onto the short stuff. It's looking lovely this. It's in! Wow. What a birdie and what a time to get one.

Reid's putt is now a must make for a half. She knows the line from Kupcho's ball but she doesn't set it out high enough.

The American's are suddenly dormie one.

Another European point

4&2 Hull & Pedersen v Kang and Ernst (F)

Emily Pedersen chips into the green from the fluffy fringes at the back of the 16th, and she sits pretty off around 3ft from the cup, for a potential birdie, joining the waiting Americans on the green.

Danielle Kang and Austin Ernst both birdie the par-four, but with Pedersen in charge of saving Europe's position for most of this round, it is another point for Europe

Madsen wins point for Europe

Ciganda & Madsen beat J Korda & Khang 1UP

Megan Khang needs a birdie. She sets her putt out to the right of the hole and it doesn't come back enough.

Jessica Korda needs a birdie. She sets her putt out to the right of the hole and it doesn't come back enough.

Nanna Madsen has two putts for the match from 20 feet... nothing silly now Nanna. She coaxes the ball down to six inches. And that, my friends, is that. Another blue point and it follows...

Post update

1UP Ciganda & Madsen v J Korda & Khang (17)

The Americans desperately need to get both balls in play as they head down the 18th knowing they need to win the hole to halve the match.

Megan Khang is first up and splits the fairway. Jessica Korda follows her. Their balls are about six feet apart.

Carlota Ciganda finds a fairway bunker and is forced to chip out.

Nanna Madsen is in the fairway off the tee though.

Korda first to go. Front of the green, 30 feet from the hole.

Madsen has two clubs out of the bag. She plumps for the nine-iron. She's 20 feet from the hole.

Here's Khang. Huge divot. Her ball is about twice as far away as Madsen's and she'll give the European the line too.

Putt for points time...

Post update

3UP Hull & Pedersen v Kang and Ernst (15)

Now we join Danielle Kang at the 15th and she has a chance to win back a hole with a birdie putt but it is a good 20+ft out. She has the line right and she just skirts the hole to sit around 3ft away - which she putts for par.

USA are three down, with three to play and this anchor match is going to come right down to the wire. Again.

Europe go dormie

1UP Ciganda & Madsen v J Korda & Khang (17)

It's all getting a little tense on the 17th. Nelly Korda chips up to almost stone dead to guarantee a par.

Neither Carlota Ciganda or Nanna Madsen can get down in three to take the win. The next best thing is to make par and take a one-hole lead down the last.

Ciganda does just that with a short putt. Dormie one. Half a point guaranteed But a full point could be priceless.

Maguire rescues Europe

Reid & Maguire A/S Salas & Kupcho (16)

The 16th is a great matchplay hole. Just 270 yards.

Nobody can find the green off the tee but Jen Kupcho produces a sensational chip that glances into the hole as it trundles a couple of feet past and is conceded.

Mel Reid misses her birdie try from 20 feet.

Pressure on Leona Maguire, not for the first time today. Her chip had raced a good dozen feet past the hole. She needs this to keep the match level.

Another fist pump. Another shout out. Terrific stuff.