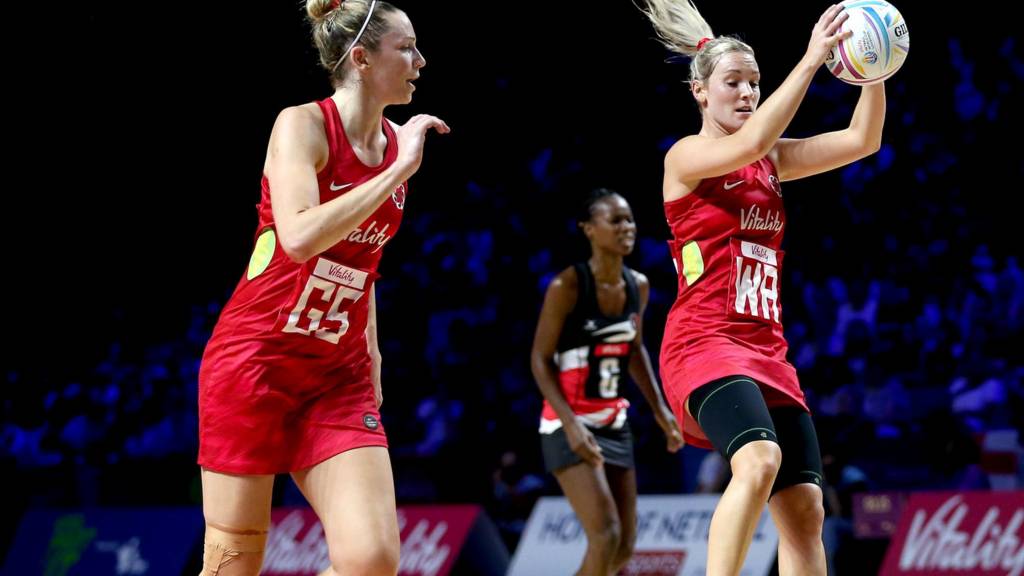 Recap: Netball World Cup - England all but through to semi-finals after win
'England will be a little bit disappointed'

FT: Trinidad & Tobago 46-72 England

Sara Bayman

Former England captain on BBC Two

I think England will be a little bit disappointed with some of that game. It looked like they were very much reserving players today and it looked like Tracey was trying to preserve minutes.

There were changes that Tracey Neville will have had to make that she did not think she would have had to make and it has probably made her know her starting XI for the South Africa game tomorrow.

'That game felt a little bit flat'

Trinidad & Tobago 46-72 England

Tracey Neville speaking post-match:

"I knew this game would be tough. We have come off a flat day yesterday obviously with not playing.

"I knew it was going to be a gritty, there was a bit of nerves out there, it really meant something to the girls but we got all the players out there on the court and scored some goals as well.

"Obviously we will be preparing for South Africa, we have a big game tomorrow which we need to come out and win. We take every game as it comes. That game felt a little bit flat but we still scored over 70 goals. You cannot be at the best every day and now we need to come out fighting tomorrow."

'We are ready to go up a gear'

Trinidad & Tobago 46-72 England

Jo Harten speaking post-match:

"I feel most comfortable under the post scoring goals it doesn't matter what position I'm playing.

[On what to improve] "Just that clinicalness in attack. The defenders are turning the ball over for us and we just need to take it down the court and finish it off for those guys.

"We haven't had an easy game. Bring on the rest of the tournament. We are ready to go for it and go up another gear.

[On facing South Africa] "Tomorrow night 8pm prime time. We cannot wait. We want the crowd behind us and want the nation behind us."

Get Involved

#BBCNetball or #changethegame

Jules Lyttle: Well done @EnglandNetball team through to the semi finals of the @NetballWorldCup#changethegame

Ali: If you want a fast paced, high scoring exciting game, netball is the one for you #ThisIsNetball #ChangeTheGame

Jo Coates: Watching @EnglandNetball makes me miss the sport so, so much. #ChangeTheGame

'It means everything to us'

FT: Trinidad & Tobago 46-72 England

England's Jade Clarke post-match:

"I'm loving every minute. It's the best one in front of a home crowd at a home World Cup so I'm just loving life at the minute.

"It was by no means perfect but it was the best preparation for tomorrow as Serena said. We need to feel uncomfortable. They were so ranging and had arms everywhere with really skillful shooters. Tomorrow will be another tough game for us.

"We want to win every game. We want to show how dominant we are and we want to come first in this side of the group and we want to be top in that semi-final so it means everything to us to play tomorrow."

FULL-TIME

Trinidad & Tobago 46-72 England

It's another comfortable win for England and a 26-goal swing in the end.

It would take something absolutely ridiculous to stop the Roses now. They are all-but-through to the semi-finals at their home World Cup.

Up next: South Africa.

Becky Grey

BBC Sport in Liverpool

The roar as the clock hit zero was by far the loudest of the afternoon and suddenly the crowd is awash with St George's flags.

'She has been on fire'

Trinidad & Tobago 45-72 England

Pamela Cookey

Former England shooter on BBC Two

Helen Housby will have been disappointed with her shooting stats last game but today she has been on fire and it's what England have needed.

Post update

Q4: Trinidad & Tobago 44-69 England

Helen Housby is on it yet again. She just oozes confidence and is 20/22 this match.

You can see why Tracey Neville might have wanted to rest her legs in that first quarter.

Roses rising

Trinidad & Tobago v England (15:00 BST)

Becky Grey

BBC Sport in Liverpool

This lot are surely in the running for the 'most committed England fans' prize.

They've come to the World Cup prepared with their own homemade banner and t-shirts spelling out England.

"The Commonwealth Games were good for netball because more people were interested. It was exciting," said 10-year-old Freya.

"It's very big here. It will be really cool having the England players in front of us – we're going to be very loud."

Get Involved

#bbcnetball or #changethegame

Post update

Q4: Trinidad & Tobago 42-65 England

There's nothing in it so far this final quarter.

We're tied at nine goals each, but England will want to make sure they keep hold of that record of not losing a quarter yet this World Cup.

Becky Grey

BBC Sport in Liverpool

Serena Guthrie gets a big cheer as she steps back on the court. Many of the fans outside the arena before the match said she was their favourite player.

Post update

Q4: Trinidad & Tobago 41-62 England

There's a huge cheer from the crowd as Roses captain Serena Guthrie comes on at wing defence.

WATCH: Harten's 'liquid gold' pass on England attack

We know how good Jo Harten is in the circle .She ended at 36/40 with 90% accuracy.

But just look at that pass. Beaut.

Post update

Q4: Trinidad & Tobago 38-60 England

The Roses are yet to lose a quarter this World Cup but yet again, it's another lively start from Trinidad & Tobago.

The Calypso Girls are 5-4 up so far in the fourth quarter.

Get Involved

#bbcnetball or #changethegame

Copyright: Poppies west lancs

Start of Q4

Q4: Trinidad & Tobago 33-56 England

Into the final 15 minutes we go.

Nat Haythornthwaite is on for Serena Guthrie at WA and Jo Harten is given a rest with Rachel Dunn coming back on.

Let's keep an eye on that wrist...

Fan zone becomes a Rose Garden

Becky Grey

BBC Sport in Liverpool

England fans voted on Twitter to call the fan zone the Rose Garden when England matches are on.

It definitely looks like one at the moment, with Kelly and her friends one of many supporters who had dressed for the occasion.

"I've played for 30 years," she said. "The atmosphere here has been electric.

"Over the weekend there were a lot of people who hadn't played netball before so already the interest has been generated.

"Even men are asking about mixed netball sessions – everyone's got netball fever.

"People don't believe the speed of the game and the pace. A lot of people think netball is a non-contact sport but anyone who has watched two minutes of a match will soon see it's not like how it used to be years ago."