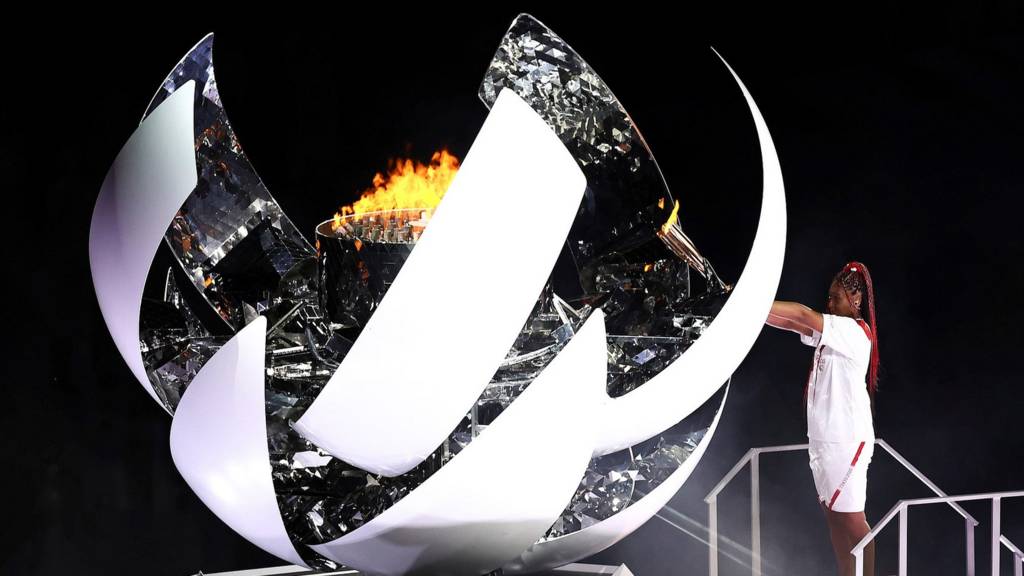 Let the Games begin.

Video content

So there you have it.

It was poignant and moving, but still dramatic and at times downright wacky.

The Tokyo Olympics have been declared open.

Rebecca Adlington

Double Olympic gold-medal winning swimmer on BBC TV

This is a very, very different Games - no one is trying to hide away from that.

But at the same time it is people coming together, the world coming together at a very difficult time and we've probably never needed it as much as we do right now.

Colin Jackson

Two-time world 110m hurdles champion on BBC TV

I felt that Japan did that very respectfully and it was exactly what we would expect from Tokyo, to produce a ceremony that was very well thought through at this particular moment in time.

They had super control of it all, they understood what we are trying to do, what we are trying to achieve and I think the way the word 'together' has been added to the Olympic motto was very powerful because we are coming together.

Opening ceremony highlights

If you missed any of the opening ceremony, let me remind you of some of the best bits...

Video content

Video content

Video content

Video content

Hazel Irvine

Presenter on BBC TV

This has been a ceremony like no other in a time like no other - but it's been deeply moving and a quietly beautiful affair.

Not triumphant but in the circumstances and restrictions, a triumph. And Japan should be very proud of it.

British interest comes in the men's cycling road race, where a four-strong team includes Tao Geoghegan Hart, Geraint Thomas, Adam Yates and Simon Yates.

It starts at 03:00 BST, but runs through to mid-morning.

Now the business can really start.

We start at midnight tonight (or tomorrow morning, depending on which way you look at it).

Day one will see gold medals won in archery, fencing, judo, shooting, taekwondo and weightlifting.

Andy: Remembering the goosebumps I had watching the torch be passed around the stadium at the 2012 Olympics.

Abinash Das: I think Japan surpassed our expectation for a spectacular opening ceremony amidst these pandemic challenges.

Andrew Cotter

Athletics commentator on BBC TV

I can't think of many people better than Naomi Osaka to do this.

Her admission of frailty in recent months perhaps expressed the way a lot of us have felt during a very difficult time in the world.

The cauldron is inspired by the sun.

The sphere opens like a flower to "embody vitality and hope".

Osaka uses the torch to light the flame, which illuminates the Tokyo night.

Video content

Breaking

Naomi Osaka lights the Olympic flame

It had to be, didn't it?

Naomi Osaka, the Japanese four-time tennis grand slam winner, has the honour of lighting the Olympic flame.

The face of the Games has the torch in her hands.

The torch has been passed around the stadium. It is being given to some schoolchildren, who will then deliver it to the person who will light the Olympic flame...

Time to light the Olympic flame

The torch is coming in to the sound of Bolero. You can't hear that music and not think of Torvill and Dean.

For obvious reasons, the torch relay has been what it might have been. It began on 25 March this year in Fukushima and was carried through every prefecture in Japan before arriving in Tokyo in 9 July. Around 2,000 different people have carried it.

Right then, the moment we've been waiting for.

Here comes the torch...

Martino Venendo: Pictograms section of the opening ceremony for the Tokyo Olympics is one of the best things I've ever seen.

Chris Purdom: Pictograms from opening ceremony of Tokyo Olympics, absolutely brilliant!

Glen Mitchell: This pictogram is seriously impressive. Bet they are knackered.

Andrew Cotter

Athletics commentator on BBC TV

Gold medal for that performance!

I think they must have had sleepless nights over the triathlon!

Now we're really getting into the meat of it. They're saving the best for last. A tireless pictogram show is demonstrating each one of the 50 sports disciplines. Absolutely stunning.