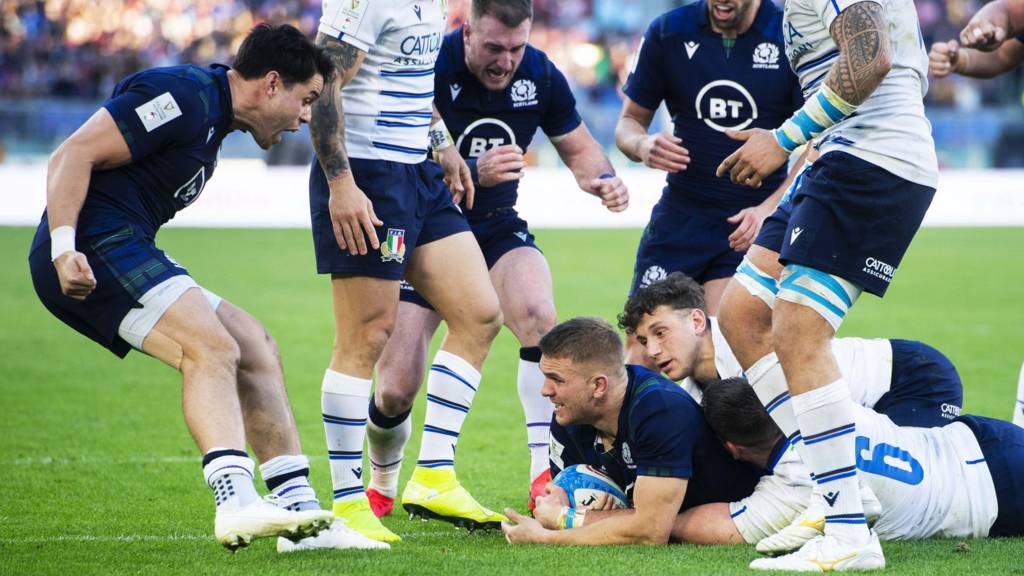 'Far from perfect, but we nailed them - reaction as Scotland earn 17-0 win over Italy
I'll leave you with this...

FT: Italy 0-17 Scotland

Tom English

BBC Scotland's chief sports writer

They can talk about Finn Russell until this thing is resolved, if he comes back. I'm not sure he's going to come back while Gregor Townsend is head coach. They have to press on with Adam Hastings. I thought he played two good games at the start of the this championship but he was poor today. But he's still young, a novice at this level.

The Russell thing is a distraction they could do without.

'We knew how important a result was' - Townsend

FT: Italy 0-17 Scotland

Scotland head coach Gregor Townsend tells BBC Scotland he hopes today's win can ease a bit of the pressure on the group.

"I looked back at the game just there and maybe we didn't play as fluently today partly because of the way Italy were playing but also maybe because we knew how important a game this was and how important a result was for us to now kick on in the championship. I'd now like to think we go into our last two games with any pressure on our shoulders lifted.

"The performance wasn't perfect by any means but the defence was almost perfect when you have a zero against you. The effort was huge and it was a tough game to play in.

"At times we looked dangerous, beginning of the second half looked more like what we could do, and we got the win.

On Stuart Hogg's try, Townsend added: "It was world class. He almost had another with a few similar line breaks in the second half. He's shown really good energy and good leadership through a tough time."

How do Scotland improve attack?

Chris Paterson

Former Scotland international on BBC Radio Scotland

I think it's the final pass, it's the little bit of detail. In terms of the structure, they're providing opportunities but what they have to improve is the final execution.

Hogg chasing try record

FT: Italy 0-17 Scotland

Stuart Hogg is the fifth player to score 20 Test tries for Scotland.

The all-time list:

Ian Smith: 24
Tony Stanger: 24
Chris Paterson: 22
Tommy Seymour: 20
Stuart Hogg: 20

Post update

Italy 0-17 Scotland

Tom English

BBC Scotland's chief sports writer

If Scotland's defence stands up to this French team [in two week's time], then we'll know for sure that Scotland's defence has taken massive steps forward. Three games, two tries conceded, that's exceptional.

Defence is what wins you games, or certainly makes you competitive. This is a competitive Scotland team and we've not seen that too often.

'We're delighted with that' - Hogg

FT: Italy 0-17 Scotland

Scotland captain Stuart Hogg speaking to ITV: "We're delighted with that. We came here to do a job and we've done exactly that. I'm so proud of the boys.

"Our boys had a huge challenge in terms of their back-row. We challenged our boys to stand up and you can see that with Hamish [Watson] getting man of the match, backed up by Jamie [Ritchie] and Maggie [Magnus Bradbury]."

On his spectacular score, Hogg added: "Thankfully it just opens up for me but there's a lot of method in the madness to get us into that position. I've had a lot of chat over the last couple of weeks about that [the drop against Ireland] and I wasn't making a mess of that one."

How it stands...

FT: Italy 0-17 Scotland

'We've nailed them' - Harris

FT: Italy 0-17 Scotland

Scotland try-scorer Chris Harris has summed up the game pretty well. Speaking to BBC Scotland he said: "It was far from perfect but we've come here got the win and we've nailed them. Job done.

"I'm delighted with the try but ultimately we've come here to get the victory and I'm happy from that perspective. First job is get the win here and get the ball rolling and do a job at home [against France] next."

Image caption: Harris scored Scotland's second try shortly after the break

Chris Paterson

Former Scotland international on BBC Radio Scotland

Any win on the road is an achievement and it is exactly what Scotland needed. I have played in Rome, won there and lost there, the intimidation comes from the pressure within to win.

Scotland looked like they had pressure on themselves but I don't think Italy were particularly good. Scotland could have played better, I would liked to have seen more cohesion in the second half, a quality team performance would have seen more points.

There was so much desperation to do well that it became a bit individual.

Full-time - Italy 0-17 Scotland

Not pretty, but job done.

Stuart Hogg lit up a scrappy first half with a brilliant individual score, then Chris Harris added a second shortly after the break with a close-range finish. Adam Hastings coasted over in the last minute to cap it off.

But, dear me, it was a brutal watch at times. Scotland probably won't care.

Post update

Italy 0-17 Scotland

Rather than the bonus-point, it's the big fat zero on the Italian score that Scotland are defending after George Horne's error leads to a penalty.

The clock is red and Italy have the ball on the Scotland 22...

Peter Wright

Former Scotland prop on BBC Radio Scotland

Adam Hastings will never get a simpler try.

A quick conversion because Scotland want to go for the bonus point...

Converted Try- Italy 0-17 Scotland

Adam Hastings

Game over. Grant Gilchrist wins a turnover as Italy threatened the Scotland line and shortly after Hastings just picks and goes down the left-wing and saunters in unchallenged.

He drop-kicks the conversion as Scotland look for a bonus-point try.

Post update

Italy 0-10 Scotland

Giovanni Licata gets in and wins the penalty to halt Scotland in their tracks. Can Italy get a try to set up yet another tense finale in Rome?

Eh, it doesn't look like it as the resulting line-out goes astray.